Five Must-Hit Wineries That'll Make You Never Want to Leave Tasmania
Sip at your own risk. You may never want to return home.
in partnership with

For some, the best thing about winter is the cosy indoor opportunities to escape the cold. Who can deny the almost spiritual joy of snuggling down next to a wood fire or cuddling up inside thick sandstone walls while the weather outside seems a world away? And if there's a glass or two of vino going, so much the better.
If this sounds like a heavenly way to spend a winter's day — and you're ready for a seasonal switch from tannin' to tannins — put these five exquisite Tasmanian wineries at the top of your winter to-do list. We've tracked down a winery from nearly every corner of Tassie that'll warm the cockles of your heart — whether you're after biodynamic and sustainable practices, premium tastes in heritage buildings or a glass of red with the comfort eats of an Italian osteria. You are about to fall in love with a whole cool-climate wine culture — you'll never sip a pinot noir the same way again.

MOORE'S HILL — TAMAR VALLEY
How many wineries come with their very own dog? Well, Moore's Hill does; the loveable Otto is a regular fixture by the fireplace in winter. Located in the lush Tamar Valley, a 40-minute drive from Launceston, you'll come upon this boutique vino-producing estate that happens to be Tasmania's first 100-percent solar-powered winery. The fireplace at the cellar door is always lit for the chilly season, so you can drop by any day from 10am–5pm for a cosy guided tasting of current release wines (which are free for groups smaller than ten, too). Moore's Hill also offers a wine and chocolate tasting, as well as a whisky tasting, should you need a little something extra to really warm the soul.

POOLEY WINES — COAL RIVER VALLEY
Make sure to add Pooley Wines to your winter getaway. It's a vineyard with pedigree — three generations of winemakers have brought forth this nectar, producing some of the finest pinot noir, chardonnay and riesling on the island. Located in the Coal River Valley, it's proudly the first fully accredited environmentally sustainable vineyard in Tasmania. The cellar door (open 10am–5pm daily) is snuggled within the thick sandstone walls of the stately 19th-century Belmont House on the Butcher's Hill estate. With a swag of awards to its name, particularly for its pinot noir and riesling, Pooley will ensure you're sipping premium drop after premium drop.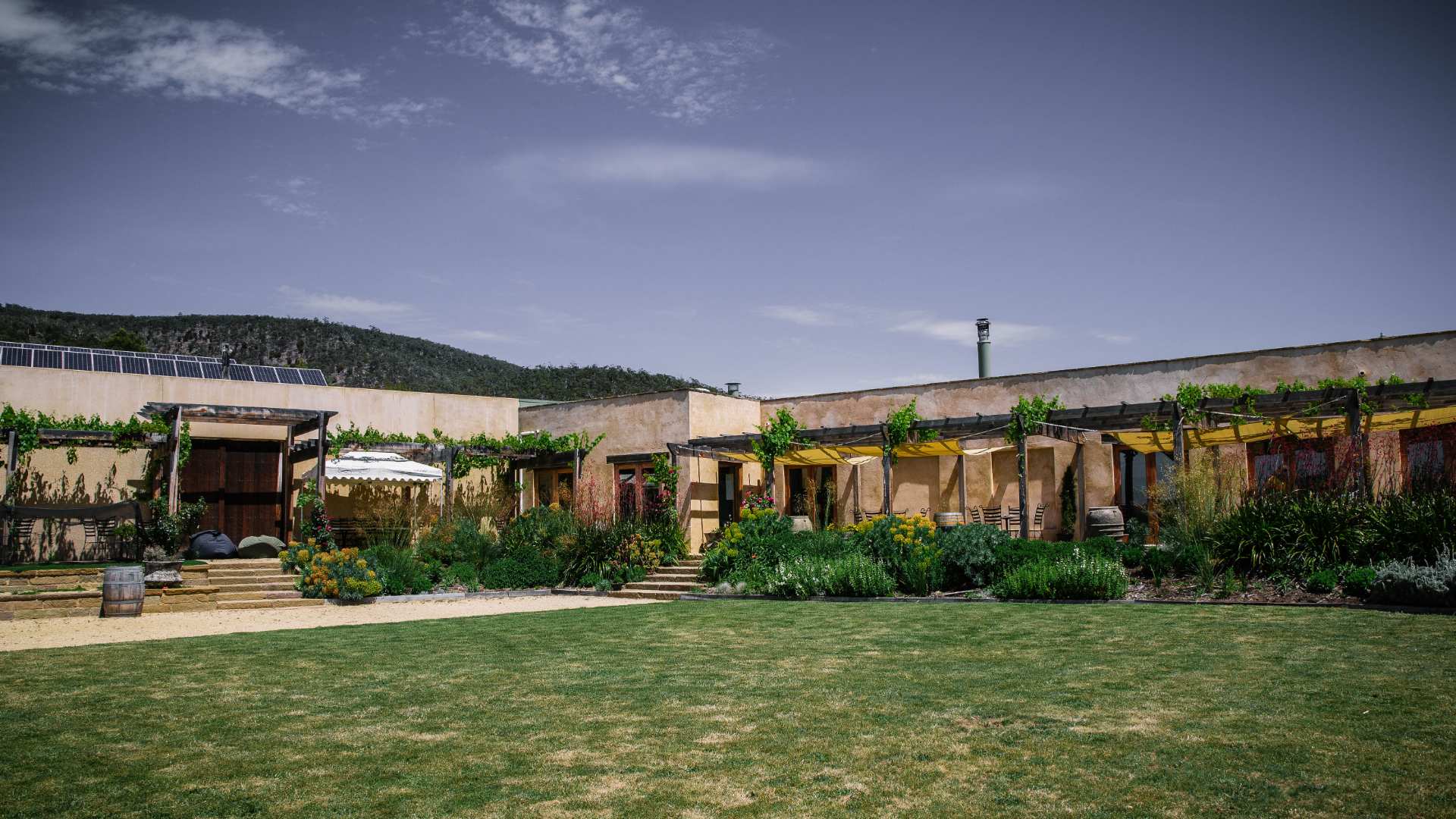 STEFANO LUBIANA — DERWENT VALLEY
Stefano Lubiana Wines is an exceptional winery, being Tasmania's first and only biodynamic vineyard. This family-run winery opens its cellar door to wine-lovers from 11am–4pm Wednesday to Sunday. Sample the six-taste offering — including the bright and delightful Primavera pinot noir or a biodynamic reserve merlot — at $5 per person, or sit down for a structured tasting of exclusive museum and flagship wines for $35. The vineyard also distils its own grappa brandy, which is the perfect nip for a nippy Tassie winter. And then there's Stefano Lubiana's on-site Italian eatery, Osteria, that blends rustic food tradition with fine dining. The menu is fresh and seasonal, with locally sourced ingredients. Stay for an expertly paired meal and wine to taste the terroir and the country produce all in one go.

DEVIL'S CORNER — EAST COAST
For some seriously cool architecture to match your cool-climate wines and the surrounding cool temps, you'll have to hit the east coast and check out Devil's Corner. En route to Freycinet National Park, Devil's Corner is a winery with a wild edge. Looking down to Moulting Lagoon and the Hazards mountain range, the vines are exposed to the elements, which creates a unique, intense flavour. In the winter, the cellar door opens daily from 10am–4pm from June to September and tastings are free for groups of up to seven (larger groups pay $5 per person). With regular music sessions and both a seafood restaurant and pizza cafe, this is a winery that can keep you toasty warm as you enjoy views over the wintry landscape. And in even more reasons to visit, Tassie's Festival of Voices will host a gig at the winery on Sunday, June 30.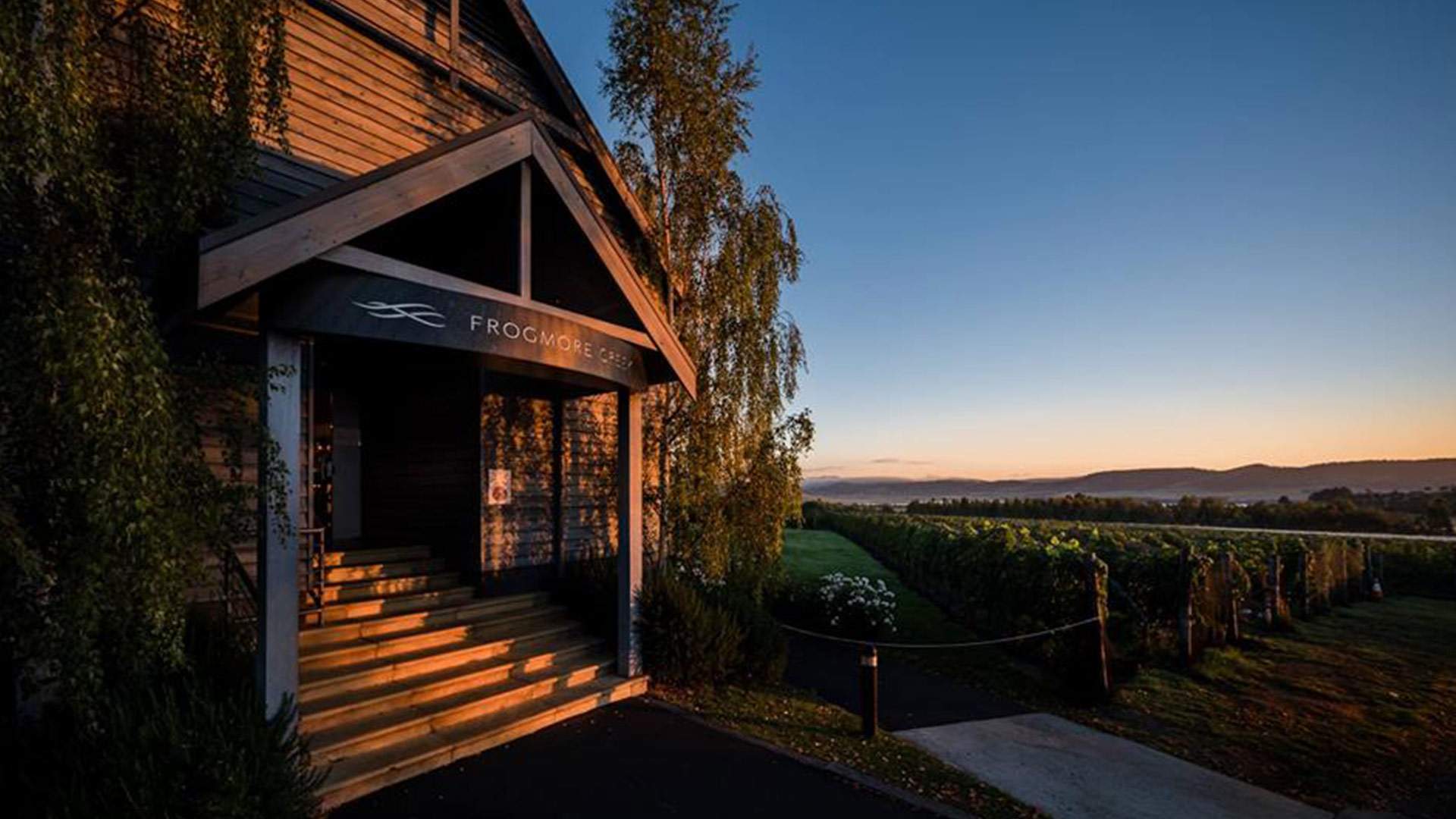 FROGMORE CREEK — COAL RIVER VALLEY
If you don't want to stray far from Hobart but yearn for that country vineyard experience, Frogmore Creek offers the best of both worlds. After just a 20-minute drive from the CBD, you'll reach a vineyard prestigious enough to draw celebrity visitors such as Margot Robbie. Within the expansive homestead of blue-grey timber, you'll find an award-winning cellar door experience. What's more, from July 1, the barrel room here features an open fire on weekends (and the occasional weekday) all throughout winter. Open from 10am–5pm daily, the cellar door offers samples from the different wine series for you to sip around the fire. The featured offering focuses on boutique harvests, reserve wines or minimal intervention drops. Away from the roaring fire, Frogmore Creek has spectacular grounds. But if it's too chilly for exploring, you can appreciate the sweeping valley vistas from the cellar door and restaurant's floor-to-ceiling windows.

Top image: Moore's Hill by Chris Crerar.
Introducing Concrete Playground Trips
Book unique getaways and adventures dreamed up by our editors