FOOD & DRINK
Five Things to Try at Sydney's 2020 Night Noodle Markets
From leche flan doughnut burgers to wagyu beef don toasties, there are a lot of food decisions to be made at this year's at-home market — and we'll help you make them.
Five Things to Try at Sydney's 2020 Night Noodle Markets
From leche flan doughnut burgers to wagyu beef don toasties, there are a lot of food decisions to be made at this year's at-home market — and we'll help you make them.
The Night Noodle Markets has returned for another season, whipping Sydneysiders into a frenzy of tasty things on sticks, bowls of noodles and extravagant desserts from Wednesday, October 7 to Friday, November 6. This year, instead of bumping elbows with hundreds of others in Hyde Park, you'll be able to enjoy the festival's usual lineup of tasty treats at home, in your local park or on a beach. Yes, Night Noodle Markets 2020 is coming to you via delivery.
This year, the delivery-only menu showcases eight food stalls which have created special menus for the occasion. Thankfully, many of the festival favourites have made the cut. If you're feeling a bit daunted by all that decision-making and wondering how best to navigate the smorgasbord of eats, we've got your back. Here's our pick of dishes worth trying — get excited for cheesy beef-filled waffles, prawn toast doughies and Korean-style loaded toasties.

LECHE FLAN DOUGHNUT BURGER, DONUT PAPI
Sydney's go-to for inventive, Asian-inspired doughnut creations, Donut Papi is returning to the Night Noodle Markets with a fresh haul of crafty desserts in tow. These guys sure aren't afraid to get a little creative, as you'll know from past ingenious doughnut iterations like peanut butter birthday cake, ube Oreo and even garlic bread. But the treat you need to sink your chompers into this month is the leche flan doughnut burger ($10). A slab of lush, sticky Filipino-style crème caramel is stuffed between halves of a sugar-crusted doughnut bun, ready and waiting to ooze upon that first bite.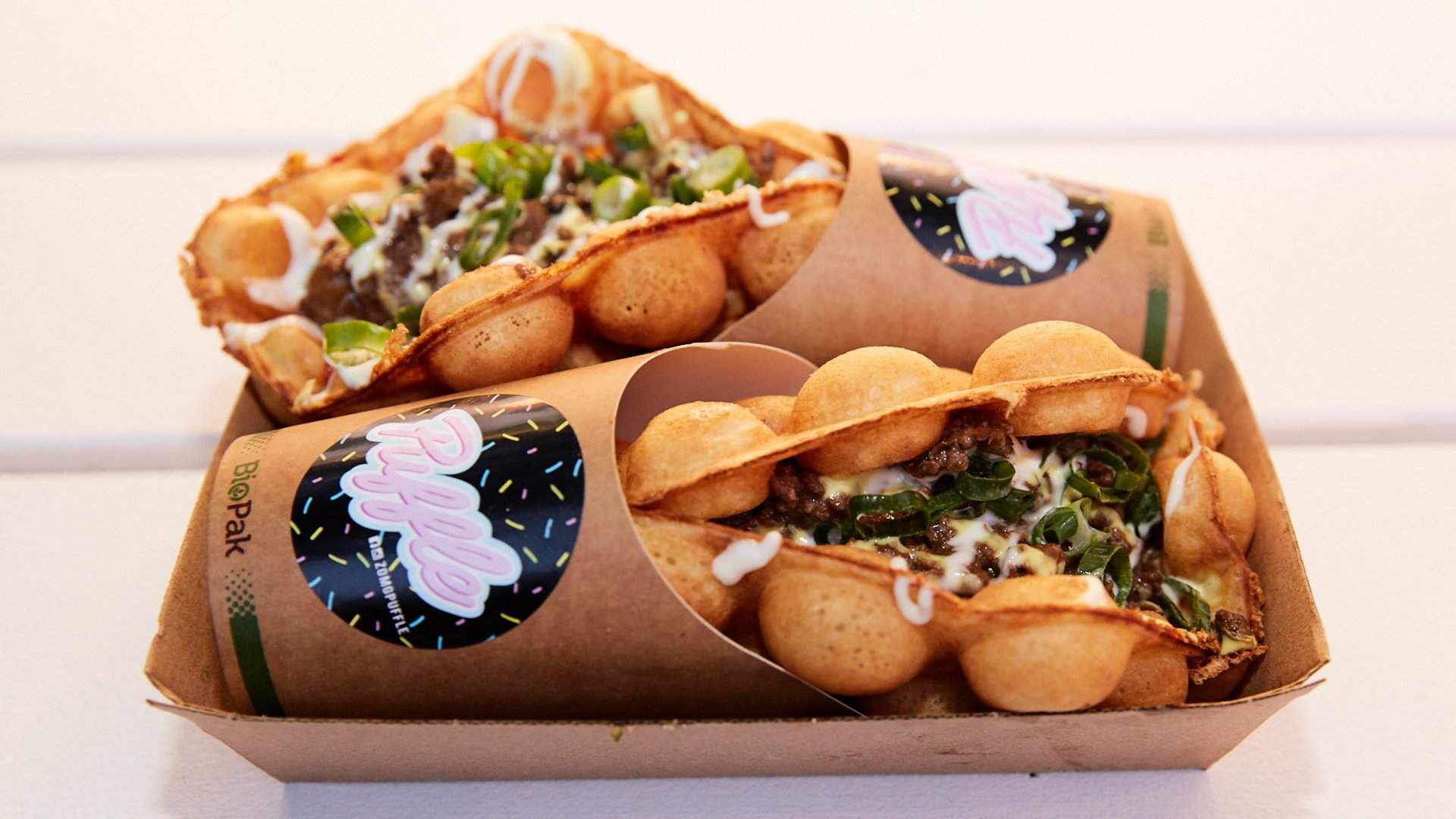 CHEESEBURGER PUFFLE, PUFFLE
Everyone loves a quirky, cheesy food creation and this one's as fun to say as it is to eat. A return favourite from last year's markets, and a riff on the egg waffles you'll find at street stalls in Hong Kong, Puffle is a savoury waffle cone made out of cheese and filled with various flavour combinations. This month, Puffle is out to win you over with two different decadent versions of its dish, including the cheeseburger ($18) — an assembly of chopped bulgogi-style beef and extra melted cheese, finished with lashings of sweet and spicy ketchup, mustard and Japanese mayo — and a KFC option with spicy Korean-style fried chicken ($18). But, whichever filling you opt for, you're in for a crunchy, oozy and delightfully messy ride.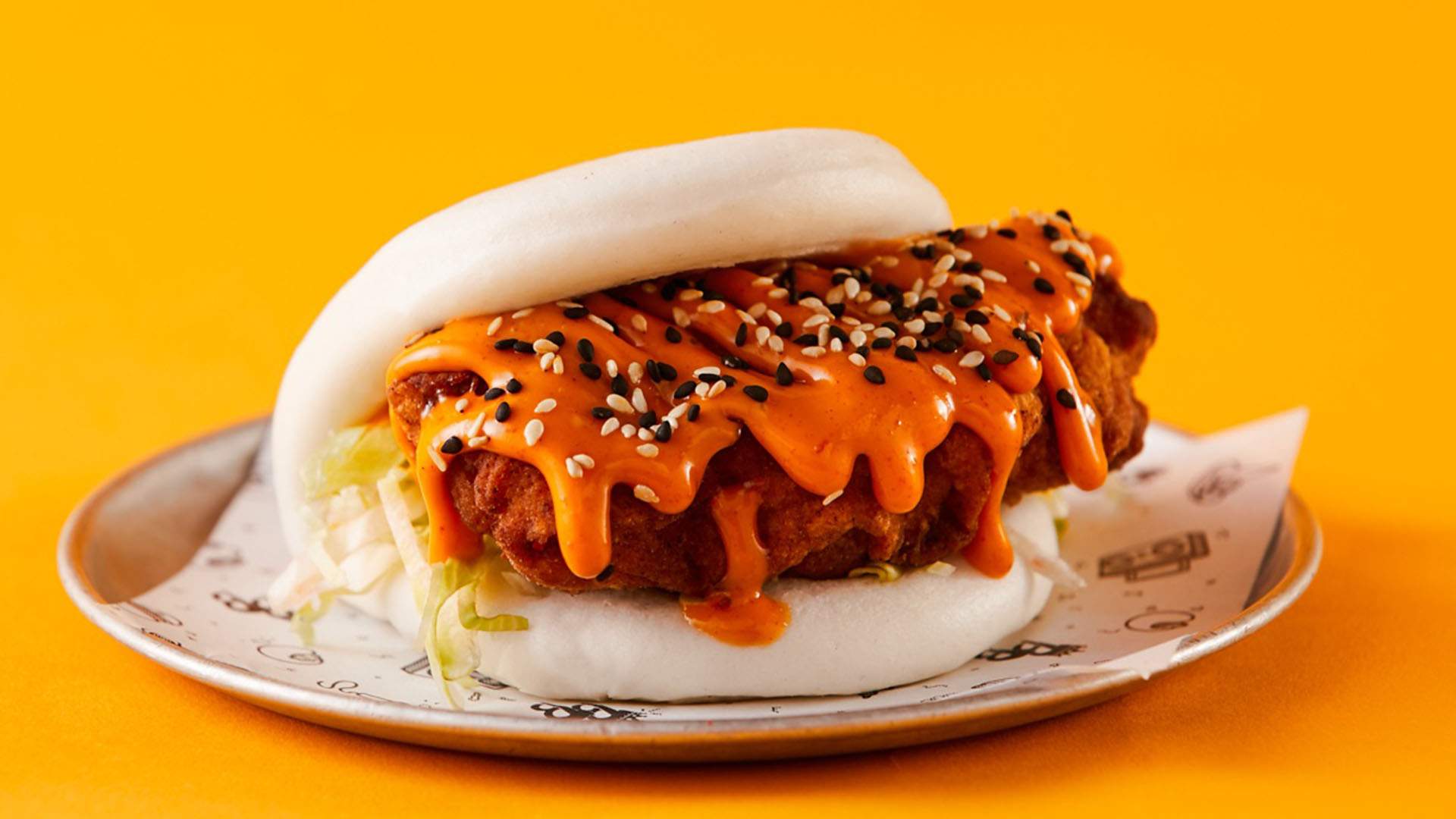 TUPUC CHICKUR AND NOTORIOUS PIG BAO, BAO BROTHERS
A regular favourite at the Night Noodle Markets, Bao Brothers is back again with its modern take on the Taiwanese gua bao. This year, the four-strong menu spans Korean cauliflower, mushroom croquettes and a spicy honey prawn number. But our pick lets you try two flavours in one — the Tupuc Chickur and Notorious PIG. The former is stuffed with fried chicken, lettuce and sesame, then slathered with chilli mayo; the latter tops caramelised pork belly with pickled cucumber, a peanut praline crumb, shallots and hoisin sauce. Nab both for $16. You won't want to share, so be sure to grab a second serve if you're eating with a mate or date.

Sydney's new toastie-themed takeaway joint — now open in Darling Square and Chatswood — will join the Night Noodle Markets lineup for the first time this year. It's offering up Korean-style sangas that pay homage to Isaac Toast, a chain that serves up this popular street eat. Like in Korea, each loaded toastie is made using thick-cut brioche and comes topped with a fluffy omelette. Of the five options available, our go-to is the wagyu beef and onion don ($12) — it's stuffed with roasted sesame slaw, seaweed and a generous dressing of truffle mayo. Other fillings include shichimi-spiced chicken with smashed avo and pineapple, fried barramundi with tartare sauce and pickled cucumbers, and grilled prawn with corn chips and sweet chilli.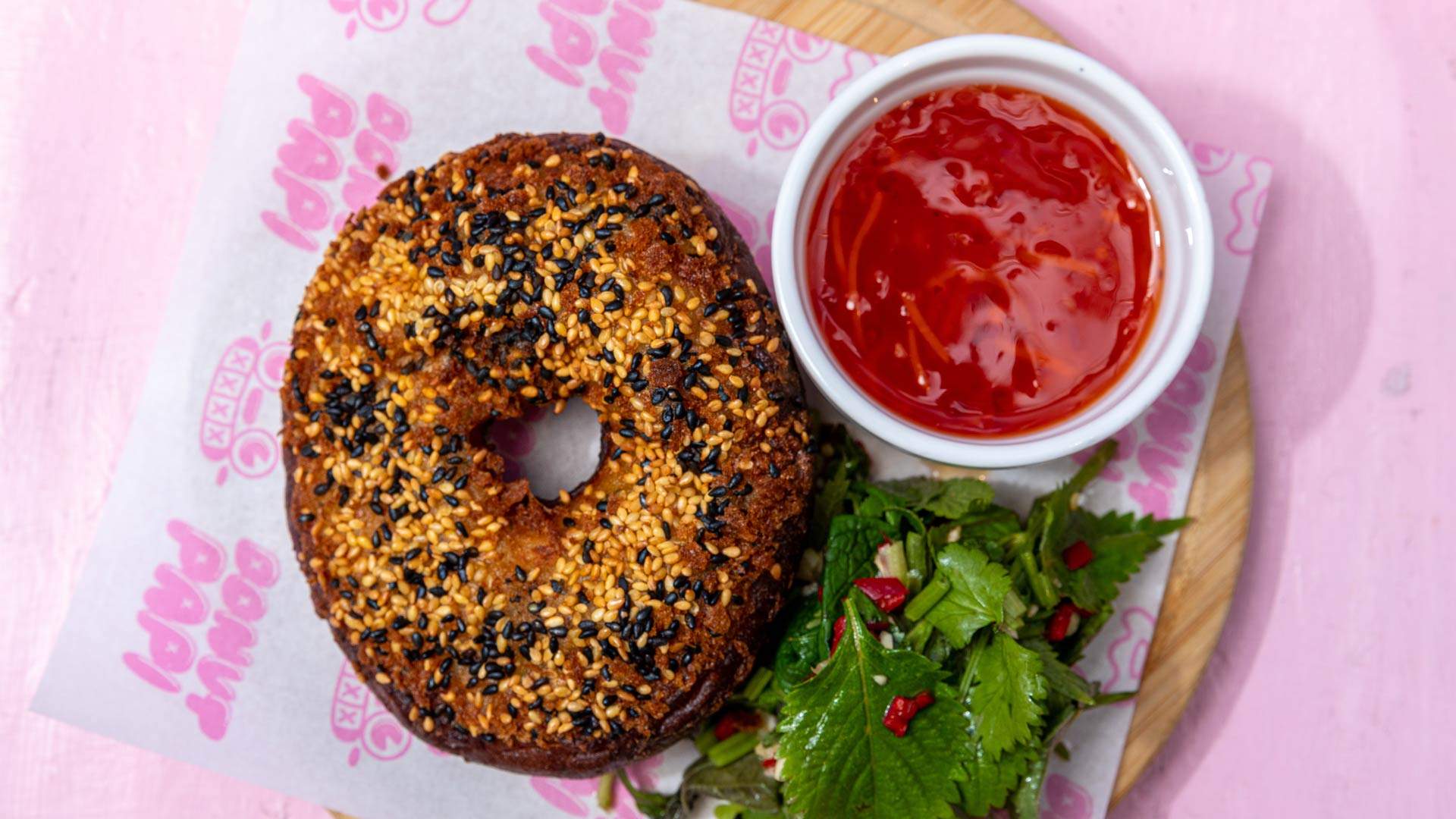 PRAWN TOAST DOUGHNUT, DONUT PAPI
Donut Papi's menu is really doing it for us this year. While we recommended nabbing the aforementioned leche flan doughnut burger for dessert, Redfern's cult favourite sweet shop is also slinging an extra special savoury option for the Night Noodle Markets. Its prawn toast doughnut takes house-made prawn and fish mince and schmears it on a yeast-raised doughie — which is then dipped in black and white sesame seeds, panko crumbed and deep fried. The dish is also served with a plum and sweet chilli sauce for dipping. This wild new creation is sure to change your mind on what a doughnut is supposed to taste like.

The Night Noodle Markets at Home menus are available via Doordash from Wednesday, October 7 to Friday, November 6 as part of Good Food Month. Check out the full food lineup here.
Top image: Kera Wong
Published on October 07, 2020 by Libby Curran