The Ten Best Sydney CBD Lunches
Make your lunch hour count.
---
How much of your work week do you spend counting down to the weekend? Too much, if our experience is anything to go by. With an overabundance of exceptional dining options dotting the Sydney CBD, the depressing desk-bound salad should be a thing of the past.
Pay a visit to one of these CBD lunch hot spots instead and bring a little weekend to your weekday.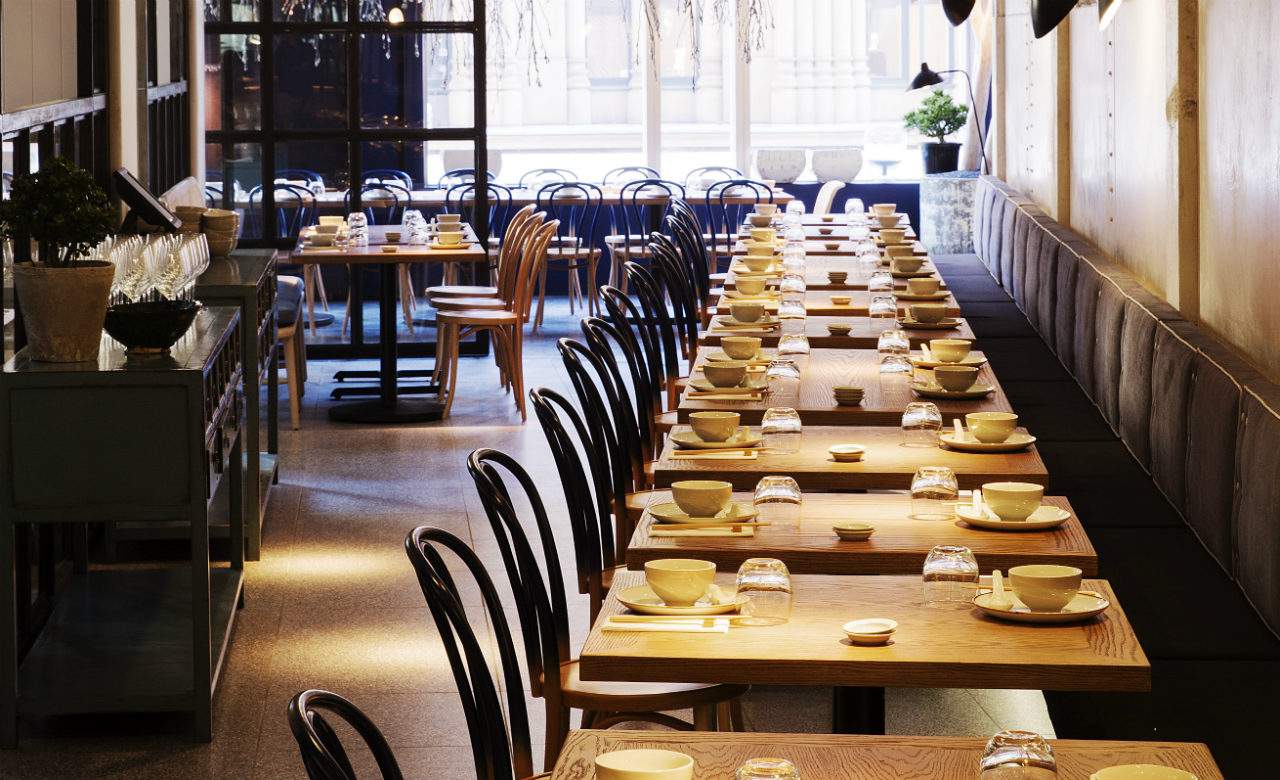 Dumplings are a sure-fire lunch option when you need to inhale something delicious but be back at your desk within 16 minutes. And there are plenty dumpling houses that do this — but then there's Lotus Dumpling Bar, a glamorous 270-seater dining room with pretty blue day lounges and brasserie chairs, attentive wait staff and bathrooms so lovely you'll make the effort to go twice. It's easy to be a little sceptical when you notice that eight dumplings are going to set you back $25. I mean that's a banquet for two in Ashfield right there. But, thankfully they're good —  and by good, we mean some of the best we've ever had, in a long and illustrious career of dumpling eating. You can't have a bad afternoon after a lunch spent here.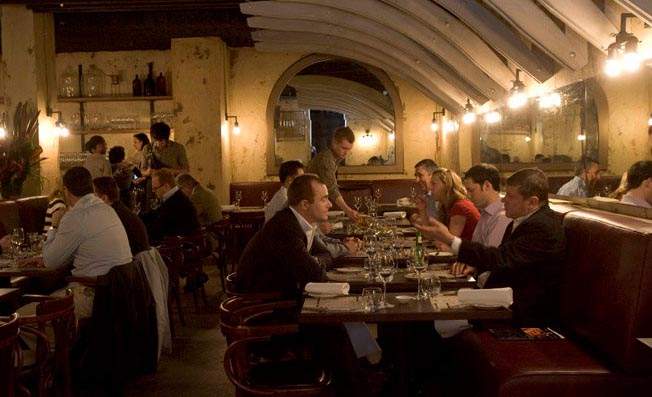 Hiding on Bligh Street among office buildings and convenience stores, Chophouse is one of the finest steakhouses Sydney has to offer. Designed as a throw-back to the grand steakhouses of old New York, the place exudes a refined elegance without any of the attendant pretension you might expect. Make an excuse to your boss before you depart for lunch, so that you can get comfortable in one of the stately leather and dark wood booths for a long and satisfying feast. Although there are plenty of salads and light options like a scallop ceviche with lime, chilli and blackened corn ($21), Chophouse is at its heart a cavern for carnivores. The 300g Grasslands New York striploin is cooked like a dream and served with the creamiest of mashed potatoes and a deliciously rich red wine jus, while the lamb mixed grill ($64 for two) will stimulate an unwinnable argument about whether the tender meat is best enjoyed in rack, rump or snag form, and with which of the three interesting house sauces.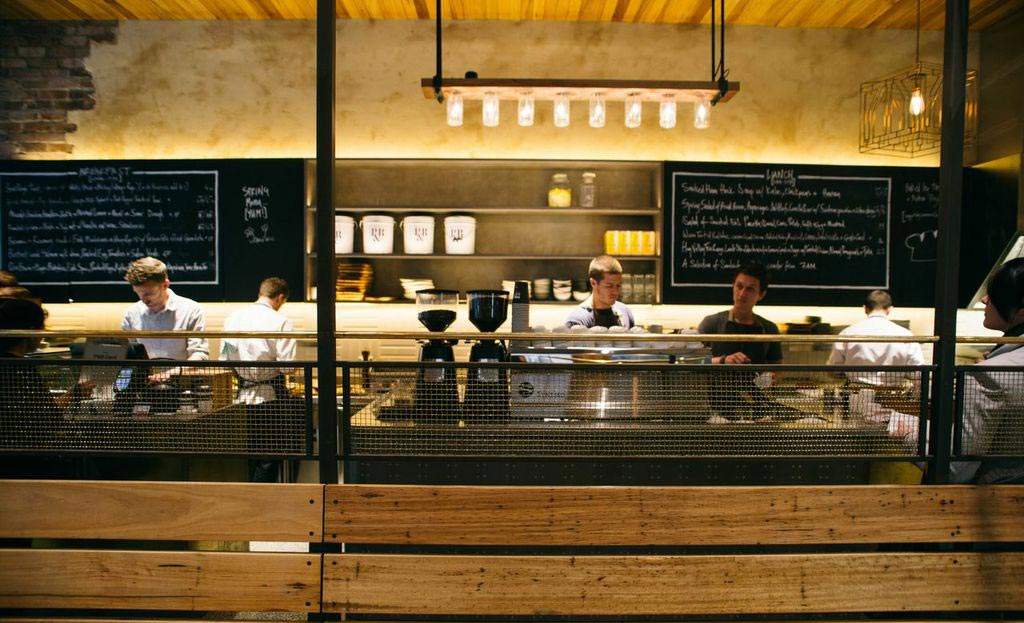 For a CBD with a cafe on every corner, it can be surprisingly difficult to find quality coffee in Sydney unless you know where to look. Enter Pablo & Rusty's. Their keen palate extends beyond the cup to the table, with a fresh and colourful lunch spread that's a perfect prelude to the ideal drop. The lunch menu ranges from the light and seasonal — like a spring salad of broad beans, asparagus, witlof, Corella pear and Sirbone pecorino drizzled with citrus dressing ($16) — to heartier options like a Hay Valley free range lamb shoulder braised in lemon, sage and garlic, and served atop a bed of quinoa tossed with pomegranate seeds, almond shards and marinated feta ($22). With its exposed bricks, scattered plant life, market produce and trendy coffee options, like a fresh cold brew served over ice with a sparkling water chaser, Pablo & Rusty's brings a slice of the Sunday morning cafe scene directly to your weekday.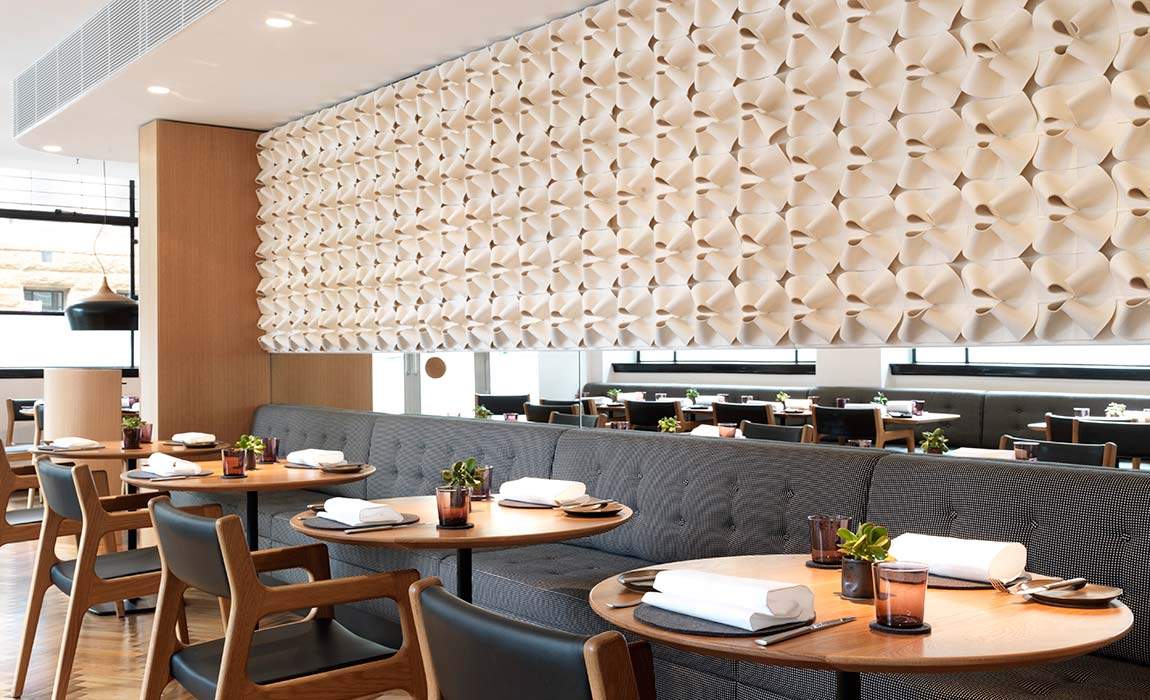 It's hard to find the right words to describe the Bridge Room. Stylish. Enchanting. Unique. From the moment the gleaming glass door to the Heritage Listed office building opens to a warm smile from Sunny Lusted, partner of chef Ross Lusted, you know this is going to be a special culinary encounter. The room has an intimate, exclusive feel, with inspired decor. John Dory is cured unexpectedly in sake, the gentle flavours of the fish complemented by the soft smokiness of a soft milk pudding and the crunch of a rock kelp crisp ($30). A fleshy Hapuka fillet is drizzled with rich sweet corn butter, dotted with nameko mushrooms and topped with a crispy potato shard, accompanied by sweet young lettuce roasted on the kitchen's signature robata grill ($44). Whether you're celebrating an important birthday or a big win for the team, the Bridge Room is the most special of special occasion dining in the Sydney CBD.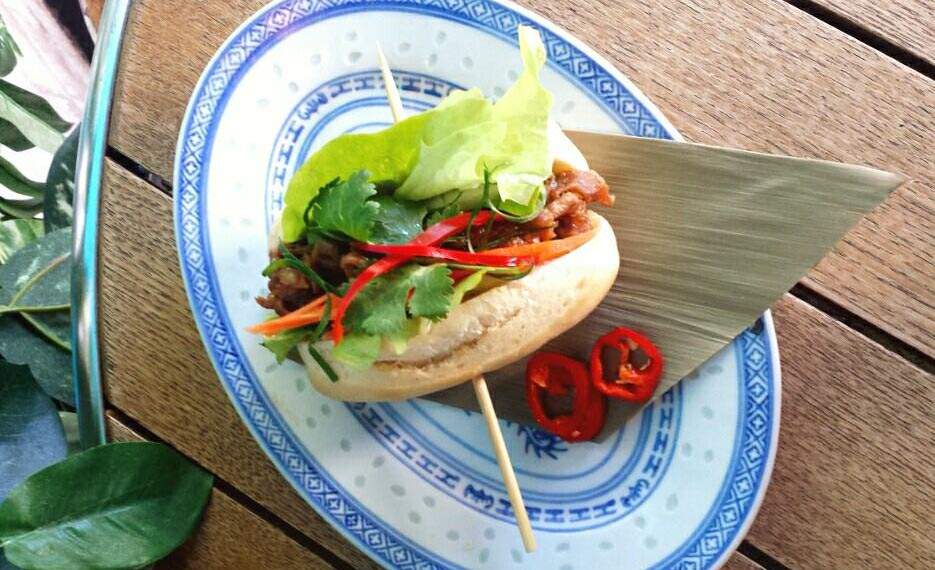 For a cheap, fast lunch that doesn't compromise on flavour or style, you can't go past Madame Nhu. Styled in kooky homage to a Vietnamese-French terrace house, complete with vintage outdoor furniture and hanging tropical plants, Madame Nhu beckons you from its little corner of the Galeries Victoria food court to step away from your work day and into the bustling back streets of old Saigon. The emphasis here is on pho, the rich, herbed noodle soup that is the Vietnamese national dish, with six variations on offer. The signature dac biet pho ($11.90) features three styles of beef and mountains of deliciously slipperly rice noodles in a flavoursome beef broth, served with sprigs of fresh basil, bean sprouts, lemon wedges and freshly sliced chilli. No diasporal Vietnamese restaurant would be complete without rice paper rolls, and here too Madame Nhu delivers: honey-infused silken tofu is rolled up with fresh vegetables and rice noodles for a satisfying snack ($8.90).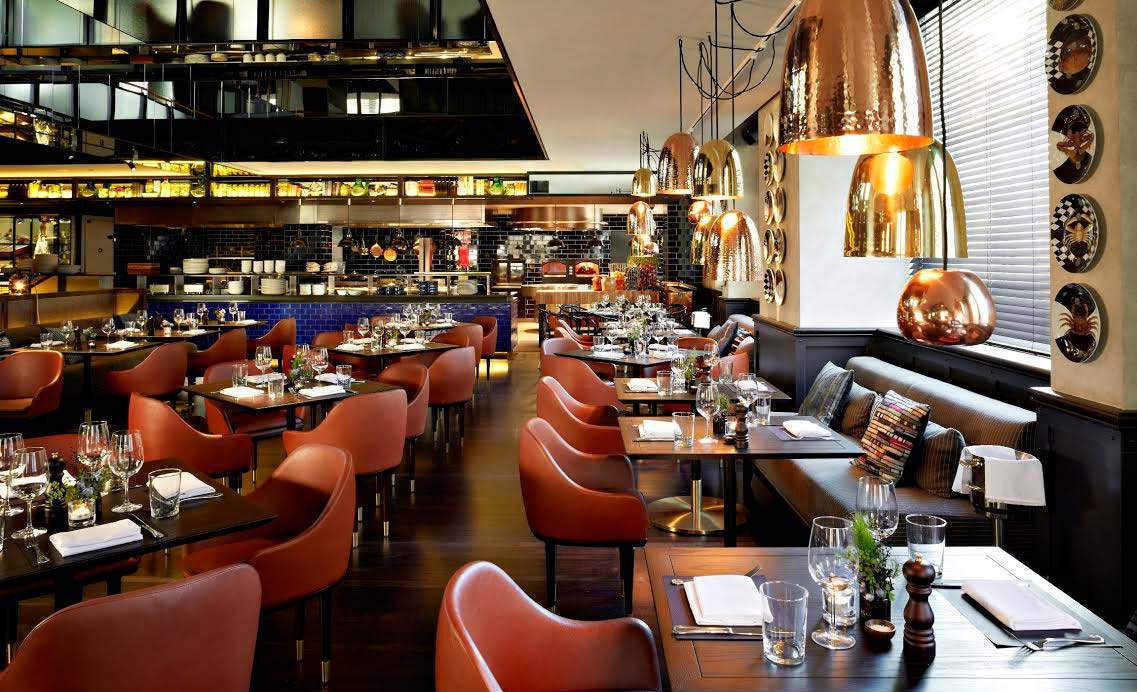 Your passage into Gowings Bar & Grill can't help but make you feel like you're about to do something your mother wouldn't approve of. It begins when you're shown into the lobby of the QT Sydney hotel by a self-described Director of Chaos clad in black leather and sporting a bright red bob. The feeling grows as you make your way through the hotel reception, complete with dark walls mounted by plasma screens that feature pouting lips and posing legs. From there, a bright neon sign directs you up a short flight of stairs to the restaurant, and it's difficult to know what to expect. In fact, Gowings Bar & Grill is a classically elegant establishment, offering an impressive range of tasty, French-inspired options. Preserved lemon lifts rather than overpowering the delicate tartare of yellowfin tuna ($18), while salads in entree and main sizes showcase interesting ingredients like ashen chevre, white cooked organic chicken and hand-picked spanner crab. The rotisserie offers a choice of three birds, our pick of which is the half crisp spiced duck, cooked to perfection and served with Paris mash and steamed black cabbage ($44).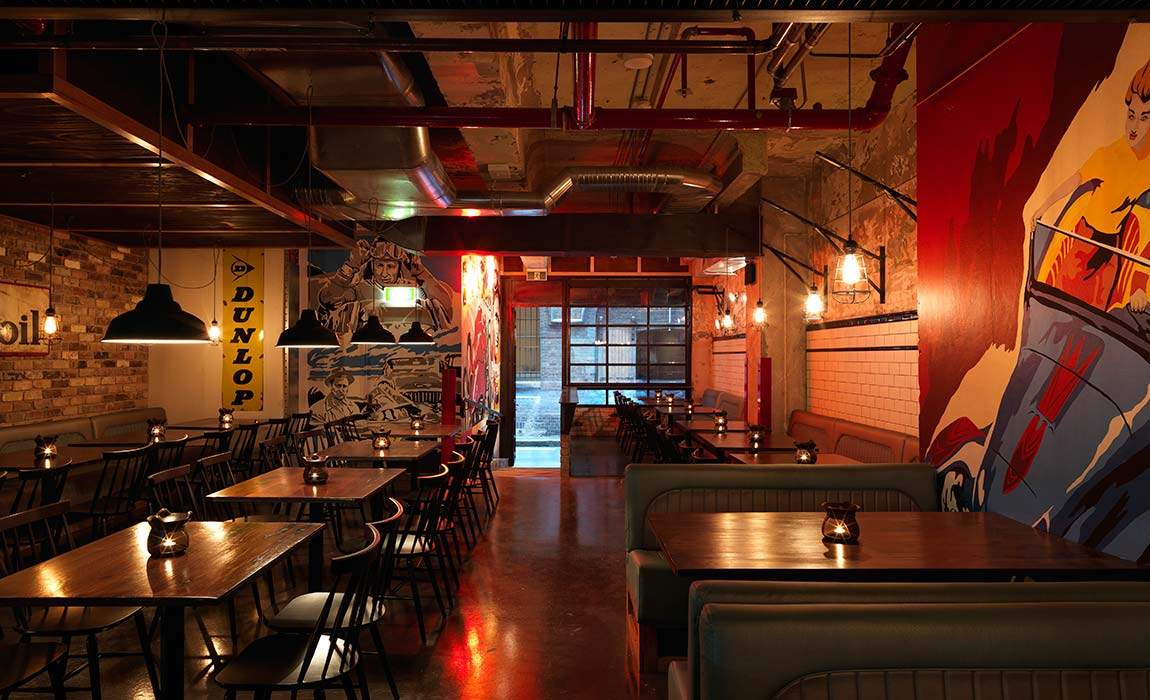 A themed American-style diner, Bridge Street Garage has absolutely nailed its genre. With a lime green car body hanging suspended from the ceiling, American major league baseball playing on the screen above the bar and a bright, retro mural decorating the length of one of the restaurant's walls, the part old-school mechanic, part sports-bar theming works a treat and reads as charming rather than overdone. The food plays its role perfectly: stereotypically American and bursting with all the right flavours. A set of four mini burger sliders ($23) lets you try two of the four main burgers on offer: the Garage Burger features a dry-aged Angus patty with lettuce, tomato, sweet beetroot, pineapple, bacon, pickles and sauces in a toasted brioche bun. The mains list travels from New York to New Orleans to Mexico and down to Argentina, with an impressive range of steaks, ribs and sandwiches that make decisions tricky. Whatever your choice, the crunchy onion rings ($8) and house-baked corn bread ($12) will make the perfect sidekicks.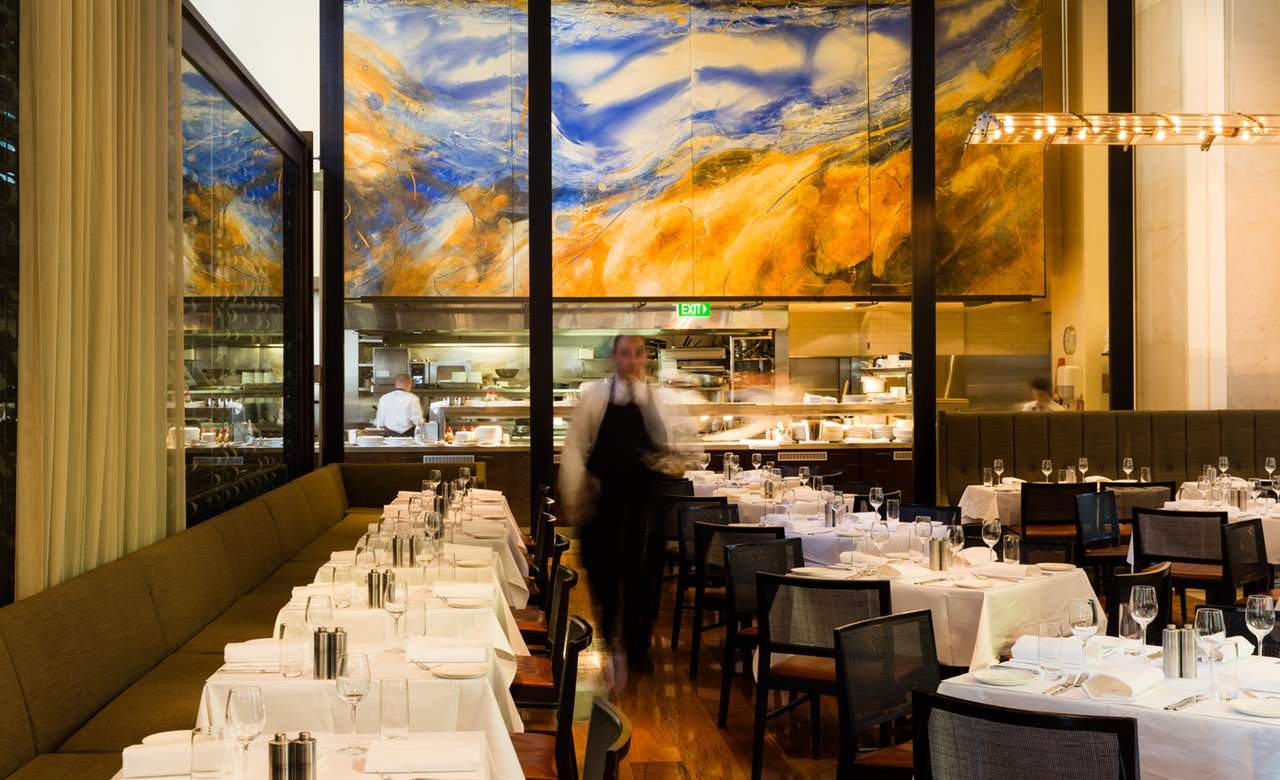 Luke Mangan's Glass Brasserie is the full package. For one thing, the space it inhabits in the Sydney Hilton is stunning. Floor-to-ceiling glass windows bathe diners in natural light and provide a pretty view over the Queen Victoria Building. The menu opens with an appealing range of tapas dishes, our pick of which are the duck croquettes ($14). Next come pan-fried gnocchi with corn, asparagus, zucchini, parmesan and lemon thyme ($27). These fluffy pockets are perfectly textured and suffer none of the dryness that can let down this kind of dish elsewhere. The mains are varied and intriguing, ranging from a zesty Thai snapper fillet to confit duck with grilled mango, fennel and marsala sauce. But the clear winner for us is the dessert. Mangan's signature liquorice parfait ($20), which combines a dense liquorice semifreddo with lime prepared in three ways, is just impossibly perfect for the liquorice lover. Whether you come for a business lunch or a personal celebration, Glass Brasserie will have you planning your next visit before you've walked out the door.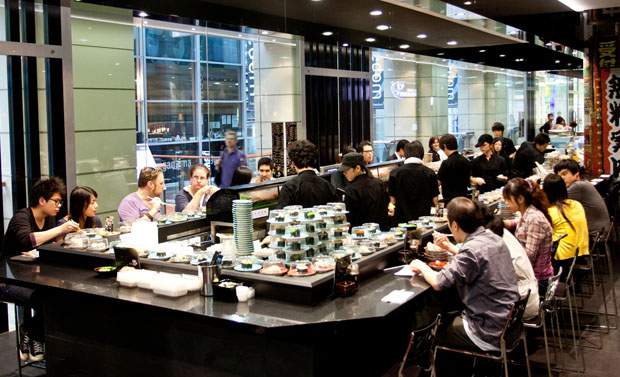 "YES FOOD 'eat' happiness," says the Sushi Hotaru website, and we couldn't agree more. With two outlets, one in the Galeries Victoria and a recently opened sister restaurant on Bathurst Street, Sushi Hotaru is what every sushi train experience should be: fast, varied and consistently excellent. All the original favourites are there: gorgeous sliced sashimi, crispy chicken sushi and lots of great vegetarian options. But Sushi Hotaru offers more than your usual sushi train, with interesting variations on classics and intriguing new options coming round with every rotation of the convoy. Watch the sushi chefs take a blowtorch to your salmon nigiri for a perfectly smoky, seared finish. At $3 a plate, you'll feel at ease trying every interesting concoction that tickles your fancy. It won't be long before you find yourself waiting impatiently for your next "Irasshaimase!"
In a dining scene where the word 'tapas' is rapidly becoming genericised, it is increasingly exciting when a tapas restaurant genuinely brings the taste of Spain. Barrafina is a great example of the latter, with an authenticity that transports you to Madrid's trendy, student-filled laneway bars. With a cute yellow and white theme to the decor and a quirky music-focused mural decorating the feature wall, the venue is pleasing to the eye; its long list of pintxos and tapas make it equally enticing for the tastebuds. Crusty slices of baguette rubbed with tomato and laden with shaved zucchini and manchego ($8) are an excellent place to start, and quaint cups of lime-cured yellow fin tuna ceviche with eschallots, basil, avocado, chilli and micro herbs ($9) make for a pleasing chaser. The menu progresses through to more substantial options, like veal and ricotta meatballs with pinenuts and potatoes ($12) and a set of delectable seared Queensland scallops served on morcilla and apple puree ($19).
Published on November 28, 2013 by Sarah Lux-Lee