FOOD & DRINK
Ten After-Work Drink and Dining Spots to Check Out in Parramatta
Add these flashy cocktail bars, all-day diners and cosy family-run joints to your post-work roster.
Ten After-Work Drink and Dining Spots to Check Out in Parramatta
Add these flashy cocktail bars, all-day diners and cosy family-run joints to your post-work roster.
in partnership with

Located smack bang in the geographical centre of the Sydney metropolis, Parramatta is a food lover's haven — especially if you're the type who likes an international adventure. Without leaving the CBD, you can taste your way all over the planet, from Vietnam and Thailand to Greece, Italy and the Middle East. And don't forget the craft beers, fine wines and creative cocktails a-plenty available to match your picks.
Whether you work in the area, live there or just feel like paying a visit, when you're in the mood for a feast, get yourself along to one of these ten western Sydney hideaways. You'll discover everything from a secret cocktail bar in a carpark to a cosy Malaysian eatery.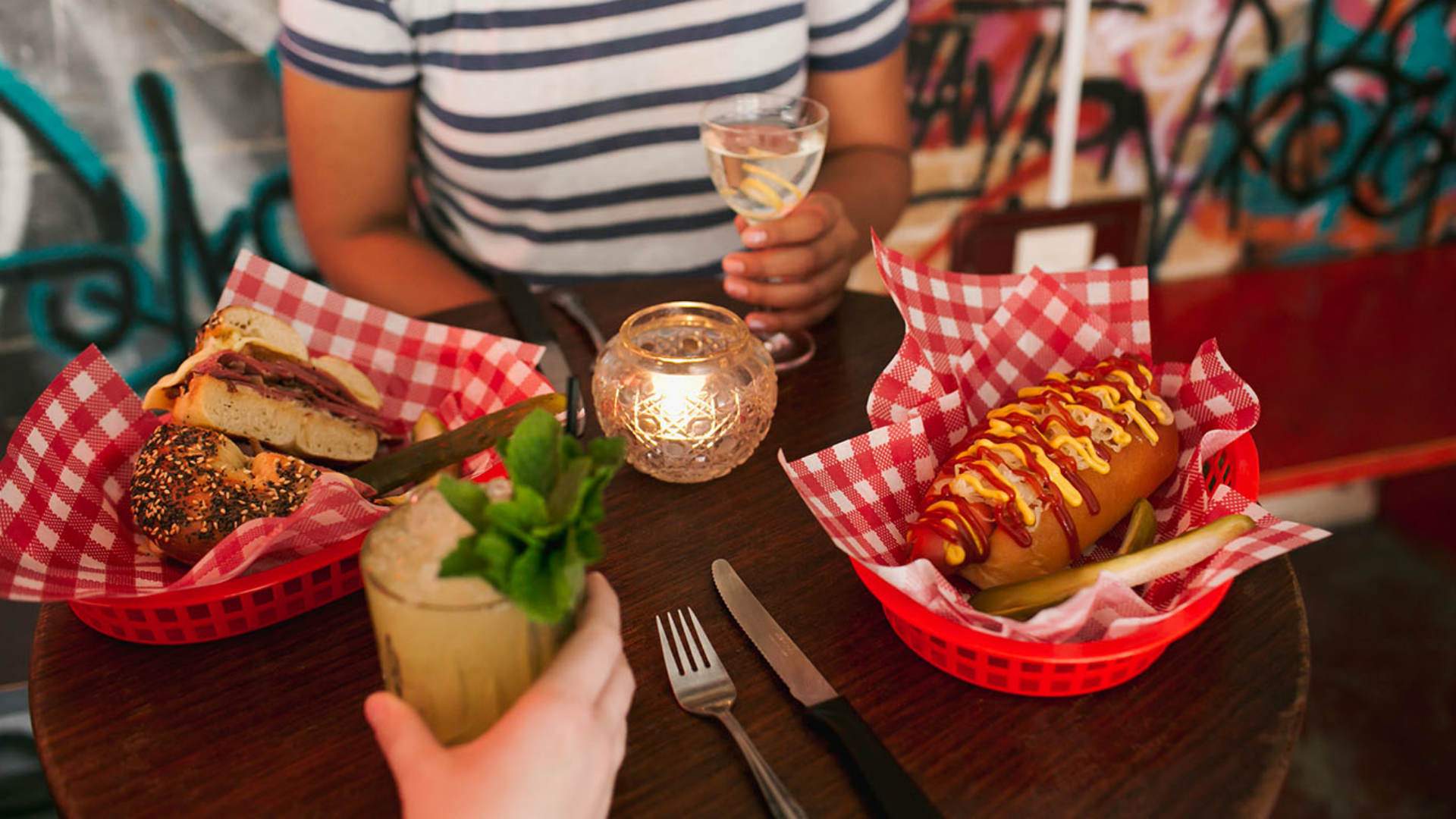 Uncle Kurt's is Parramatta's favourite (and first) small bar. And getting there is half the fun. It's tucked away in a multi-storey car park, behind secretive windows in Horwood Place. Grab one of the 45 seats, surrounded by graffiti and neon lighting, and order a signature cocktail, made with top-shelf spirits and house-made ingredients.
The list is always changing. One night, you might be sipping a Westside, featuring kaffir lime leaf-infused gin, yellow chartreuse, citrus, sugar snap pea, honey and ginger. And, the next, a Poor Man's Mezcalita with smoked tequila, dry vermouth, sage honey, citrus and hopped grapefruit bitters. The New York City deli-inspired eats include double-smoked hot dogs, reuben sandwiches and bagels.

Fancy a cocktail with water views? Pop into riverside lounge ALEX&Co. The drinks list covers both classics and creatives, like the Strawberry Royal with strawberry-infused vodka, fresh berries, Sicilian lime, fennel and agave nectar.
Meanwhile, in the kitchen, executive chef Kyle Quy (ex-NOLA) does wonders with super-fresh produce, sourced from the morning markets. Settle in for grilled delights, like Portuguese baked chicken, or, if you're with mates, share plates, like four-hour braised lamb shoulder. The massive venue hosts more than 300 people and offers a variety of spaces.

KOUZINA GRECO
Like all great Greek eateries, Kouzina Greco isn't just about feasting on delicious fare. It's also about having a damn good time. So, settle in and prepare for the ride. The menu features all the Greek cuisine classics — think taramosalata and pita, meatballs with tomato salsa, dolmades, spanakopites (spinach, feta and ricotta filo), calamari, haloumi, chicken souvlaki and the signature kleftiko (three-hour slow-roasted lamb with lemon potatoes). Pick a handful of favourites or, if you're dining with one or more mates, let them do the hard work for you — the set menu gives you stacks of dishes for just 59 bucks per head.

Towering 26 floors above the Parramatta CBD, Nick and Nora's affords epic views — all the way to the Sydney CBD and Sydney Harbour. The Speakeasy Group, which owns the venue, is well established on the Australian hospo scene, thanks to excellent venues like Eau de Vie and Mjolner. This bar takes its titular inspiration from fictional sleuths Nick and Nora Charles (The Thin Man) and its aesthetics from the indulgent post-prohibition era. Sip on glorious champagne or choose from more than 900 spirits, while sinking into a banquette surrounded by art deco fittings and feasting on oysters and caviar.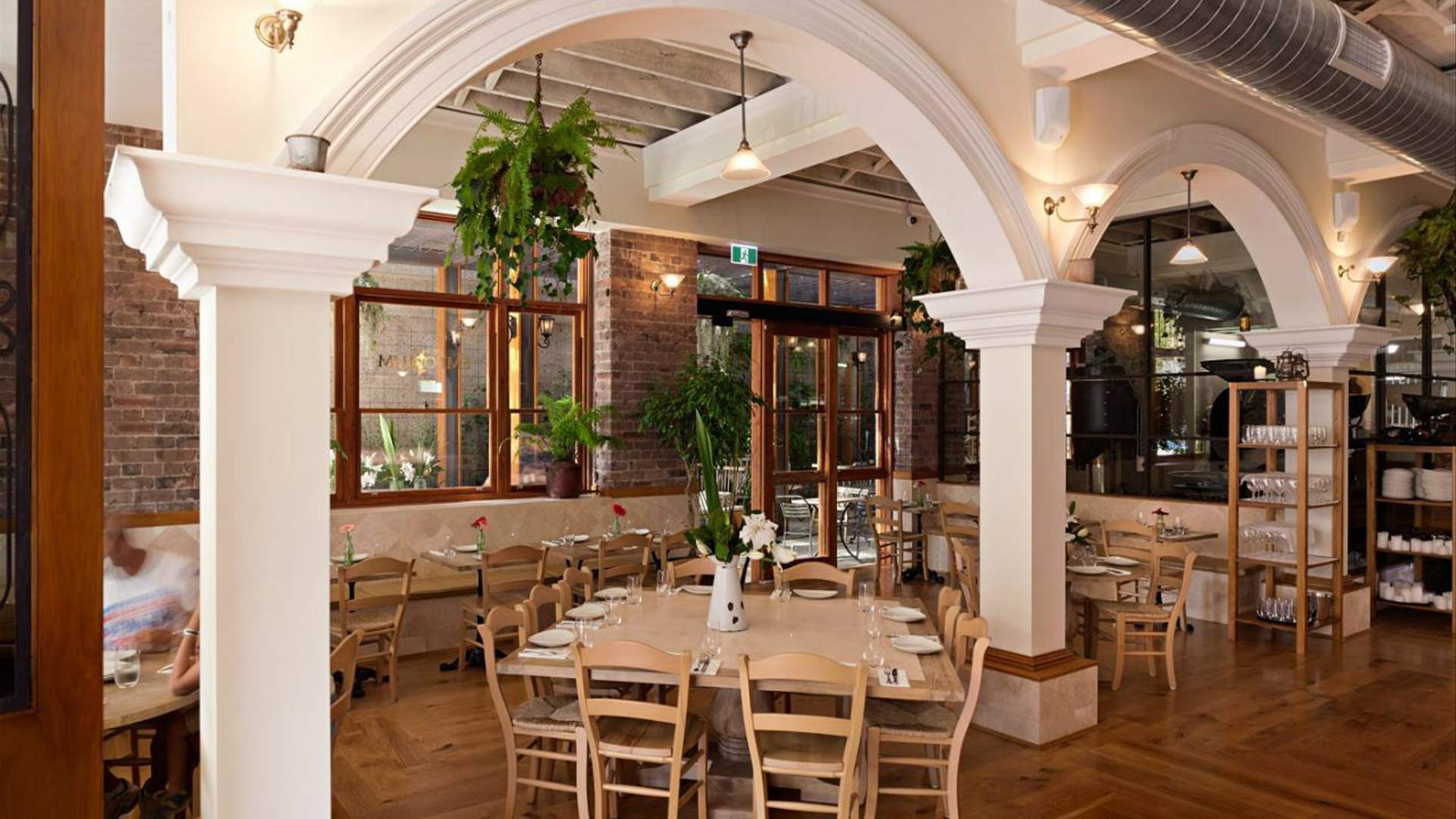 Step into The Emporium and you'll feel like you've been whisked away to some idyllic corner of the Mediterranean. Decked in marble and splashed with greenery, this decadent spot is open all day – for everything from coffee and cake to a multi-course dinner. Begin with seared Canadian scallops with cauliflower, saffron emulsion, pickled onion and black puffed rice, followed by handmade linguine with green king prawns, basil, tomatoes, parsley, chilli and garlic. Then, for dessert, tuck into cardamom and orange spiced doughnuts with milk chocolate ganache.

Pho Pasteur isn't just a Vietnamese restaurant. It's the realisation of a dream. Owners Mr and Mrs Pham fled to Australia in the 1970s, as refugees of the Vietnam War, and, in 1992, opened this old-school eatery. Their hope? To share the recipes of their home province, Tay Ninh, with their newfound neighbourhood. Arrive hungry: the dishes are generous. And fair warning: you'll struggle to go past the beef pho, a heartwarming noodle soup containing the works — rare beef, brisket, meatballs, tendon and tripe.


For some of the best laksa outside Singapore, hunt down Temasek, a Malaysian Singaporean eatery hidden up a laneway in Parramatta CBD. For more than 25 years, owner Susan Wong has been keeping locals happy in this no-frills space, with piping hot bowls of laksa. Choose chicken, prawns or both. If laksa's not your thing, go for the Hainanese chicken rice, Singapore chilli crab or nasi lemak. There's also a brief selection of Chinese dishes. This is another one that gets packed out, so don't be surprised to find yourself queueing.


SICILIAN
Offering up some of the tastiest Italian fare in Parramatta is Sicilian, a 350-seater that, despite its mega proportions, works for both parties and cosy dinners for two — just be sure to let them know of your hopes when you book. The focus is on traditional Sicilian recipes, from woodfired pizzas and housemade pastas to mains, like pork belly with mash, scallops, apple mousse and cider reduction. If you're dining Sunday–Friday, from 5–6.30pm, jump on the dinner special, which gives you two courses for $29. There are also set menus, cooking classes and happy hour between 3–6pm, Monday through Friday, which includes $9 cocktails and beer, wine and house spirits for just a fiver.


DAE GA KOREAN
Gear up for a colourful adventure through Korean cuisine. Foodies from near and far have been flocking to Dae Ga for its bright barbecued goodies for years. Kick off with entrees, like fried pork dumplings and seafood pancakes, before moving onto a hot pot bibimbap or baby octopus bulgogi (sizzling hot plate). You can count on super-friendly staff, who'll help you through the menu if you're a Korean barbecue newbie. The only catch is, you might need to book. Things get pretty busy, especially on weekends.


HONEY RESTAURANT
Collapse into a seat at Honey Restaurant and relax. No one's in a rush here, so look over the menu in your own sweet time and order when you're ready. Most of the dishes are cooked at an equally leisurely pace, ensuring maximum flavours. If you're unfamiliar with Persian cooking, the traditional recipes are hard to knock back, like ghormehsabzi (veggie and lamb stew with dried lime, red beans and rice) and dizi (lamb shoulder with white beans, chickpeas, tomato and potatoes). With mates? Order a stack and share away.

To discover more spots to eat, drink and play in Parramatta, head this way.
Image: Jiwon Kim.
Published on October 21, 2019 by Jasmine Crittenden