FOOD & DRINK
The Seven Best Hot Cross Buns You Can Get Delivered Across Sydney
Order a box of spiced, chocolatey or gluten-free buns to your home.
The Seven Best Hot Cross Buns You Can Get Delivered Across Sydney
Order a box of spiced, chocolatey or gluten-free buns to your home.
For many, it's not really Easter unless you've scoffed your bodyweight in hot cross buns in the lead-up. And, thankfully, you don't have to forego that tradition this year, either. A stack of local Sydney bakeries are here to fix your cravings, self-isolation or otherwise, launching handy hot cross bun home-delivery services all across town.
Jump on the phone or the web to make an order and within hours you'll be tucking into some handcrafted Easter buns, plump with fruit, loaded with spices and slathered with lashings of butter. From the traditional glazed version, to some crafty new-world remixes, here's our pick of hot cross buns you can now get delivered straight to your door.
If you are going out to pick up takeaway, have a look at the latest COVID-19 advice and social-distancing guidelines from the Department of Health.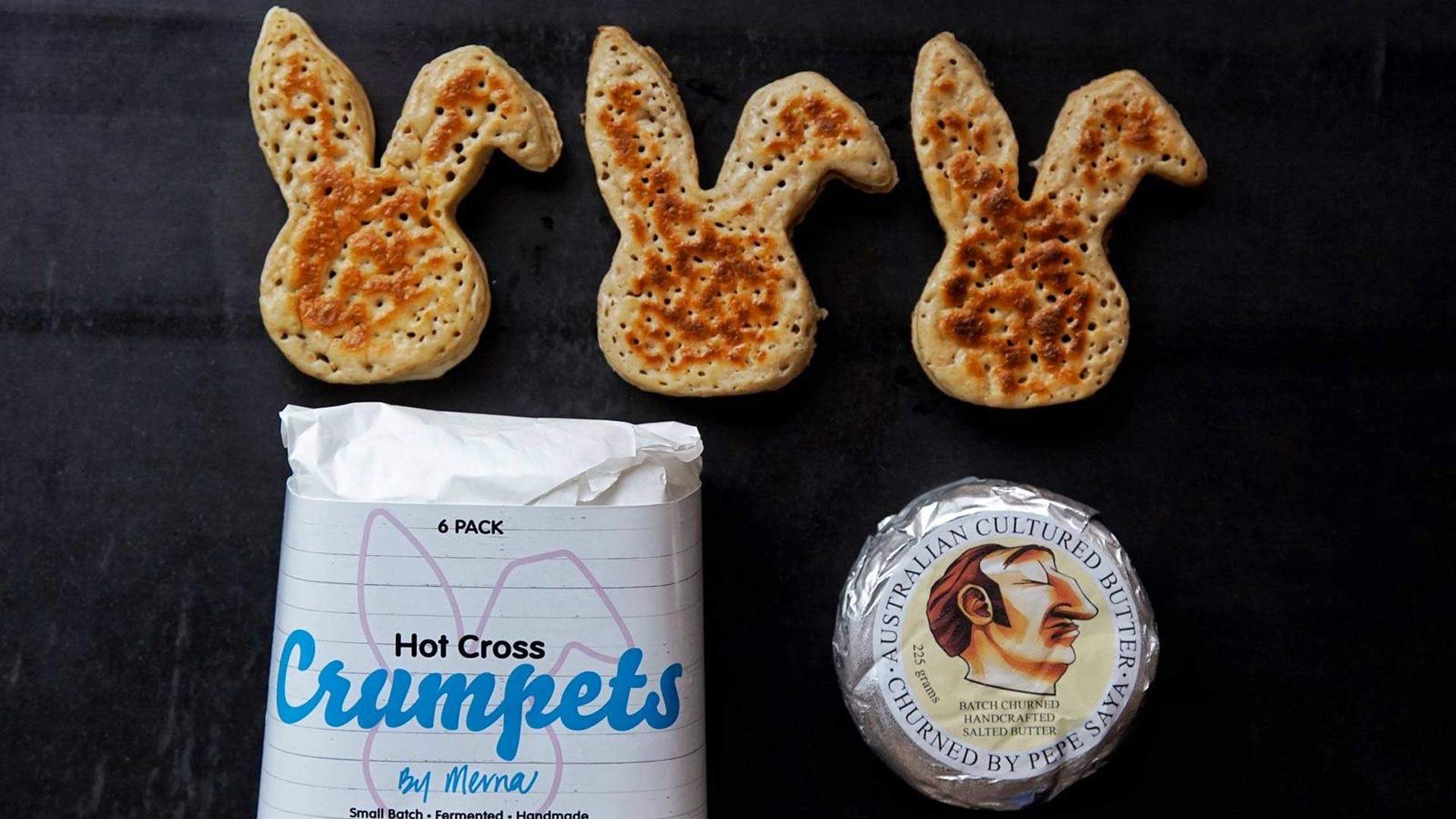 HOT CROSS CRUMPETS BY MERNA X PEPE SAYA
A collaboration between Australia's famous cultured butter maker Pepe Saya and arguably the country's best crumpets (don't @ us) Crumpets by Merna, these bunny-shaped hot cross crumpets are the hybrid you didn't know you needed, but now you most certainly want. Boxes of six crumpets with 225 grams of butter ($20) are available for delivery across Sydney. If you want yours before Easter, you'll need to order before 11.59pm on Tuesday, April 7 (if you miss the cutoff, your crumpets will arrive between April 14–17). Delivery is free for orders over $50, so stock up while you're there.
How? Order online.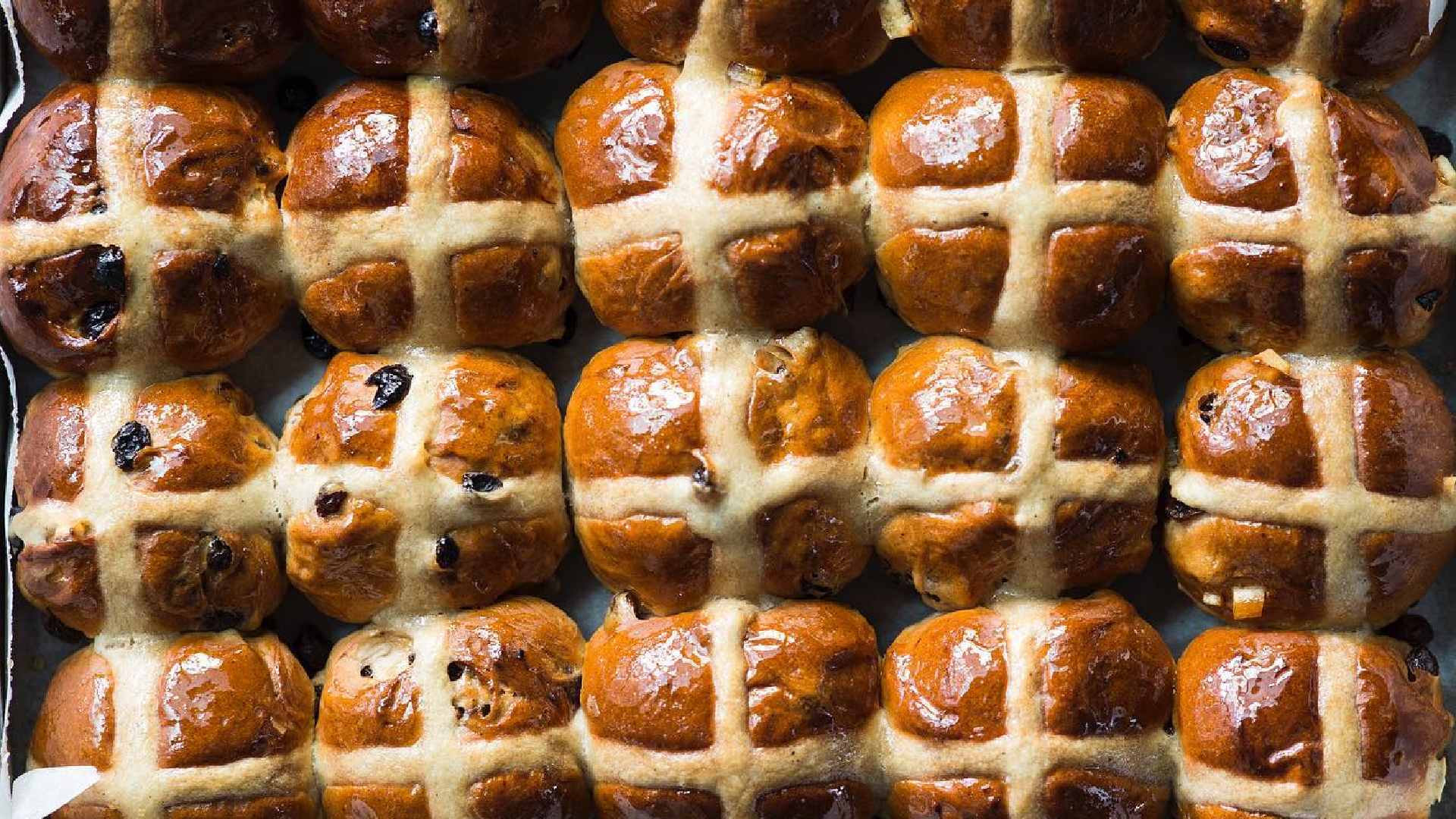 If you're cooped up at home and in need of some sweet, Easter-themed relief, artisan bakehouse Flour & Stone has your back. As always, this time of year sees it spinning out daily batches of fresh hot cross buns, loaded with confit orange, dried fruit and warm spices, and finished with a sticky fruit glaze. And you can get these freshly baked beauties dropped off straight to your house. They'll cost you $4.50 each, $25 for a six-pack or $48 for a box of twelve, with delivery fees dependent on your location. Drop-offs are available weekdays and if you place your online order before 1pm, it'll be sent out the next day.
How? Order online for delivery or pick up from Woolloomooloo store.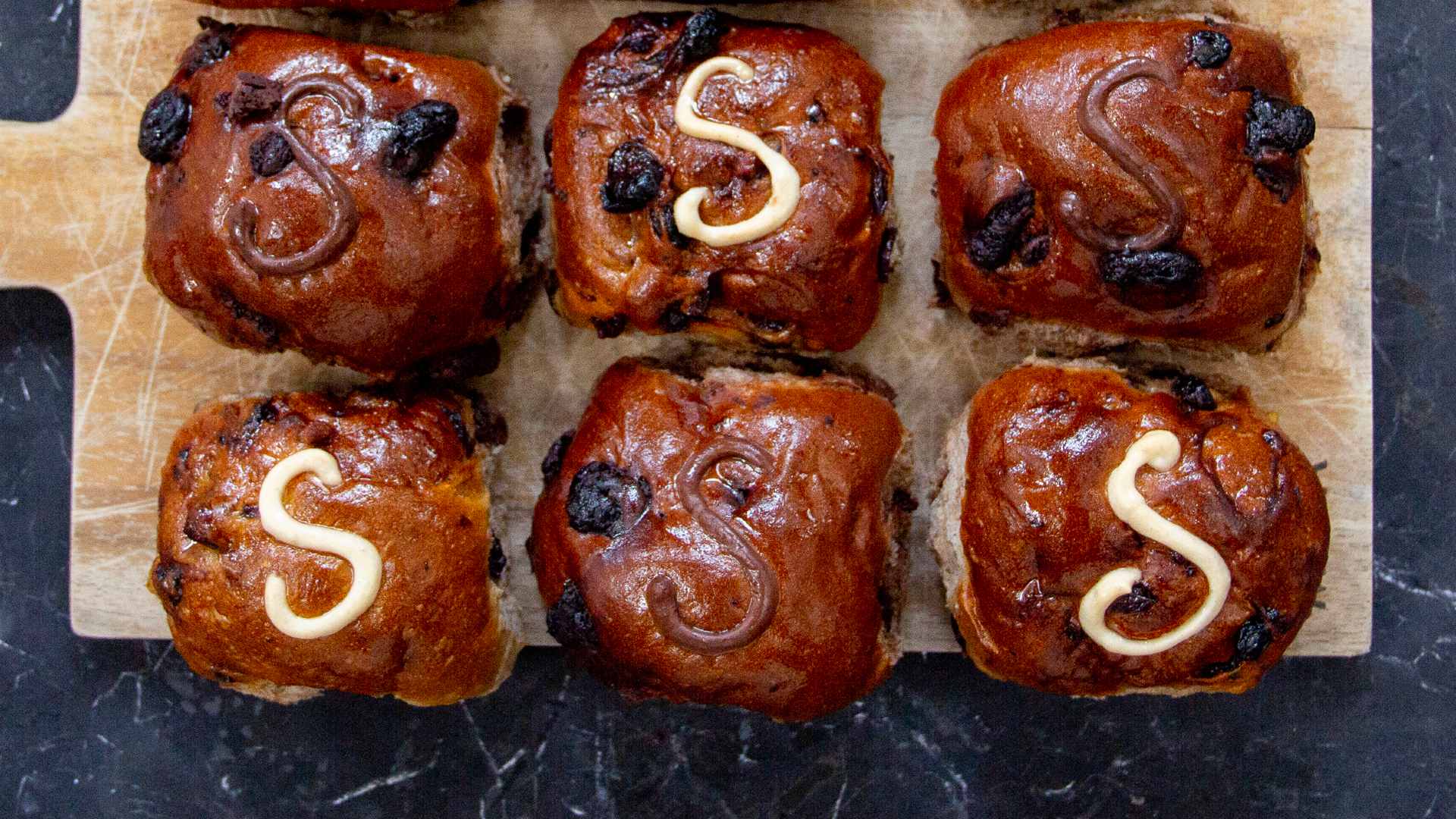 NOT X BUNS BY SONOMA
Sonoma's hand-crafted breads and pastries have long had a cult following among Sydney's sweet-tooths and carb-lovers. And now, thanks to a new home delivery service, they're all yours to enjoy from the comfort of your couch, with just a few clicks. Of course, that includes much-loved seasonal creation, the 'Not X Bun' — a riff on the classic hot cross bun featuring mixed fruits, sweetly spiced dough and an orange glaze, each emblazoned with a signature 'S'. There's also a newly debuted chocolate version, infused with cocoa and spiked with dark chocolate chunks. If you're within four kilometres of most Sonoma bakeries, you can jump on the Bopple app, order a $22 six-pack of either buns and have them to your door quick sticks.
How? Pick up in-store or order via Bopple.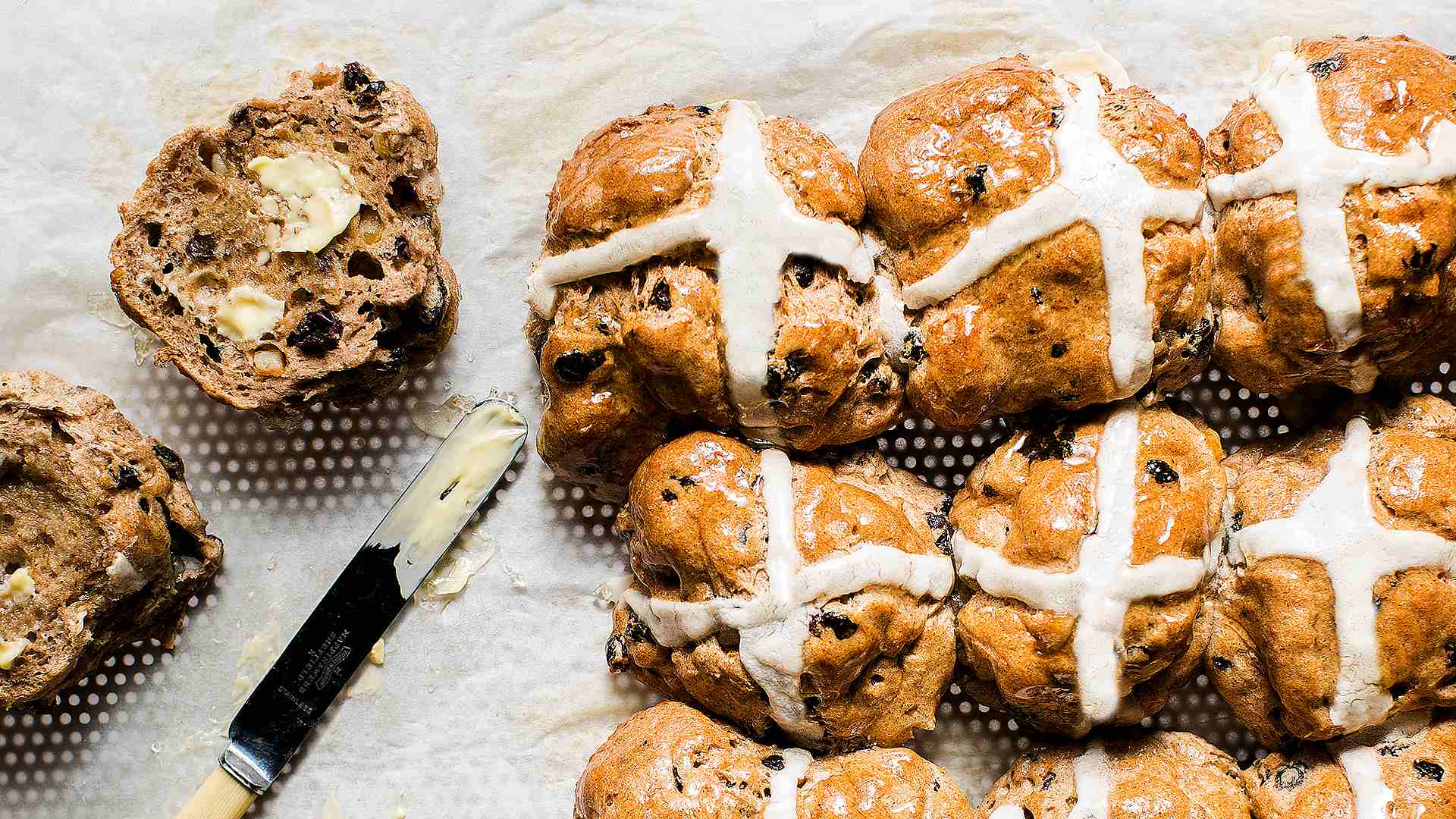 Break out the butter and get ready to toast — Wholegreen Bakery's dairy-free, gluten-free hot cross buns are back for another season. Every bit as tempting as their regular cousins, these treats will be sailing out of the oven every day until April 12, loaded with raisins and currants, heavy on aromatic spices and sporting that lush glazed crust. They'll set you back $4.50 each, or $25 for a six-pack, with deliveries to a bunch of Sydney suburbs available from April 6 to 9, for a $16.50 flat rate fee. To get some buns in your life ASAP, hit the website or order over the phone.
How? Order online or call (02) 9664 2211 for pick up.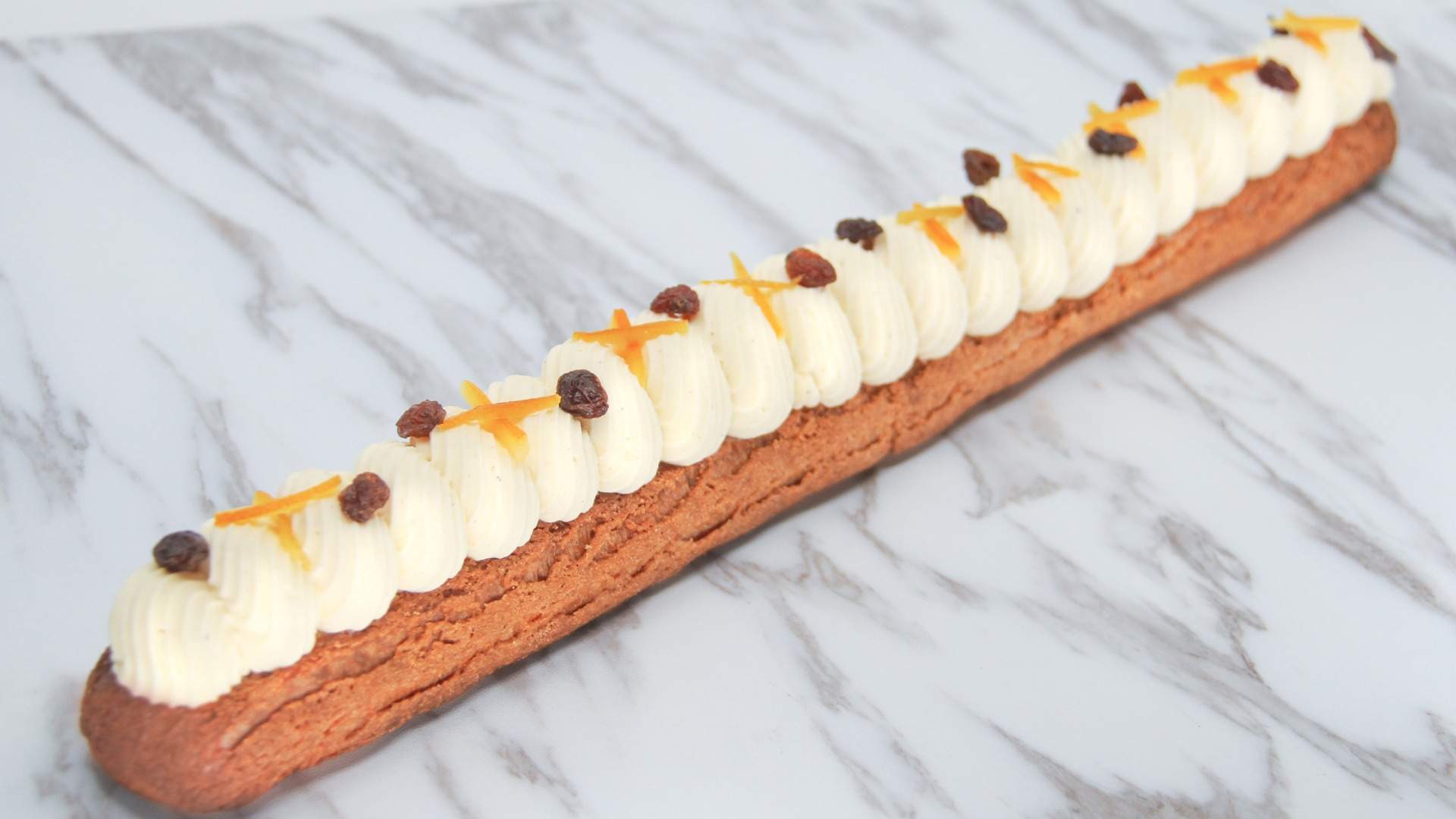 This Clovelly bakery and patisserie is only new, but already its handmade Easter goodies are causing a buzz. There's the traditional spiced fruit version and another loaded with chocolate chips, both featuring a sticky coffee glaze. But for some extra wow factor, see the 'Hot X Eclairzilla' — a 40-centimetre-long eclair-style treat that's studded with dried fruit, soaked in a spiced syrup, piped full of burnt butter cream and finished with a spiced mascarpone whip. At $32, this one's big enough to feed six, while the regular buns are $21 for a six-pack. All of them are available to order via Bopple, with a $2.50 drop-off fee for addresses within 2.5 kilometres of the store. There's a minimum order of $30.
How? Order via Bopple.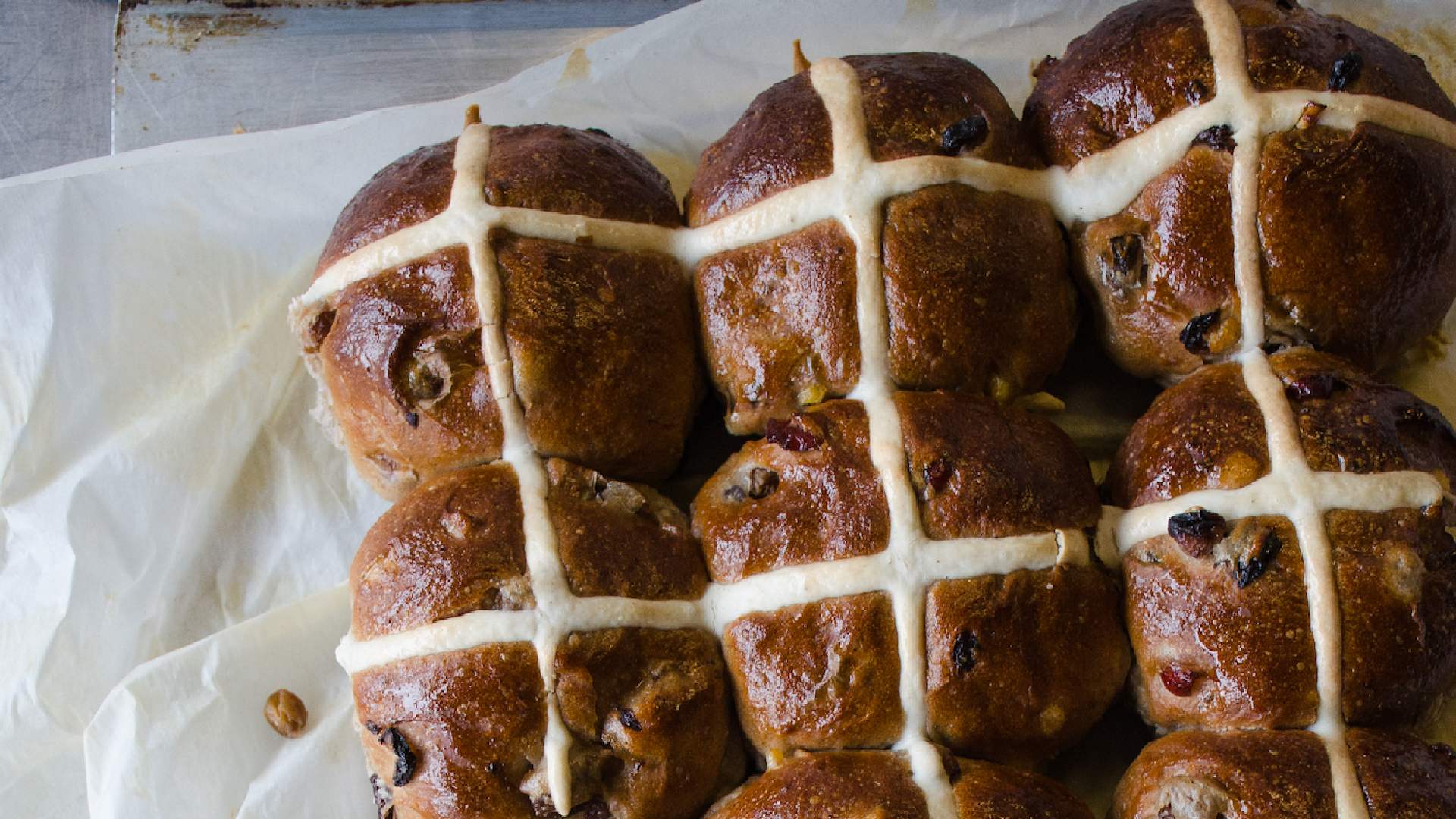 Chippendale's legendary corner bakery is making iso life a whole lot more bearable, with delivery services that'll drop artisan breads and baked goods to your doorstep. Which means you can now enjoy its signature croissant-base hot cross buns in a hurry, without even leaving the house. The classic Easter treats are available via Bopple or Deliveroo by the half-dozen ($19), or you can grab a solo serve ($3.50) either toasted or fresh. Both platforms have a delivery fee of $9. And if you're really stocking up, Brickfields is also offering free home delivery via its own online store, for all orders over $50.
How? Order online or via Bopple or Deliveroo.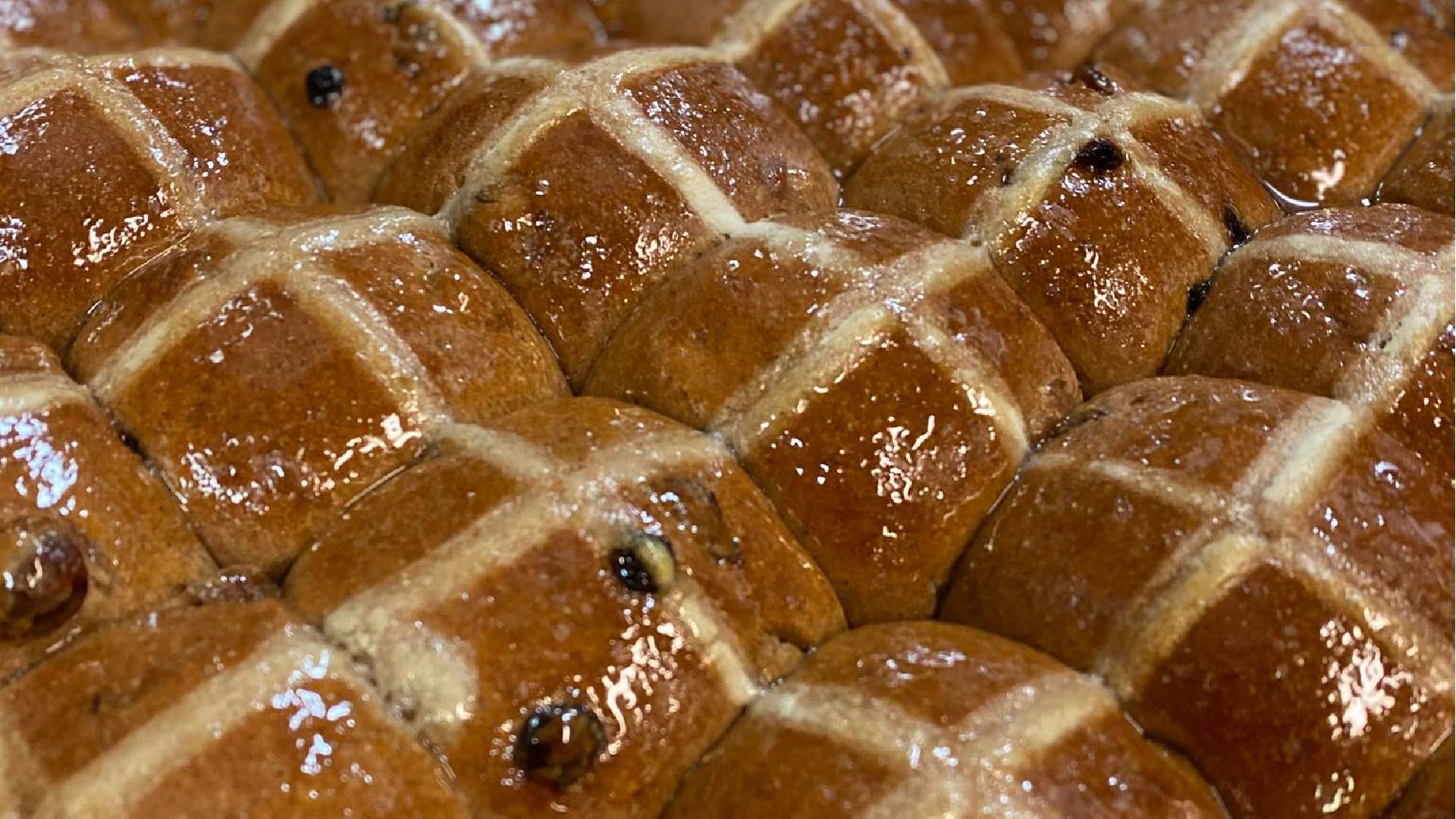 CHOCOLATE HOT CROSS BUNS FROM VILLAGE ON CLOEY
This charming neighbourhood cafe and its sibling bakery might be known for their Portuguese custard tarts, but their hot cross buns are up there with the best. Village on Cloey and Tuga Pastries are celebrating Easter season with two varieties of handmade buns: a classic fruit-filled number, all spiced, glazed and golden; and a chocolate-infused edition that's sure to have sweet-toothed folk swooning. If you live in a nearby suburb and fancy some Easter buns dropped to your door, simply send through your order via private message on Instagram. At this stage, there's a minimum purchase of $35 and zero delivery fee.
How? Pick up in-store or order delivery via Instagram DM.
Published on April 07, 2020 by Libby Curran