FOOD & DRINK
Lit Canteen Is the Alexandria Vietnamese Eatery That's Delivering DIY Banh Mi Boxes to Your Door
Each kit includes a croissant, too, should you feel like making your own banh mi croissant at home.
We've all learned plenty of things during the pandemic, including this nifty tidbit: with enough effort, you can make almost any type of food you like at home. That doesn't mean that you need to stop ordering in from your favourite restaurants, and stop supporting them during this tough time, though. Of course it doesn't. Many eateries have been helping us all level up our cooking game, in fact, by releasing DIY kits for tasty bites like deep-fried ice cream, cannoli and mochi doughnut balls.
The latest make-at-home special on offer: banh mi boxes, with Alexandria Vietnamese joint Lit Canteen packaging up everything you need to tuck into these beloved baguettes. Each kit comes with bread rolls and fillings, and even a croissant — should you feel like making a banh mi croissant for lunch.
There are two types of boxes on offer, too, with the OG kit including a selection of Vietnamese hams, barbecue pork patties and chicken — and the vegetarian version featuring tofu and panko-crumbed mushrooms. Both come with pickled carrots and daikon, as well as cucumber, shallots, coriander and chilli. And, you'll either get Lit Canteen's house-made mayo, pâté and soy sauce, or vegan versions of the same condiments.
"Vietnamese culture is all about coming together to share food with loved ones. Furthermore, it's the act of putting on a feast to show our love, which is so important. You just have to look at pho which requires one day's labour — or two days in our case — but is a staple in bringing many families together," says Lit Canteen Co-founder Ly Dan. "With all of us missing out on that luxury right now, we wanted a way for our friends and family to still experience communal eating during lockdown," she continued.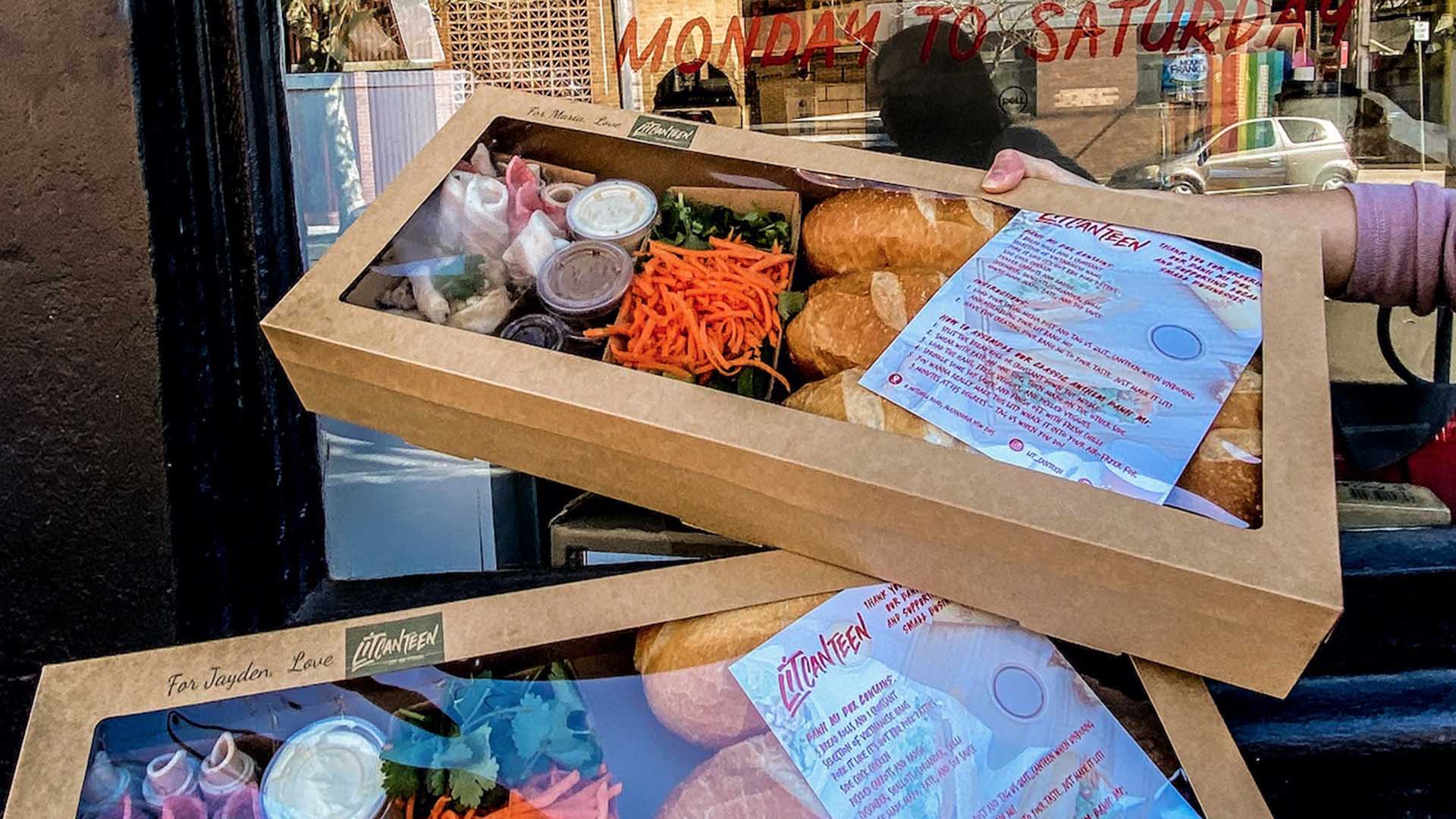 If your stomach is now grumbling with the kind of hunger that only a banh mi can fix, you can order a kit online for the next day, with delivery available Sydney-wide on Saturdays — but fees vary depending on where you live. Pick yours up and it'll cost you $45, or get it brought to your door within seven kilometres of the store and it'll set you back $55. Delivery within 15 kilometres costs $60, within 20 kilometres costs $65 and within 25 kilometres costs $75.
To order Lit Canteen's DIY banh mi boxes, visit the store's website.
Published on August 05, 2021 by Sarah Ward