Long-Awaited Circular Quay Dining Precinct Quay Quarter Lanes Has Officially Opened
Twelve new bars and restaurants have opened in this inner-city dining precinct — including a luxe French bistro, two omakase restaurants and a new Marrickville Pork Roll outpost.
Dining precincts are having a real moment in Sydney right now — think South Eveleigh and Unity Mascot. Named Quay Quarters, Sydney's latest exciting collection of restaurants and bars has just opened along Young Street, just up the hill from Circular Quay.
It was announced back in 2019 that this Circular Quay block would be transformed into a bustling dining precinct with a new, much-hyped four-storey venue in a heritage building. Three years and a global pandemic later, Quay Quarter Lanes has arrived with more than a dozen retailers and, as promised, a spectacular multi-storey restaurant in tow.
Alongside the mega-venue Hinchcliff House and its accompanying cafe Bar Mammoni, there are some Sydney favourites like Marrickville Pork Roll, Side Room and Humble Bakery. There's also a new Mexican restaurant from the Carbon and Taqiza team, a luxurious French bistro called Bouillon L'Entrecôte, inventive gelateria Zini and two Japanese omakase restaurants (Besuto and Kobo).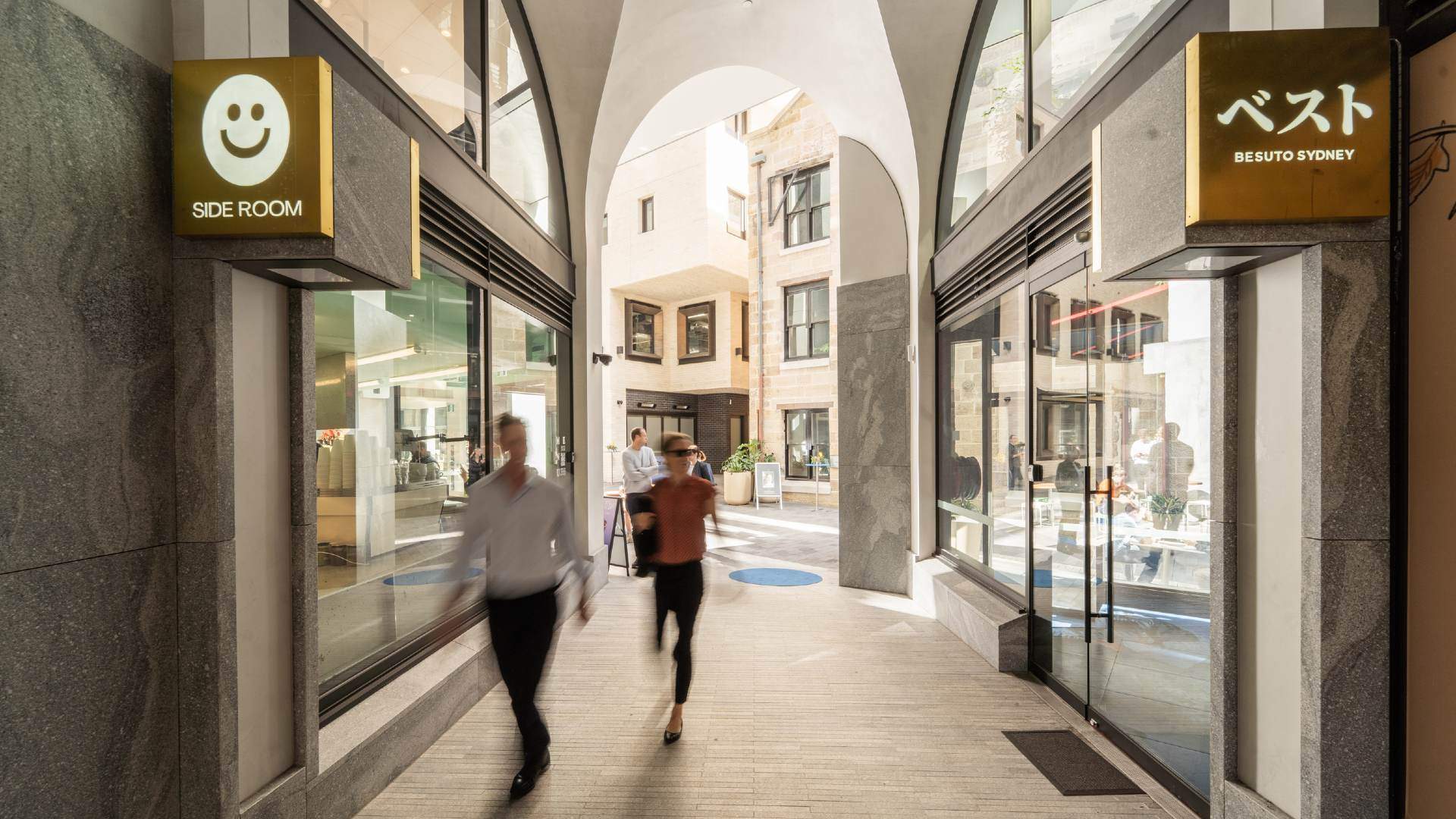 Circular Quay and its neighbour The Rocks are both undergoing revamps which encompass government-funded initiatives, including waterfront cocktail and art festivals, outdoor activations and a plan to create a shiny new public square in place of the Cahill expressway — not to mention the return of the areas biggest annual drawcard, Vivid.
There's also a sense of community among the restaurant owners and managers here. Zini and its owner Matteo Zini have been creating a yuzu sake gelato that acts as the bright and refreshing pallet cleanser at Besuto's mammoth 18-course menu; and mezcal sake for neighbouring Mexican restaurant Londres 126. The gelato haven is all about mixing the old and the new of the Italian dessert. The gelato is mixed on-site in front of your eyes with a traditional mixer, but the flavours aren't afraid to stray from the well-beaten path. This month, Zini and the team are putting on two gelato degustations, including an all-vegan night featuring flavours like coconut and avocado stracciatella, and oat cappuccino.
Designed to accommodate visitors around the clock, you can drop in to the precinct for a coffee and pastry early in the morning at Bar Mammoni, a lunch-time treat at Marrickville Pork Roll, dinner at Besuto or Bouillon L'Entrecôte, and finally a late-night drink at Apollonia or Londres 126.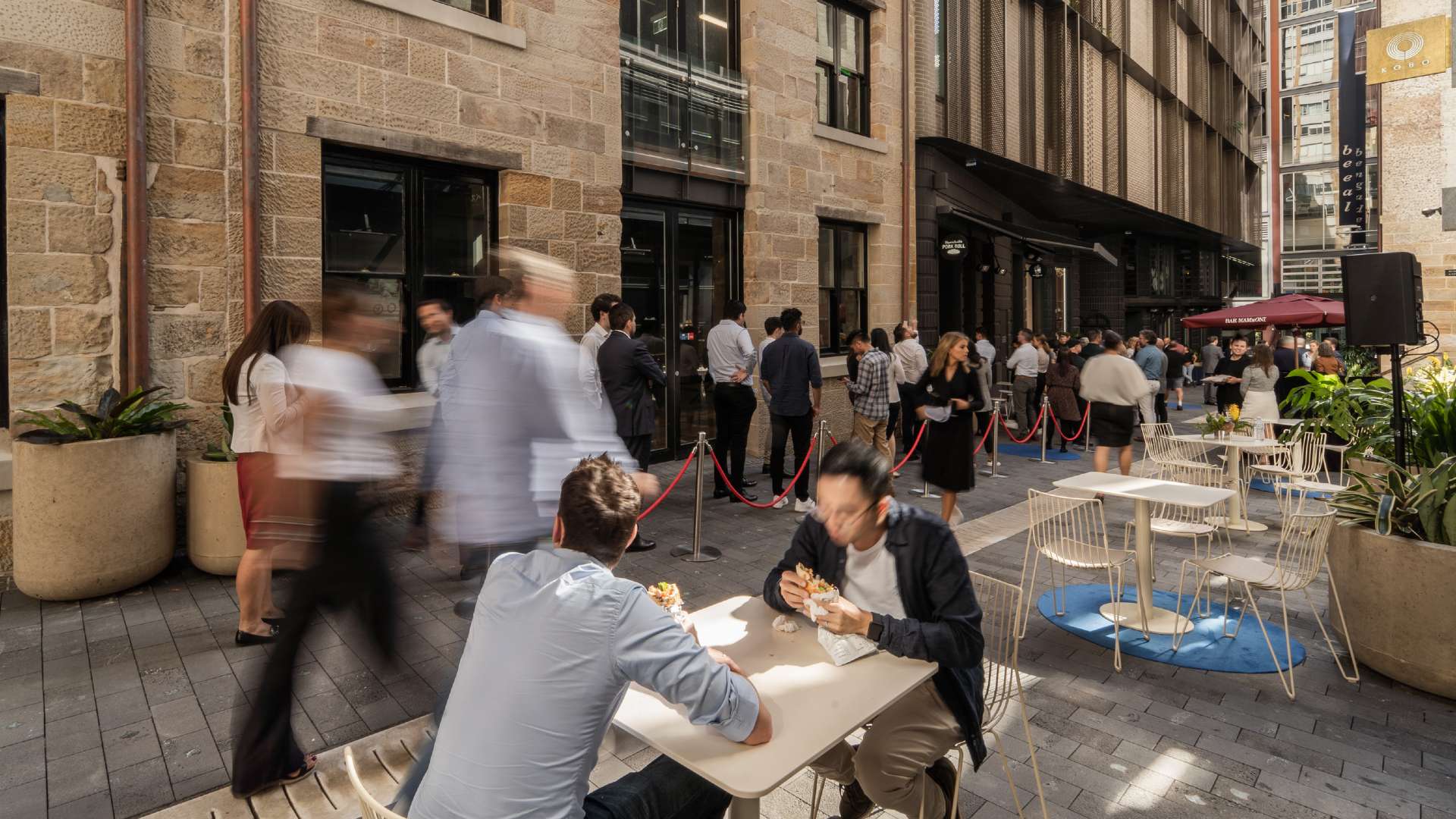 Quay Quarter Lanes is now open between Young Street and Loftus Street, Sydney.
Published on May 09, 2022 by Ben Hansen