FOOD & DRINK
Meet the All-Female Wine Team Behind the Much-Anticipated New Chin Chin Sydney
Ahead of the restaurant's opening, Jacq Turner, Lilly Polanco and Lauren Norman tell us why you should give tap wine your time (and what dishes to drink it with).
In the week before the launch of Chin Chin Sydney, the lofty, white-walled space in the Griffith Teas building in Surry Hills (take a closer look here) is buzzing with chefs, waitstaff, builders and three women of wine, calmly ready to take on one of Sydney's most anticipated openings in years. And with the crackerjack credentials of sommeliers at the top of their game, it's easy to see why they remain tranquil amid the whir of energy around them.
Leading the team is Head Sommelier Jacq Turner, who cut her teeth at Melbourne faves Gertrude Street Enoteca and Bellota Wine Bar, before helping to bring the acclaimed Prince Wine Store to Sydney. Joining her as assistant manager of wine and beverage is Brooklyn native Lilly Polanco, fresh from curating the wine list at Mjølner, but also from Woolloomooloo's Otto Ristorante, not to mention Michelin star fine dining establishments in the USA such as Restaurant Daniel. And as if that is not enough professional prowess, Lauren Norman will add top-notch experience from Rockpool Bar & Grill, London's The Ledbury, Porteño and most recently as head somm at The Dolphin Hotel.
And while Chin Chin has built this team of kickass wine women, it's certainly not the norm — men still very much dominate the industry. "When I went to masterclasses there were no other women there, but me," says Turner. And Polanco can relate: "I was one girl in a very famous New York restaurant. One." But things are slowly changing, she says, adding that "then we were two. And then we were three".
"I'm just fucking sick of seeing the restaurant opening with four white dudes," says Turner. "It's fucking boring. It's like, what is that offering? I think it's really just lazy."
"[Having a women-led wine team is] really powerful and I feel like it's a really great mentorship for us to all to be together," says Norman. "We can support other girls too, but we can also support boys and I think it's really exciting." The overarching plan is to empower all the staff — regardless of gender and role — to be confident and knowledgeable when it comes to the drinks on offer.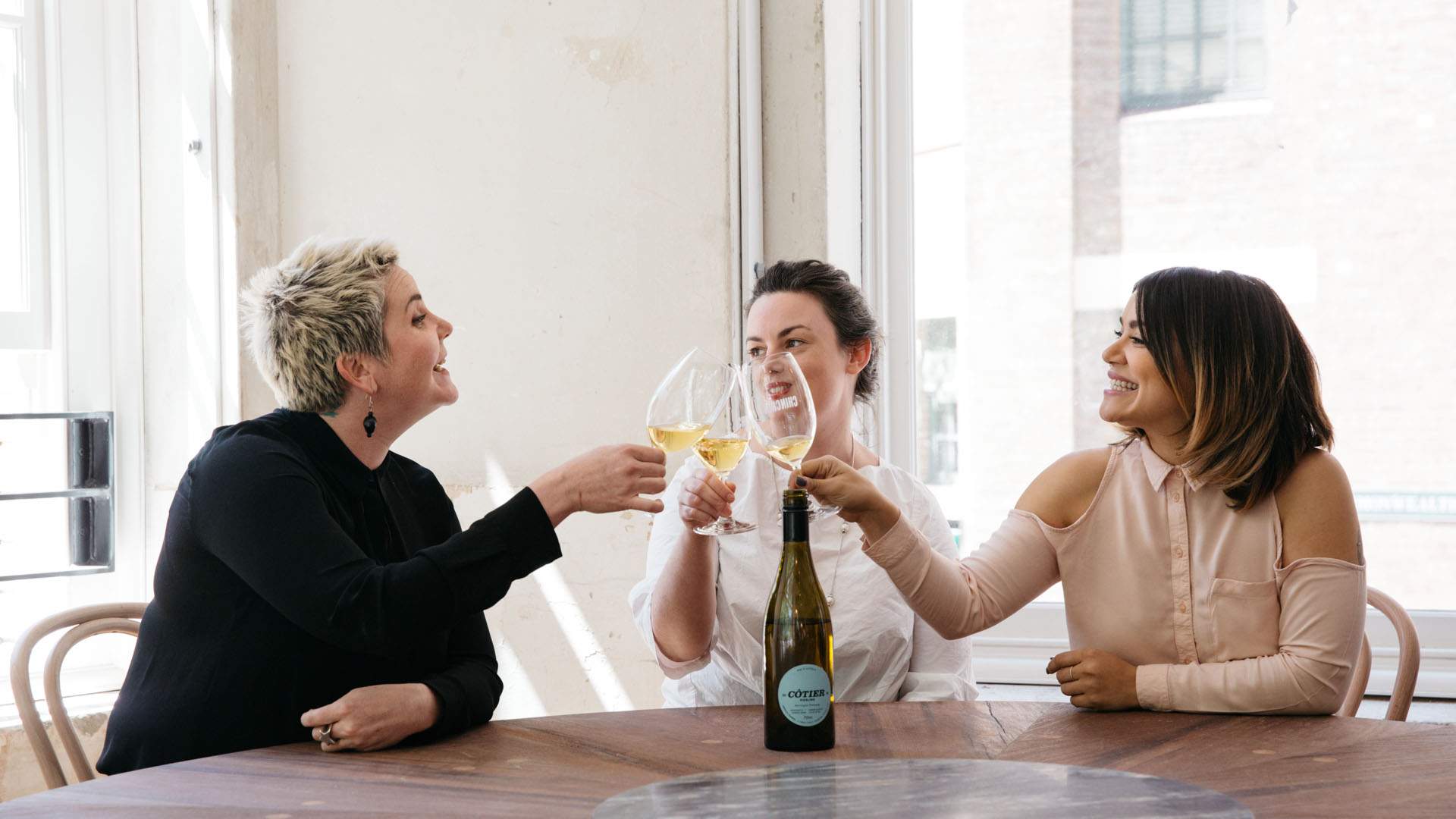 But it's not just the waitstaff they plan to educate about the wines, it's the Sydney public, as they prepare to introduce a controversial program of tap wines to the menu. The ladies are unanimously pumped about this; some of Australia's best producers — such as Brokenwood, Yabby Lake and Jim Barry Wines — are creating bespoke tap wines specifically delicious when paired with the chilli, sour, sweet and salty flavours on the Chin Chin menu. Venues have been slowly switching to tap wines, but Chin Chin is taking the concept and running with it. A similar reaction to when screw tops were introduced 20 years ago is expected, but the team stand behind what Polanko calls "a revolution".
"It's much less expensive to run, it stays fresher longer — it just is all-around better," she says. "[But] it's not perceived that way, which is the sad part. I want to see people's faces when they come in and they are like, 'tap wine — what?'" The fact that these wines cost only $11 per glass, $29 for a half-litre and $49 for a whole litre might just add to the bewilderment.
The tap program is not the only way Chin Chin Sydney will differentiate itself from its much-adored Melbourne sibling — it has a more seafood-focused menu, a pork belly rotisserie and a celebration of New South Wales wines. Add to that the regeneration of the iconic Griffiths Teas building, which has lain dormant for 37 years, a 100 seat cocktail bar called GoGo and the soon-to-open basement event space Chii Town, and there is plenty to give the Sydney outpost an edge.
"I think a lot of people will be coming in thinking that it's going to be Melbourne," says Norman. "But it's going to be a lot more — this is Chin Chin Sydney."
THREE DISH AND WINE PAIRINGS TO TRY AT CHIN CHIN SYDNEY
So what should you order when you do visit? We asked the wine team to recommend some tasty drops to try with the new Chin Chin Sydney menu.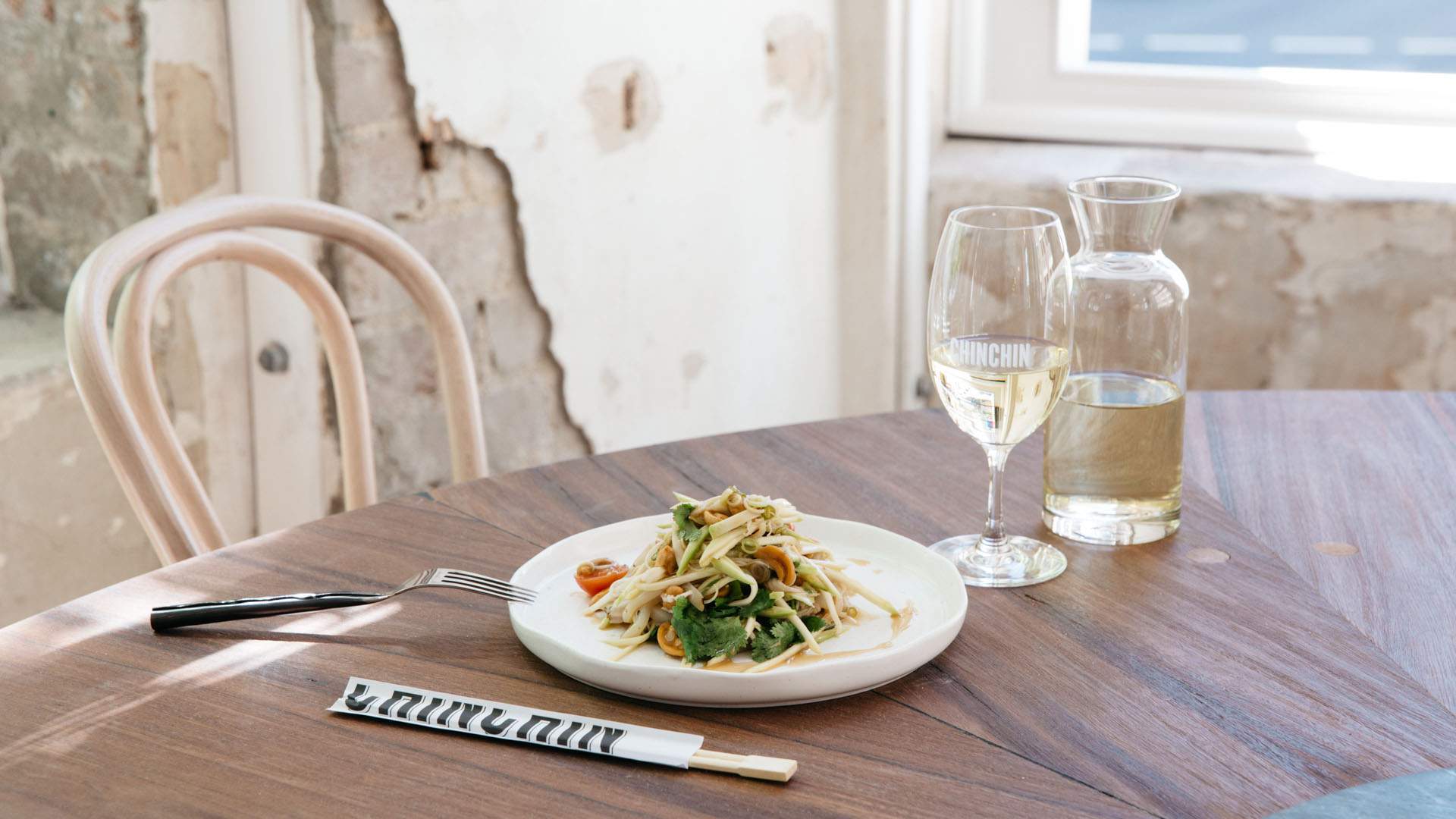 JACQ'S PAIRING: SQUID SALAD AND SEMILLON
The dish: Squid, green mango salad with cashews and coconut.
Best paired with: "Our Brokenwood Semillon 2017 from our tap wine selection. Brokenwood has been a long standing supporter and friend of the Chin Chin group. This Semillon is a cracking vintage, bright, early picked and textural — made to battle with the Thai spices."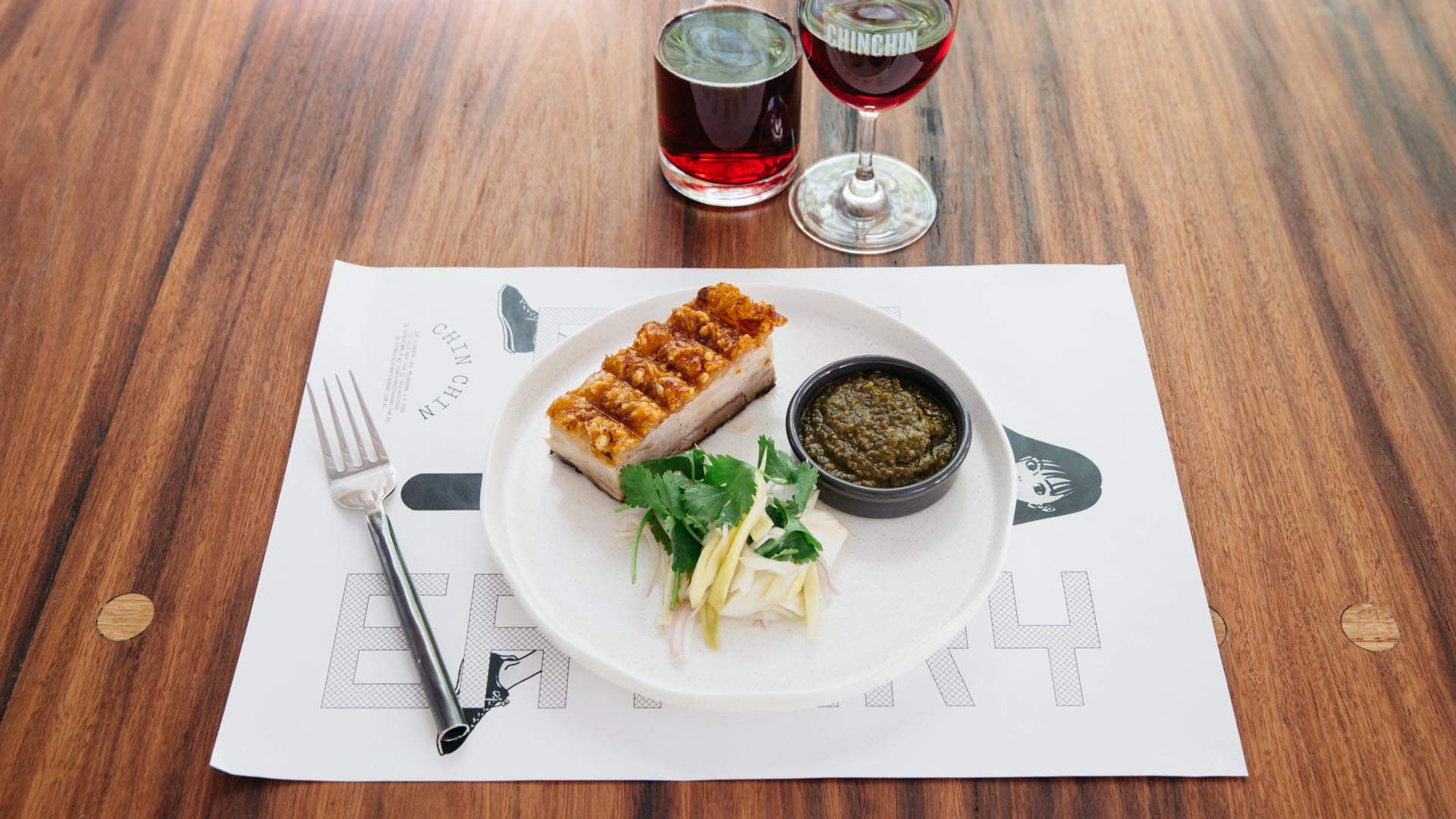 LILLY'S PAIRING: PORK BELLY AND PINOT NOIR
The dish: Rotisserie pork belly with fennel, plum pickle and scud chilli death sauce.
Best paired with: "Our Tom Carson Pinot Noir 2015, another one of our tap wines. Tom Carson (of Yabby Lake) has long been a friend and supporter of the Chin Chin group. His single vineyard Pinot Noir from the Mornington Peninsula has fleshy red fruits and undergrowth with notes of anise with silky tannins — perfect for the fiery sauce accompaniment."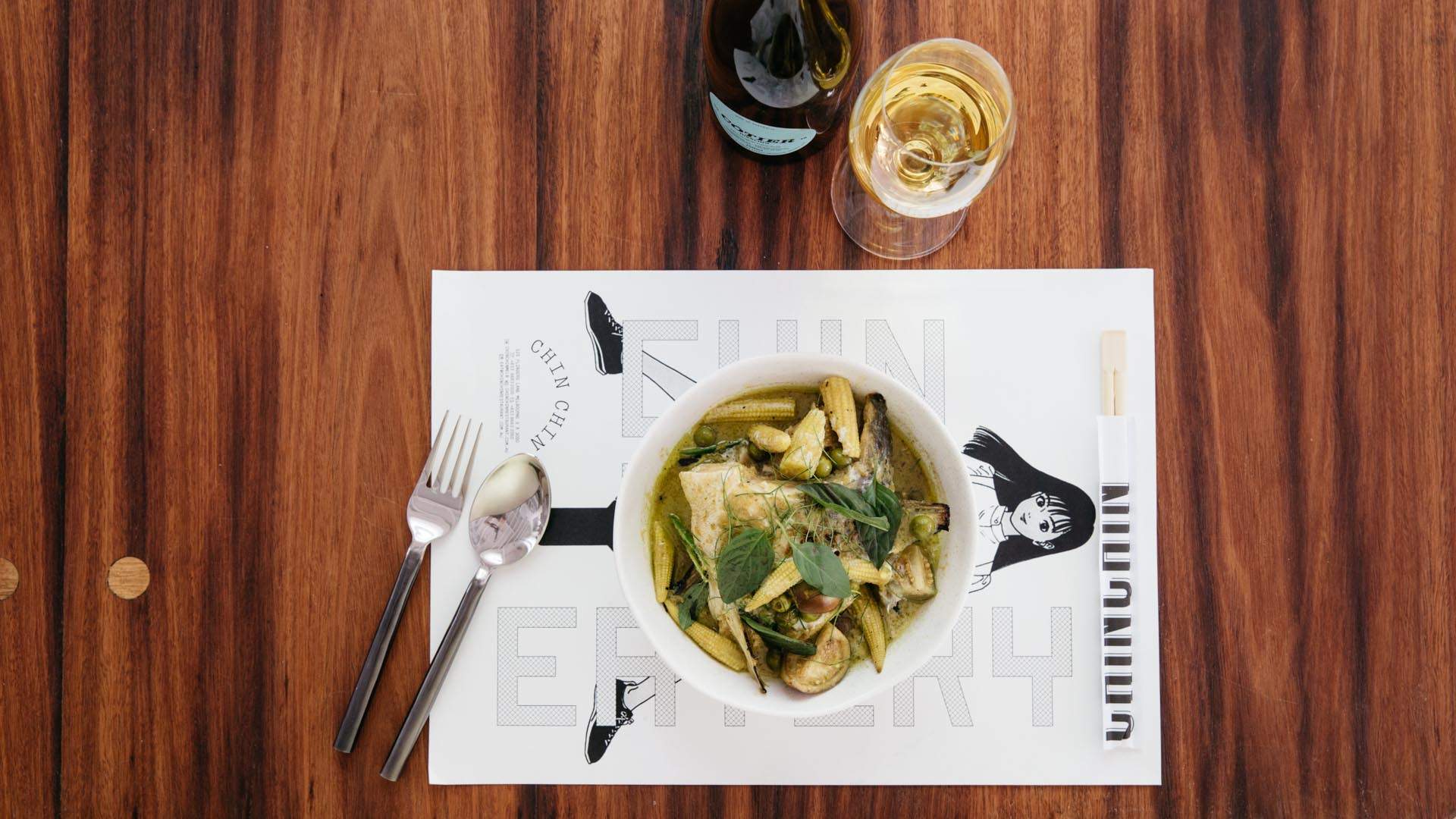 LAUREN'S PAIRING: GREEN CURRY AND RIESLING
The dish: Green curry with grilled fish wing, pea, eggplant and baby corn.
Best paired with: "Our 2015 Cotier Riesling. This fragrant green curry is perfect for 2015 Cotier Riesling, a spicy, textured wine that is pithy but fresh, with skin contact and barrel ferment adding a base note to this grapefruit and ginger spice-driven wine."
Chin Chin Sydney is set to open at 69 Commonwealth Street, Surry Hills, on Monday, October 2. To make a booking visit chinchinrestautant.com.au
Images: Letícia Almeida. 
Published on September 28, 2017 by Katie Mayor