FOOD & DRINK
Pappa Rich Is Bringing Back Its Limited-Edition Nasi Lemak Burger This Autumn
And for three days, it's delivering 1000 of them through Doordash for $1 each.
Two years ago, Pappa Rich gave tastebuds across Australia the culinary hybrid they didn't know they were craving: a nasi lemak burger. They were originally sneakily trialled in Sydney stores in 2018, then rolled out for a limited time in 2019. Now, they're back.
The burger takes the typical accompaniments in this Malaysian rice dish and sandwiches them all between two toasted burger buns. There are layers of crispy Malay fried chicken, spicy sambal, peanuts and anchovies, all topped with cucumber, lettuce and a fried egg. As a side? Expect Pappa Rich's deep-fried chicken skin, of course. You can also opt for chips if you prefer.
The Malaysian hawker chain is returning the nasi lemak burger to its menu — at all of its 31 stores countrywide, but only for two months. If you're instantly hungry, you'll want to pop into one of Pappa Rich's outlets between Monday, March 29–Sunday, May 30.
Or, if you just can't wait to sink your teeth into a burg, you can score one between Friday, March 26–Sunday, March 28, but only via Door Dash. The delivery service is selling 1000 nasi lemak burgers for just $1 across the three days, so you'll want to get in quickly. You'll also need to enter the code 'MALAYSIANBURGER' while you're ordering.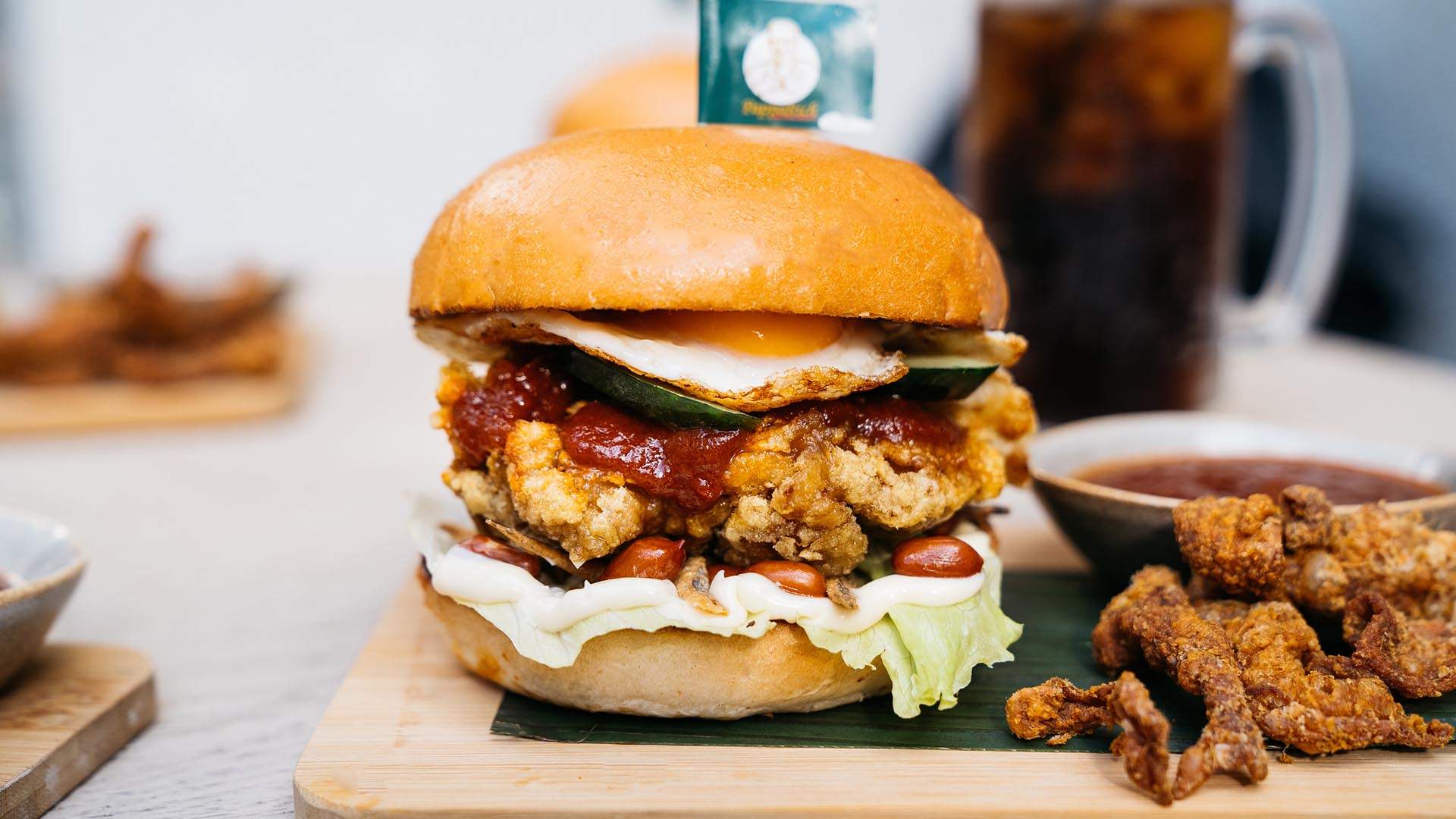 Otherwise, if you're happy to grab a burger from next week onwards, you'll still have a couple of months to enjoy as many as your stomach demands. If you're in Sydney, you can nab one in Bankstown, North Ryde, Chatswood or on your lunch break at the express outlet in Ultimo; in Melbourne, pop by Chadstone, Southern Cross or QV; and Pappa Rich in Wintergarden, Garden City, Indooroopilly and Coorparoo Square will be selling them in Brisbane. Perth residents can head to Cockburn and Joondalup, while folks in Adelaide will want to make a trip to Gouger Street in the CBD. There are a heap more locations though, so check the website if you're looking for one closer to you.
The nasi lemak burger will be available Monday, March 29–Sunday, May 30 at Pappa Rich locations across the country. There are also 1000 up for grabs for $1 via Door Dash between Friday, March 26–Sunday, March 28 by entering the code 'MALAYSIANBURGER' while you're ordering.
Published on March 25, 2021 by Marissa Ciampi