Sikh Volunteers Australia Drove 34 Hours From Melbourne to Lismore to Serve Meals to Flood-Affected Folks
The Victorian-based charity is dishing up free, freshly cooked vegetarian meals to flood-affected communities in northern New South Wales.
With catastrophic weather conditions saturating Queensland and New South Wales over the past week, good news has been in very short supply. Enter the team at Sikh Volunteers Australia, which has put in an enormous effort to help folks affected by flooding in northern New South Wales. Their actions can only be described as heartwarming, feel-good, wholesome and just all-round ace. Any other synonym for great, nice, lovely and generous that you can think, it'd fit as well.
The charity, which has a mission to provide people in need with free food, is based in Melbourne. But after seeing that its services could be used further north as the devastating weather hit, its members hit the road. Cue a 34-hour drive to serve free, freshly cooked vegetarian meals to flood-affected communities in Lismore — which has been doing it tough after the wet conditions moved through the regional town earlier in the week.
Team is serving free meals to flood affected communities in Lismore NSW pic.twitter.com/BsO1HjEaJw

— Sikh Volunteers Australia (@AustraliaSikh) March 3, 2022
Originally, the plan was to head to Queensland — so that drive would've been even longer — but, based on community response, the Sikh Volunteers decided that there was more need for their services in Lismore. They arrived yesterday, Wednesday, March 2, and have been dishing up free meals since.
Sikh Volunteers Australia's efforts in Lismore follow the organisation's ongoing work in Melbourne, including delivering meals to COVID-19 cases during the recent Omicron wave — and, before that, via 320 dedicated volunteer drivers who did the same during the city's 2021 lockdown from August onwards.
That's a huge effort, and the charity aims to expand its work to other parts of the country in the future, too.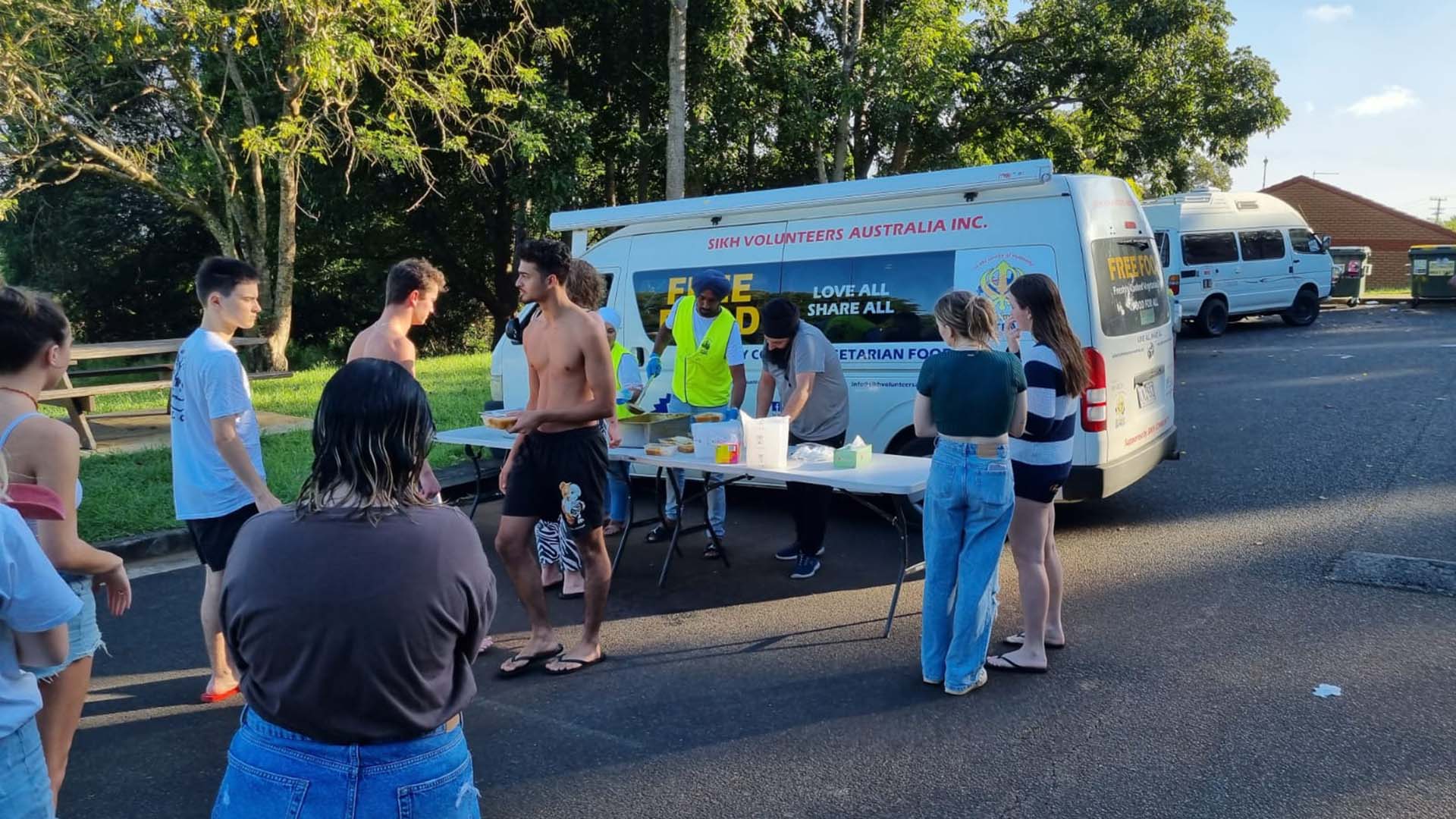 In Lismore now, Sikh Volunteers Australia has set up at 60 Ross Street, Goonellabah, and is providing free meals to anyone who needs them.
For more information about Sikh Volunteers Australia, or to support their work via a donation, head to the organisation's website.