FOOD & DRINK
Afternoon Delight: Where to Find Sydney's Best Finger Buns
Throw it back to 1998 with these nostalgic after-school treats.
Picture this: you're nine years old and you have ten minutes to grab a treat from the local Baker's Delight before your swimming lesson. You spread your fingers on the glass display cabinet and spot the glistening pink finger buns. Your mum lets you get one. You can't believe your luck. Life is good.
Nowadays, while you don't need anyone's permission to eat sweets, local bakeries and restaurants are becoming increasingly creative with their takeaway offerings — and that has hailed in the glorious return of the humble finger bun. 
Here's your guide on where to find the best of these afternoon delights. But, eat them for breakfast if you want, because when it's right, it's right.

 

View this post on Instagram

 
HUMBLE BAKERY, SURRY HILLS
You've probably seen a pic or two of Humble Bakery's finger buns. These ridiculously fluffy fruit buns are coated in thickly piped cream cheese icing and finely shredded coconut. And don't be fooled, it may look like a slice of tasty cheese inside, but that's just a friendly and absolutely necessary slab of butter. These buns are not for the faint hearted, but a must-try for any finger bun aficionado. And if you're after something salty, order the so-simple-yet-so-good avocado toast, or keep your eyes peeled for the rotating sando specials. Previous sandwiches have included a roast pork number with grilled radicchio, chimichurri and mayo.
Get it during lockdown: You can order while you're there or order for pick-up or delivery here.

GOOD WAYS DELI, REDFERN
Good Ways Deli only opened up in April this year, but it's quickly making a name for itself as the go-to sandwich shop in Redfern. Its sandwiches are packed with natively-inspired ingredients, including kangaroo mortadella option as well as a maffra mature cheddar with pickled apple sando. Bottle green and cream interiors add to the Australiana feel, however Good Ways' version of Australia's favourite childhood treat earns itself an honourable mention on this list. Good Ways' take has strawberry gum icing and 100s and 1000s, and has now become a permanent fixture in its daily pastry cabinet. Be sure to check out the vegemite scrolls and lamingtons while you're there.
Find it during lockdown: Good Ways Deli is open to the public for takeaway only at this time.

FLOUR AND STONE, WOOLLOOMOOLOO 
Sydney has been saying 'take my money' to Flour and Stone for almost ten years, and it's coffee and cardamon finger buns are only adding to the obsession with the Woolloomooloo bakery. Flour and Stone's underlying mission statement is that its bakers "believe they are making the world a better place" by baking their goods — and we'd tend to agree. Fluffy, creamy, and never not exceptional, the Flour and Stone finger bun is one for the books. 
Get it during lockdown: Flour and Stone deliver all over Sydney. Order online here or call the store on (02) 8068 8818. 

 

View this post on Instagram

 
SAGA, ENMORE
We love to see brioche repurposed into almost anything, but especially into finger bun form. Saga has been pumping sultana and citrus peel brioche boys out for some time now, but they aren't a regular offering, so call ahead. If they're there, you're in for a treat: Saga's finger buns are topped with maraschino icing and coconut for an upscale take on the Australian classic. Be sure to grab a smoked salmon bagel and check out what pie specials they have on. You won't be disappointed.
Get it during lockdown: Saga is still open during their regular hours for takeaway. Order ahead via phone on (02) 9550 6386.

WILSON'S CAKES AND PIE SHOP, MASCOT
Wilson's Cakes and Pie Shop is the kind of old school bakery that sells small meringues in the shape of bunny rabbits with smarties for noses. Established in 1926, it still has its original mid-century milkbar-esque hand painted signage — so you know it's good. Wilson's finger buns are more like finger logs: long, thick and rectangular, unlike their contemporary cylindrical cousins. With sultanas mixed through the soft base and a classic strawberry glaze on top, these will bring you right back to the first time you ever tried the nostalgic finger bun. We've also heard their old school pies are as good as it gets, and only set you back $4, while their mammoth finger buns cost $2 each.
Get it during lockdown: Call (02) 9667 2765 to order ahead.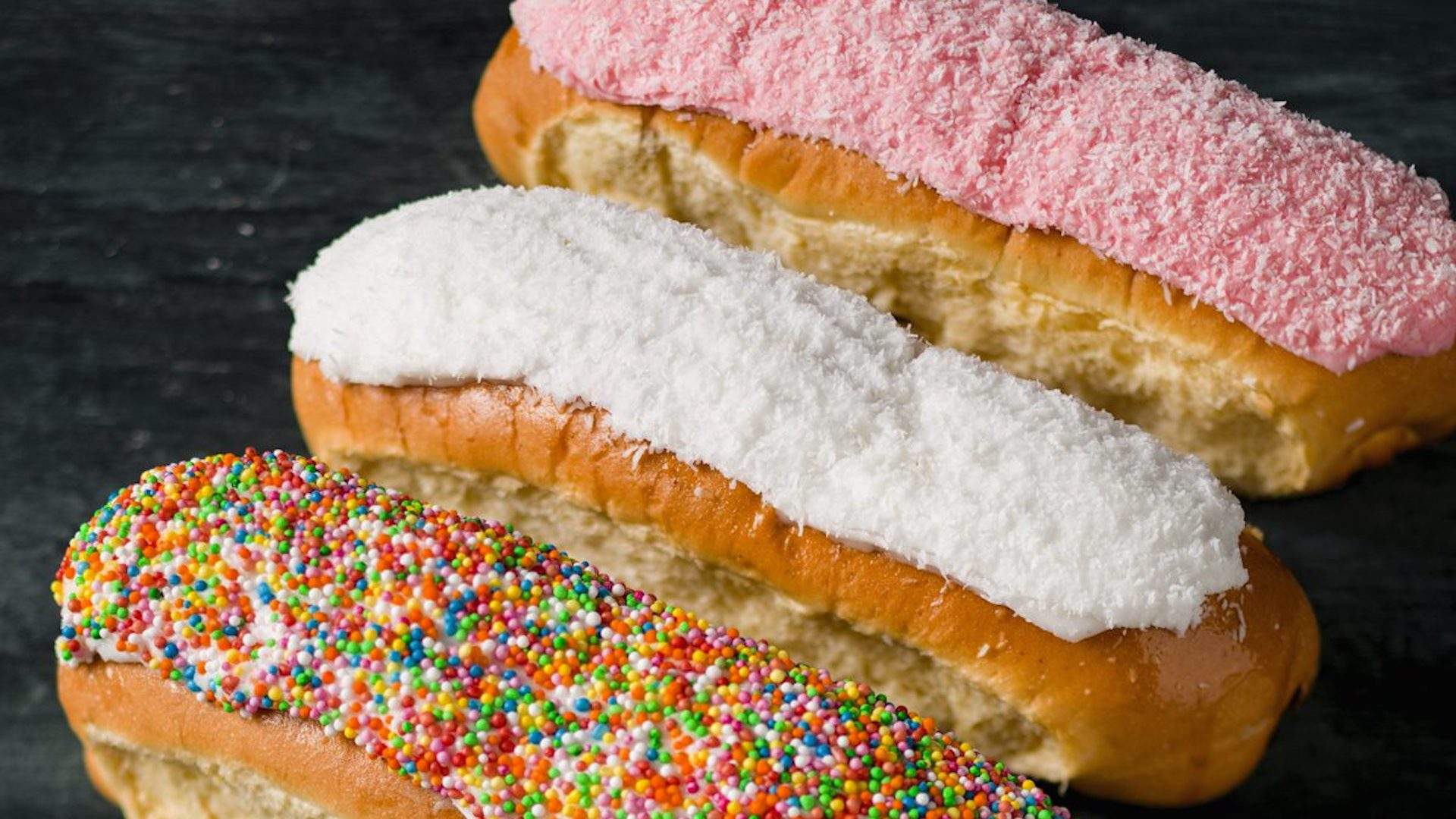 POLES PATISSERIE, PENRITH
Family-run Penrith bakery, Poles Patisserie, has been serving up home-style baked sweets and pies for decades. Their finger buns lean towards the more traditional side of the scale, unlike their city-baked counterparts. These classic yeast-risen, sultana studded buns are coated with a thin layer of either plain or strawberry fudge, then dusted with desiccated coconut or the ever-exciting 100s and 1000s. 
Get it during lockdown: Call (02) 4722 5903 to order ahead. 

BAKER'S DELIGHT
It would be a sin to not shout out the original Aussie finger bun. Whether you're in the mood for cinnamon, chocolate, 100s and 1000s, coconut, pink fondant or plain (would not recommend), your local Baker's Delight has it covered. You also can't deny their loose change pricing; these guys only set you back $1.90, and some of them are even dairy free.  
Get it during lockdown: Baker's Delight are still open for takeaway as usual during lockdown. Check for your local store here.
Top Image: Good Ways Deli and Trent Van der Jagt for Buffet Digital. Remember to wear a mask and social distance. To keep up-to-date with the latest COVID restrictions, head to the NSW Health website.
Published on September 03, 2021 by Ines Francesca English