FOOD & DRINK
These Eight Venues Are Delivering Delicious Tequila Cocktails to Your Door
How to make the most of your next big night in.
in partnership with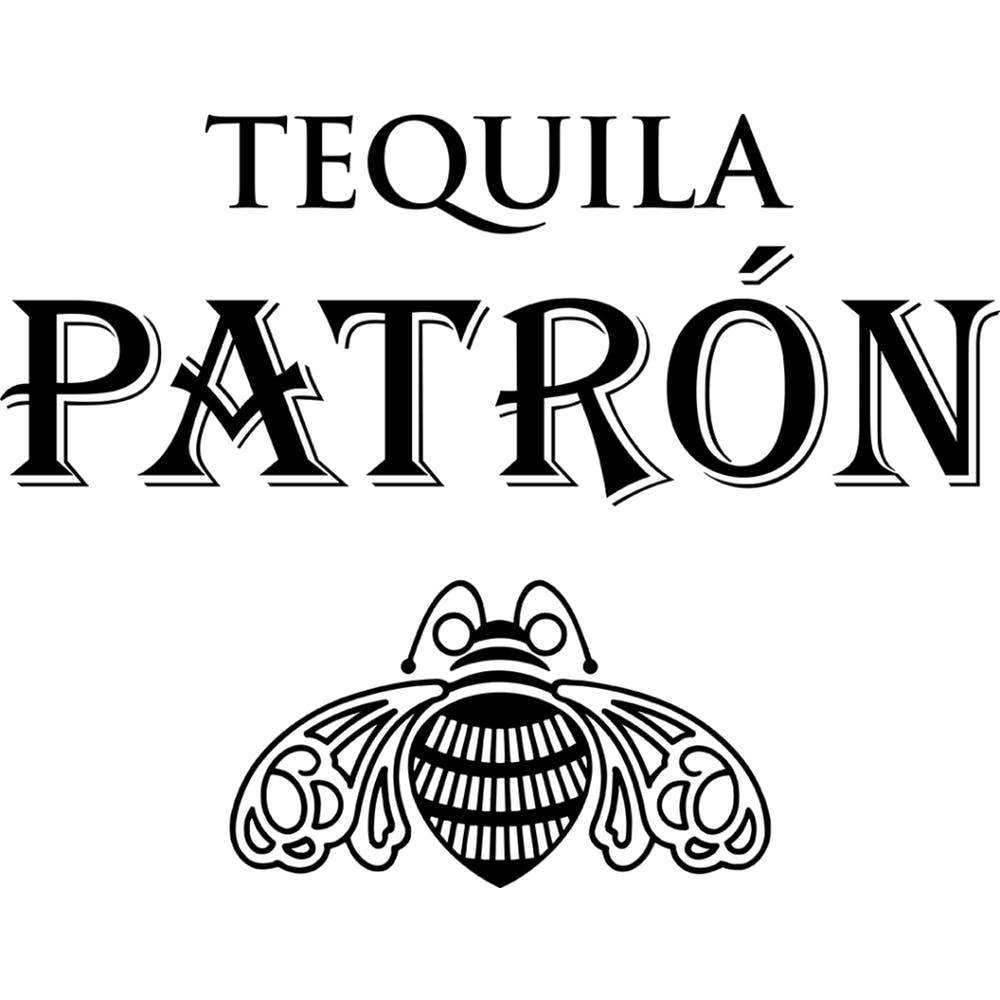 Let's be real: too many aspects of our locky-d can make us feel like we're living in Groundhog Day. But, we ask you, why should drinking — that great lockdown pastime — feel the same?
Of the many things we're missing these days, right up the top of the list is enjoying a perfectly crafted cocktail while perched at a lovely bar. And sure, we can try our hand at making our own, but, in these trying times, why not leave it to the professionals? Not only will it taste better, but you'll also be supporting our hospo industry, especially as many of our favourite venues are doing it tough right now.
With that in mind, we've teamed up with Patrón to highlight six city venues — and two regional ones — delivering the good times to your door. We're talking litres — literally — of ready-made margaritas, as well as DIY taco kits, seafood feasts and more. Here's where to place an order for your next big night in.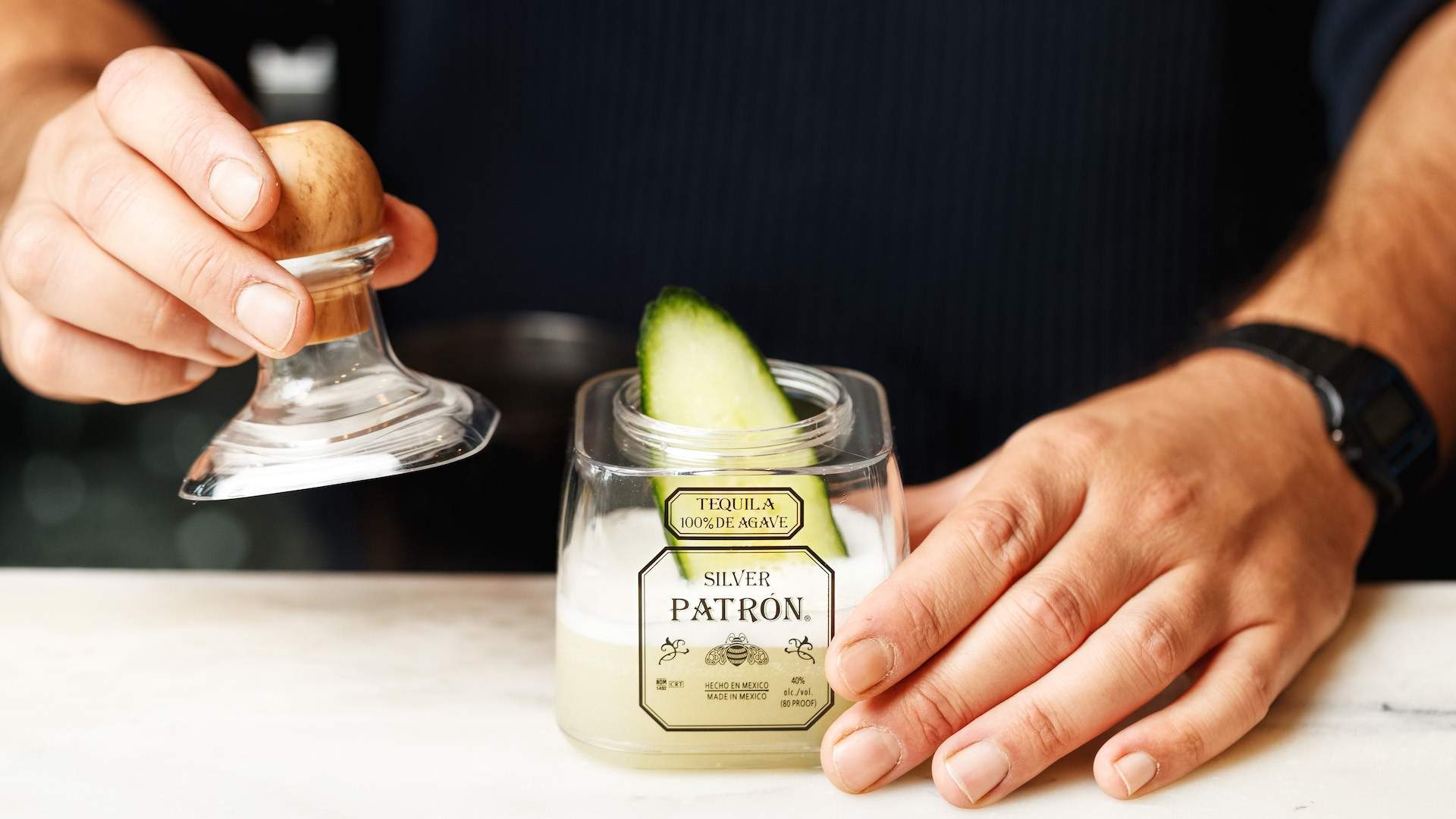 Paddington agave den Tequila Mockingbird is not messing around this lockdown, with single serves, batch pours and even DIY marg kits available to be delivered straight to your door. The eponymous Tequila Mockingbird Margarita is always a winner here, a house signature which features Patrón Silver, St Germain, jalapeño-infused agave, cucumber and lemon. This lockdown, it's available in bottles for one, four, six or eight (at least in theory — because, these days, who's counting?). The same pours are also available for a selection of the bar's other classics or you could even try your hand at shaking your own drink with a DIY kit featuring all the ingredients as well as a jigger, shaker, strainer and a Patrón agave cup to pour it into. Hot tip: complete your order with an eight-serve DIY taco kit, or a hearty winter warmer like a slow-roasted lamb shoulder served with chimichurri rojo.
Discover Tequila Mockingbird's full takeaway offer and place your order at its website.

PS40, CBD: CUSTOM COCKTAIL BOXES
CBD cocktail den PS40 was among the first venues in town to pivot to cocktail delivery last year, and, thankfully, the service is still going strong now. You can customise a box of three bottled cocktails with multi-serve bottles of signatures like the Breakfast Negroni, which includes hints of banana bread, coffee and tonka beans, and the Spicy Verdita Margarita, in which the verdita is made from ripened pineapple, jalapeño, parsley and mint. If you're looking for something a little more hands-on, the Watermelon Margarita Fun Pack is just the ticket. The airtight pouch contains a delicious combo of tequila, sake, cold-pressed watermelon and bergamot — all you need to do is cut it open, pop it in your blender and blitz away for those summer holiday vibes (BYO paper umbrella). The pouch serves two and has a three-month shelf-life in the freezer.
Discover PS40's full delivery offer and place and order at the website. Delivery is available Sydney-wide from Tuesday to Saturday.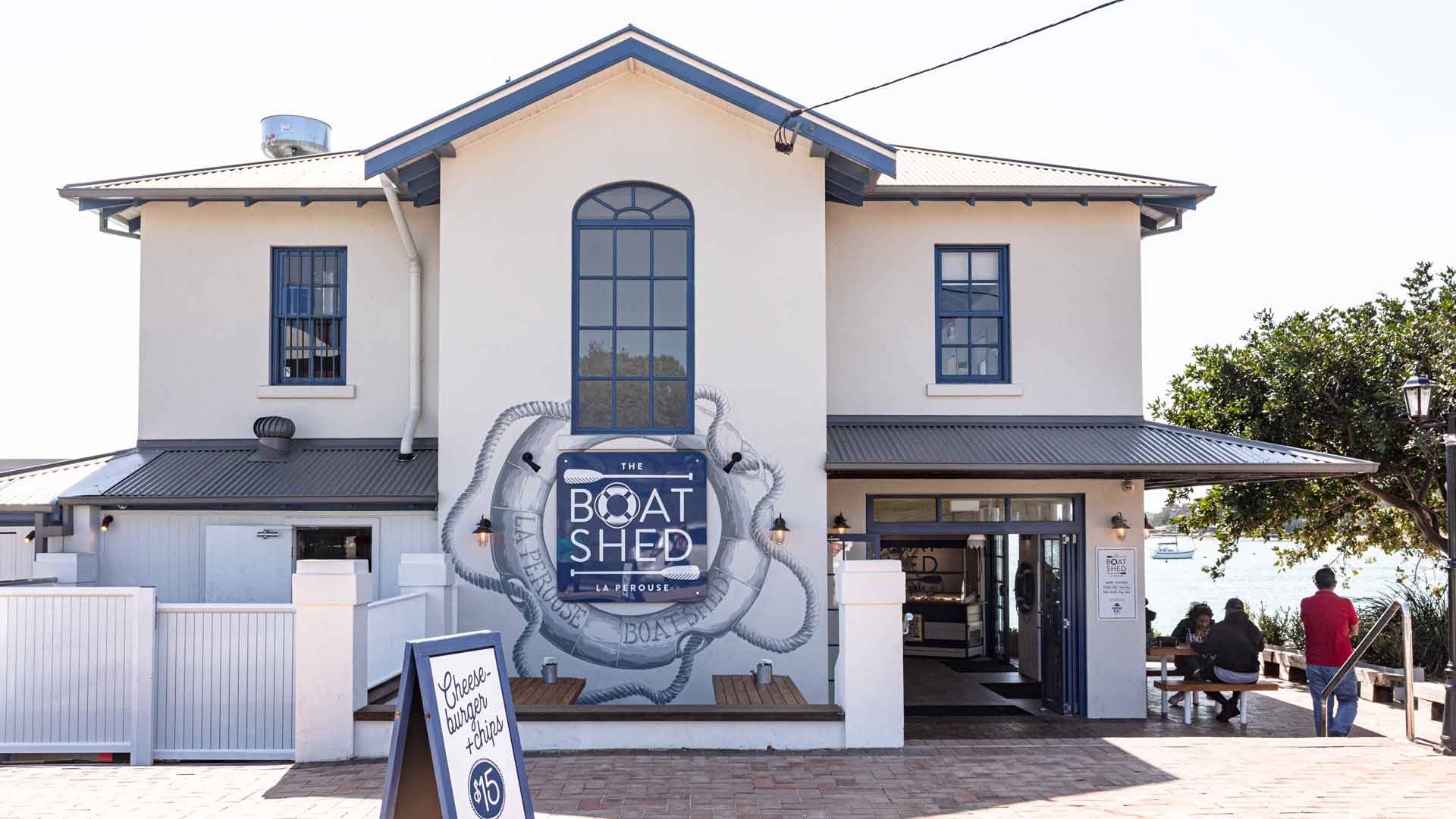 THE BOATSHED, LA PEROUSE: SEAFOOD FEASTS AND $10 MARGS
While it's not quite the same as sipping a marg from the sunny outdoor bar overlooking Frenchmans Bay, you can bring a bit of The Boatshed to your place thanks to its excellent takeaway deal. Every day, the La Perouse waterfront hangout is slinging a huge selection of cocktails — including three types of marg — for just $10. They're all served in fun-sized Patrón glass bottles, which you can return empty for ten percent off your next takeaway cocktail order (as if we needed an extra excuse). Pair your drinks with one of the kitchen's fresh seafood dishes to really make a night of it.
Discover The Boatshed's full takeaway offer over on its Instagram. You can order via Uber Eats or call ahead on 9661 1817.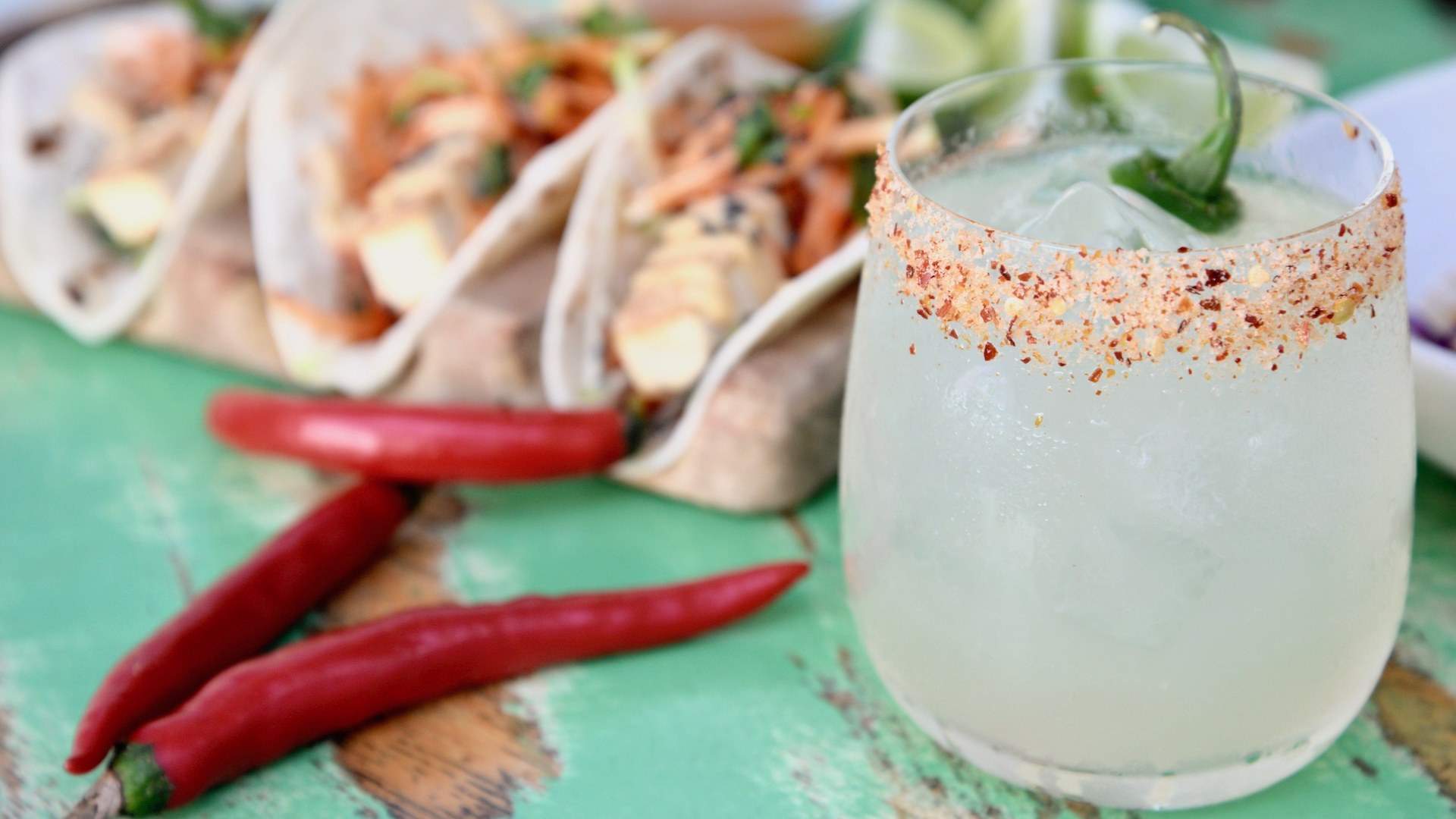 LOW AND LOFTY'S, CRONULLA: INDONESIAN BITES AND SMOKY MARGS
An order from Shire fave Low and Lofty's will take your lockdown night in from low to lofty. Every Thursday, Friday, Saturday and Sunday night, the Cronulla restaurant and bar is delivering mouthwatering Indonesian dishes as well as a number of its excellent cocktails Shire-wide. Pair a chicken satay or full-bodied beef rendang with a mini Patrón bottle filled with a classic marg or a smoked jalapeño variety finished with cinnamon smoke.
Discover Low & Lofty's full takeaway offer and place your order at its website.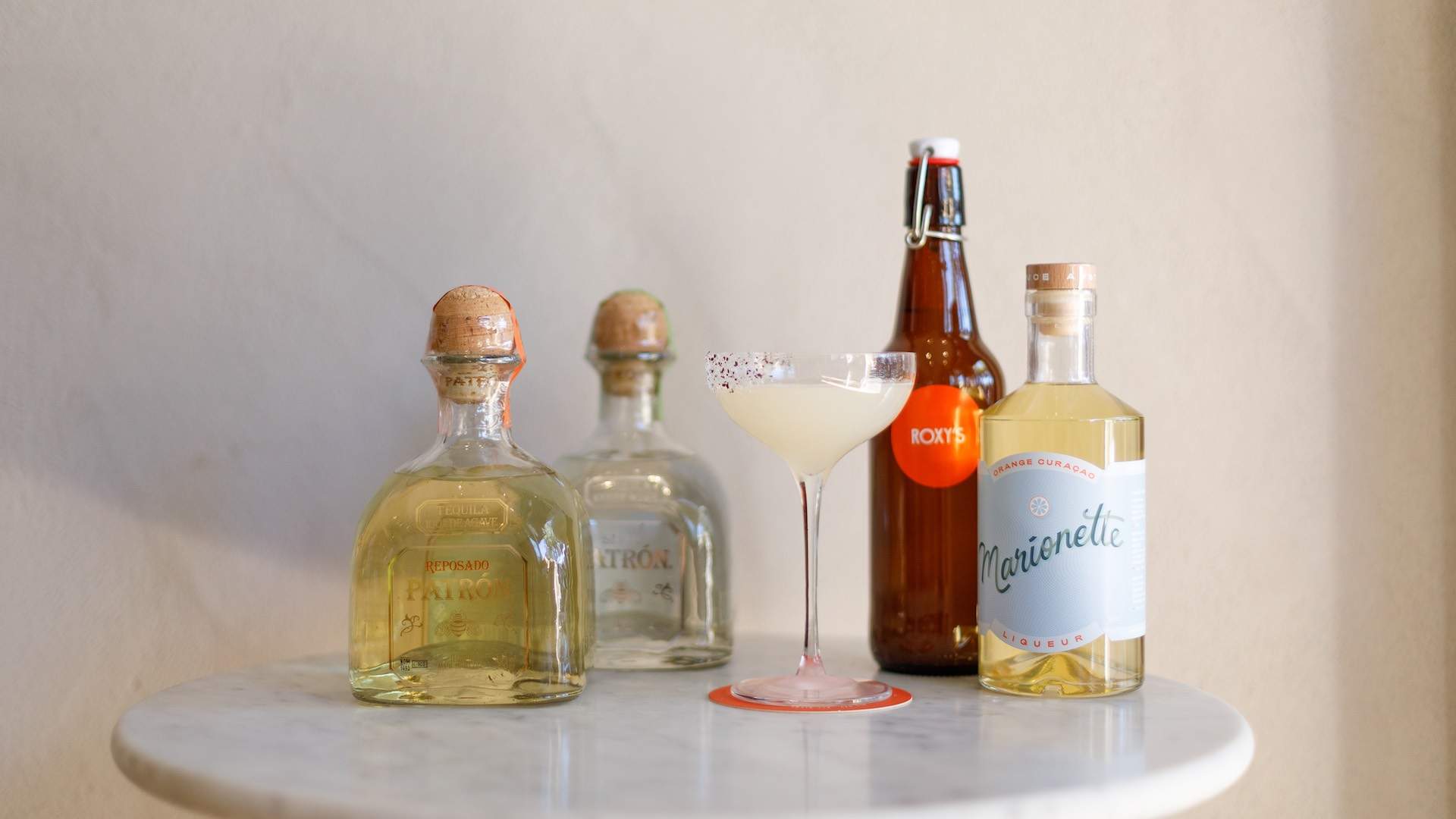 ROXY'S, DOUBLE BAY: MIDDLE EASTERN BITES AND MARGS
Double Bay newcomer Roxy's has made a name for itself since opening earlier this year for its creative interpretations of classic Middle Eastern and Mediterranean flavours — and this is an influence that extends, naturally, to its bar program. This lockdown, the all-day eastside spot is offering a heap of takeaway goodies every Wednesday through Sunday, with an offer that ranges from  freshly baked pastries to flavour-packed pita pockets. You can also pick up a margarita or five — opt for either a single serve or a 500ml bottle of the house marg which features Marionette dry curaçao, lime and hints of sumac.
Discover Roxy's full takeaway offer and place your order at its website.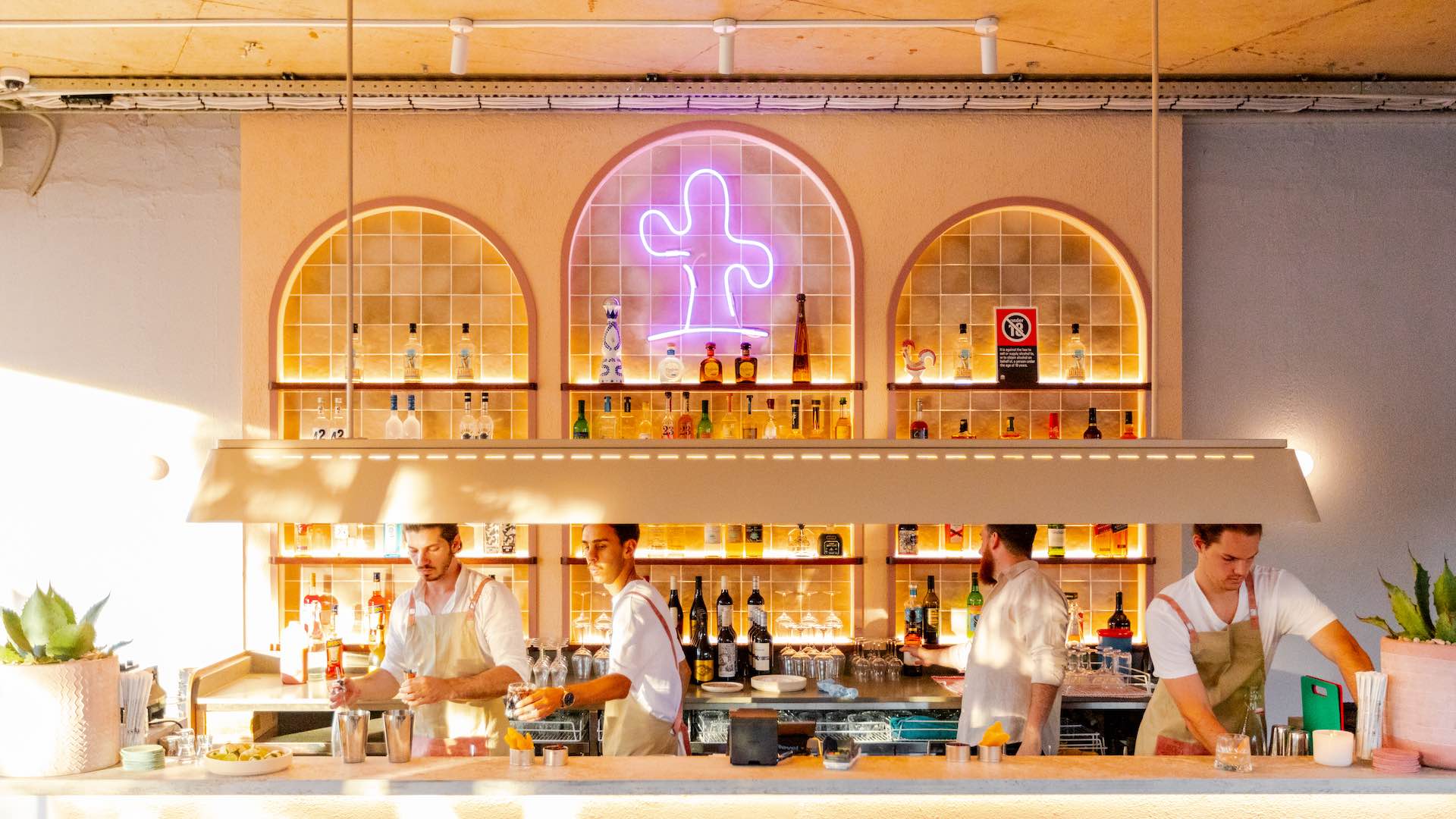 CHECHO'S, PENRITH: FOUR-COURSE FEASTS AND ONE-LITRE MARGS
Buzzy Penrith diner Checho's is hoping to bring the (socially distanced) fiesta to yours this lockdown. You can choose your own adventure, too, with the restaurant cooking up its ready-made favourites like charcoal corn ribs, patatas bravas and DIY taco kits; or, if you prefer to take matters into your own hands, opt for a cheekily named Hola Fresh box featuring a stack of fresh ingredients and instructions on how to make a four-course meal perfect for two, with dishes like beef brisket tacos and watermelon salad. Whichever you choose, you'd be remiss not to add a one-litre margarita bottle. There are five varieties to choose from, including charred pineapple and mango — if you want to work your way through all five, that is perfectly acceptable, too.
Find out about Checho's takeaway offer and place your order at its website. Takeaway is available Wednesday–Sunday evenings.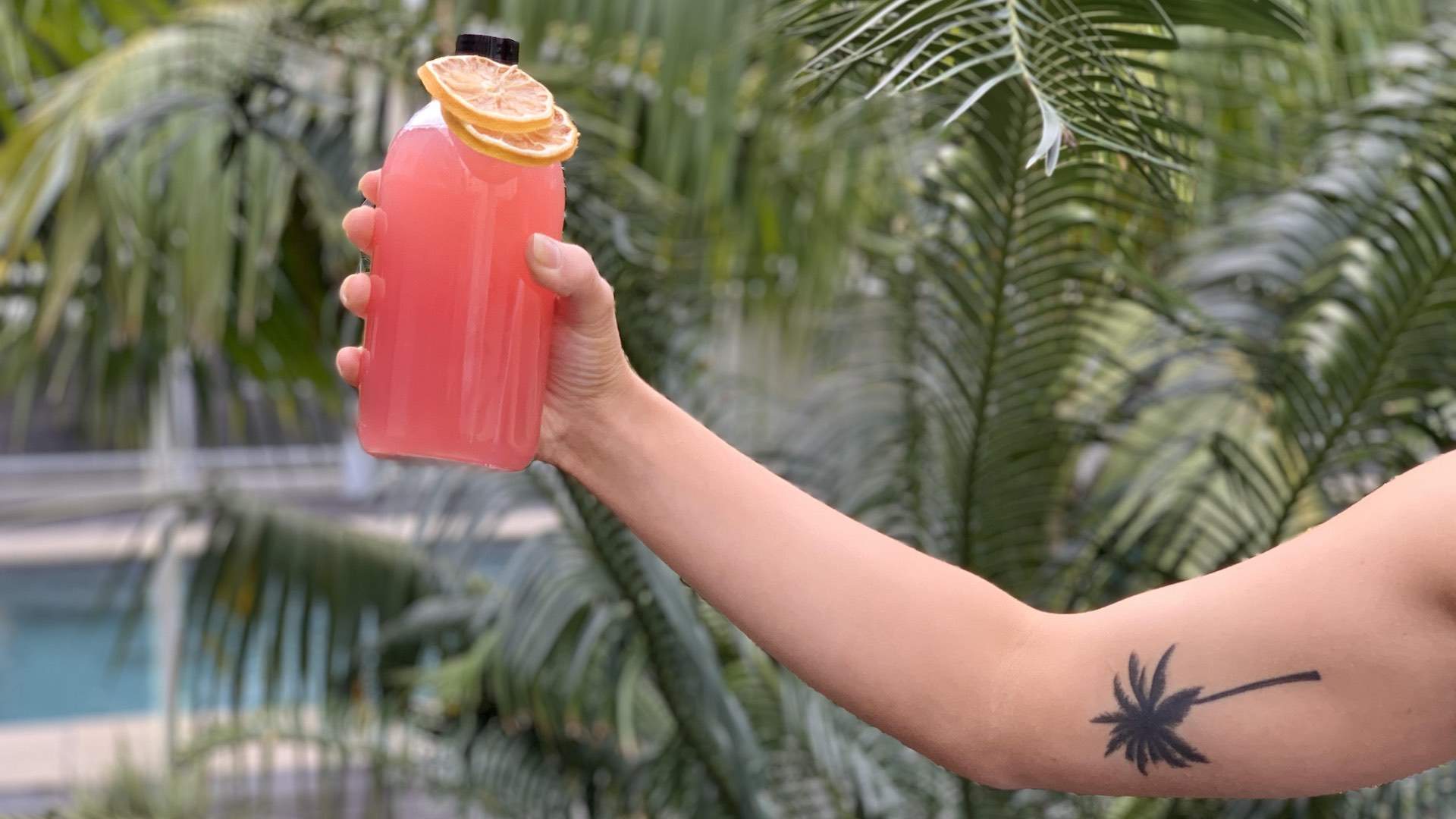 TOWRADGI BEACH HOTEL, WOLLONGONG: CANDY-INSPIRED MARGS
The folks at Wollongong's Towradgi Beach Hotel know how to bring the good vibes, whether at the bar or in your home. As well as its indulgent $70 Netflix and Chill packs, which feature a pizza, pasta, garlic bread and a large margarita jar (or bottle of vino), the bottle shop is slinging over ten varieties of margs. You can choose to keep things classic or opt for a fruit-fulled one, including strawberry, mango and passionfruit flavours. Feeling adventurous? Then sample one of the limited-edition candy-inspired margaritas. The rotation changes weekly — previous flavours include Nerds Grape and Wizz Fizz — so keep an eye on the venue's Facebook page to see the latest selection.
Find out about Towradgi Beach Hotel's takeaway and delivery offer and place your order at its website. Food is available for takeaway Friday—Sunday evenings; the bottle shop is open daily.  

POCKET BAR, TERRIGAL: WEEKEND SESSIONS
Central Coast favourite Pocket Bar is helping you indulge over the weekends — even in lockdown. Every Friday, Saturday and Sunday evening, the Terrigal hangout is offering next-level dinner packs (which can serve up to six people) for pick-up and delivery. Food-wise, expect dishes like 60-day dry-aged scotch fillet, heirloom tomato burrata salad and potato gratin.If you're seeking a little libation, be sure to add its pre-batched cocktails, such as  a strawberry negroni or classic marg, to your order. All cocktails are available in three different sizes, too, meaning there'll be plenty to go around.
Find out about Pocket Bar's takeaway and delivery offer and place your order at its website.

For more cocktail inspo, head to the Patron website.
Top image: Alana Dimou
Published on August 30, 2021 by Nik Addams