TRAVEL & LEISURE
This Is What Australia's Weather Has in Store Once Winter Hits
Like most seasons lately, it's set to be wetter and warmer than usual in many parts of the country.
Name a season — there are only four, so it isn't hard — and, in Australia, it's likely that the weather will be hotter than average. The nation experiences toastier than usual summers, warmer than normal autumns and hotter than average winters every year, or so it seems. And, in news that will come as zero surprise, winter 2021 is expected to continue the trend.
That's according to the Bureau of Meteorology, which releases an updated climate outlook every week — something that, with winter so close to arriving, is definitely worth a look. Much of the country is in for both warmer and wetter conditions than normal over the coming months, although exactly how that'll affect you obviously depends on where you live.
If you reside in Australia's northern tropics, along New South Wales' coast, in southeastern Australia in general and in southwest of Western Australia, expect toastier winter temperatures this year, with a more than 80-percent chance that that'll be the case between June and August. Folks pretty much everywhere else except central Australia can also expect above average winter days, with a 60-percent likelihood. Nights in particular are also expected to be warmer over the same period, covering most of the country — with only parts of western WA expected to experience average or cooler conditions.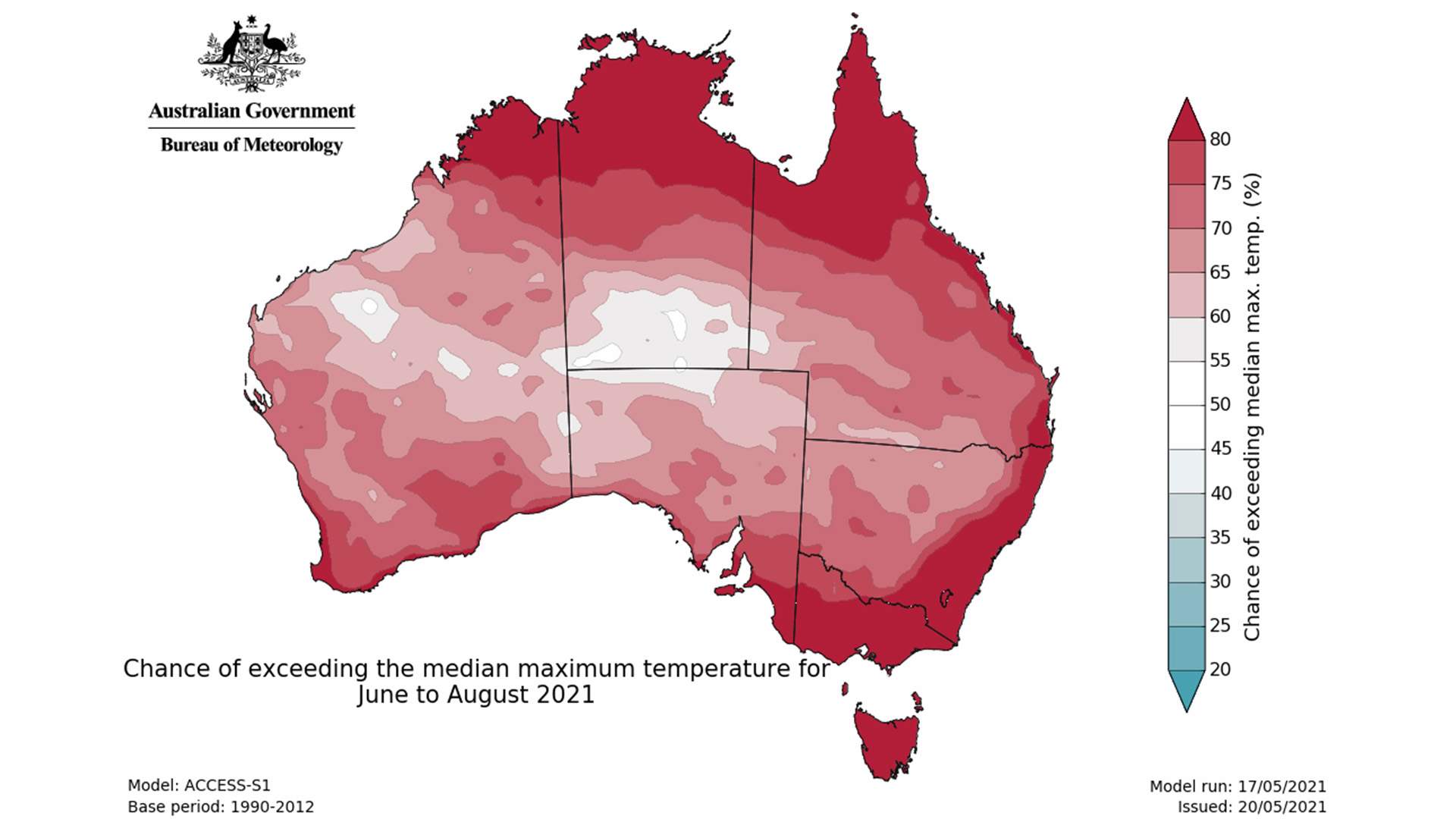 To give an idea of exactly what that all means, the average daily maximum temperature for June sits at around 17 in Sydney, 14.1 degrees in Melbourne, 20.9 in Brisbane, 19.5 in Perth and 15.8 in Adelaide. In July, it's around 16.4 in Sydney, 13.5 degrees in Melbourne, 20.4 in Brisbane, 18.5 in Perth and 15 in Adelaide. And, come August, the figures usually come in at 17.9 in Sydney, 15 degrees in Melbourne, 21.8 in Brisbane, 19.1 in Perth and 16.1 in Adelaide.
In good news for farmers, plenty of the nation east looks set for more rain, too. That's predicted to be the case in inland areas especially, with a 60-percent possibility. Along much the east coast, it could go either way — and in northern Queensland, which enters its dry season at this time of year, there's less than a 40-percent chance of more rain than usual.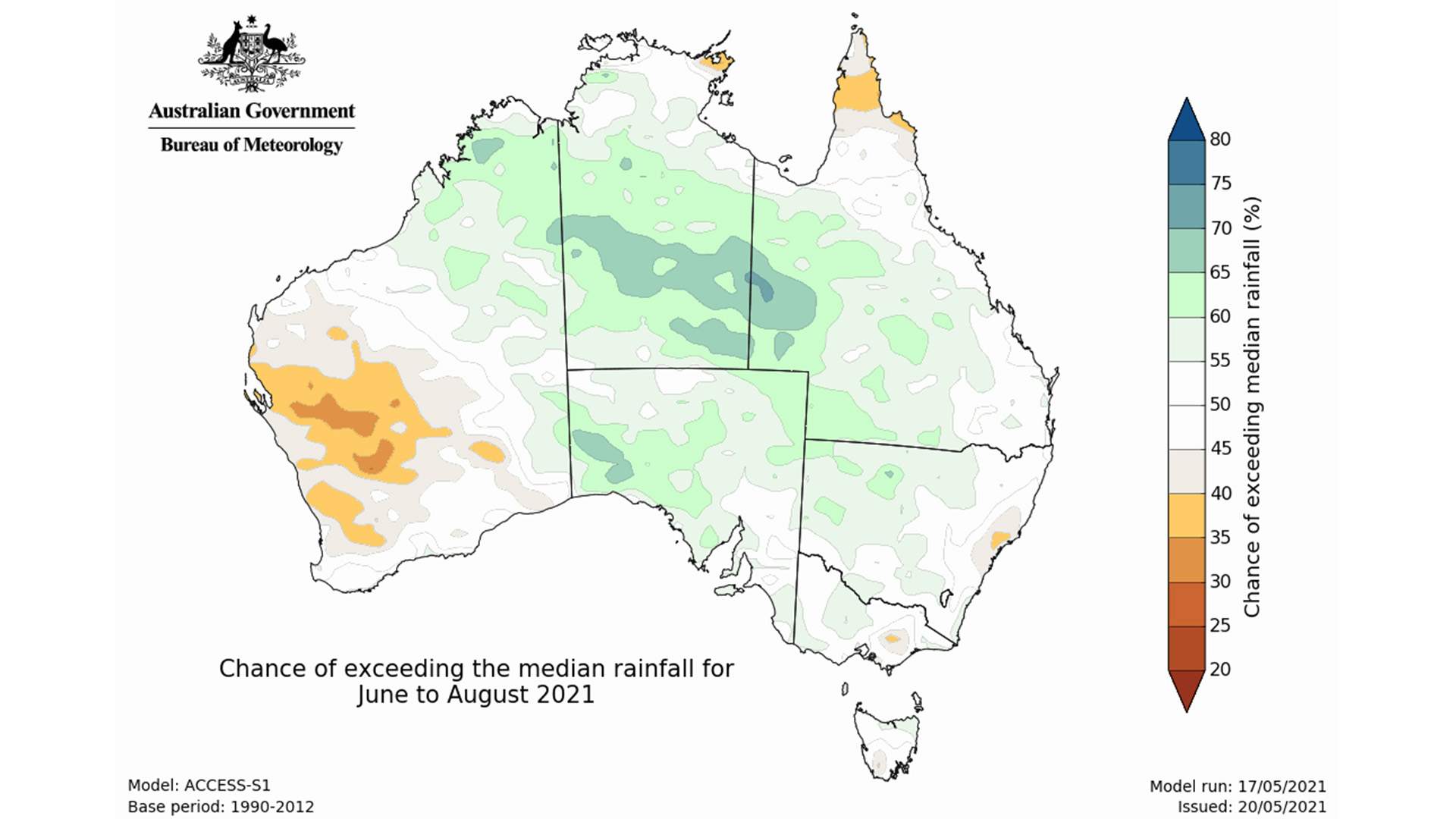 If you're wondering how BOM comes up with its models for the next few months, it draws upon the physics of our atmosphere, oceans, ice and land surface, as well a heap of observations — from satellites, as well as on land and sea. And, it also incorporates the effects of the climate change, with Australia's temperatures rising by around 1.44 degrees between 1910–2019.
For more information about forecast weather conditions between this winter, keep an eye on the Bureau of Meteorology's climate outlook.
Published on May 24, 2021 by Sarah Ward