Beam Is Sydney's New Purple-Hued E-Bike Service with Designated Parking Spots
Fifty e-bikes are now available around Bondi, with that number set to grow to 250 around the Waverley area in the coming weeks.
Ride-sharing isn't just about hopping in someone's car, getting a lift and avoiding a taxi queue. Over the past few years, scooter and electronic bicycle services have been popping up on Australia's streets, with companies such as Lime, oBike, Uber and Neuron Mobility bringing their fleets — usually in bright colours — to the nation's cities.
In Sydney, Beam is the latest outfit to join the fold, courtesy of 50 purple-hued Apollo e-bikes that are now available to hire around Bondi. That number will grow in the coming weeks, topping out at 250, with bikes placed at parking around the Waverley area as well.
Beam's launch is timed to coincide with Sydney's continued easing of COVID-19 restrictions, as well as the springtime weather — but if you're wondering what makes it different from the others, that's understandable. While e-bike services are typically dockless, meaning that you can finish your ride wherever you like and just leave your bike there, Beam offers designated parking spots. It calls the scheme 'virtual docking', with customers parking the bikes in predetermined places located by using the company's app.
The aim is to solve a familiar problem. As anyone who has stumbled across a scooter or e-bike in an inconvenient location knows, these modes of transport can be left everywhere from roadways to the middle of footpaths. Indeed, back in 2018, the Waverley Council — which covers Bondi, Bronte, Vaucluse, Dover Heights, Bondi Junction, Waverley and parts of Rose Bay — started impounding dockless bikes dumped around the area. In the same year, the City of Sydney created bike sharing bays to help tackle the same issue.
Beam users don't have to park the services bikes in its allocated spaces, though. It's encouraged, and parking in a designated spot is free, but you can choose to leave your ride somewhere else and pay a $4 fee. That doesn't seem like the biggest incentive to get people to do the right thing; however, it's better than nothing.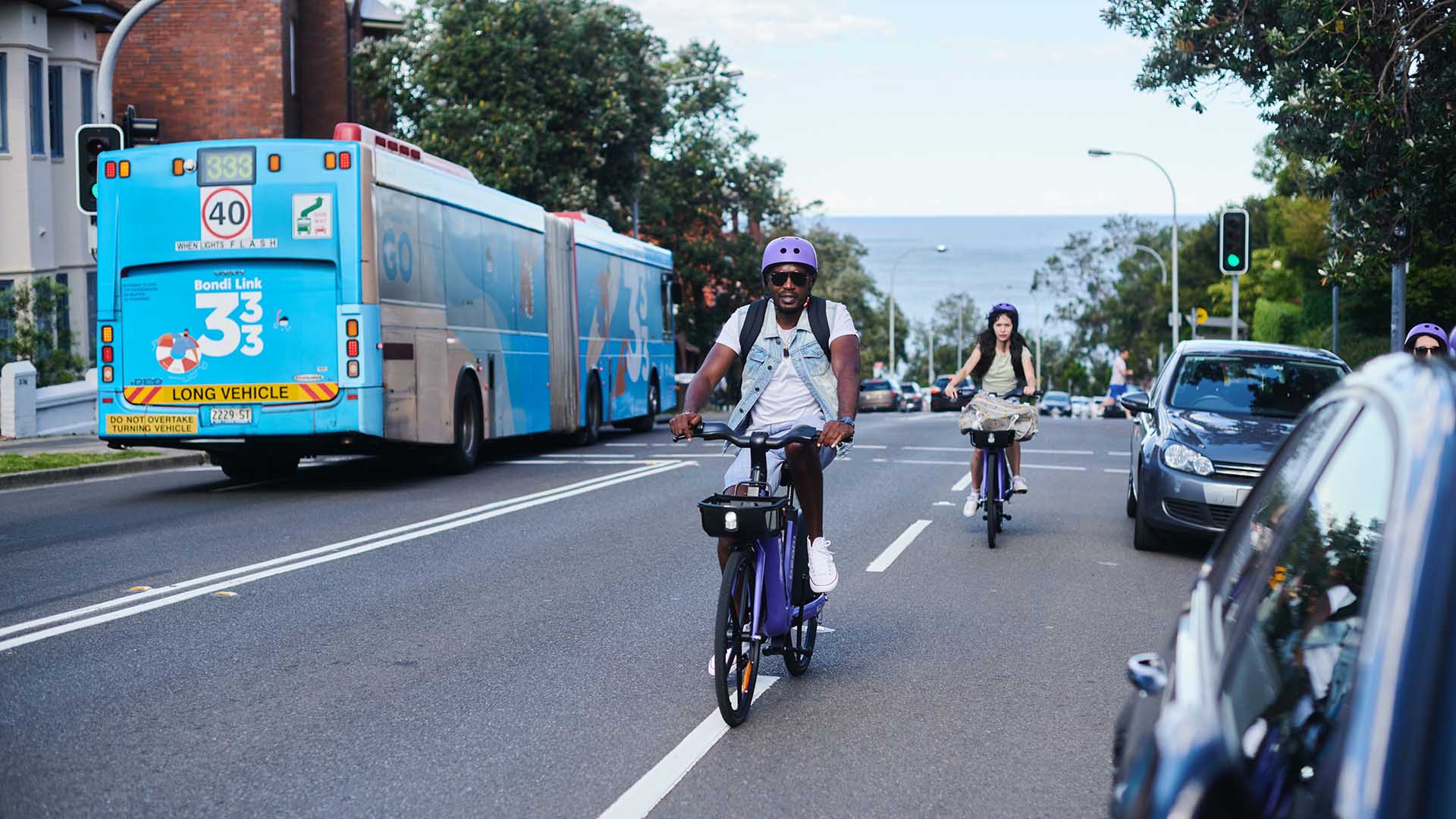 When it comes to that other item that's often spotted in weird and awkward places, aka bike helmets, Beam is using bluetooth to lock them down. And, to deal with errant bikes and helmets, it has a team of rangers who are tasked with collecting them.
Beam already operates scooters in Adelaide, in Bunbury in Western Australia, and in New Zealand, South Korea and Malaysia as well — but its Apollo e-bikes are making their worldwide debut in Sydney.
If you're keen to hit the road, Beam isn't currently charging users to unlock its bikes, but you will pay 29 cents for every minute you're riding. That's part of the company's introductory special, which runs until Sunday, October 18.
And for those wondering about the realities of hygiene and e-bike hire in this COVID-19 world, Beam advises that its bikes and helmets are coated with a long-lasting but non-toxic anti-microbial treatment — and regularly sanitised with disinfectant as well.
Beam's Apollo e-bikes are now popping up around the Waverley Council area. For more information, head to the company's website.
Introducing Concrete Playground Trips
Book unique getaways and adventures dreamed up by our editors