The NSW Government Has Unveiled a Plan to Upgrade Central Station with Parks, Restaurants, Shops and Affordable Housing
60,000 square meters of public space including rooftop parklands are just the beginning of this major Central Station redevelopment.
Central Station is currently undergoing some big changes. You may have already spotted the massive overhaul of the Grand Concourse which, among a heap of renovations and refurbishments, will feature the longest elevators in the southern hemisphere. There are also plans to transform Eddy Avenue into a dining and entertainment precinct. The latest element to the NSW Government's projections for the bustling inner-city train station is possibly its biggest — with the introduction of new public spaces, parklands, restaurants, shops, office buildings and affordable housing.
This ambitious new addition to the plans will see a series of buildings constructed over the existing rail lines and significant makeovers to some of the station's current spaces in order to facilitate a range of new public and privately run facilities. New connectivity between Ultimo and Surry Hills will also be central to the plan which hopes to bring more people into the city.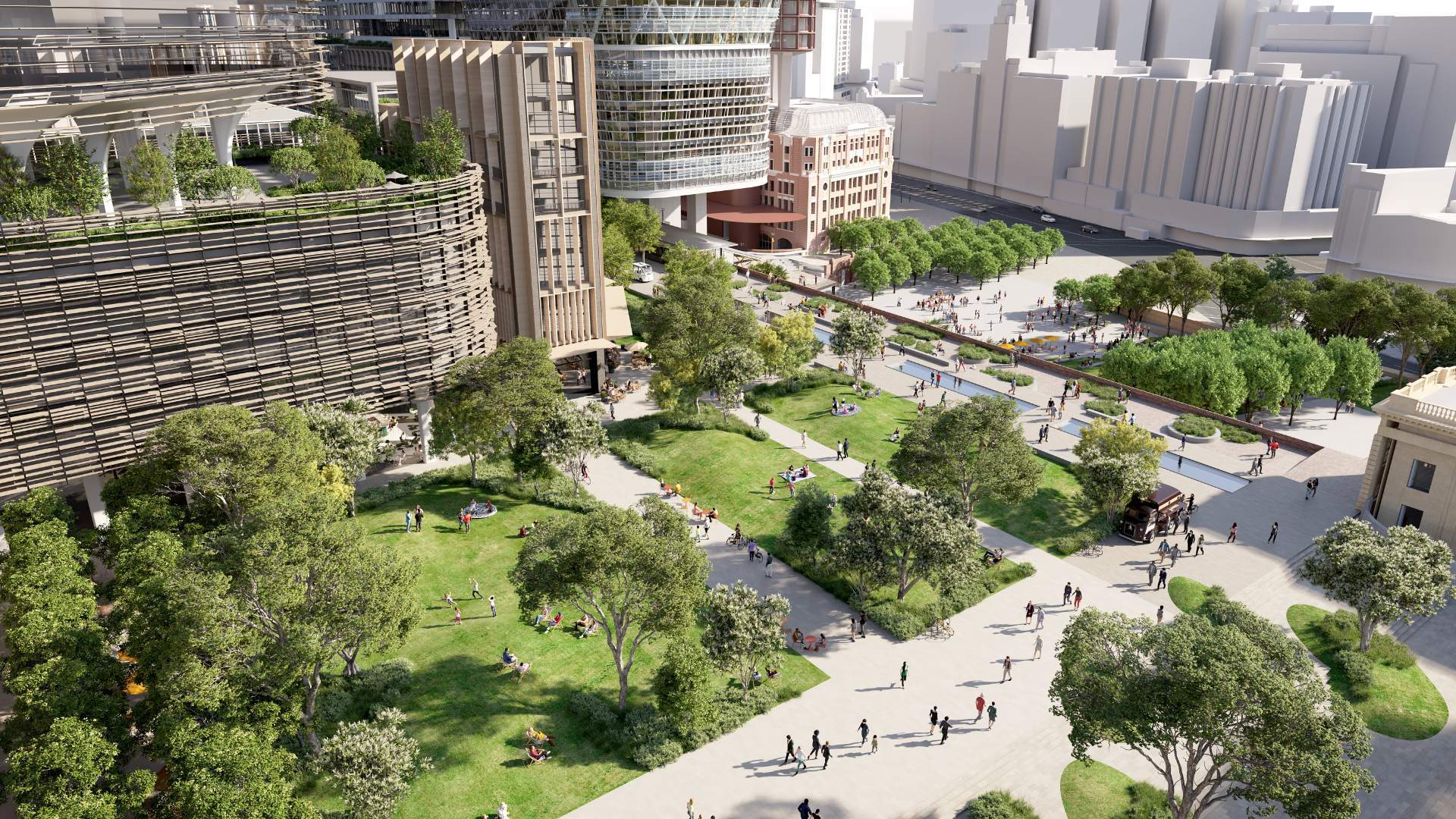 "We have a once-in-a-generation opportunity to reimagine this iconic part of our CBD and transform it into a world-class precinct of shops, restaurants, office spaces, parkland and additional housing," NSW Premier Dominic Perrottet says.
60,000 square metres of public parks, squares and plazas will be introduced into the area as part of the Central Precinct Renewal Program. Renders of the potential transformation show an expansive green space in place of Railway Colonnade Drive between the Grand Concourse and Railway Square, and rooftop parklands on top of the station alongside buildings reminiscent of those in the proposed Central Station tech hub.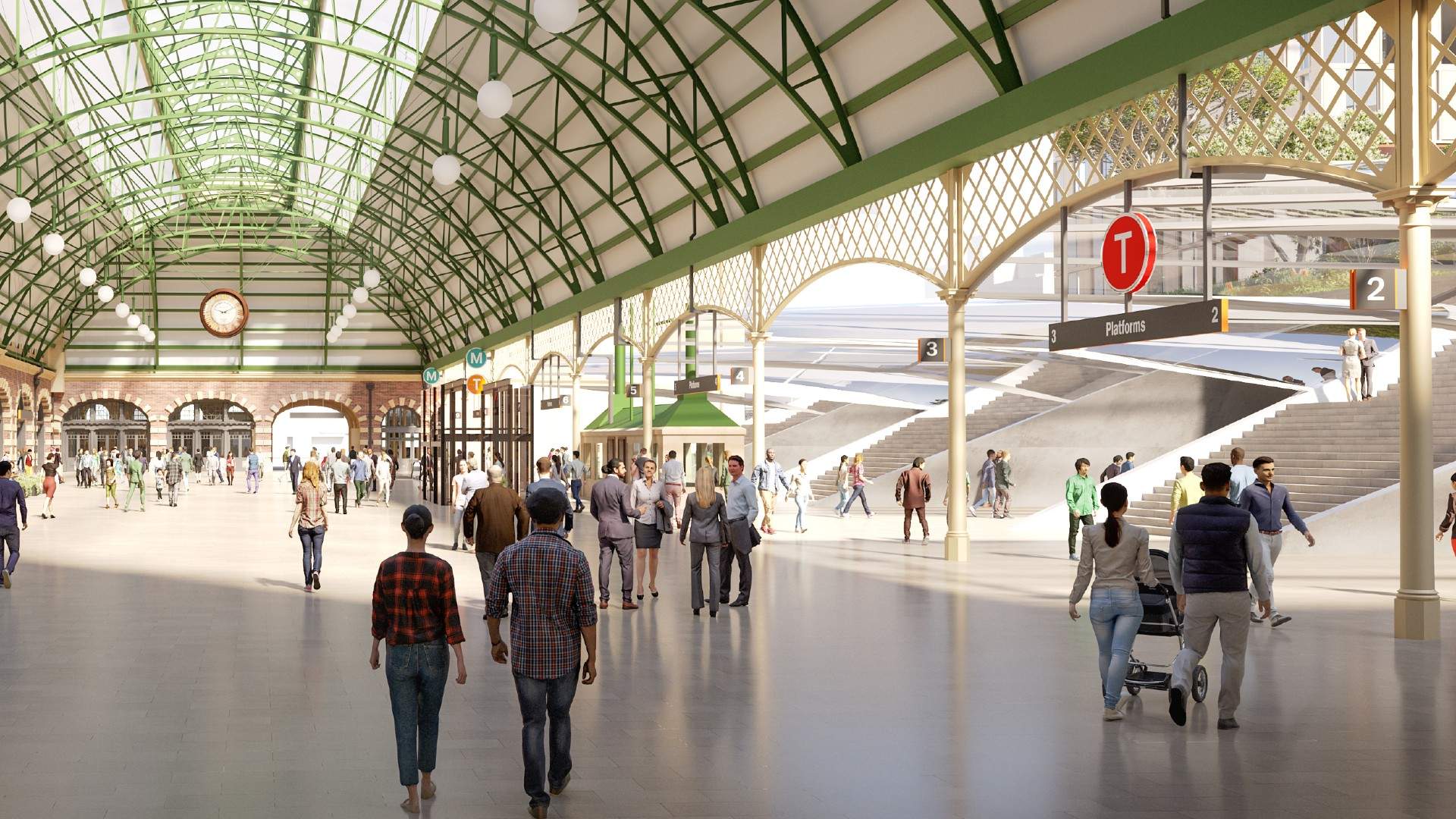 The plan also hopes to provide more connections between the suburbs surrounding Central via an over-rail pedestrian and bicycle bridge at Devonshire Street.
"The masterplan celebrates the heritage of the precinct while also offering a grand new public square, three new parks, new community, social services hubs as well as at least 30 percent of affordable and diverse housing to better meet the needs of all sections of the community," said NSW Minister for Infrastructure, Cities and Active Transport Rob Stokes. "This proposal will heal parts of our city that have been torn apart since the railway divided Surry Hills from Ultimo back in 1874."
Premier Perrottet also promises the new constructions will assist in easing some housing pressure within Sydney by introducing 850 new dwellings. 15 percent of these homes will be classified as affordable housing while 15 percent will include diverse use types including student housing.
"If you believe, as we do, that Sydney's growth should be concentrated around public transport, then Central Station is one of the best places to go big," said Gabriel Metcalf, the CEO of the Committee for Sydney, who put together the plan to revive Kings Cross. "The real test is whether they can resolve the public realm issues of such a complicated site, with level changes and lots of passenger movements, to make it feel like a nice place to be. Over-station developments are notoriously tricky, and places like the Hudson Yards in New York have achieved only mixed success."
For all of those reasons, this is going to be one of the most closely watched projects in Sydney: an incredible opportunity, but also quite the challenge.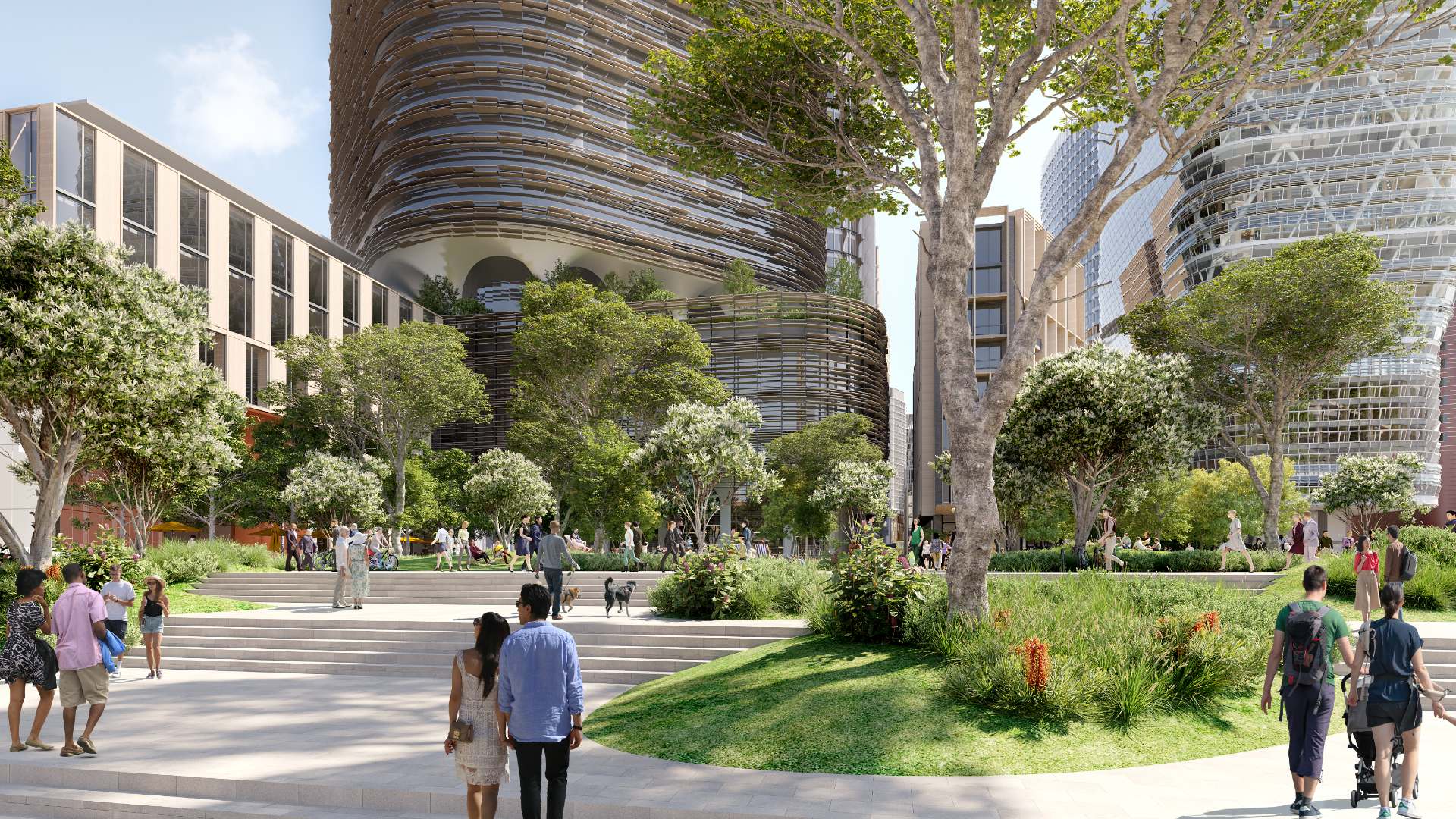 You can find out more about the Central Precinct Renewal Program and provide feedback until Monday, September 19 at the NSW Government website.
Concrete Playground Trips
Book unique getaways and adventures dreamed up by our editors