FOOD & DRINK
The Best Things to Do in Sydney This Weekend
Explore this outdoor art exhibition in the Blue Mountains, or head to one of three Sydney galleries for a huge biennial art exhibition.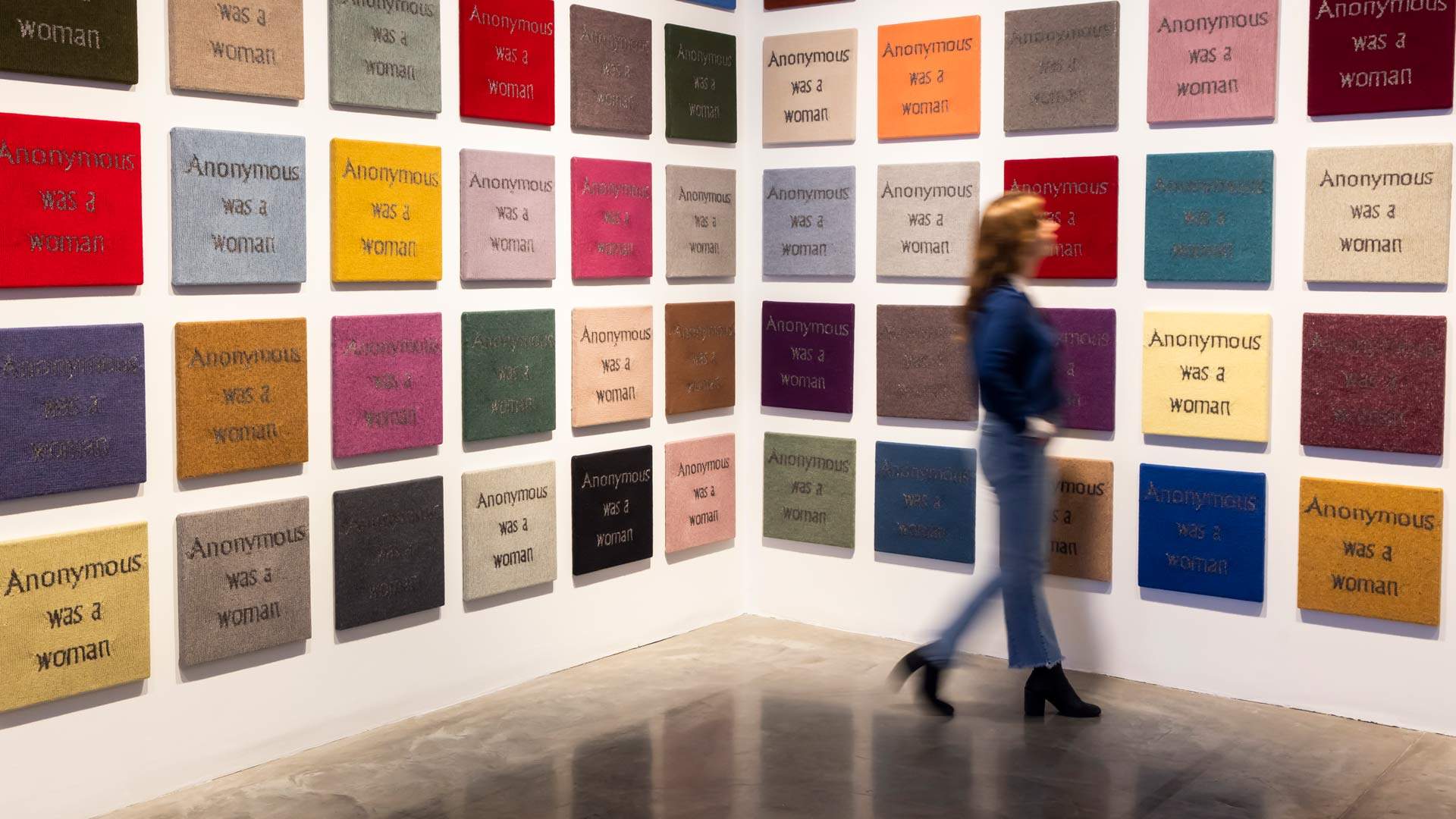 Weekends are precious. You want to make the most of those glorious days devoid of responsibility and overflowing with possibility. Luckily, Sydney's got plenty happening to make sure you don't spend the days indoors binge-watching Netflix and instead discovering new bars, absorbing art and feasting your way through food markets. Here are our picks of the weekend's happenings.
Image: The National. Kate Just 'Anonymous Was a Woman' 2019–2021, installation view. Museum of Contemporary Art Australia, Sydney. Image courtesy and copyright the artist. Photo by Anna Kucera.
Arts & Entertainment

Starring Angelina Jolie as a smokejumper, this action-infused crime-thriller wants to burn bright, but usually only flickers.

Arts & Entertainment

It might star Chris Rock and Samuel L Jackson, but the latest 'Saw' film is as derivative as you'd expect of the ninth instalment in the horror franchise.

Food & Drink

This $45 vegetarian feast at Cafe Freda's is raising money to help struggling communities in India.

Arts & Entertainment

Catch the director's sublime new film, then work through four gems from her back catalogue.

Arts & Entertainment

The world's best (and most shocking) photojournalism from 2020 comes to Sydney.

Design & Style

The two-day market will feature local winemakers and distilleries, fresh produce, live music and hot food stalls.

Travel & Leisure

Igloos are popping up at Pier One again — and this year, they're surrounded by light-up cherry blossom trees.

Arts & Entertainment

This three-day, 12-feature film festival is all about movies that ponder dreams and imagined worlds.

Arts & Entertainment

Following a doctor who runs for local council, this rousing drama unpacks life in Saudi Arabia today and agitates passionately for change.

Arts & Entertainment

Anne Hathaway and Chiwetel Ejiofor can't save this lockdown rom-com and heist flick from being dull, creaky, contrived and repetitive.

Arts & Entertainment

Reuniting for the first time in 16 years, Jason Statham and Guy Ritchie avoid simply rehashing their shared past glories in this effective revenge thriller.

Food & Drink

This Malaysian-style burger is packed with fried chicken, peanuts, sambal and an egg.

Arts & Entertainment

This rich, resonant and empathetic film about friendship and survival in a 19th-century Oregon community is director Kelly Reichardt's best yet.

Food & Drink

Pop-ups on the sand, food truck parties and craft brews aplenty — they're all a part of this new northern beaches food festival.

Food & Drink

Take advantage of special offers, exclusive menus and virtual masterclasses at this month-long, citywide food festival.

Food & Drink

The tour will feature a different dish each month — starting with its OG fried chicken ramen, of course.

Food & Drink

A two-month, multi-venue homage to all things luxe, featuring fancy drinks, lavish lunches and multi-sensory art.

Arts & Entertainment

Local and international comedic greats are descending on Sydney to deliver a jam-packed program of laughs.

Arts & Entertainment

The Chippendale gallery is exhibiting more than 30 luminous works until August.

Food & Drink

Fuel your avocado obsession with this special eight-week menu filled with avo-infused dishes and drinks.

Design & Style

Personalise your kicks in a sneaker customisation workshop or learn street art techniques.

Food & Drink

Eighteen of Sydney's favourite bars will be whipping up exclusive cocktails during this month-long festival of booze.

Arts & Entertainment

Catch First Nations cabaret, live music and dance at Sydney Opera House's celebration of creativity.

Arts & Entertainment

Enjoy antipasto burlesque, poetry readings, wheelie bin art and 'Dungeons & Dragons' at this six-week CBD party.

Food & Drink

Ten weeks, ten creative schnitzel variations — and a cheeky $10 Wednesday special if you want to sample them all.

Arts & Entertainment

Golden Age Cinema is spending weekends in autumn screening classics about about twisty romances and thrilling encounters.

Travel & Leisure

The NSW Government is giving away free trees to 13,500 households in the Greater Sydney area.

Food & Drink

Sip your way through mango, watermelon, passionfruit and grape Nerds-flavoured margaritas.

Arts & Entertainment

An expansive survey of Persian arts and crafts will take over the Powerhouse Museum this autumn.

Arts & Entertainment

Contemplate Sydney's — and your— history, identity and cultural belonging as you wander through Yayoi Kusama's immersive mirror ball installation.

Food & Drink

Close out your Sundays with drinks, free tunes and Opera Bar's harbour view.

Arts & Entertainment

The National returns for 2021 to exhibit works from 39 rising Australian artists across three Sydney venues.

Arts & Entertainment

Don't throw away your shot to see the blockbuster, Tony Award-winning musical by Lin-Manuel Miranda.

Food & Drink

Spectacular harbour views, breakfast and fine French bubbly make one extravagant way to start to the day.

Design & Style

Find original wares by local designers, food stalls and a new growers market for fresh produce.

Arts & Entertainment

Screening everything from 'The Big Lebowski' and 'Fargo' to 'No Country for Old Men' and 'Inside Llewyn Davis'.

Arts & Entertainment

The record-breaking Broadway musical, based on the smash-hit Disney film, is bringing Arendelle's frozen fractals and toe-tapping tunes Down Under.

Arts & Entertainment

Take a stickybeak into the famed Australian artist's love of feathered creatures.

Arts & Entertainment

This colourful living exhibition features a 'watercolour painting' made from over 20,000 plants.
Tap and select
Add to Home Screen
to access Concrete Playground easily next time.
x