FOOD & DRINK
The Best Things to Do in Sydney This Weekend
Explore this outdoor art exhibition in the Blue Mountains, or head to one of three Sydney galleries for a huge biennial art exhibition.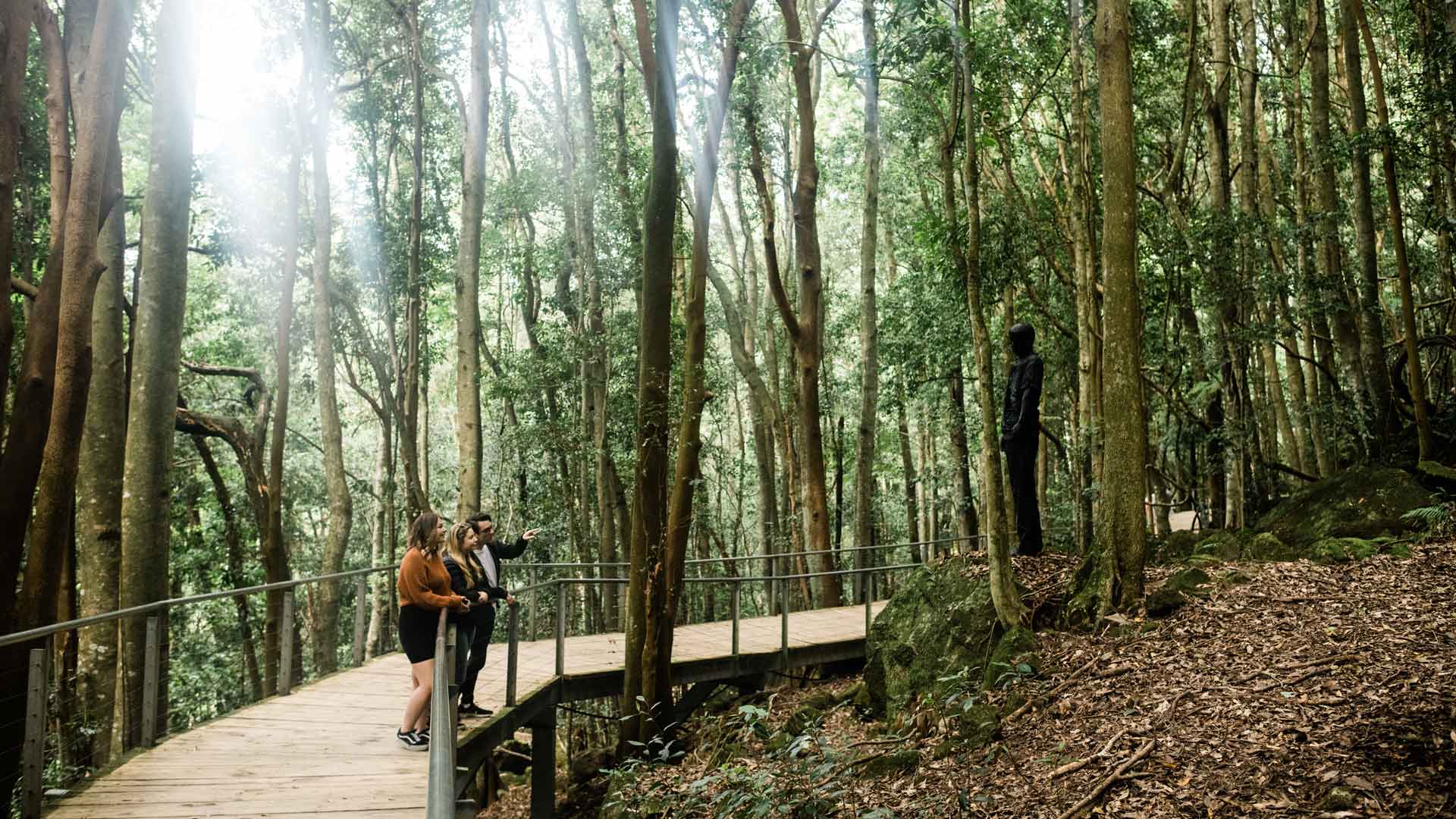 Weekends are precious. You want to make the most of those glorious days devoid of responsibility and overflowing with possibility. Luckily, Sydney's got plenty happening to make sure you don't spend the days indoors binge-watching Netflix and instead discovering new bars, absorbing art and feasting your way through food markets. Here are our picks of the weekend's happenings.
Image: Sculptures at Scenic World.
Arts & Entertainment

Stanley Tucci and Colin Firth are simply heartbreaking in this affecting drama about a long-term couple dealing with early-onset dementia.

Arts & Entertainment

An 11-day lineup of art, film, music, food and drink, timed to coincide with the the 2021 World Surfing League Rip Curl Narrabeen Classic.

Arts & Entertainment

The Chippendale gallery is exhibiting more than 30 luminous works until August.

Arts & Entertainment

This powerful production explores the commodification of Black women in the internet era.

Food & Drink

Fuel your avocado obsession with this special eight-week menu filled with avo-infused dishes and drinks.

Arts & Entertainment

Nominated for two Oscars, this compelling and confronting Romanian documentary spirals from a tragic fire to corruption in the country's health system.

Arts & Entertainment

This space-set survival-of-the-fittest thriller brings plenty of other movies to mind, but manages to still feel resonant enough.

Arts & Entertainment

A silent and swaggering Nicolas Cage battles demonic animatronic mascots in this horror flick, which is never as entertaining or out-there as it should be.

Enjoy a day of family-friendly fun at a World-Heritage listed site.

Food & Drink

A new Melbourne culinary favourite is headed to Bondi for a night of fancy snacks and signature cocktails.

Food & Drink

Chiswick's kitchen garden has been turned into a private dining area serving a seasonal set menu and gin cocktails.

Arts & Entertainment

Hit the dance floor and catch What So Not, DMA's, and Tones and I at NSW's first major music festival in over a year.

Food & Drink

Momofuku Seiōbo's Pauly Carmichael helps kick off Sunday's new series of chicken-focused collaboration feasts.

Arts & Entertainment

Enjoy antipasto burlesque, poetry readings, wheelie bin art and 'Dungeons & Dragons' at this six-week CBD party.

Arts & Entertainment

After the 2020 event was cancelled due to the pandemic, this year's exhibition is once again placing large-scale sculptures and installations throughout the rainforest.

Arts & Entertainment

With remarkable performances from Anthony Hopkins and Olivia Colman and a purposefully puzzle-like approach, this drama about dementia leaves a lasting imprint.

Arts & Entertainment

Bob Odenkirk stars in this 'John Wick'-style action-thriller, sliding into a gleefully OTT film with flair and texture.

Food & Drink

Ten weeks, ten creative schnitzel variations — and a cheeky $10 Wednesday special if you want to sample them all.

Arts & Entertainment

Dance to DJs, listen to piano tunes and watch dance-themed movies — all at this free Darling Square event.

Arts & Entertainment

Golden Age Cinema is spending weekends in autumn screening classics about about twisty romances and thrilling encounters.

Travel & Leisure

The NSW Government is giving away free trees to 13,500 households in the Greater Sydney area.

Arts & Entertainment

This heart-filled pop-up from the Sugar Republic team has a confetti shower and a Las Vegas-style Chapel O' Love.

Travel & Leisure

Head to this fun-filled family affair for dodgem cars, OTT showbags and dog talent shows.

Food & Drink

Sip your way through mango, watermelon, passionfruit and grape Nerds-flavoured margaritas.

Arts & Entertainment

An expansive survey of Persian arts and crafts will take over the Powerhouse Museum this autumn.

Arts & Entertainment

Turkish-Cypriot immigrant Bayram Ali captured the Snowy Mountains' hydroelectric engineering in the 1950s–70s — see his 35 millimetre prints in this photographic exhibition.

Arts & Entertainment

Contemplate Sydney's — and your— history, identity and cultural belonging as you wander through Yayoi Kusama's immersive mirror ball installation.

Food & Drink

The Grounds of Alexandria has given its garden a Moroccan-inspired makeover — and it's serving up Moroccan dessert boards, too.

Food & Drink

Spend a week feasting on local, gourmet produce in this burgeoning food region.

Food & Drink

Close out your Sundays with drinks, free tunes and Opera Bar's harbour view.

Food & Drink

Carriageworks Farmers Market is teaming up with Cornersmith to teach you new skills every Saturday morning from February–April.

Arts & Entertainment

The National returns for 2021 to exhibit works from 39 rising Australian artists across three Sydney venues.

Arts & Entertainment

Watch Briggs and Ruby Fields perform, hit up a roller skating rink or attend free jazz nights across Sydney's second CBD.

Arts & Entertainment

Don't throw away your shot to see the blockbuster, Tony Award-winning musical by Lin-Manuel Miranda.

Food & Drink

Spectacular harbour views, breakfast and fine French bubbly make one extravagant way to start to the day.

Arts & Entertainment

Verdi's famed Italian opera — and its nine-metre-high chandelier — is coming to Sydney Harbour's floating stage.

Arts & Entertainment

Screening everything from 'The Big Lebowski' and 'Fargo' to 'No Country for Old Men' and 'Inside Llewyn Davis'.

Arts & Entertainment

The record-breaking Broadway musical, based on the smash-hit Disney film, is bringing Arendelle's frozen fractals and toe-tapping tunes Down Under.

Arts & Entertainment

Take a stickybeak into the famed Australian artist's love of feathered creatures.

Arts & Entertainment

Watch new and classic flicks under the stars — while sitting in a director's chair in a laneway.

Arts & Entertainment

This colourful living exhibition features a 'watercolour painting' made from over 20,000 plants.
Tap and select
Add to Home Screen
to access Concrete Playground easily next time.
x