TRAVEL & LEISURE
An Ominous 'Game of Thrones' Graveyard Has Popped Up in Centennial Park
You'll find the graves of the Starks, Baratheons and direwolves — and hints to what's to come in the eighth and final season.
An Ominous 'Game of Thrones' Graveyard Has Popped Up in Centennial Park
You'll find the graves of the Starks, Baratheons and direwolves — and hints to what's to come in the eighth and final season.
---
Winter is coming, as Game of Thrones has been telling us for years — but the show's final season is coming first. Before the weather turns cold again in the southern hemisphere, fans of the epic HBO series will be able to discover how the popular series wraps up, with the eighth and final season hitting the small screen at 11am on Monday, April 15. That's next week, friends. Prepare the snacks.
And with the final season, will come the death of many more cherished characters. As George RR Martin has shown us, over and over and over again, no one is safe from his murderous pen (or keyboard) — any character's death is fair game. The list of deaths in the first seven seasons is long — longer than even Arya Stark's list — and the fallen are being commemorated in an eery new Game of Thrones cemetery, which has popped up today in Centennial Park. Yes, right here in Sydney.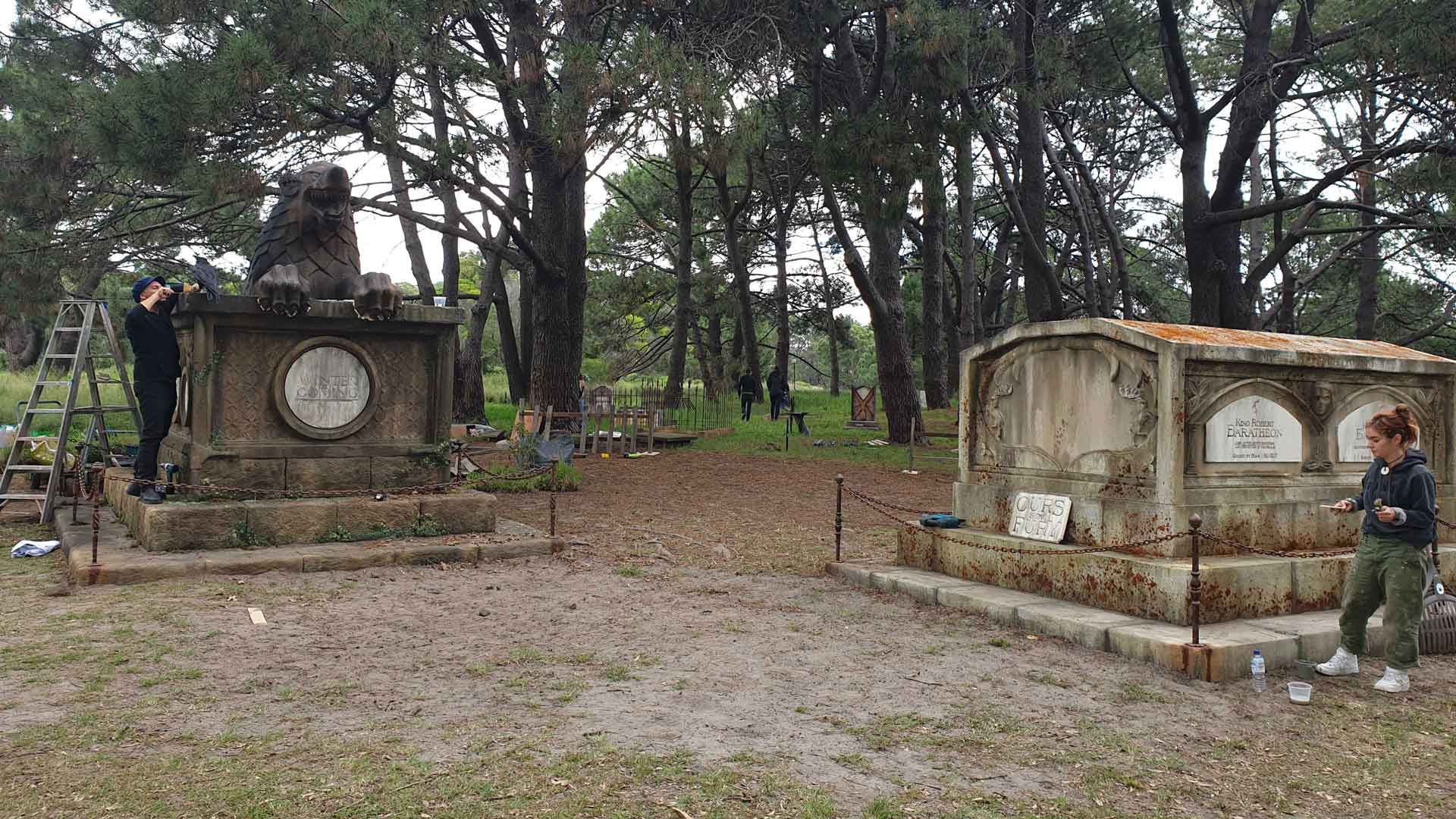 Eight giant graves as well as numerous tombs have been created by Foxtel, ahead of next week's series premiere, in the sprawling inner city park, and each is inscribed with names of who lays inside. There are the fallen Starks: Eddard, Benjen and Rickon; the Baratheons (or should we say, Lannisters): King Tommen and Robert; and the Stark direwolves: Shaggy Dog, slain by Smalljon Umber in S06E09, and Summer, mauled by wights in S06E05. We'll never forget who else died in that latter episode — 'The Door' — either: Hodor.
With the final season promising a huge final battle between the living and the White Walkers, we think this cemetery, which features hands and animals emerging from the graves, may also be ominously hinting to something else: we're going to see the return of many favourite fallen characters — as wights. In the offical trailer, dropped last month, you see Arya running through the halls of Winterfell — could she be running from something, newly reanimated, in the crypts? Then, there's this Crypts of Winterfell teaser.
We'll let you continue speculating for yourselves, but expect one helluvan emotional Walking Dead-style murdering-of-fallen-friends battle to go down this season. Prepare many boxes of tissues.
The cemetery is currently a bit of a work in progress, but we'll update you as soon as it's complete.
It's not the first IRL teaser for the new season, either, a Iron Throne scavenger hunt took place earlier this month, with six sworded seats popping up around the globe.
Images: Lauren Vadnjal.
Published on April 11, 2019 by Samantha Teague