TRAVEL & LEISURE
Disney Has Released More Details About Its New 'Star Wars' Theme Parks
The Disneyland and Disney World sites are due to open later this year.
Disney Has Released More Details About Its New 'Star Wars' Theme Parks
The Disneyland and Disney World sites are due to open later this year.
It was true when Star Wars: Episode IV — A New Hope hit cinema screens more than four decades ago, and it's still true now. If there's one thing everyone knows about the sci-fi world created by George Lucas, it's that it doesn't unveil its secrets quickly. All of these years later, viewers are still watching the space opera saga's twists and turns in episodic big-screen instalments (and will soon be doing so on the small screen, too). If you've been keeping an eye out for news about Disney's new dedicated Star Wars theme park zones, it's been a somewhat similar process.
Of course, the force is strong with this overall idea. Yes, we've definitely got a good feeling about it as well. Soon, Disneyland Resort in California and Walt Disney World in Florida will both boast dedicated Star Wars-themed zones, called Star Wars: Galaxy's Edge. With the two set to open between the middle and the end of 2019, Disney has slowly been sharing a few more details about what fans can expect.
Last year, boozy watering hole Oga's Cantina was announced. It'll be part of both spaces, bringing alcohol to the California park for the first time. Then, Star Wars aficionados learned about both Millennium Falcon: Smugglers Run and Star Wars: Rise of the Resistance. The former will put you in the driver's seat of Han Solo's beloved ship, while the latter will see you caught in the middle of a battle between the Resistance and the First Order.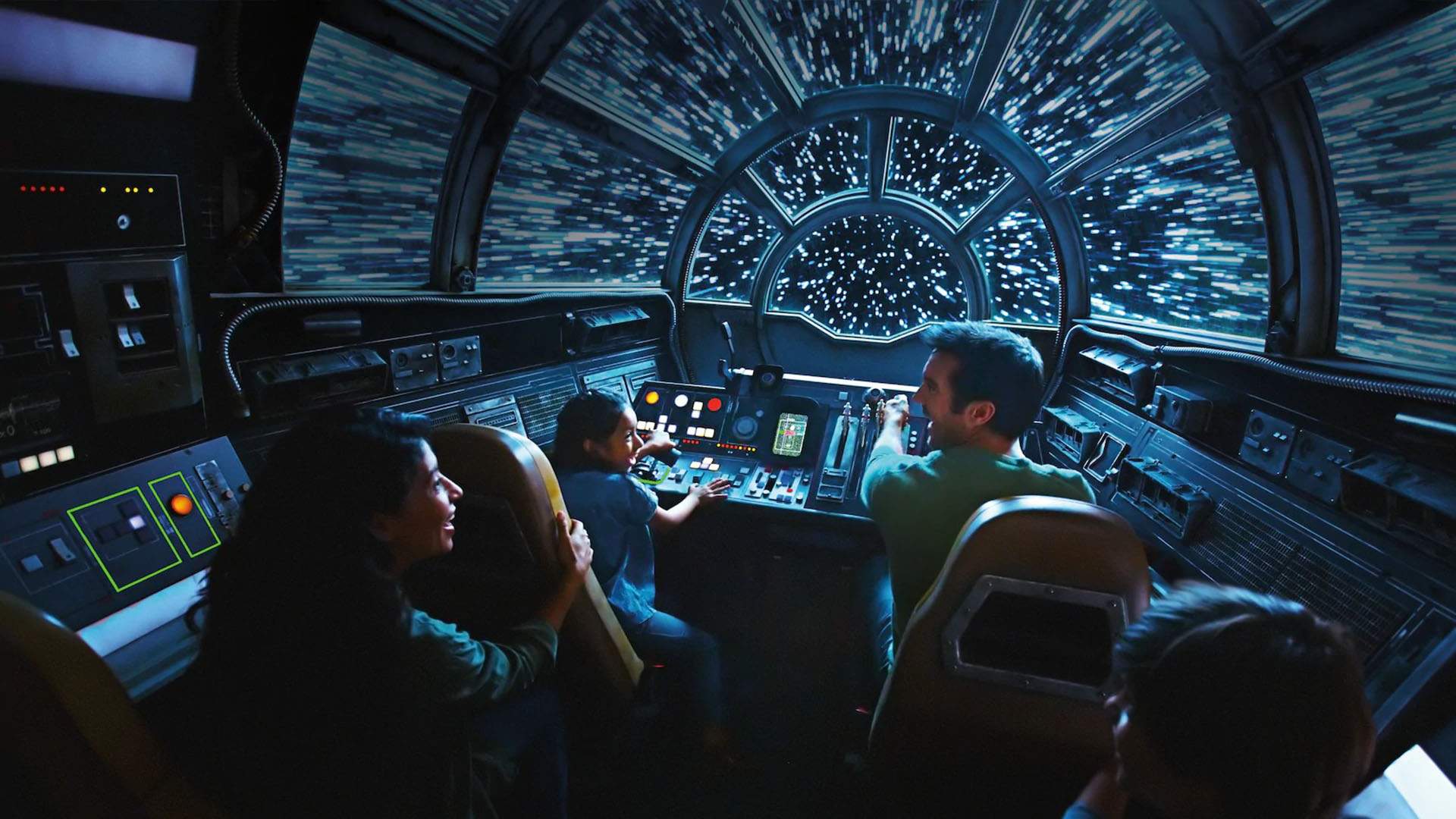 Now, the company has started spilling the details on the outpost of Batuu, which is where Galaxy's Edge is set. It's a hive for smugglers and rogues (naturally), and it's where you'll be wandering around when you're not exclaiming "punch it" a whole heap, trying to become best buddies with a loveable wookiee and hopping onto a star destroyer.
Specifically, visitors will be getting cosy in the Batuu village of Black Spire Outpost — and there's plenty to keep everyone occupied. If you're a hands-on type, you can construct your own R2-D2 or BB-8-style droids, which you can then take home with you. You'll also be able to build your own unique lightsaber, and take a few Jedi lessons so you know how to use it. Or, pick up Resistance or First Order supplies, or look for rare goods from a galaxy far, far away (if you haven't noticed, most of these attractions involve purchasing some merchandise or a keepsake, because of course they do).
When you're not giving your Star Wars skills and your wallet a workout, you'll also be able to enjoy the finest spread that Black Spire Outpost has to offer. Docking Bay 7 Food and Cargo takes the form of a multi-purpose transport shuttle docked in a hangar, and is basically an intergalactic food truck, with 'Smoked Kaadu Ribs' (aka pork ribs) and 'Ithorian Garden Loaf' (aka a plant-based meatloaf alternative) on the menu. At Ronto Roasters, spit meats will be on cooked up on a recycled podracing engine, while Kat Saka's Kettle will sell street food snacks. And then there's the Milk Stand, the go-to place for both blue and green milk.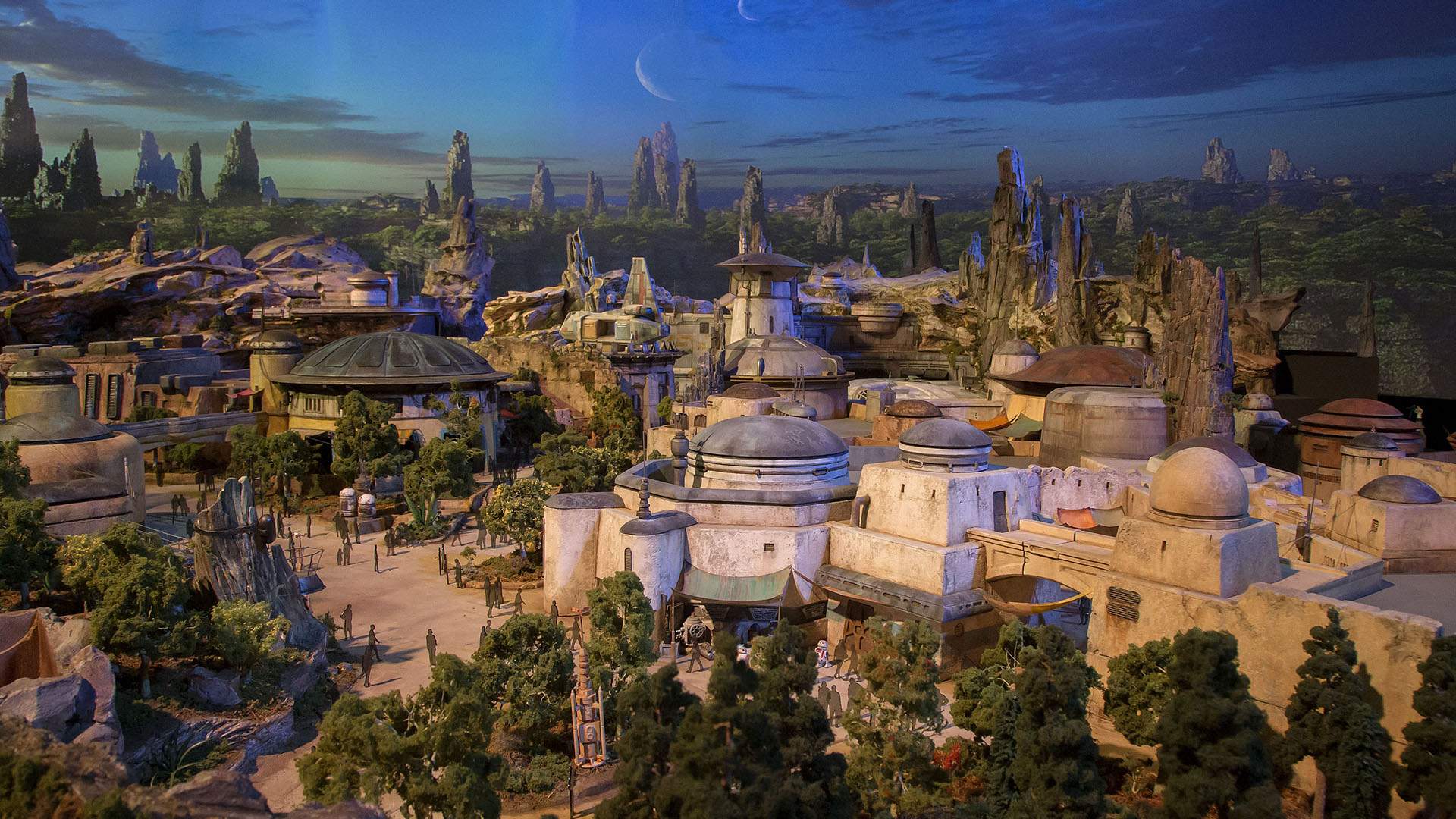 Galaxy's Edge was first made public back in 2015, will span 14 acres at each site and will prove the biggest single-themed expansion the respective parks have ever seen. The guiding concept behind both spots is to "transport guests to a never-before-seen planet, a remote trading port and one of the last stops before wild space where Star Wars characters and their stories come to life." And, to give this interactive experience the requisite soundtrack, it'll also feature new Star Wars music by the man behind its iconic score, aka Oscar-winning composer John Williams.
More details are certain to come to light before Galaxy's Edge opens, but expect both location to tie into all ten Star Wars movies to date and to feature an array of beloved characters roaming around.
Eventually, visitors to Disney World will also be able to spend a night or several in an immersive Star Wars-themed hotel as well, although construction hasn't started yet and an opening date hasn't been announced either. That said, Disney recently revealed that a visit to the hotel will involve boarding a launch pod and taking part in "a fully-immersive, multi-day Star Wars adventure aboard a luxury starship", with high-end dining and cabins that apparently have a space view all part of your stay.
Via Disney Theme Parks Blog. Images:  Disney Theme Parks Blog.
Published on March 03, 2019 by Sarah Ward