TRAVEL & LEISURE
Five Camping Spots on the River in and Around Sydney
The national parks with some of the most idyllic waterside camping around.
Five Camping Spots on the River in and Around Sydney
The national parks with some of the most idyllic waterside camping around.
in partnership with

Sydney's beaches might be famous all over the world, but its rivers, though lesser known, are just as beautiful. And, if you're looking for a peaceful camping getaway, then the banks of a meandering waterway are hard to beat. You can spend all your time lazing about on grassy clearings and sandy beaches, wading through pretty swimming holes and trying to catch a fish or two. Or, get active and go exploring on a kayaking adventure or bushwalk.
Within a stone's throw of Sydney's CBD, there are streams of all sorts: from rivers with rushing rapids framed by sheer sandstone cliffs to cute, babbling creeks that travel through ferny forests. Luckily, many are equipped with easily accessible campgrounds. So, pack your tent and plan your next escapade at one of these five.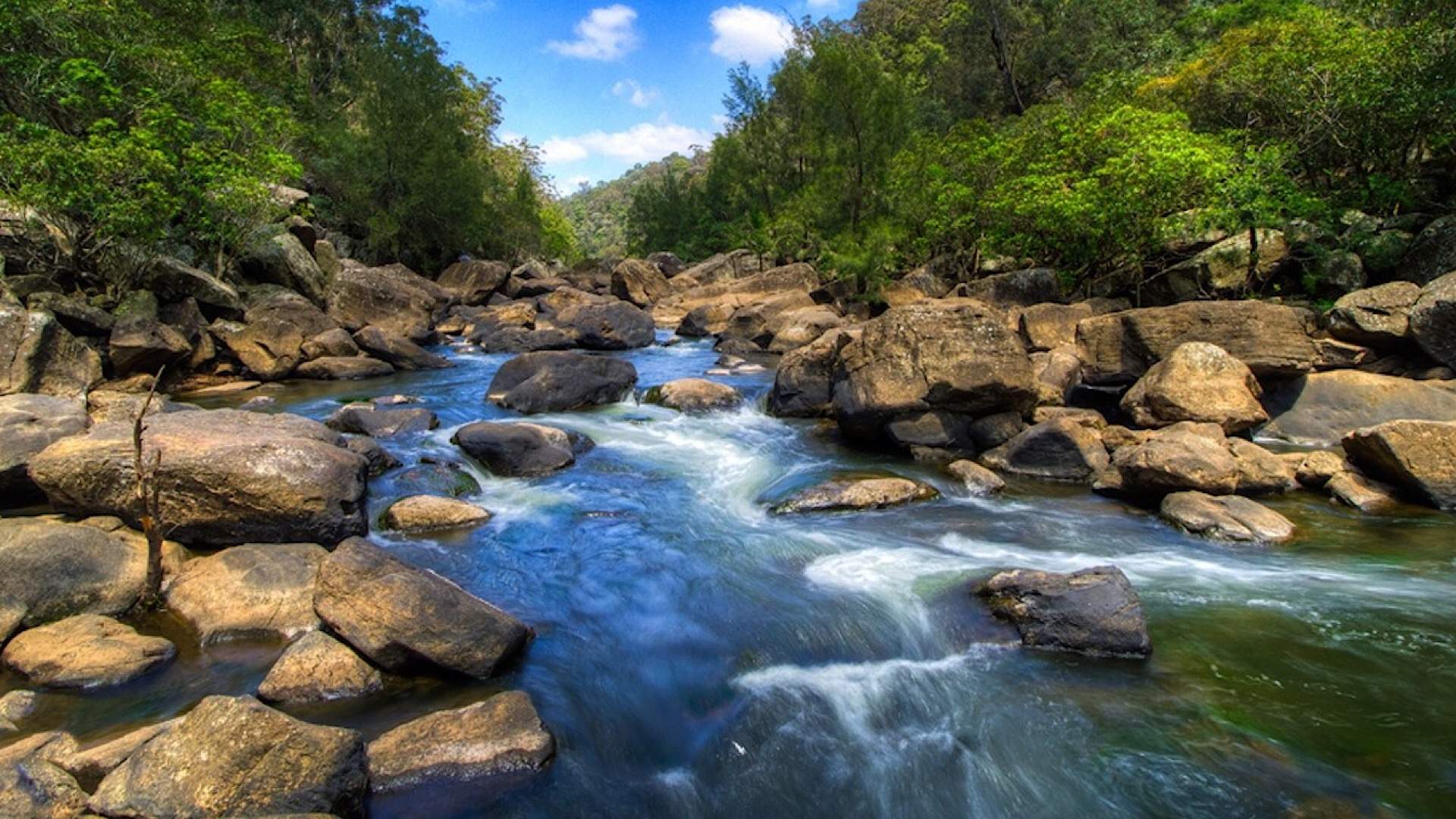 About an hour's drive west of Sydney is this idyllic spot on the shores of the mighty Nepean River, which starts at Robertson in the Southern Highlands and, just north of Penrith, becomes one with the Hawkesbury. At Bents Basin, the Nepean enters a gorge — one of the deepest swimming holes in New South Wales — so, it's a good spot for dipping in, paddling and fishing. There are rapids nearby too, so pack your lilo. Campground facilities include hot showers, barbecues and a camp kitchen. Hot tip: book in advance, especially during holidays.
To camp near a river without having to travel too far, pitch your tent on the banks of the Lane Cove River, a branch of the Parramatta River; the campground is just a 25-minute drive northwest of the CBD. Here, you'll find excellent views over Lane Cove Valley and you're highly likely to meet swamp wallabies, water dragons, kookaburras, lorikeets, bush turkeys and, if you're quiet and patient, echidnas. To explore the river more extensively, have a wander along the Riverside Walking Track. Facilities (which are pretty fancy) include a swimming pool, barbecues, showers, kiosk, wifi and power.
Cattai Campground sits on a bend in the Hawkesbury River on the edge of Cattai National Park, about an hour's drive northwest of Sydney. Along with camping, the waterway also offers perfect conditions for fishing, boating and bushwalking. To add some history to your trip, visit the Cattai Homestead, a National Trust-listed dwelling built in the 1820s. The home is also attached to the ruins of a windmill which is believed to be the oldest industrial building in Australia. Campground facilities include showers, toilets, barbecues and picnic tables. Oh, and the occasional kangaroo and possum, too.
Kingfisher Pool Campground is a secluded oasis tucked deep within Heathcote National Park — 5.5 kilometres to be exact. After a leisurely walk in, you'll be rewarded with a serene, undisturbed vista. So, despite being just 40 kilometres southwest of the Sydney CBD, the campground feels like it's in the middle of nowhere. The pool is a magical swimming hole along the Heathcote River, with rock platforms to lounge on and pretty cascades. Facilities are rustic, being limited to toilets and picnic tables, so don't forget to pack all the water you'll need.
Like Kingfisher Pool, Marramarra Creek Campground is walk-in only, so there's a similar sense of escape and solitude. In this case, it's a 3.5-kilometre trek from Marramarra Ridge Trail management gate (directions are over here), which is about an hour's drive northwest of Sydney. If you're keen to catch your own dinner, throwing a line in could prove worthwhile. On top of that, there are kayaking journeys to be had through mangroves, century-old orange orchards to wander among and the 13-kilometre Marramarra Ridge to Smugglers Ride walk to conquer. Facilities consist of barbecues, toilets and picnic tables.
For more inspiration to get outside and explore, visit National Parks NSW and check out their Instagram @nswnationalparks.
Published on November 14, 2017 by Jasmine Crittenden