Friendship Island Is the Handy Website Helping You and Your Pals Plot Out Lockdown Picnic Spots
Sydneysiders and Melburnians can drop pins, find crossover areas with their mates and start planning those picnics.
Picnics are back in Sydney and Melbourne. In the past week, outdoor gathering rules have changed in both cities, with their respective lockdown restrictions now allowing outside social interaction in groups of up to five adults as long as everyone is fully vaccinated. So, if you and your mates have had the jab, you've probably been spending your time working out exactly which patch of grass you can head to.
Obviously, picking exactly where you can picnic isn't quite as simple as normal. Both cities currently have travel limits in place, with Sydneysiders only able to venture five kilometres from home or stick within their Local Government Area, and Melburnians permitted to mosey ten kilometres from their houses. So, a heap of useful websites have popped up to help you work out where you and your mates' travel bubbles overlap — including newcomer Friendship Island.
This aesthetically pleasing website is immensely straightforward, and easy to use. Either type in an address or drop a pin to get started. Then, you can do the same for all your friends' addresses. In the process, you'll see everyone's bubbles on-screen, with the map getting darker and clearer where they overlap.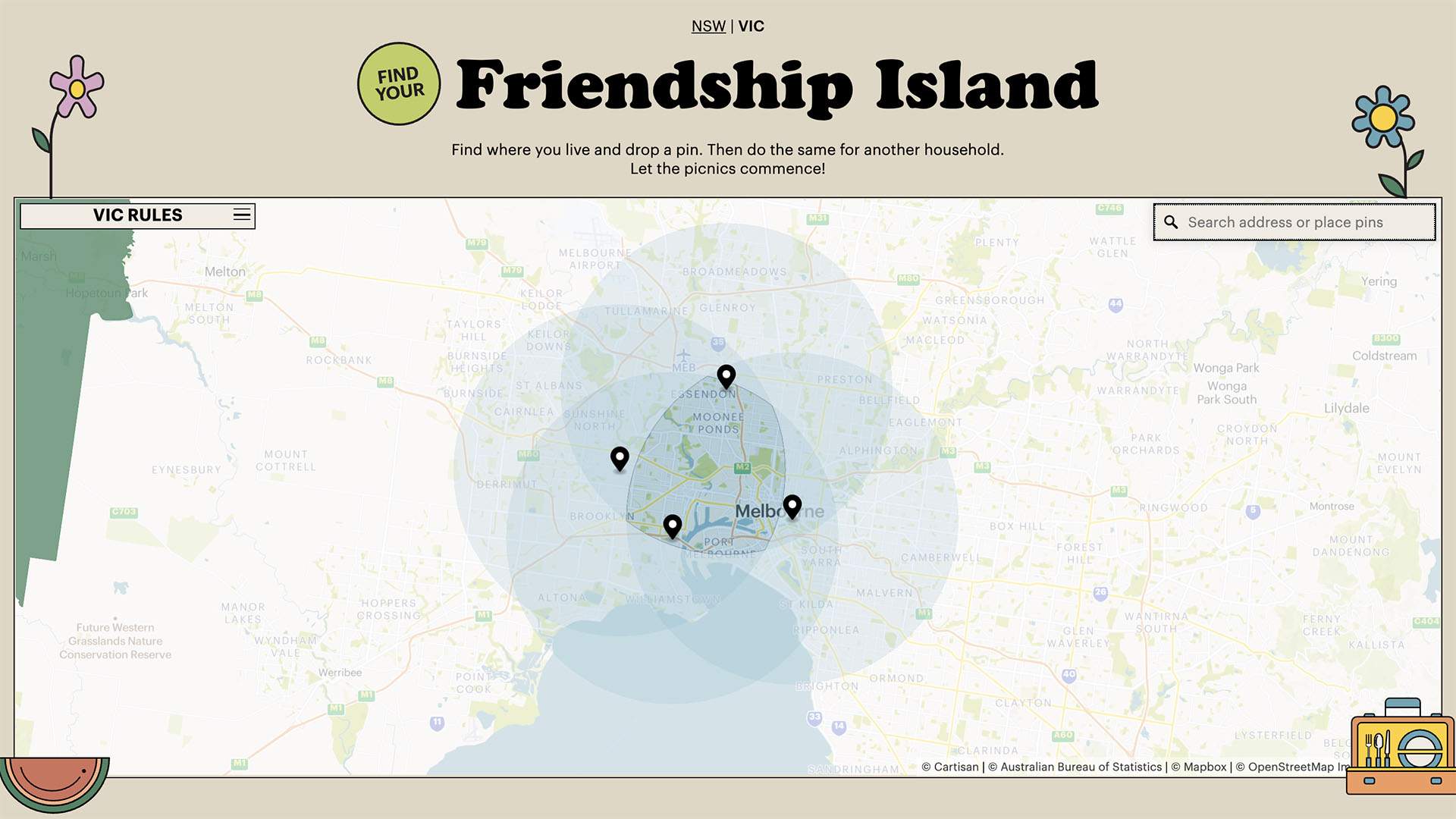 If you need a reminder of which rules you need to abide by, both the NSW and Victorian options — which you can toggle between via links at the top of the page — come with a drop-down box to the left of the screen that outlines all the specifics.
Then, you just need to sort out who's bringing what to your mate picnic date. No, the website can't do that for you.
To work out your bubble crossovers, head to the Friendship Island website. For more information about the rules in NSW, head to the NSW Health website. For more information about the rules in Victoria, head to the Victorian Department of Health website. 
Introducing Concrete Playground Trips
Book unique getaways and adventures dreamed up by our editors