From African Safaris to Diving with Whales: Eight Epic Holidays for Animal Lovers You Can Book Now
Book these once-in-a-lifetime nature-filled travel experiences through Concrete Playground Trips.
Hiking through forests and swimming around coral reefs can be great fun, but some of the best adventure holidays include those with close and personal wildlife experiences — and that doesn't mean just looking at birds in trees or visiting a zoo.
This kind of epic getaway will have you witnessing exotic animals in their natural habitat, getting as close as you can without causing them any harm. To help you get on one of these trips, we teamed up with a bunch of local and international tour providers who curate experiences for animal lovers especially. Read on to find your fave and book your spot through Concrete Playground Trips.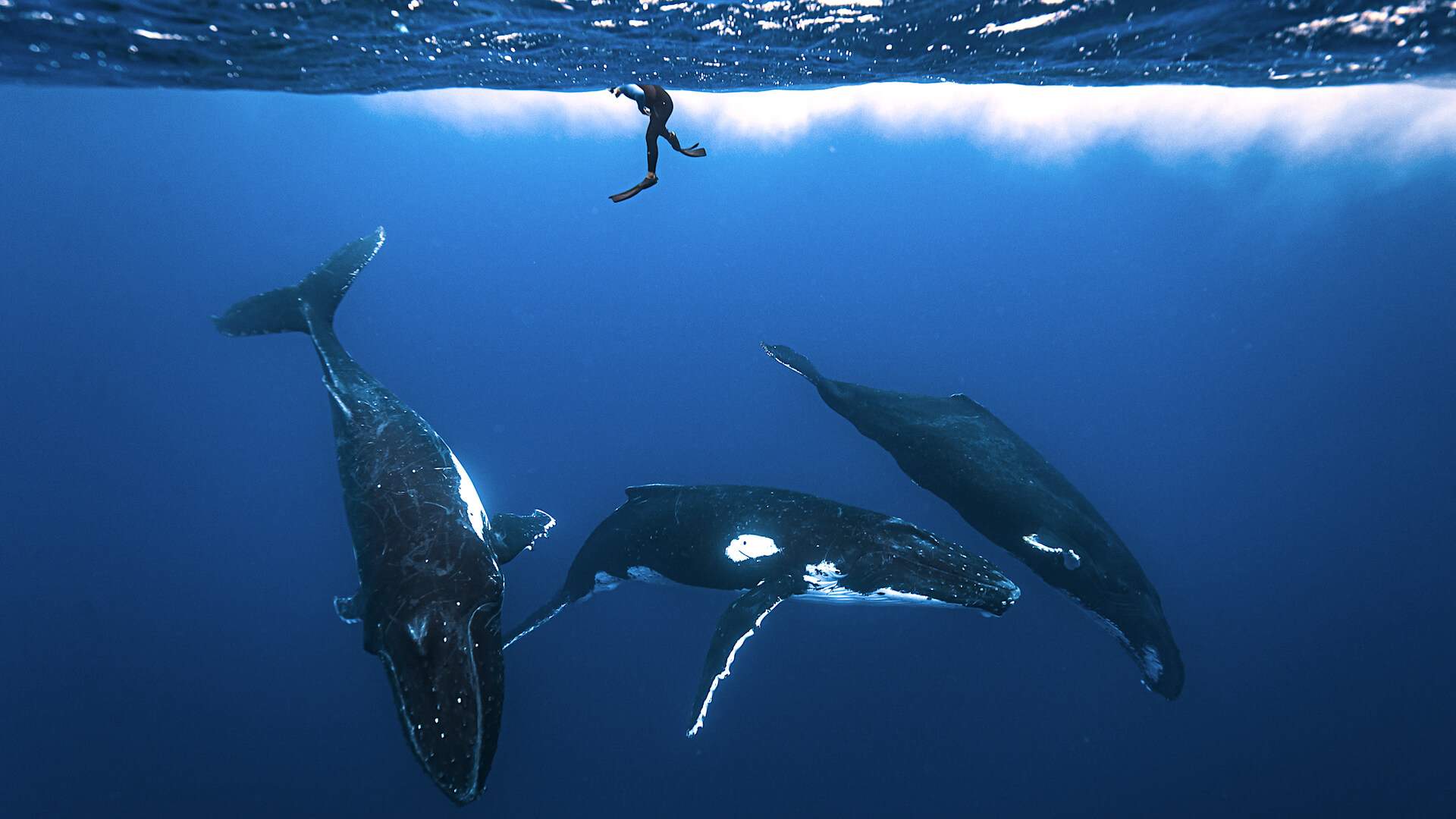 A HUMPBACK WHALE ADVENTURE
This is a once-in-a-lifetime kind of travel experience. Adventure lovers will spend seven nights in Tonga, diving around the island almost every day. Each day, you'll follow the lead of Jono Allen — the ocean photographer, environmental scientist, marine megafauna guide and filmmaker — as he takes you to a series of different dive spots.
Every year, thousands of magnificent humpback whales migrate from the freezing feeding grounds of Antarctica to Tonga's warm, azure paradise to mate and give birth. You're not totally guaranteed to see these majestic sea creatures, but this place'll be your best bet.
FIVE-NIGHT LUXURY SERENGETI SAFARI
This Tanzanian trek takes animal lovers to some of the country's most famous safari destinations, including Rift Valley and the Ngorongoro Crater. You'll traverse savannah grasslands in a 4WD car with only a couple of other tourists. Here, you've got an ideal vantage point for spotting zebras, leopards, giraffes and all other kinds of native wildlife.
You'll also stay in incredibly glam accommodation along the way. Specifically, the Four Seasons Safari Lodge Serengeti, Arusha Coffee Lodge and Grand Melia. It's guaranteed that you'll safari in total style on this Serengeti tour.
10-DAY BORNEO WILDLIFE EXPEDITION
Borneo is a bucket list travel destination for so many nature lovers. People flock to this part of the world for its wild rainforests, rugged coastline and traditional villages full of friendly locals. Fantastically, this 10-day tour takes you to all of Borneo's best bits, including an orangutan sanctuary where you can get up close with the intelligent creatures.
You'll also cruise along the Kinabatangan River, chill out on the stunning Manukan Island and get a taste of city life in Kota Kinabalu — spending your nights in luxe resorts, hotels and lodges.
SWIM WITH WHALE SHARKS ON THIS NINGALOO REEF GETAWAY
Swimming with the whale sharks on Ningaloo Reef should be at the top of everyone's travel hit-list when visiting Western Australia's Coral Coast. Exmouth is the gateway to the world's largest fringing reef — the iconic Ningaloo Reef — and that's exactly where you're headed on this exclusive three-day adventure.
You'll enjoy a full day here, diving headfirst into the pristine aquatic wonderland that's home to dolphins, manta rays, turtles, humpback whales and, of course, the much-loved gentle giants: whale sharks. Spend the rest of your days at your own leisure. Our hot tips? Hitting up the iconic Cape Range National Park, home to native wildlife and epic walking trails.
CROSS THE SOUTH GOBI DESERT BY CAMEL
This isn't the usual two-hour camel tour you'll find Down Under — it is altogether more epic. You'll spend 11 days trekking around the largest desert in Asia, all from atop your humped steed. Wake up, jump aboard and explore Mongolia's Gobi Desert with local guides.
This part of the locale is rich in mineral resources, diverse flora and fauna, thousands of unrevealed dinosaur fossils and rare paleo findings, as well as stacks of historical and archaeological sites. And seeing them via camel just makes your trip that much more unique and fun-filled.
LUXURY SAFARI AROUND KENYA
This seven-day tour takes adventure travellers to some of the greatest national parks and conservation reserves in Kenya. You'll see lions, elephants and rhinos in their habitats as they thrive in protected areas — a true must-do experience.
Each night will be spent in a different luxury lodge located close to the wildebeest migration routes — meaning guests will likely get the chance to see these astonishing wild animals close-up (say, while having brekkie or swimming in their private plunge pool). If an African safari is on the cards this year, consider this exclusive offering from Concrete Playground Trips.
SMALL GROUP FULL-DAY TOUR OF KANGAROO ISLAND
Kangaroo Island is one of the top places to visit in Australia — and this tour will let travellers see some of its cutest and most rare wildlife. Start the morning with a cuppa and some homemade treats with fellow travellers before walking along koala-filled paths by the beach.
After you're fuelled, you'll be taken to a series of natural sites that'll have you right up close to wallabies and sea lions. Watch pups nursing or playing in the surf, see old bulls bearing the scars of territorial disputes and learn about their unique breeding biology. The trip even includes lunch at a private bush camp, where you'll dine on locally caught fish and drink plenty of South Australian wine.

EXCLUSIVE GORILLA TOUR OF UGANDA
Live your Gorillas in the Mist fantasy (sans scary poachers) on this seven-day primate tour in Uganda. You'll trek around the rainforests keeping your eyes peeled for all kinds of primates — think chimpanzees, monkeys and the almighty gorilla — and even jump aboard a river boat for a day.
Throughout the animal-filled getaway, travellers will stay in Rushaga Gorilla Camp, Simba Safari Camp and the Isunga Lodge — each surrounded by nature and wildlife. It's one of the greatest ways to explore this part of the world.
Feeling inspired to book a truly unique getaway? Head to Concrete Playground Trips to explore a range of holidays curated by our editorial team. We've teamed up with all the best providers of flights, stays and experiences to bring you a series of unforgettable trips in destinations all over the world.
Top image: Hu Chen (Unsplash).
Concrete Playground Trips
Book unique getaways and adventures dreamed up by our editors