TRAVEL & LEISURE
Jindabyne Is Set to Score Two Luxe Glamping-Style Shipping Containers Just in Time for Snow Season
NRMA's newest 'glamtainers' will pop up in July.
If this year's holiday planning has you thinking small and local, you've now got a couple of extra accommodation options to pop onto that travel radar. After the NRMA, aka the National Roads and Motorists' Association, debuted the first of its new stylishly-repurposed shipping container escapes — or 'glamtainers' — last spring, it has now added two more to the collection.
While the two OG tiny homes will temporarily remain at NRMA Ocean Beach Holiday Resort, where they've been sitting pretty since September, the other pair are headed to the snow. The new editions will premiere at NRMA Jindabyne Holiday Park from July, in time for the busy ski season.
Easily movable and also extendable in size, the seven-metre-long luxury tiny homes all have room to sleep four. Each boasts a queen and a double bed, plus a full bathroom and a decent sized kitchenette. What's more, they're fitted out in style, with upscale features including comfy mattresses, plush linens, air-conditioning and attached outdoor entertaining spaces.
As with their beachside siblings, the new glamtainers are the work of Melbourne company Glam Xperience, which makes a whole series of glamping tents and mini retreats — and whose creations you might have spied at the likes of St Jerome's The Hotel and Clifftop at Hepburn. The units are designed to allow guests to experience staying amongst the great outdoors, without sacrificing comfort, so you can bet they're primed for those winter snow escapes.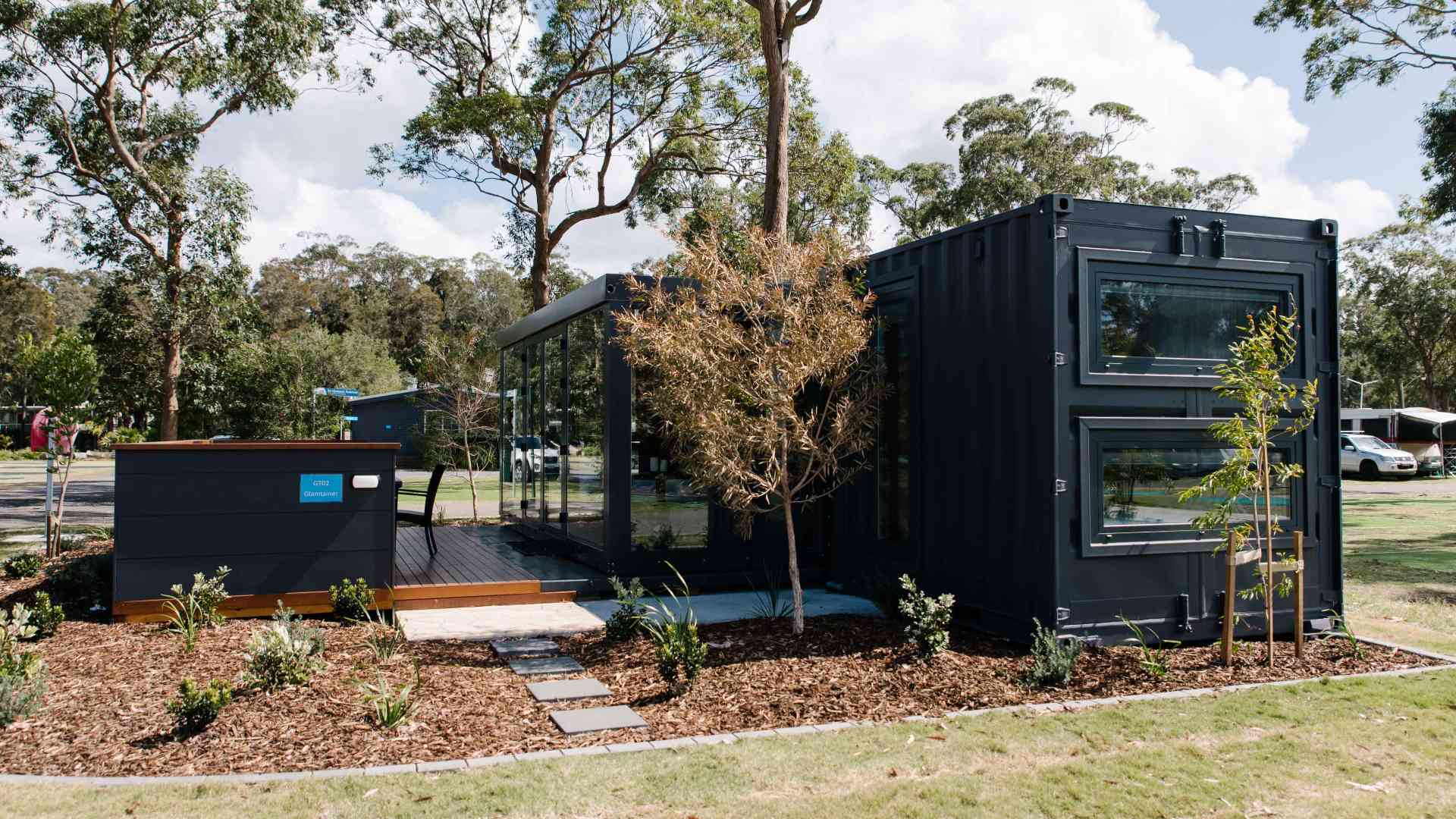 The Ocean Beach glamtainers have proved a huge hit for Aussie holidaymakers, with bookings filling up quickly ever since their inception. In fact, the original plan was to move those two on to Jindabyne next, but the pair have been so popular that NRMA decided to simply expand the family instead.
The NRMA Ocean Beach Holiday Resort glamtainers are available to book again for stays from May 11. Meanwhile, the new NRMA Jindabyne Holiday Park glamtainers are being installed in the coming months, with bookings open from July.
Images: Shan Rose Photography
Published on March 30, 2021 by Libby Curran