The Ten Best Picnic Spots in Sydney
Wait till the weather is just right, then fill your esky with cold beer, natural wine and an oversupply of snacks and get picnicking.
Dappled shade, fluffy clouds, fruity drinks and a picnic basket stuffed with cheese — it's hard to beat a sunny picnic at one of our top-notch parks. Summer may be over, but we'll take any chance we can get to enjoy Sydney al fresco.
The only downside is having to make a decision. The city has so many cracking parks and gardens that it can be a little hard to choose at times. To help you out, we've rounded up the prettiest openair haunts for your next park hang, best enjoyed with a picnic rug, some good company, and a few choice eats and drinks from somewhere local. So gather your favourite people, pack a few too many tubs of hummus and plonk yourself in one of Sydney Harbour's many coves, a quiet inner-city park or a secret garden.

WENDY'S SECRET GARDEN, LAVENDER BAY
Wendy's Secret Garden is a small reverie from the buildings and residences that huddle along the shoreline. The garden was created by Wendy Whiteley, the wife of one of Australia's most celebrated artists, Brett Whiteley. After Brett's death in 1992, Wendy got hold of the derelict land belonging to the NSW Rail Corporation adjacent to their house. Channelling a lifetime of artistic endeavour and all her grief, Wendy restored the grounds, transforming it into a beautiful, secluded space laced by winding paths, fig trees, native plants, a flurry of bird life, antiques and esoterica all against the backdrop of the Harbour Bridge and the Opera House. While the garden marks the spot where Brett and their daughter Arkie's ashes are buried, the space is always open to the public and is accessed between Clark Park and the Lavender Bay rail shunting yard.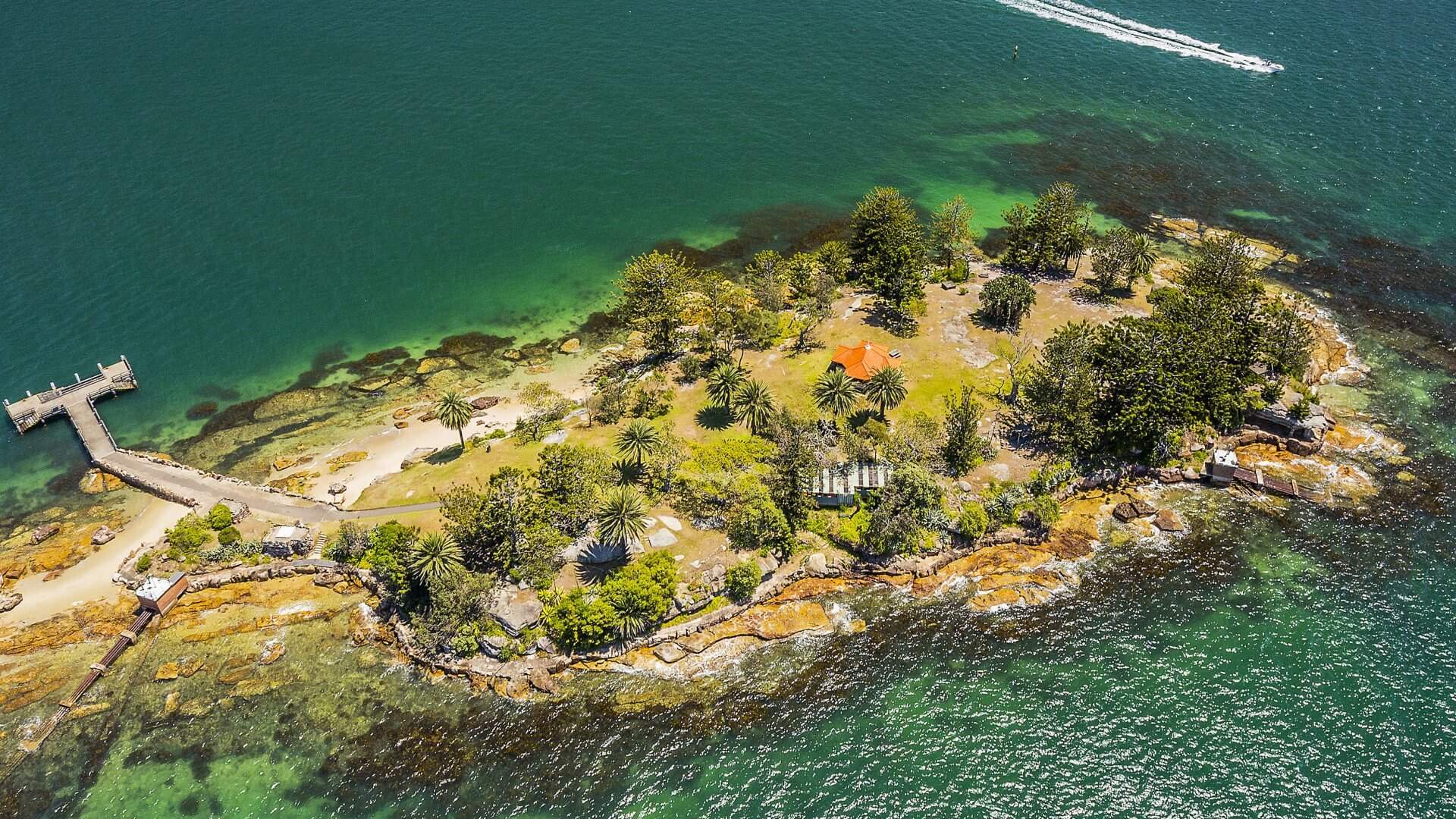 SHARK ISLAND, SYDNEY HARBOUR
Don't let the dubious moniker frighten you, Shark Island is named after its shape, not any Jaws. Offering arguably one of the best panoramic views of Sydney Harbour, the island is a prime spot for a summertime picnic. Sure, it's a little effort to get there — you'll need to jump on a ferry or kayak over — but the idyl is certainly worth the effort. All vessels — including kayaks — need to pay a $7 a head landing fee, too. Amid the lush grassy surrounds, you'll find picnic tables and a spacious gazebo where you can set up camp. Crack a beer, get out the snacks and soak in that stunning vista.

NIELSEN PARK, VAUCLUSE
Nielsen Park, and the adjoining Shark Beach, is one of the most beautiful and unspoiled heritage parks in Sydney. With stone steps down to the sand, a wooden kiosk dating back to 1914 and meandering paths through the bushland, it's been beloved of Sydneysiders for well over a century. There's a harbourside walk around to the ridiculously pretty grounds of Strickland House, a former convalescent hospital which is now a public park and popular wedding spot. In the other direction, a loop walk takes you out over Bottle and Glass Rocks with views of the harbour all the way to Manly. Because the beach is relatively protected, with flat surf and a shark net, the park can get particularly busy on the weekend, which is why venturing away from the park and staking out a spot on the rocks can often be a good idea. Nearby Parsley Bay, which is just two bays over, is another great option if the park is too packed.

BARANGAROO RESERVE, BARANGAROO
If you're looking for a fresh picnicking spot, try Barangaroo's public park on the CBD's northwestern foreshore. The reserve consists of six hectares of waterfront parkland with views of the western harbour. The foreshore was constructed in the shape of the natural, pre-1836 shoreline from more than 10,000 sandstone blocks, while the park itself includes lookouts, grassed areas, cycling paths and a natural amphitheatre, along with 75,000 plants native to the Sydney area. With the ol' coathanger to the right and the sparkling suburbs of Balmain, Pyrmont and Darling Harbour to the left, no matter where you look, there's beauty (and heaps of glittering water). What's even better? Barangaroo Reserve is BYO.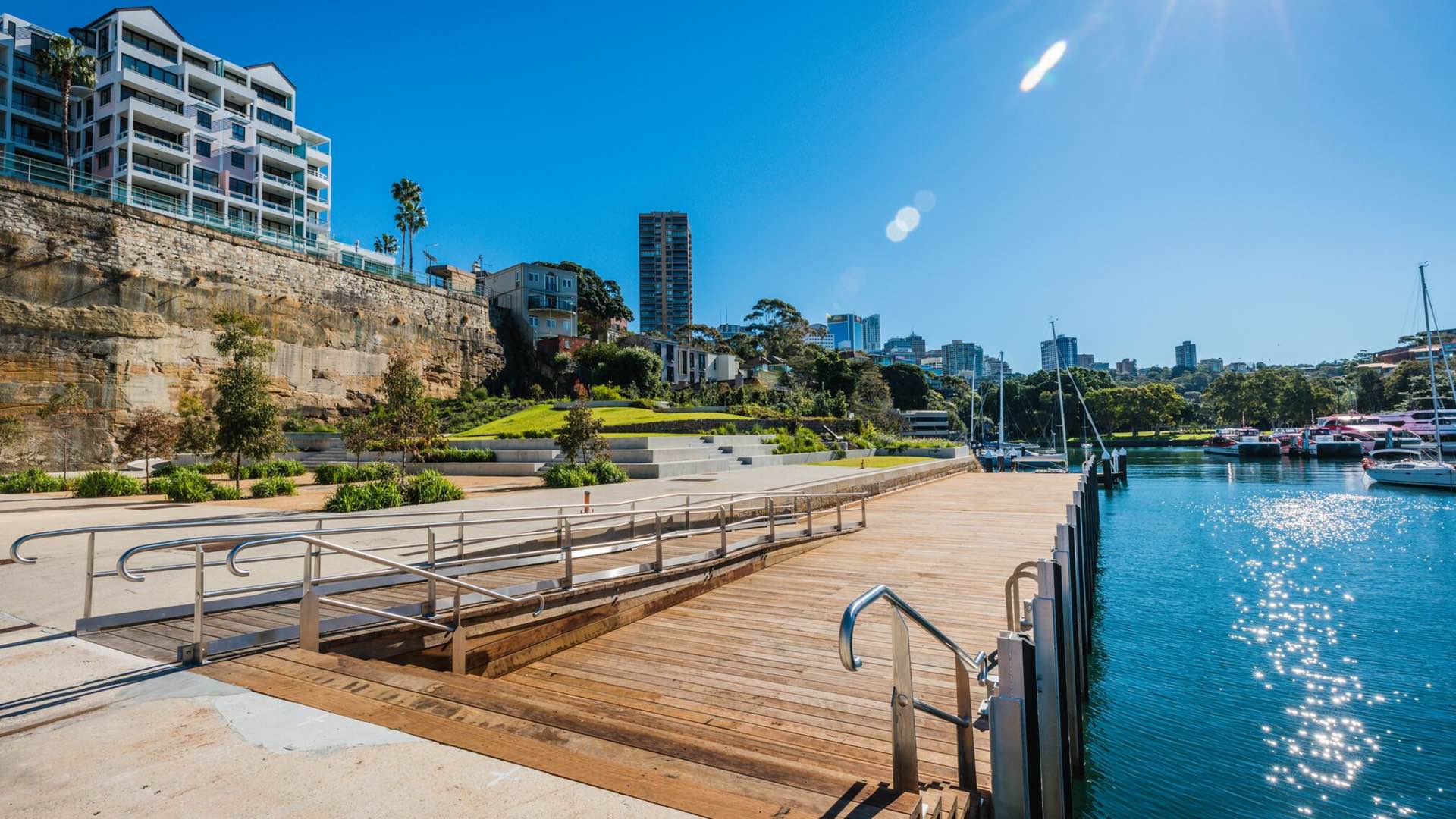 SUB BASE PLATYPUS, NORTH SYDNEY
What was once a wartime torpedo factory and submarine base is now a public space. Located on the harbour between Kirribilli and Kurraba Point in North Sydney, HMAS Platypus is a former submarine base that, after being closed to the public for over 150 years, is now a new foreshore walkway and parkland perfect for picnic. As well as plazas and courtyards, there are plenty of green patches to lay out your blanket — and barbecues, too. Plus, you get some killer views over the water.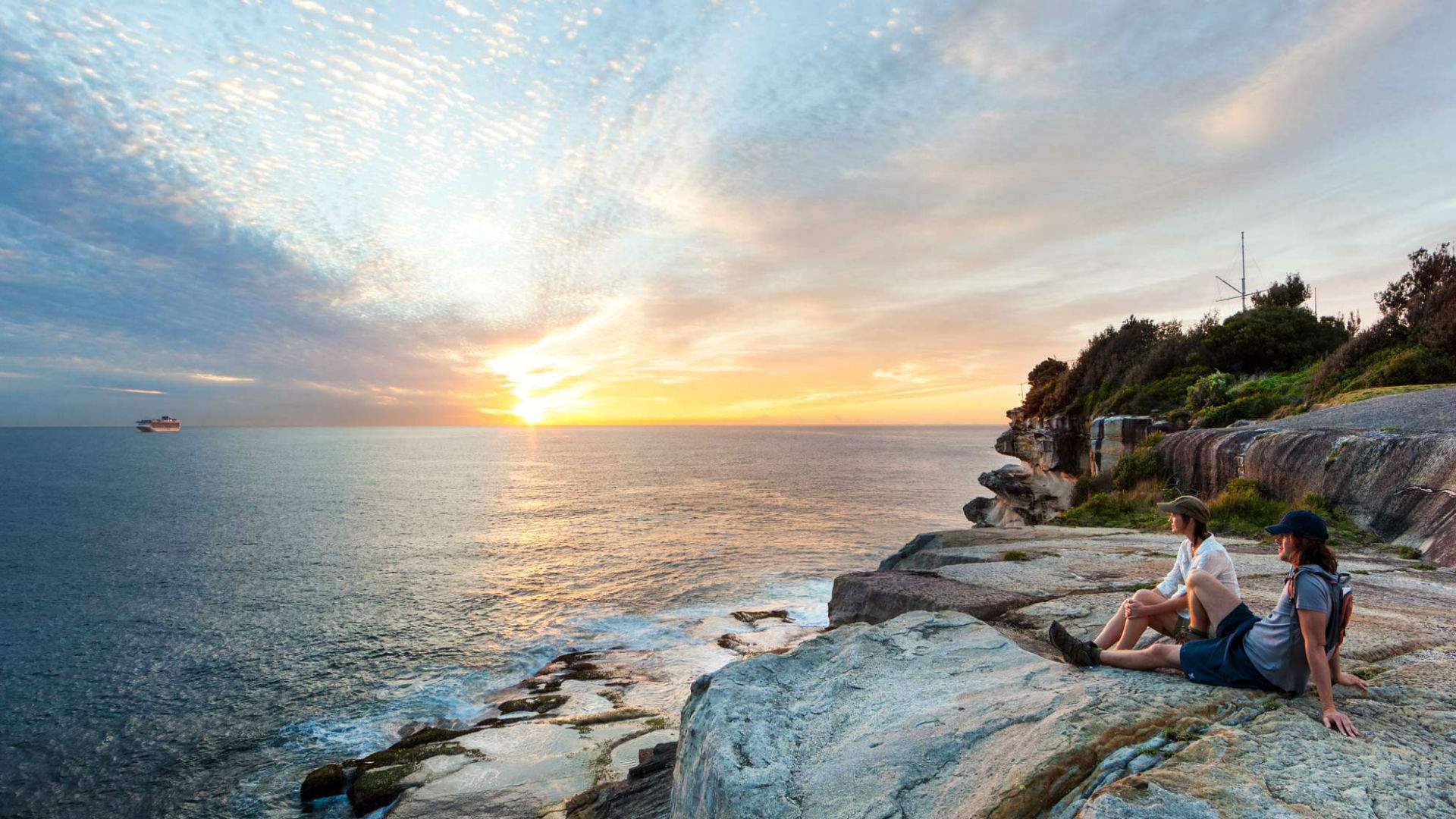 SOUTH HEAD
To experience the full force of nature, make tracks to South Head where you'll find sheer ocean cliffs alongside unbeatable views of the Tasman Sea and Sydney Harbour. If you're keen for a little adventure, you can walk the one-kilometre South Head Heritage Trail to check out red and white striped Hornby Lighthouse and get up close to some 19th century gun emplacements. If hunger strikes, you're only a stone's throw away from Watsons Bay where you're sure to find a place to sate your appetite. But, honestly, a picnic sandwich and that view is all you need.

CREMORNE RESERVE, CREMORNE POINT
This little park on the lower north shore has one of the best view in Sydney. From it, you get a clear peek at the Sydney Opera House, the Harbour Bridge and the city skyline. On a nice day, you can have a quick dip at the nearby Maccallum Pool, then dry off on the grass with some post-swim snacks and a beverage. The pool is currently closed, but the NSW Government has allowed outdoor pools to reopen (with some restrictions) from Friday, May 15 — so hopefully it's not long till it's up and running again. If you don't live on the north shore, it's best just to get the ferry from Circular Quay to Cremorne Point.

PARRAMATTA PARK, PARRAMATTA
Sydney's beaches get so much attention that it's easy to forget the many beautiful rivers our city is home to. Over the past few years Parramatta River has had a serious clean-up, and in January 2015, it became officially swimmable. One of the loveliest spots along the waterway for a sneaky beer is among the birds and green, green grass of Parramatta Park. While you're at it, have a gander around the grounds of Old Government House or stop by the Rumsey Rose Garden and Murray Gardens.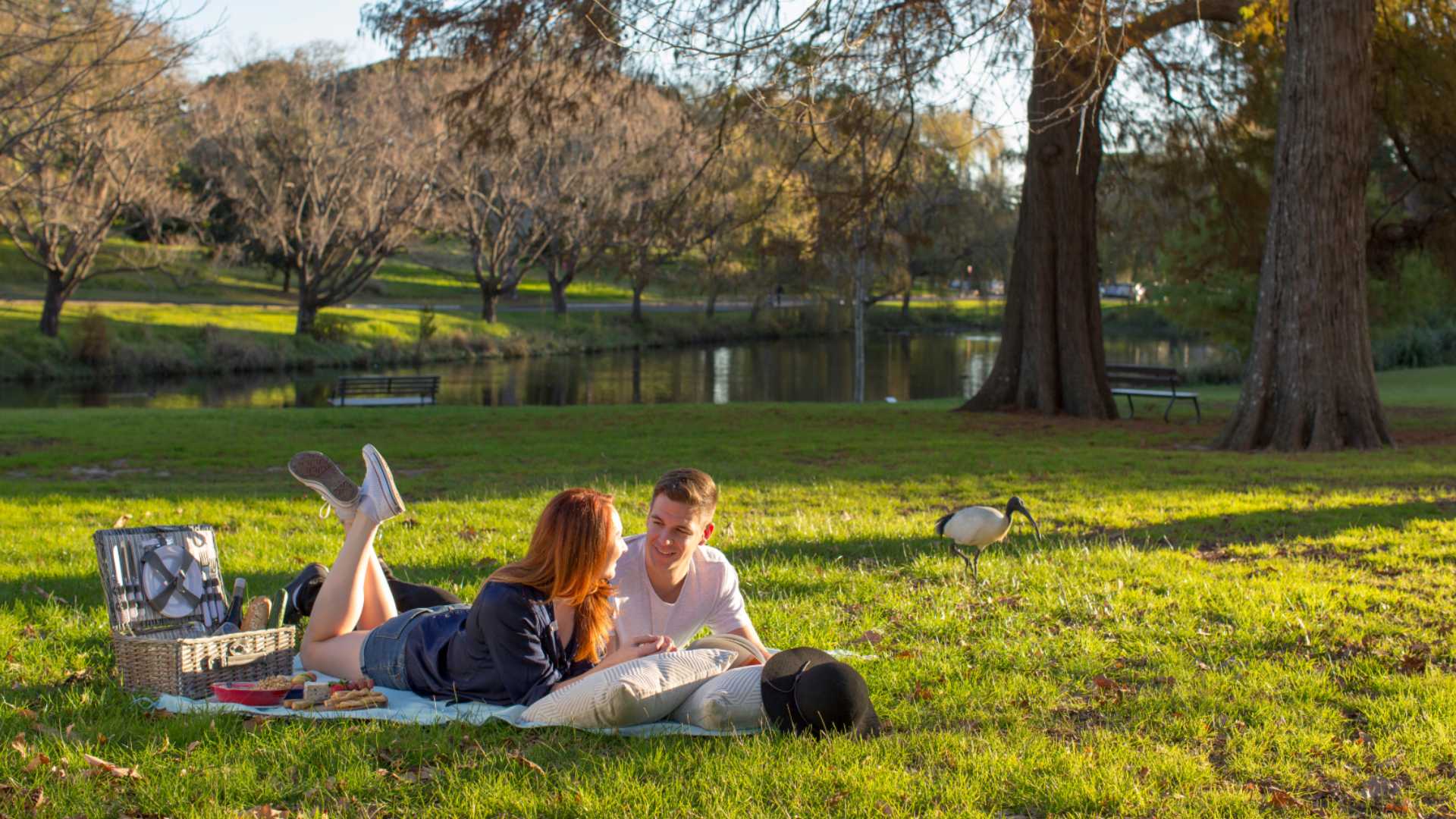 CENTENNIAL PARK
Centennial Park is the vast stretch of greenery that frames the entrance into much of the eastern suburbs. Designed in the 'European' tradition as a grand Victorian park, with wide avenues so that the gentle-folk of Sydney could promenade in their carriages and 'take the air', Centennial Park has ponds, gardens, statues, heritage buildings, and a steady stream of joggers, cyclists, rollerbladers and horseriders. The park is huge, and for that reason you can nearly always find a spot that's relatively secluded, and you'll also have your pick of scenery. If you want somewhere with pretty green fields, formal manicured gardens or stretches of water you could imagine Hemingway drunkenly fishing upon, you've got it. Centennial Park is really one of the best open spaces in the city, and perfect for picnicking pretty much all year round. Note: the park is currently car-free on weekends till the end of May, so if you're driving you might need to park elsewhere.

BLACKWATTLE BAY PARK, GLEBE
If you're a Glebe local, you've probably spent an afternoon, or several, by the water at this picturesque inner west park. But, if you're a Sydneysider who hasn't been, summer is the best time to check it out. Renowned for its very good dogs —  who are permitted off-leash and ready for pats — and sweeping views of the ANZAC Bridge and Rozelle Bay, Blackwattle Bay Park is an ideal spot for a good ol' fashioned barbecue with friends. Kick off your shoes and crack open a bottle while you watch the sunset.

Top image: Destination NSW