New Urban Playground The Goods Line Is Open
Sydney's now got its own answer to New York's High Line.
Sydney is getting its very own version of New York City's High Line. Opening this weekend along a 500 metre stretch of disused rail line that runs parallel to Harris Street through Ultimo, the $15 million Goods Line is a pedestrian walkway connecting Central Station to Darling Harbour. But there's a lot more to it than that. Boasting full Wi-Fi connectivity, public entertainment spaces, table tennis tables and study pods, this is Sydney's newest urban playground.
"It's a public campus for the area of Ultimo and all the people and buildings around it," said Sacha Cole, director of ASPECT studios, which handled the design of the Goods Line along with architecture firm CHROFI at the direction of the Sydney Harbour Foreshore Authority. "It really is going to be a catalyst for people to come down from Central Station to Darling Harbour, which is undergoing a massive, once in a generation transformation."
Like Manhattan's lauded 2 kilometre stretch of elevated public park, Sydney's newest urban renewal project was once a piece of rail corridor, one that transported meat, wheat and wool to and from the city for well over a century. But Cole sees the Goods Line as a much more active destination than its tranquil NYC equivalent. "They're both transformations of heritage rail lines, so in that they're very similar," he says. "But in terms of what the public will see, and how the public will use it, they're very different. The High Line is quite a quiet, passive destination. The Goods Line is all about engaging people."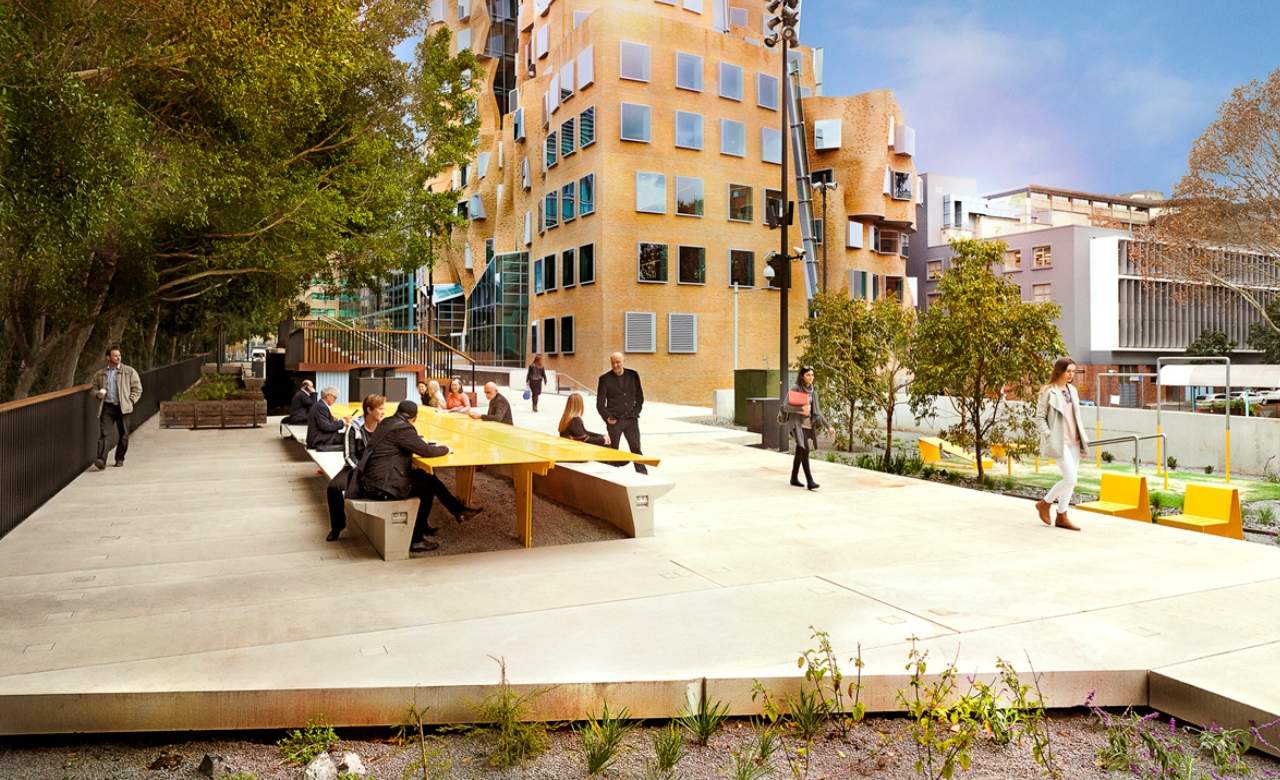 Additional features of the Goods Line include an amphitheatre, a bike path and a children's water playground, as well as grassed areas and elevated platforms designed for public performances and events. Cole also points to nearby arts, education and cultural entities, such as the Powerhouse Museum and UTS.
"A core principal for us was that we were really respectful of the history of the place," explains Cole. We talk about it as a conduit for exchange. It used to be the old rail line that brought in all of the primary industry from the West ... so we had to think about the 21st century version of that kind of industry. And in this area here, it's all about ideas, and it's all about innovation."
The corridor's history also provided inspiration for the physical design of the space, with Cole and his team making use of industrial material in its construction. "We tried to use really robust materials, rail materials, in a very elegant way," he explains. "The concrete has all been pre-fabricated; the materials have all been laser cut. It's really quite a refined version of rail infrastructure."