NSW Residents Will Need to Wear Masks Outside Unless You're Exercising From August 23
Covering up your face is also compulsory indoors and in many outdoor situations, but the rules are tightening again.
Throughout Greater Sydney's ongoing lockdown, mask rules have shifted and evolved several times — but if you're outside of your own house, you've only needed to cover your face in certain circumstances. Come 12.01am on Monday, August 23, that'll change. That's when masks will become compulsory across New South Wales whenever you're outdoors, other than if you're exercising.
The new rule will arrive two months into Sydney's stay-at-home conditions and will apply moving forward, with Greater Sydney's lockdown now extended until the end of September. It also comes almost a week after regional NSW was also put under stay-at-home orders, with that lockdown set to continue until at least Saturday, August 28.
NSW Premier Gladys Berejiklian announced the new mask requirement today, Friday, August 20, alongside the lengthier Greater Sydney lockdown and a number of tightened rules for residents of Sydney's 12 Local Government Areas of concern.
"Our concern is that when people are walking past a group of people or accidentally bumping into people, that can cause that fleeting contact and transmission," said the Premier. "It also makes it easier for police to make sure everybody is sticking to the rule. Unless you are exercising, masks outdoor applies to every single citizen across NSW, whether you live in Sydney or the bush, everybody has to respect that," she continued.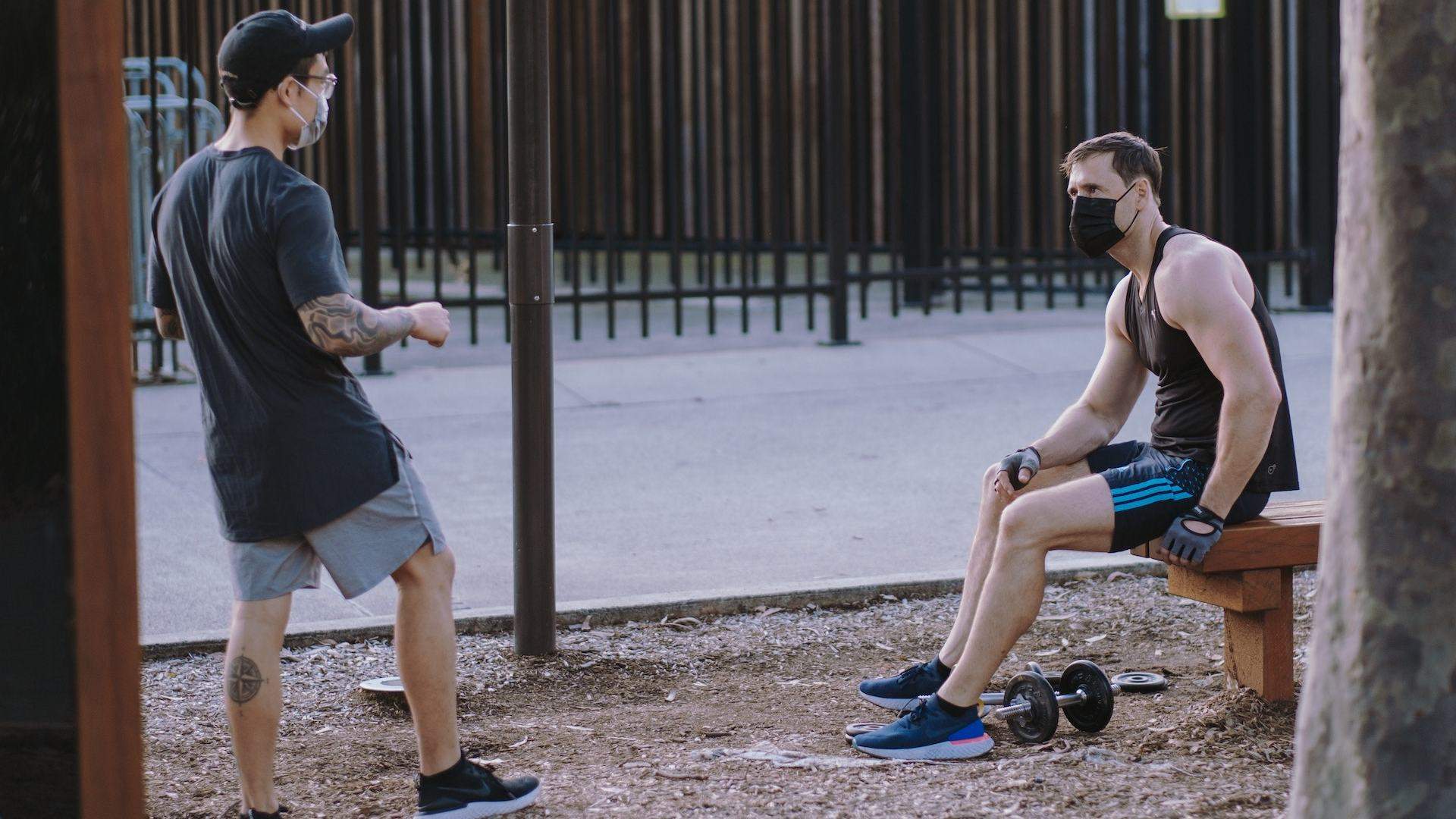 So, masks will be mandatory whenever you are out of your house for any reason other than working out — including working outdoors, at an outdoor market or outdoor shopping strip, and standing in an outdoor queue waiting for a coffee or something to eat, activities that already require face coverings.
You'll still obviously need to carry a mask with you at all times whenever you leave the house — even if you are exercising.
And, wearing face masks in all indoor settings outside of your own home, and on public transport, is still compulsory. Since mid-July, masks have been required in all common areas in residential buildings, too. The latter covers apartment complex lobbies, foyers, lifts, stairwells, corridors and shared laundries, and applies whether you live there or you're a visitor.
In response to the evolving Delta outbreak, NSW will extend the current lockdown in Greater Sydney until the end of September, and introduce new rules targeting the local government areas of concern, where the vast majority of new cases are emerging. pic.twitter.com/KoKwl0GCin

— NSW Health (@NSWHealth) August 20, 2021
NSW residents under lockdown are still currently only permitted to leave the house for four specific essential reasons: to work and study if you can't do it from home; for essential shopping; for exercise outdoors in groups of two; and for compassionate reasons, which includes medical treatment, getting a COVID-19 test and getting vaccinated.
As it always does, NSW Health has been updating the COVID-19 venues of concern list, and will continue to do so as more places keep being identified. Anyone who has visited these venues during the times specified are required to get tested and self-isolate as per NSW Health's instructions.
And, if you have any COVID-19 symptoms in general, you should be getting tested at a clinic, too. Sydneysiders should be looking out for coughs, fever, sore or scratchy throat, shortness of breath, or loss of smell or taste.
Masks will become compulsory outdoors in NSW unless you're exercising from 12.01am on Monday, August 23. To find out more about the status of COVID-19 in NSW, head to the NSW Health website. For more information about the current mask rules, head to the NSW Government website.
Introducing Concrete Playground Trips
Book unique getaways and adventures dreamed up by our editors