TRAVEL & LEISURE
This Harbour Ferry Has Been Kitted Out with the Names of Sydney's First Nations' Language Groups
It's now sailing around the city decked out in artwork by Gomeroi artist Warwick Keen.
Sydneysiders, if you've ever headed north to Brisbane and cruised the river on a CityCat, you might've noticed that the majority of the city's catamarans share their monikers with Indigenous place names. Back on home turf, Sydney's ferry fleet are named after significant people, including explorer and leader Bungaree, as well as elder and political leader Pemulwuy — but a new vessel floating around the harbour has gone one better with its eye-catching artwork.
Launched for the recent Sydney Solstice festival, but keeping its makeover permanently, the NRMA-owned Ocean Dreaming 2 now sports a livery designed by Gomeroi artist Warwick Keen. He's created his own interpretation of the Aboriginal art practice of dendroglyphs — which he says brings together the water and craft — and combined a wave design with the names of Sydney's First Nations' language groups.
Gadigal, Bayingawuna, Baramada, Warrane and Wuganmagulya are some of the names now emblazoned on the ferry, atop waves of red ochre, yellow ochre, black and white. The artwork aims to "highlight the theme of reconciliation and [an] awareness of First Nation Peoples' perspectives based in and around the foreshores of Sydney harbour," Keen explained on his website.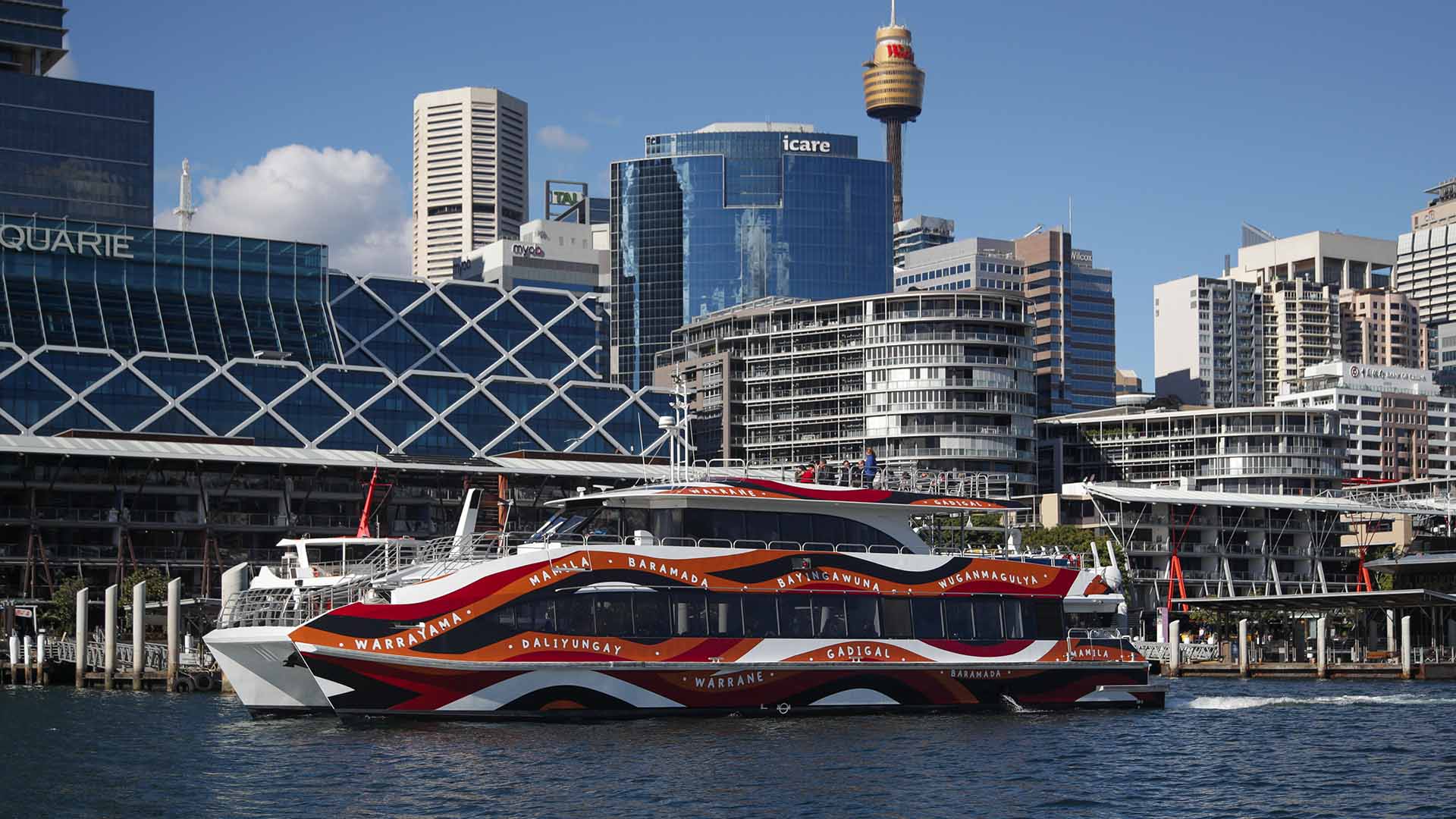 "I am extremely proud that my work will live to tell its story every day as Ocean Dreaming 2 rides across the waves of our famous harbour," Keen added in a statement — with Ocean Dreaming 2 set to be used for whale watching, stargazing and other tourism experiences now that Sydney Solstice is over. During the festival, the vessel hosted two cruises with Tribal Warrior: an Aboriginal Whale Watching Experience and an Aboriginal Sky Dreaming Cruise.
Sydneysiders won't just need to hop onboard to admire Keen's work, of course — just keep an eye out for the ferry cruising the harbour from now on.
For more information about Ocean Dreaming 2, head to the My Fast Ferry website.
Published on June 24, 2021 by Sarah Ward