"Sense of a Special Place": How Quentin Dempster Created Australia's Best Unique Airbnb Stay
Spectacular views from every room combined with warm welcomes to visitors from around the world have seen this Table Cape-based property recognised as among Australia's most incomparable.
in partnership with

Unique accommodations are available in abundance on Airbnb. So what makes Aussie Host Quentin Dempster's Table Cape home, which was recently named Australia's Best Unique Airbnb Stay, the most innovative of all?
Affectionately named The Winged House, this extraordinary Tasmania property boasts a long list of features that has seen it recognised as one of Australia's best stays. It starts with its ability to stand out — literally — with architecture that sees it cantilevered over a cliff to deliver dramatic 180-degree views of the seascape that surrounds it. Designed by Australian artist Richard Goodwin (and engineered by Harry Partridge), Dempster's abode is a liveable art installation, inspired by the appearance of the wings of an aircraft stretching over a cliff. Guests who drive into the property have also noted its resemblance to a bird poised to take off.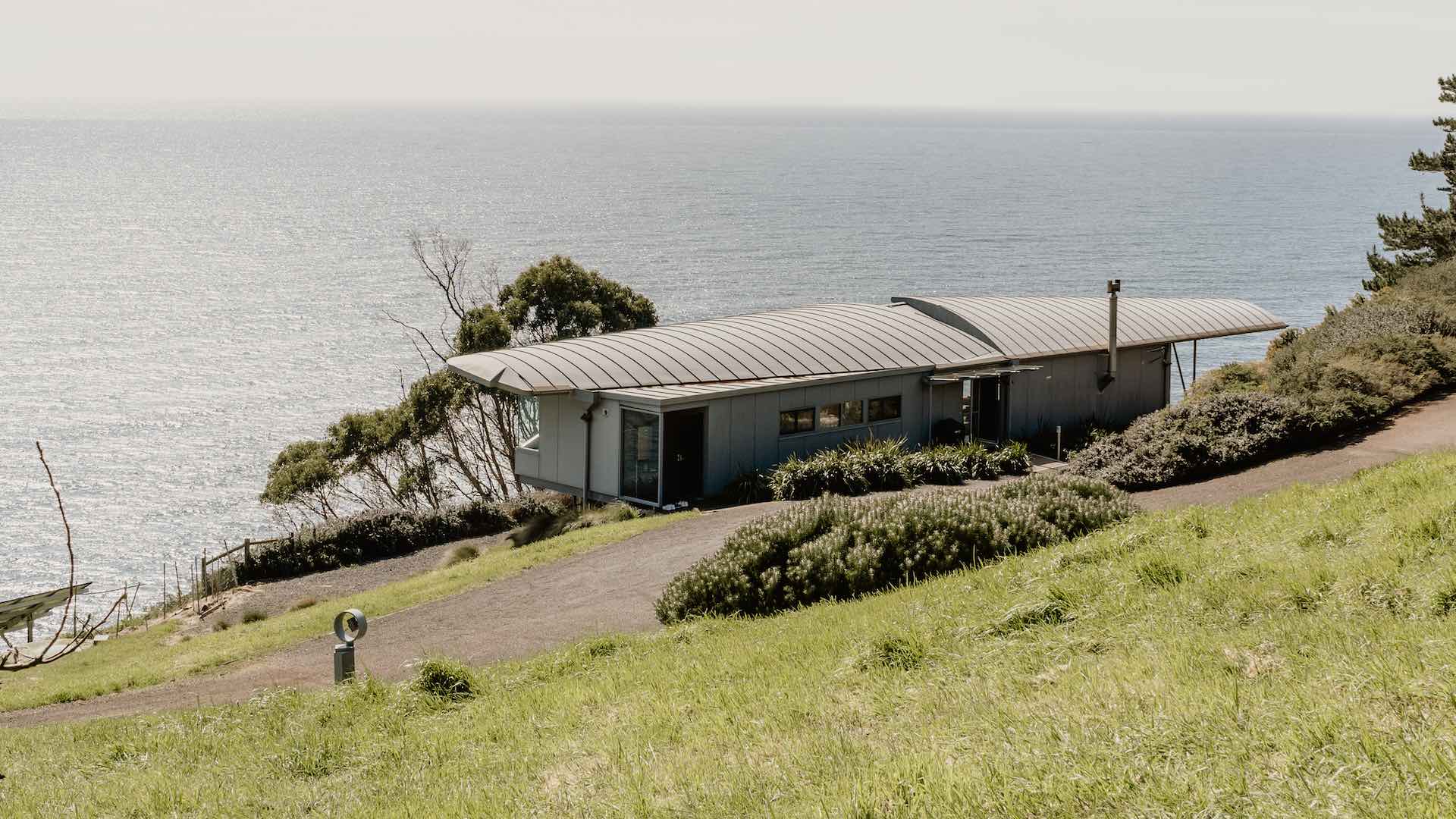 However, not content to simply serve breathtaking vistas of waves breaking on rocks to the east and Rocky Cape National Park to the west, changing cloud formations, eagles and even an occasional seal, Dempster's commitment to offering guests an unforgettable experience extends to every room of his house.
The bathroom features a traditional Japanese soaking tub, the living room shelves are stocked with best-selling books, the gourmet kitchen is fully equipped and the pantry is packed with premium condiments — including extra virgin olive oil produced by Dempster himself. In addition to complimentary bottles of local wine on arrival, Dempster also offers a unique "call-in" service, where guests can dial-a-massage or dial-a-chef, connecting with the best local suppliers and service providers.
Impressed with Dempster's understanding that "it's the hospitality that truly makes all the difference when it comes to helping guests feel like they are living in a place, not just travelling to it," we caught up with him to talk about his Airbnb hosting journey, as well as what he believes makes for a truly unique Airbnb stay.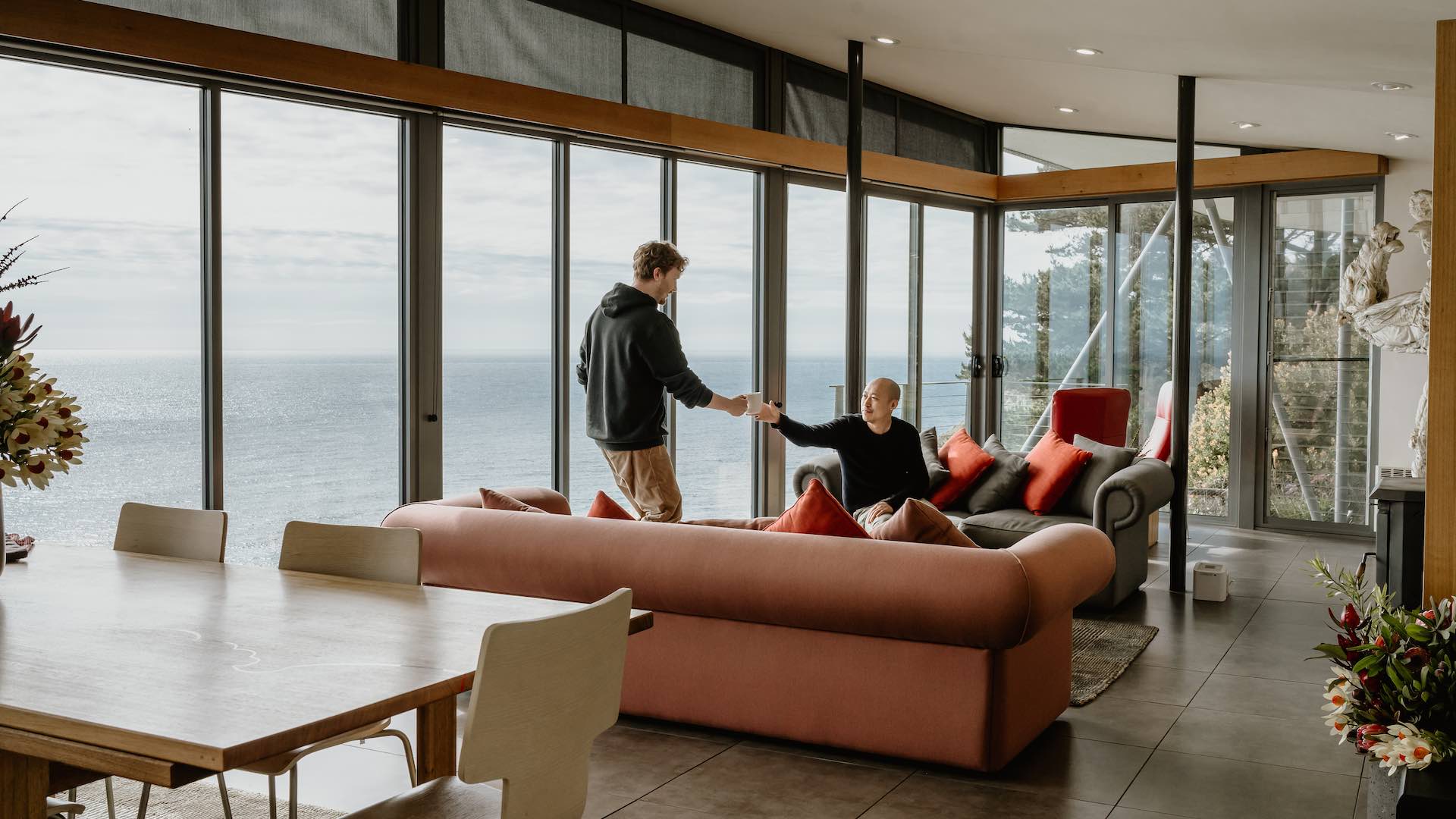 What made you decide to become an Airbnb Host?
My wife and I use Airbnb when we travel. We've enjoyed it from a guest perspective so I joined up as a Host and things developed from there. We've attracted people from all over the world.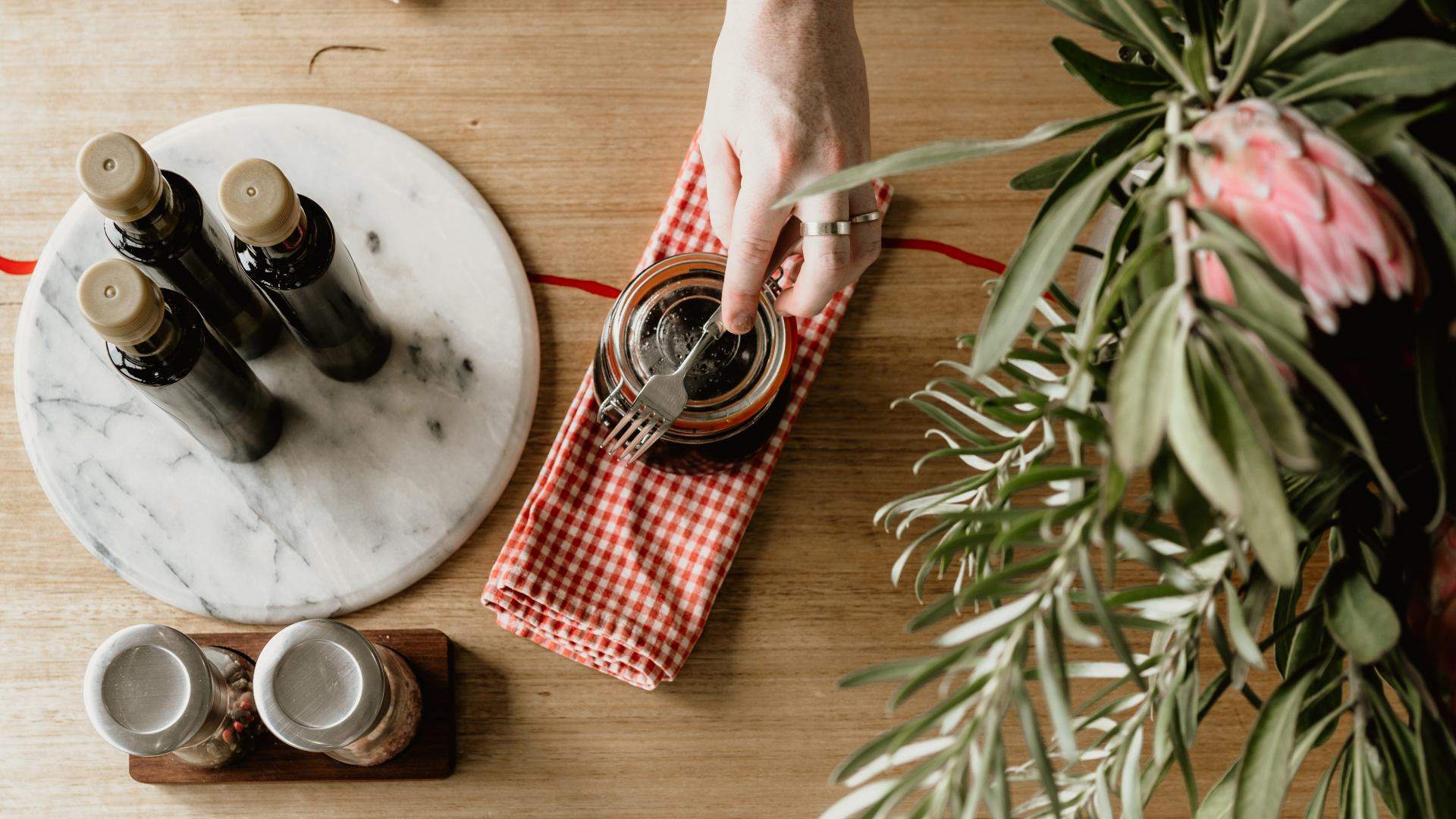 What do you think Hosts can do to make an Airbnb listing outstanding?
We provide a stocked larder, breakfast victuals, a complimentary bottle of Josef Chromy chardonnay or Tasmanian pinot noir as well as our own extra virgin olive oil. In addition to the dramatic views, we have found this warm welcome and generosity makes all the difference to the guest experience.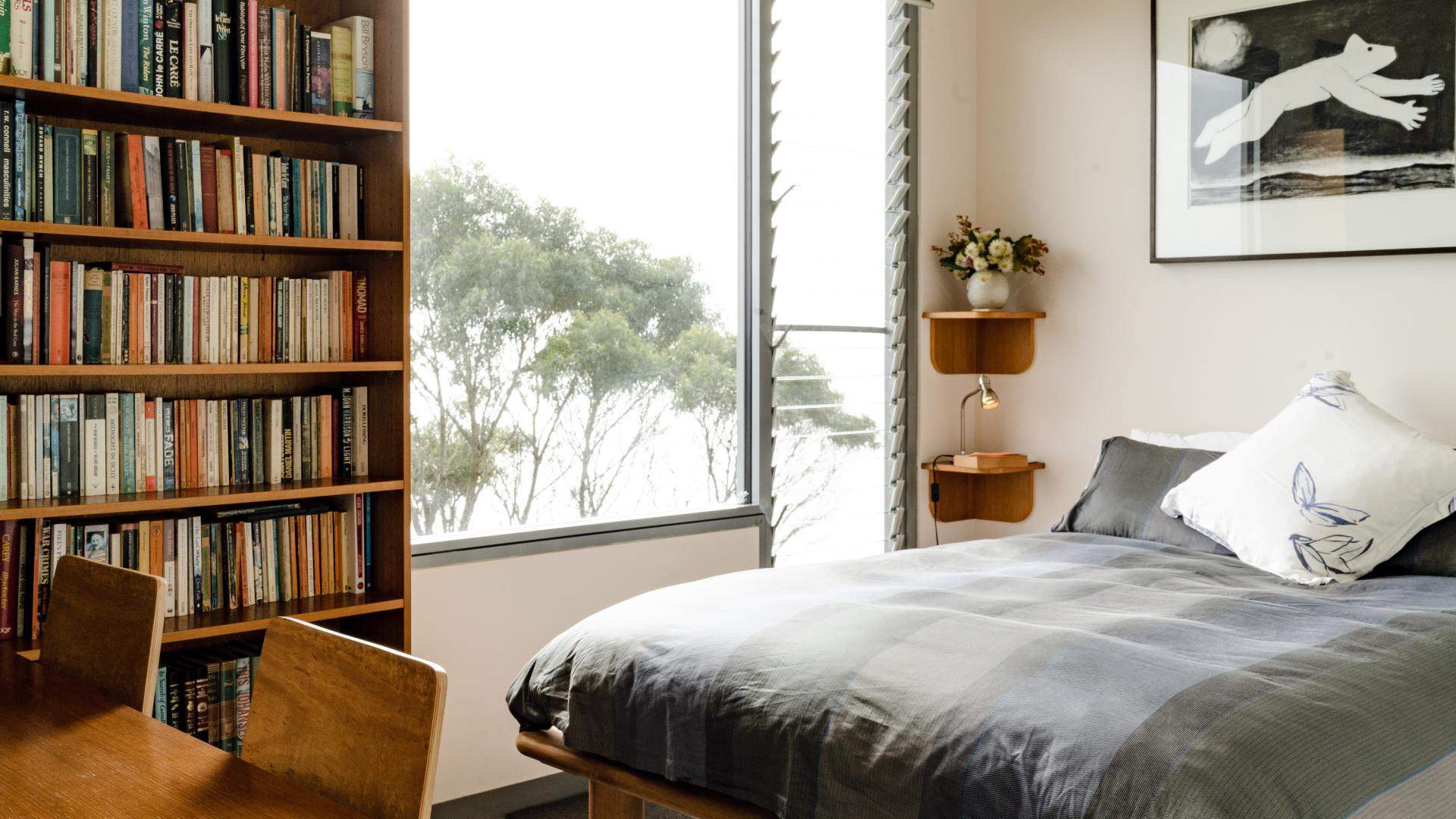 What do you love about sharing your unique property?
The sense of a special place and guests who love to share it with us. We chat happily with guests from all over the world and give advice on local things to do.
What's something you wish you knew when you started hosting?
The importance of taking the edge off guest stress about cancellations. During the early stages of the COVID pandemic we quickly adopted a lenient booking policy, one which gave a full refund to people who had to cancel because of lockdowns. Or offered them a credit voucher against a future stay so they were not out of pocket.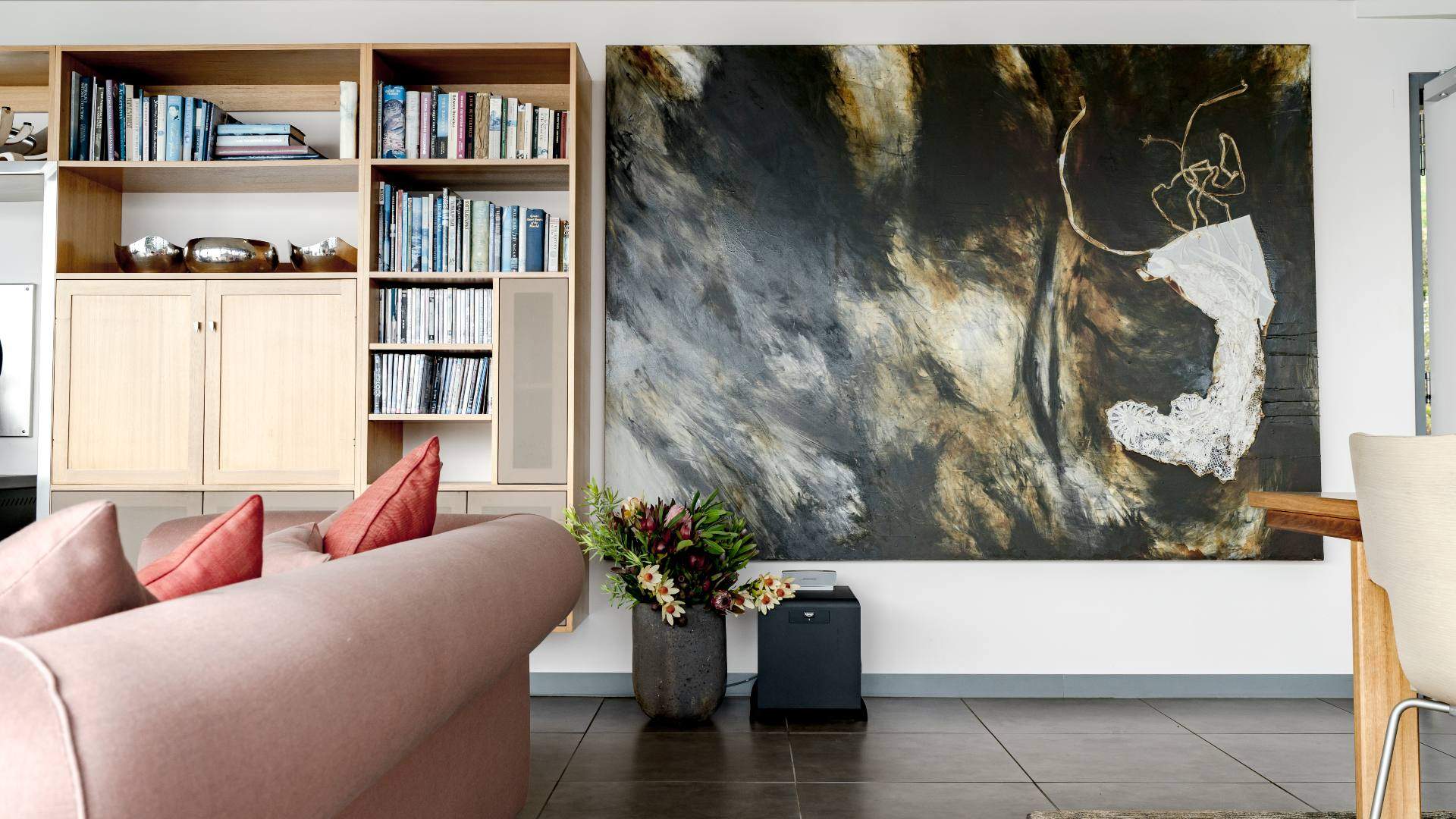 What are some of the benefits of hosting?
The income derived through hosting has allowed us to pay for a cleaner, manager, suppliers and tradies, which all helps to contribute to the local economy. We also pay Tassie land tax which returns some revenue to the Tasmanian taxpayer. So it's a win-win.
Want to begin your own hosting journey with Airbnb? If you're feeling inspired, head to the website to find out how to get started.
FYI, this story includes some affiliate links. These don't influence any of our recommendations or content, but they may make us a small commission. For more info, see Concrete Playground's editorial policy.
Images: Bec Baxter
Introducing Concrete Playground Trips
Book unique getaways and adventures dreamed up by our editors