TRAVEL & LEISURE
Six Things You Didn't Realise You Could Do in the Snowy Mountains
Adventure off the beaten track and explore higher ground during the warmer months of the year.
in partnership with

Chances are, you think you know your Snowy Mountains adventures pretty well. In winter, they're all about skiing, snowboarding and apres. Come summer, you're thinking hiking, biking and white water rafting. But what about all the escapades you haven't thought of? Among the Snowies' thousands and thousands of hectares of snow gum forests, open plains, rugged peaks and waterfalls, there are surprises of many kinds. Get started with these ideas — from bobsledding down a mountain in Thredbo to spotting wild brumbies in remote wilderness.
From coastal getaways to outback adventures, Australia is home to a wealth of places to explore. Every trip away offers the chance to not only reconnect and recharge, but also to support the communities that have been affected by bushfires. Your visit plays an important role in Australia's recovery, which is why we've partnered with Tourism Australia to help you plan your next Holiday Here This Year.
Some of the places mentioned below may still be closed due to COVID-19 restrictions. Please check websites before making any plans.

HURTLE DOWN A MOUNTAINSIDE ON A BOBSLED
Skiing a black run isn't the only way to get your adrenaline hit in the Snowies. Come summer, you have the option of hurtling down the mountain in quite another fashion. From October each year, Thredbo's Alpine Bobsled opens for play. This twisting, turning feat of engineering travels down a steep slope for 700 metres, delivering thrills (not spills) all the way. Rides, available at Thredbo Sports Valley Terminal, are just ten bucks a pop. But, if you're a bobsled fiend, you'd best invest in a ten-ride pass for $60.

WALK THROUGH A LIMESTONE GORGE TO A WATERFALL
If you like your adventures with a side of spectacular scenery, the Clarke Gorge walking track is for you. This five-kilometre return journey takes you through a narrow gorge, carved out over millions of years by Cave River and flanked by sheer limestone cliffs. Reach the end to be rewarded with even more beauty in the form of the 15-metre-high Cave Creek Falls. You might well have wedge-tailed eagles and grey kangaroos for company along the way. Check the NSW national parks website for current alerts before you venture to this walking track, as it was affected by the 2019/2020 summer bushfires. The track begins at Blue Waterholes campground, where you can book in to stay the night. Note: all camping in NSW national parks now requires advance bookings.

SPOT WILD BRUMBIES FROM LONG PLAIN DRIVE
Some of Australia's most beautiful — yet under-visited — summer landscapes are the Snowy Mountains' High Plains. Wherever you are, keep an eye out for herds of wild brumbies, galloping across open grass, like something out of an American Western. The most breathtaking views are along Long Plain Drive, an 18-kilometre route that, for the most part, is free of trees. Be sure to stop by Coolamine Homestead, an 1800s home with a shady verandah, where you can relax and contemplate times past. Several campgrounds are in the area, including Coleman Mountain and Cooinbil Hut.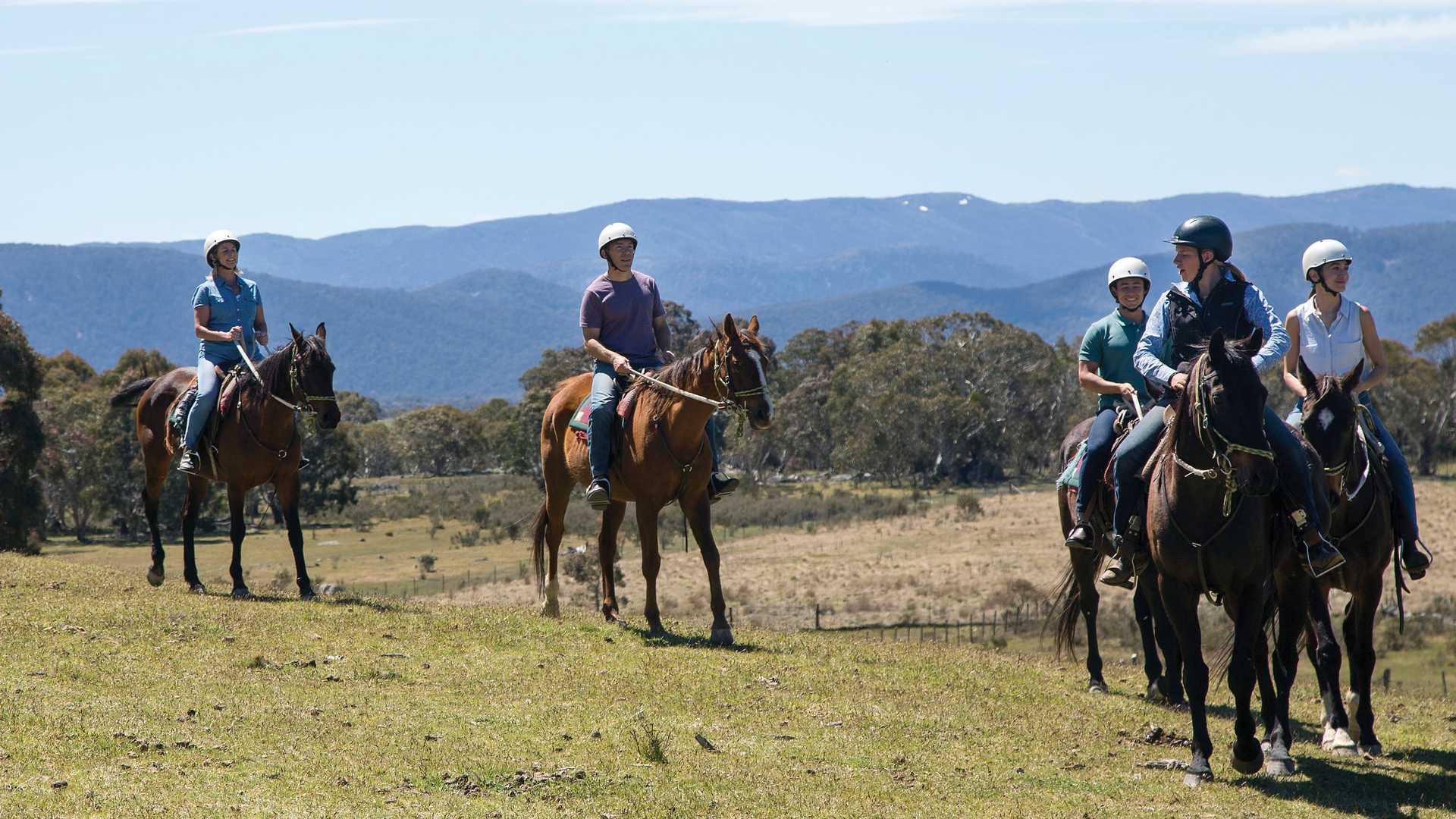 GO ON AN OVERNIGHT HORSE TREK
If there's a classic Australian way to experience the Snowy Mountains wilderness, it's on horseback. You could, of course, settle for a one-hour trail ride. But an overnight trek is a much more epic adventure. On top of trotting and galloping through grasslands, snow gum forests and rocky terrain, you'll spend an evening in front of a roaring fire, sleeping beneath the stars, in the company of your trusty speed. To book an experience, contact Cochran Horse Treks or Reynella Rides.

SWIM IN A THERMAL POOL
Warm up with a dip in Yarrangobilly Caves thermal pool. It's quiet and secluded, with heaps to explore in the surroundings. Filled with water from a natural hot spring, the 20-metre pool remains at a perfect 27 degrees all year round. Get there via a short (but steep) 700-metre walk from the nearby car park, or wind your way along the three-kilometre River Walk. Afterwards, have a post-swim feed in the adjacent picnic area. The surrounding caves are currently closed, however, check the NSW national parks website before you travel for the latest information.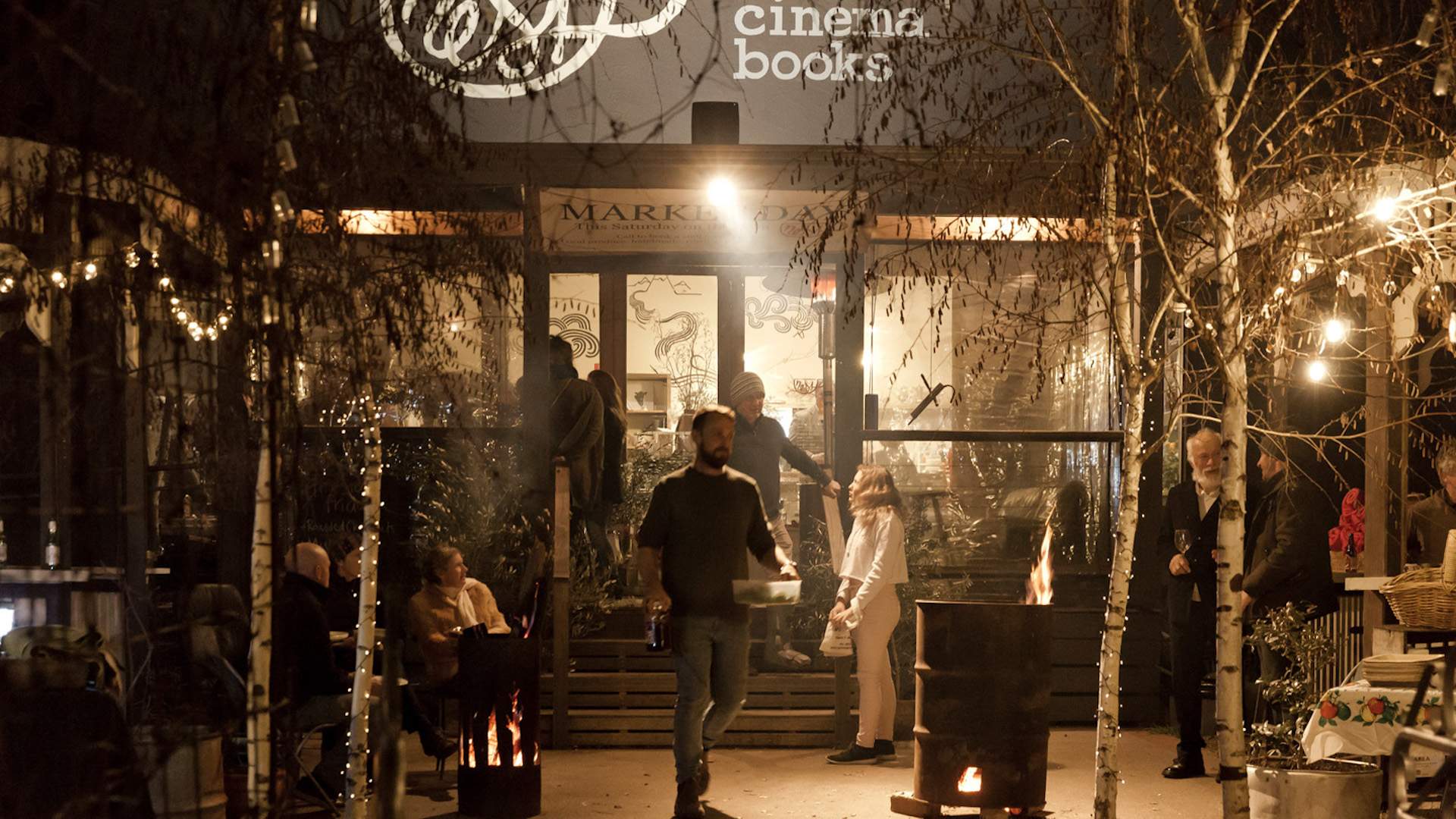 DINE IN A REPURPOSED CINEMA
In the picturesque mountain village of Tumbarumba, you'll find Nest Cinema Cafe Books. And it does exactly what the name suggests — provides a cosy space with a cinema (currently closed), cafe and lots of books. Fair warning: once you've settled into a couch here, you won't want to leave. During COVID-19, the Nest has transformed its cinema screening area into a dining space, so you can book in to enjoy cake, coffee, pizza and a couple of beers in the boutique cinema — or opt for a spot by the fireplace or outdoors on the deck. It's best to book ahead to secure a spot, and if you're unlucky but still want to sample the food, it also offers takeaway.

Whether you're planning to travel for a couple of nights or a couple of weeks, Holiday Here This Year and you'll be supporting Australian businesses while you explore the best of our country's diverse landscapes and attractions.
Top image: Tourism Snowy Mountains
Published on October 30, 2020 by Jasmine Crittenden