The Best Places to See Wildflowers Around Australia This Spring
Spot colourful blossoms in the wild while hiking through alpine meadows or picnicking in wattle fields.
Australia is home to tens of thousands of species of wildflowers — many of which are grown exclusively in Australia — making it one of the biggest and most diverse collections in the world. While some bloom in seemingly endless fields of brilliant colour, others grow in hard-to-see spots, among trees and grasses. Most get started in early spring, but, in cool environments, like the Snowy Mountains, the real action doesn't kick off until summer.
Here's your guide to some of the best places for wildflowers in Australia — from the alpine meadows of Kosciuszko National Park to the wattle-filled picnic areas of Warrandyte State Park, just outside Melbourne.
NSW: KOSCIUSZKO NATIONAL PARK
Once the snow has melted, Kosciuszko National Park transforms into a wonderland of wildflowers. Hundreds of species grow here, including 21 that are unique to the area. One of the nicest ways to see them — while conquering Australia's highest mountain — is along the Kosciuszko Walk, which travels for 13 kilometres from Thredbo to the summit of Mount Kosciuszko. If you're looking for an even more epic adventure, go for the Main Range Walk: a 22-kilometre loop that takes in several glacial lakes. Either way, you'll meet bright yellow billy buttons, pink everlasting daisies, yellow and purple eyebrights and alpine mint bush, among other delights.
When to visit: December–January.
NSW: MUOGAMARRA NATURE RESERVE
Need a wildflower fix, but don't want to travel too far from the city? Make tracks to Muogamarra Nature Reserve, which lies an hour's drive north of Sydney, near the Hawkesbury River. More than 900 native species live here, from brilliant red waratahs and angophoras to pink boronias and native orchids. Plenty of animals enjoy the sights, too, so don't be surprised to come across echidnas, wedge-tailed eagles and lyrebirds. To deepen your knowledge, join a guided walk, be it the Aboriginal Heritage Walk, the Muogamarra Highlights Walk or the six-hour Peats Bight Walk. There's only one catch — Muogamarra is open just six weekends each year in August and September.
When to visit: August–September.
NSW: TOORALE NATIONAL PARK
If you're up for a road trip, make Toorale National Park your destination. You'll find it at the back of Bourke, around 11 hours' drive northwest of Sydney. Perched on the banks of Darling River, the park is made up of enormous floodplains and waterways, which create ideal conditions for flowers to bloom. See the most spectacular scenery on the Darling River Drive, a 41-kilometre loop that, in spring, passes through fields of teeny-tiny sunray daisies. After rainfall, you'll be surrounded by bluebells, native peas and pigweed. It's also an excellent route for stargazers and birdwatchers, especially those who like baby emus. You can camp by the water, too, at Yapara Paaka Thuru (Darling River Campground).
When to visit: September–October.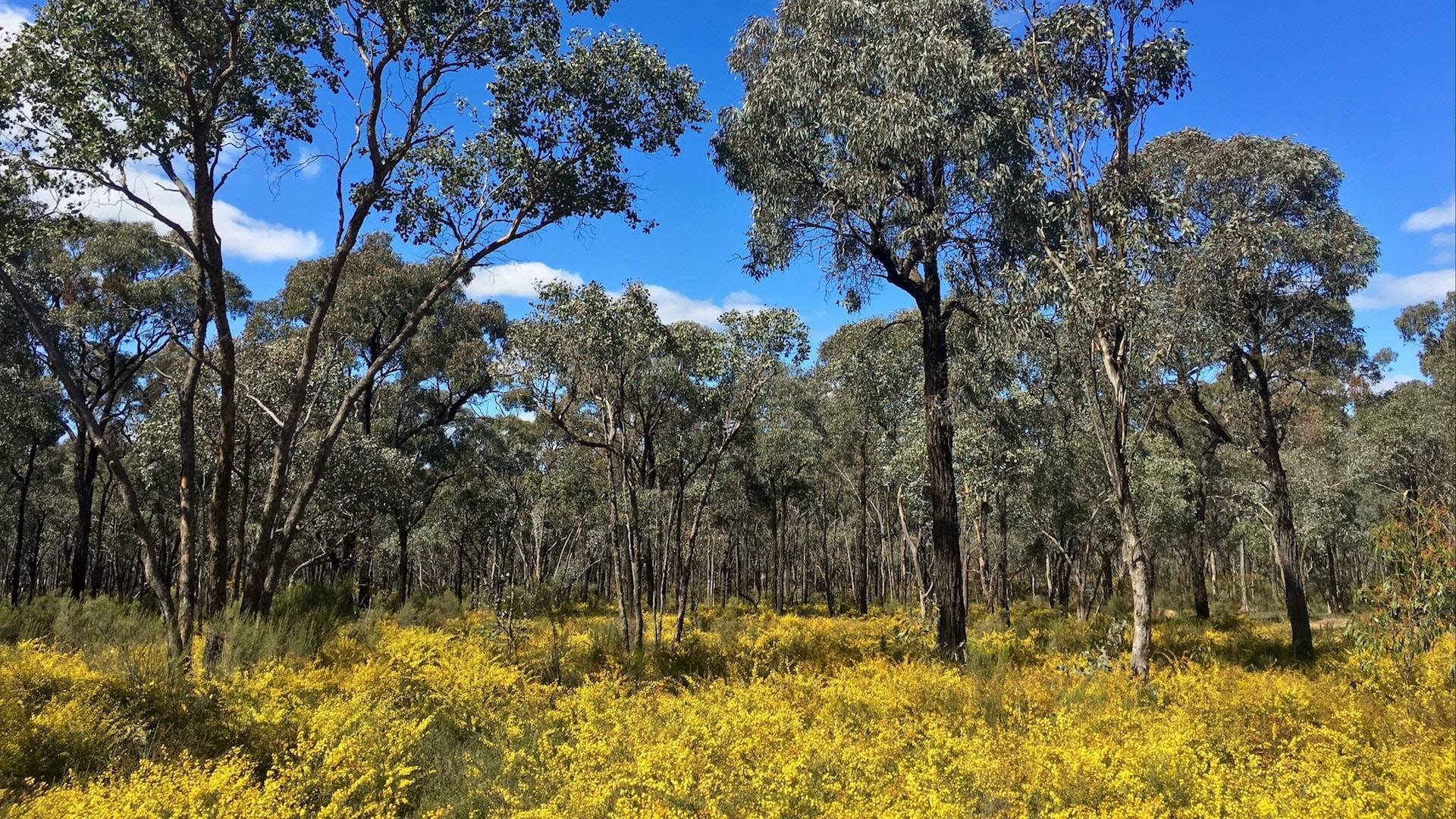 VIC: GREATER BENDIGO NATIONAL PARK
Bendigo isn't only an excellent escape for culture vultures, it's also perfect for wildflower watchers. That's because the city is more or less encircled by national park. Begin your escapades at One Tree Hill Regional Park, with a three-kilometre hike to the summit. It's steep, but worth the visual rewards — expect to be immersed, not only in golden carpets of wattle, delicate wax flowers and an array of native orchids, but also by panoramic regional views. Another flowery spot nearby is Solomon Gully Nature Conservation Reserve, which is a 10-minute drive south of town.
When to visit: September–December.
VIC: GRAMPIANS NATIONAL PARK
A whopping one third of Victoria's wildflowers are in Grampians National Park. In fact, it was once described as the 'garden of Victoria' and, given that Victoria was once known as 'The Garden State', that's saying something. If you're visiting in early spring, head for Heatherlie Quarry, Mount Zero and Mount Stapylton — all in the Grampians' northern section. Also impressive is Wartook Valley, where acacia blooms from late August. Come spring, the best views are around Halls Gap, where the last weekend of September is dedicated to the Grampians Wildflower Show.
When to visit: August–December.
VIC: WARRANDYTE STATE PARK
Want wildflowers without any driving? You're in luck. Melbourne has its very own stash of blossoms in Warrandyte State Park, on the banks of the Yarra, 45 minutes' drive northeast of the CBD. It's the closest state park to the city. There's a diverse and colourful variety of flora to spot, from chocolate lilies (which are purple, not brown) and milkmaids to blue pincushions and pale sundews. Most bloom between September and December, though some, like ivy-leaf violets and common heath, last longer. In between looking down for flowers, look up for koalas.
When to visit: September–December.
QLD: GIRRAWEEN NATIONAL PARK
The name's a giveaway. Girraween means 'place of flowers'. And they look even more dramatic here than in other spots — thanks to the massive granite boulders and outcrops, which create stunning backdrops. The show starts early, in late July, when thousands of wattle trees turn gold. But it's in spring that things really get going, with pea flowers bringing showers of red and purple, followed by native sarsaparilla, native bluebells and stacks of daisies, in a spectrum of colours. The cornucopia of blossoms is a magnet for flower-loving wildlife, including butterflies, crimson rosellas, wedge-tailed eagles and lyrebirds. Girraween National Park is three hours' drive southwest of Brisbane.
When to visit: July–January.
QLD: GURULMUNDI
Not many people live in Gurulmundi, a locality in the Western Downs located five hours' drive northwest of Brisbane. So you won't be bumping elbows while photographing wildflowers. To help you make the most of the many blooms that grow here, there's a dedicated wildflower trail. Made for driving, this 100-kilometre loop officially begins in the nearby town of Miles and takes you off the beaten track, onto unsealed roads and into out-of-the-way places. Along the way, you'll cross the 5000-kilometre-long Dingo Barrier Fence: the longest fence in the world. Follow the wildflower signs for the most beautiful vistas.
When to visit: September.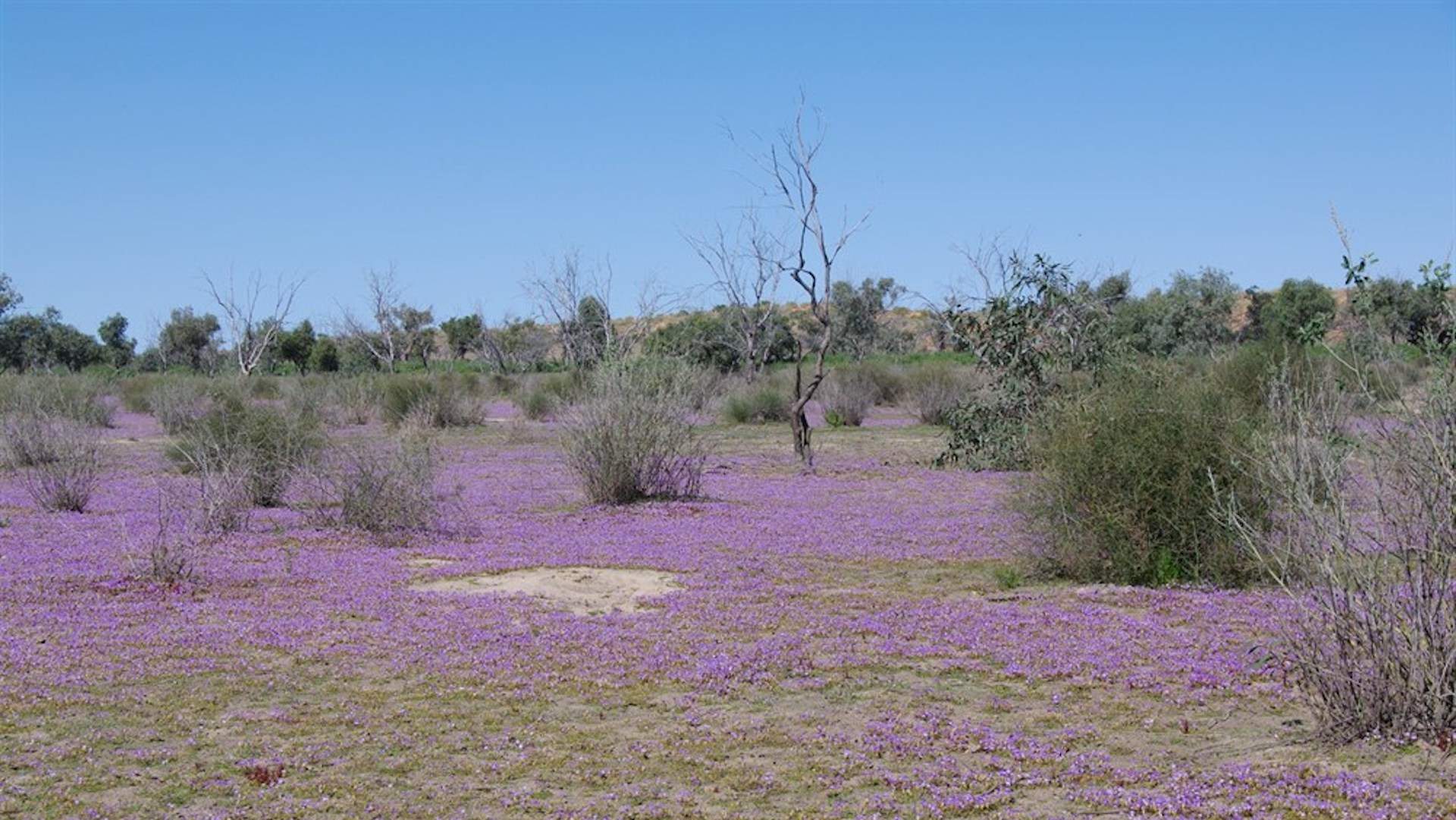 QLD: BIRDSVILLE
Birdsville might be best known for its legendary pub and spring races, but there are wildflowers, too. Lots and lots and lots of them. That's because the town is in the Diamantina River floodplains, which means fertile soil. The best time to visit is after spring rain, because it drives the seeds to sprout. And, given the terrain is so flat, the results aren't hard to see. Keep your eyes peeled on the road into Birdsville and, if you're exploring further, into Betoota and Bedourie, as well. Just some of the exotic flowers you're likely to see include poached egg daisies, the hairy darling pea, wild stock and desert nightshade.
When to visit: After it rains.
Top image: Wildflowers in the Grampians by Christine O'Connell; Barrington River by John Spencer; and Muogamarra by John Spencer.
Concrete Playground Trips
Book unique getaways and adventures dreamed up by our editors