'Sydney Streets' Will Take Over Seven Inner-City Neighbourhoods This Spring with Free One-Day Celebrations
Celebrate what makes Sydney great with seven free street celebrations all over the city.
in partnership with

Nothing brings out the whole neighbourhood like a street celebration. The road closes as people spill out of their homes, kids run wild as the parents catch up on what's new — it's a special and extremely nostalgic vibe. If you remember that feeling, especially if you live on or near or if you're overdue to visit some of Sydney's beloved inner-city streets, then you should be eagerly awaiting the return of Sydney's equivalent celebration. Some of the city's most prominent roads are being temporarily transformed for Sydney Streets.
The City of Sydney is closing roads to cars and opening them to festivities, allowing and encouraging local businesses to take over the street for a day of community celebrations. Activities involving food, music, live entertainment and more. This will be a significant series of events, so which roads are closing and when? Let's find out together.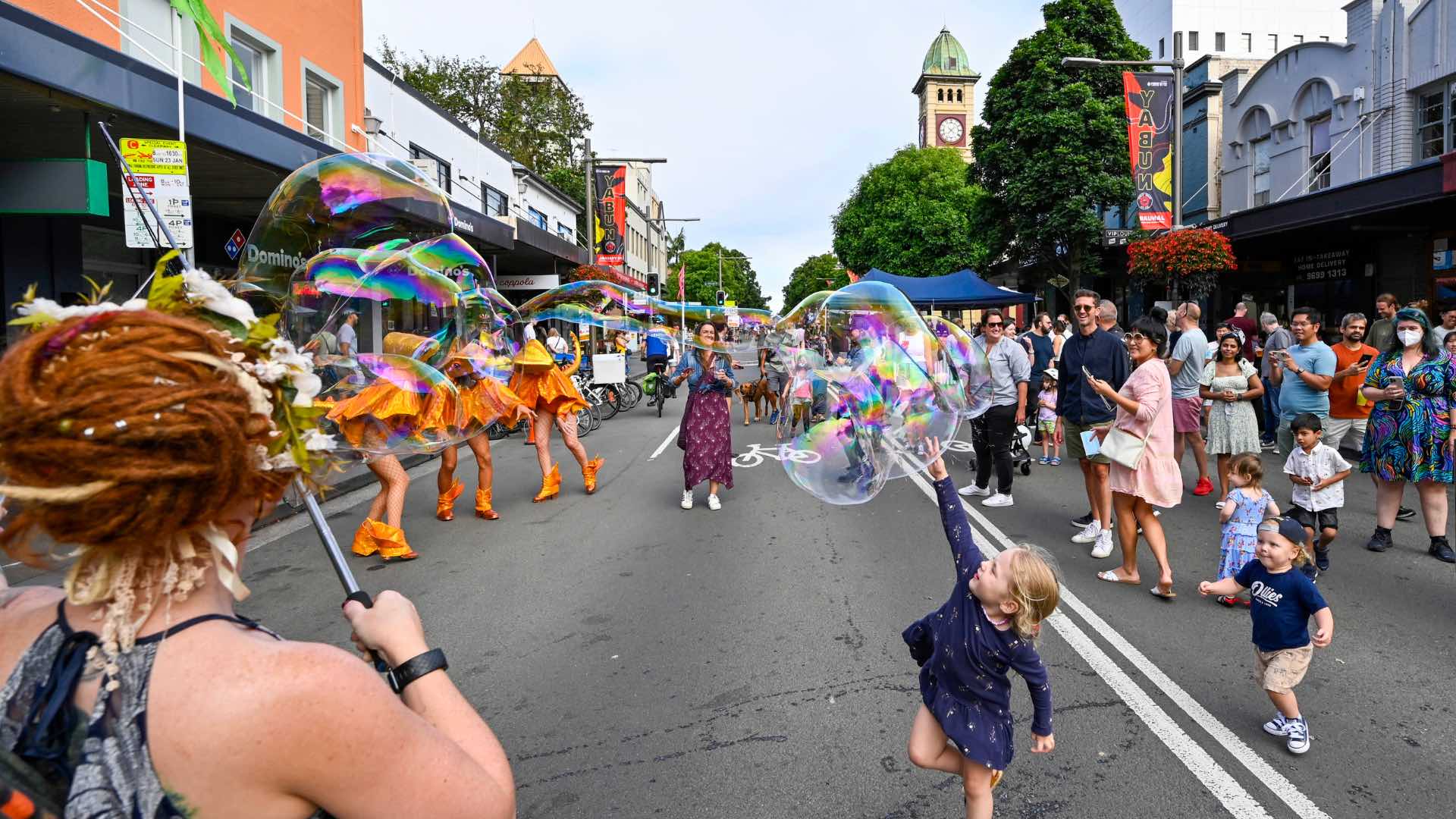 REDFERN STREET — SATURDAY, SEPTEMBER 23
First up on the list is Redfern Street, the main stretch of road that runs from Regent Street to Chalmers Street. It's a busy road day and night, shuffling commuters and after-dark pedestrians in equal numbers. From 11am to 10pm, many businesses will open doors to the busy foot traffic outside.
When it comes to food and drink, Redfern Street is home to all sorts, and it's all happening for Sydney Streets. From plant-based pub feeds with a live performance at The Sunshine Inn to Thai sweet treats at Sweet Monster. There are also beers aplenty from The Noble Hops, a range of Italian eyewear and hair braiding at Face Furniture, student-written publications and writing activities on offer at Story Factory, flash tattoo sales from Markd Tattoo and an outdoor pinball competition at local favourite Beercade. Keep an eye out for roaming performers like musicians from The Glorious Sousaphonics or Fiesta Viva, LED stiltwalkers, local footballers and more.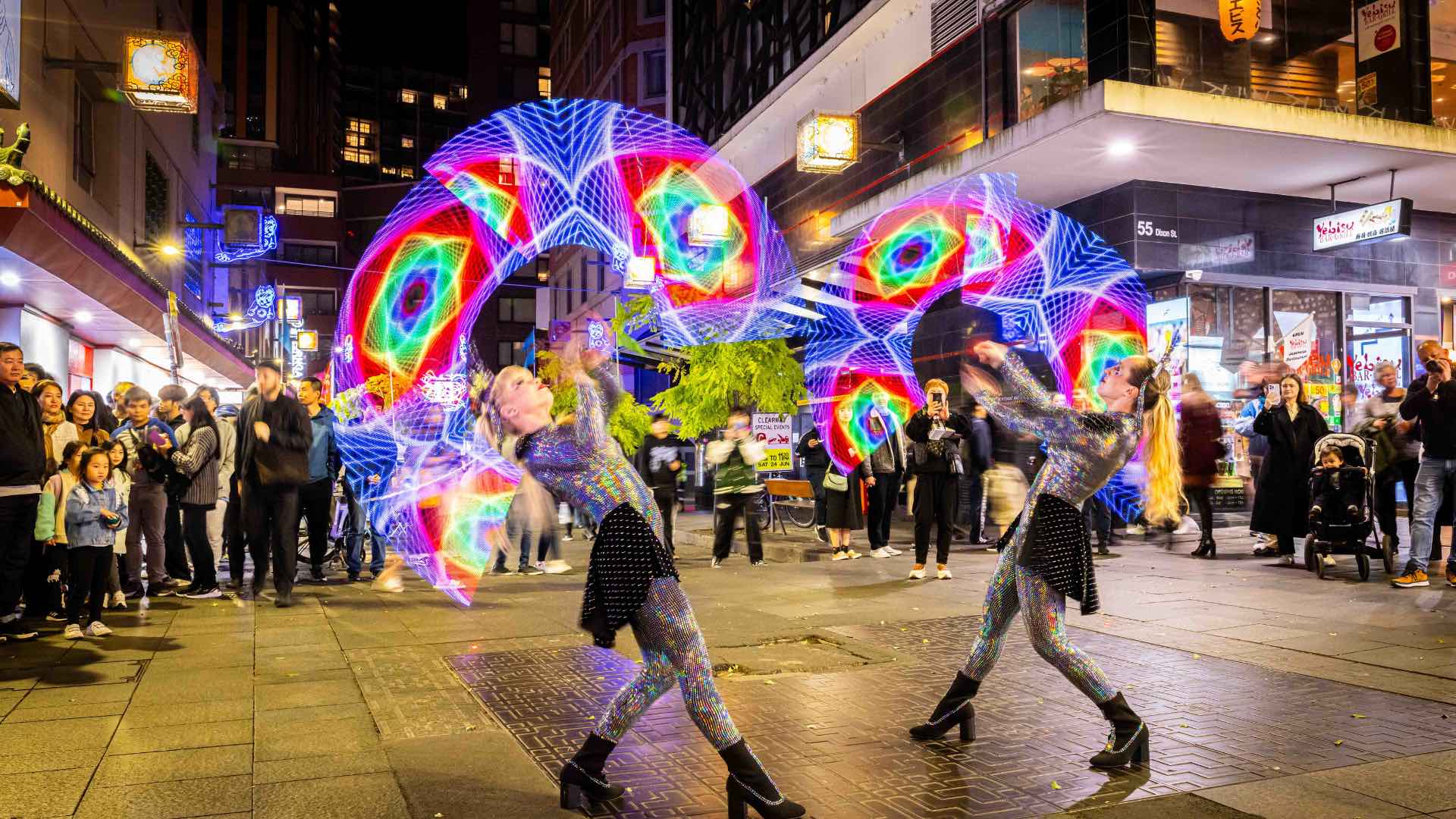 HAYMARKET — SATURDAY, SEPTEMBER 30
Week two takes the festivities north to nearby Haymarket, but this is slightly different from the other Sydney Streets events. In Haymarket, celebrations will be stretched across multiple areas, with parts of Hay, Little Hay, Dixon and Sussex Streets playing host to local businesses and entertainment alike from 11am to 10pm.
If you've ever dined in, strolled through or so much as looked out a car window at Haymarket, you know Asian cuisines reign supreme. The neon-lit streets will be taken over by food stalls from the likes of Chat Thai, Time for Skewers, Chongqing Hot Pot and East Ocean Seafood. For a sweeter finish swing by Sweet Lu's for boutique desserts, then beeline to the Covent Garden Hotel to enjoy the outdoor DJ and karaoke.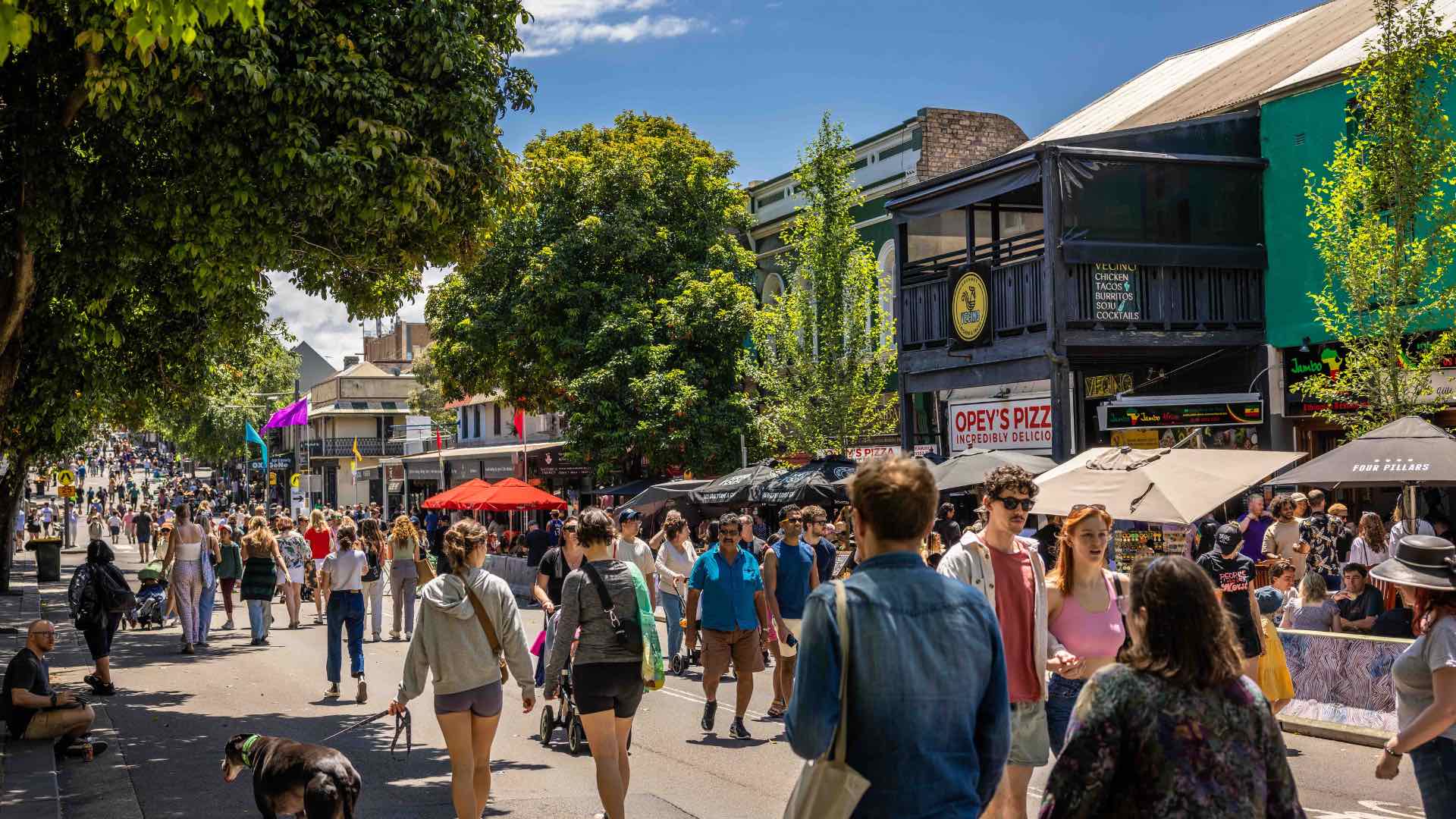 GLEBE POINT ROAD — SATURDAY, OCTOBER 14
Two weeks later the celebrations shift west to Glebe Point Road, specifically the eclectic stretch of shopfronts and residences from Parramatta Road to St Johns Road. It's student territory, so packed with culture and vibes from dawn till dusk. The area will be closed to traffic on Saturday, October 14 from 9am to 10pm to let the activities flourish on foot between 11am and 10pm.
The aforementioned vibes stem from the people but also great spots, all of which will come alive for Sydney Streets — spots like the legendary Indonesian eatery Salt & Palm, which will be performing live cooking demonstrations, or tapas bar Despana with an all-day offering of live music, paella, tapas and sangria. Enjoy cocktails, live music and Sri Lankan crepes at Kandy by Sri Lankan Bites, pastries and fresh juice from Dispensary 1908, a Sydney Streets debut from newcomer cafe Soul Garden, and a mobile coffee and cookie cart plus face painting for the kiddos and a wine bar for parents by local favourite Dirty Red.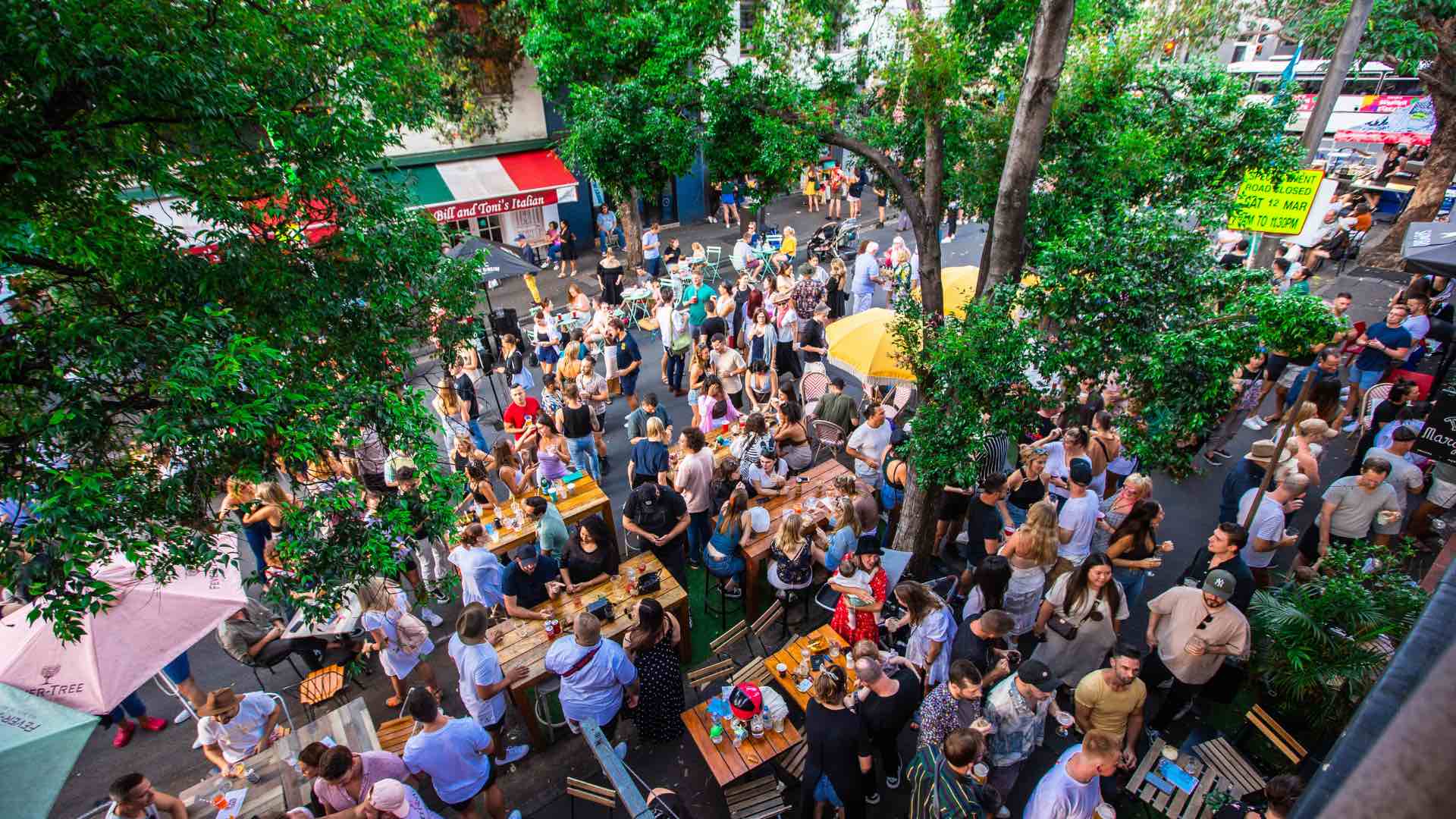 STANLEY STREET — SATURDAY, OCTOBER 21
The following week we head across town to Darlinghurst and Stanley Street, where the Yurong Street to Crown Street section will hold the festivities from 11am to 10pm alongside the extended traffic closure. With the likes of Bar Nina, The Long Goodbye and Stanley's on Stanley participating on the day, that means good times are all but guaranteed.
Sydney Streets will bring entertainment from the likes of Circus Bizurkus and Crawfish Po'Boys, plus cartoonist portraits and face painting for the kids. You'll be celebrating favourites and newcomers of the area alike, like Harry's by Giuls — which will be dishing out pizza and Aperol aplenty. The Colonial has just arrived, following two shops in Neutral Bay and Balmain, boasting a menu inspired by India's history. Another newcomer will be Yorimichi Izakaya, a sake and yakitori bar that can't be missed.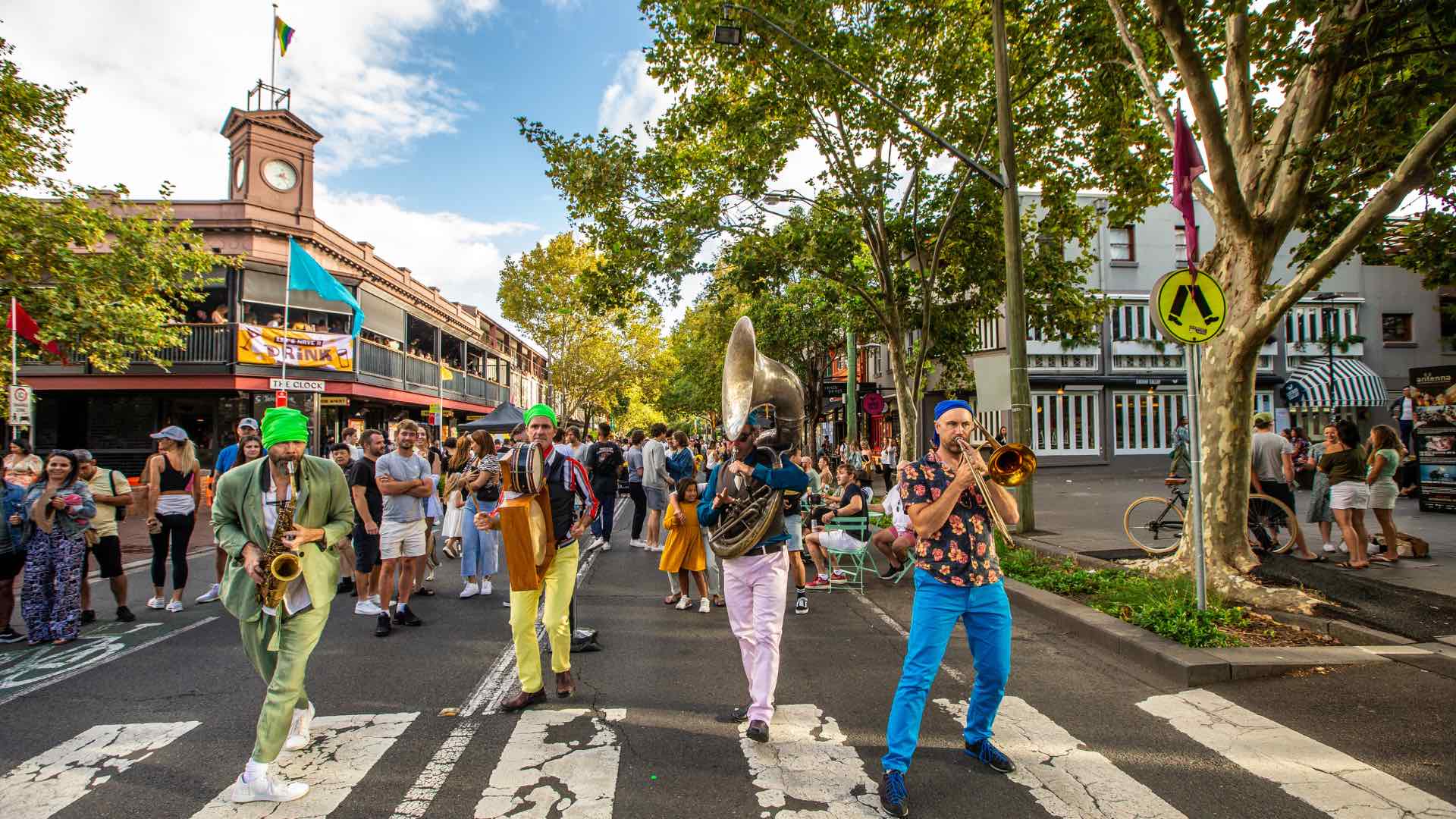 CROWN STREET — SATURDAY, NOVEMBER 4
Further south is a beating heart of activity in Sydney, the beloved Crown Street in Surry Hills. For Sydney Streets, the stretch from Foveaux Street to Cleveland Street will host November's first Saturday of community celebrations. Any Sydneysider is familiar with the offering of this famous road, so with the standout venues colliding with the standout vibes of Sydney Streets from 11am to 10pm, it's set to be quite the Saturday.
The entertainment will come from the likes of roaming circus acts, dancers and bands — while local spots joining the celebrations include Surry Hills Fine Wines, which will offer extensive wine and cocktail tasting alongside music and entertainment; the Surry Hills outpost of the pizzeria Via Napoli will be dishing out pizza and arancini; Tuscan-style hotspot Giuls will open its famous Aperol cart alongside pizza and sandwiches and 360º photography, plus the beloved artisan butchery Ardi's Block to Grill and the Surry Hills shopfront of pottery pros Mud Australia will also get involved.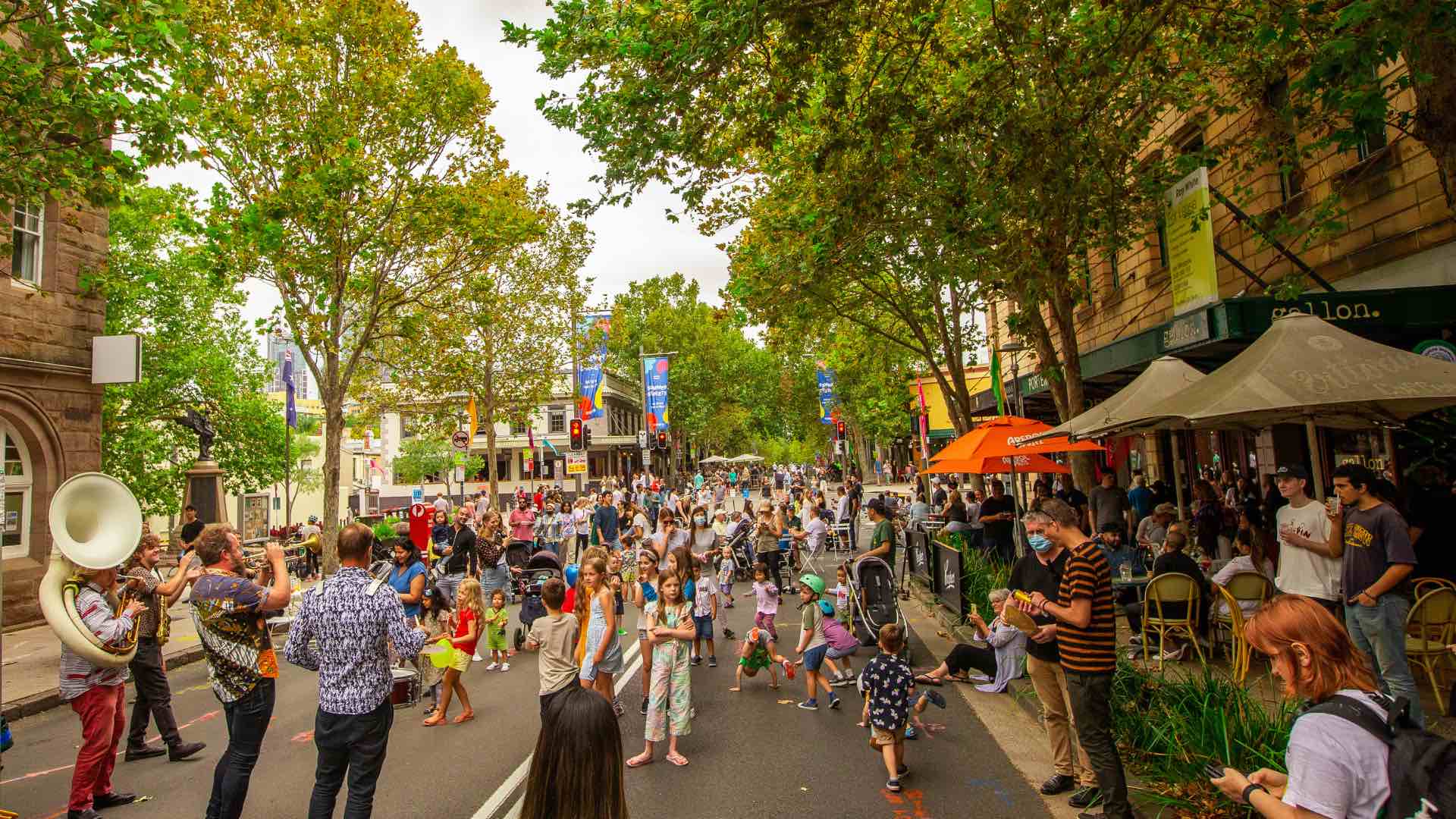 HARRIS STREET — SATURDAY, NOVEMBER 11
The following weekend will bring Sydney Streets to Pyrmont and a small stretch of Harris Street (between Pyrmont Bridge Road and Union Street) for its own 11am to 10pm offering to pedestrians. Adjacent to Sydney Harbour, Harris Street is another ideal setting for the series, brimming with culture, activities and Sydney spirit.
You'll find similar entertainment as on Crown Street the week prior, with Lolo Lovina and DJ Flygirl Tee supplying music this time around. Some of the participating businesses for this weekend include a pop-up bar (plus tastings) from the local branch of Porter's Liquor, the urban fashion specialists at Urban Oasis, craft beer and pub feed pros at The Quarryman's Hotel, experts of fitness and flexibility at Sense of Power Pilates — and the self-titled 'Masters of Steak' at Element's Bar and Grill will open a pop-up bar of their own.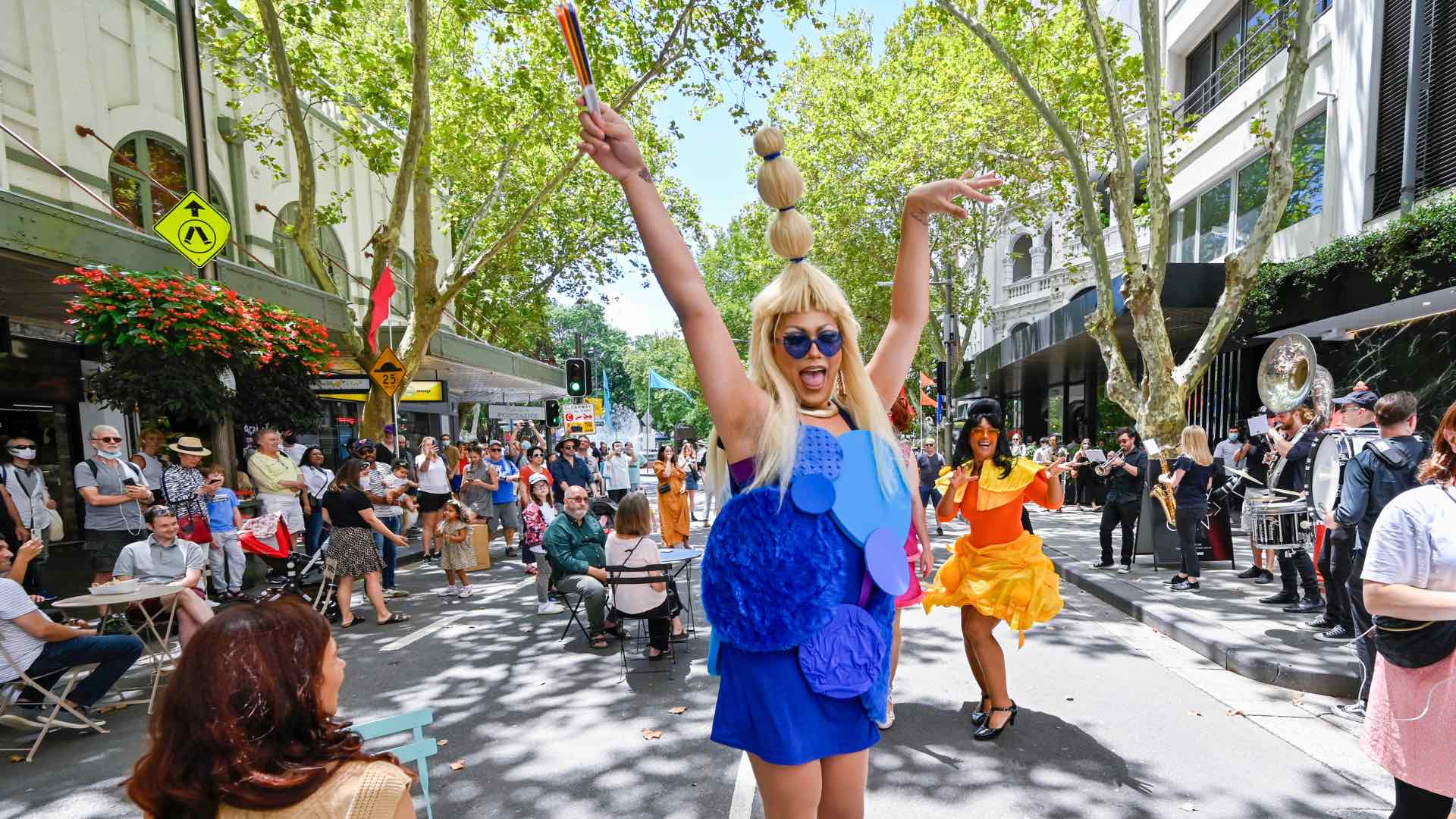 MACLEAY STREET — SATURDAY, NOVEMBER 18
Last but not least for the 2023 run, Sydney Streets will head to Potts Point, taking over Macleay Street between Darlinghurst Road and Hughes Street between, you guessed it, 11am and 10pm. It's a busy, tree-canopied road and home to some of the finest cafes and bars in the inner east.
We'll update you with more information on the available activities soon, but we can give you an idea of what to expect on the day. Participating venues include NYC-in-the-50s-inspired bar The Roosevelt, which will be taking it outside with a live DJ, plus the popular Rustic French Bistro (which is exactly that), a jazz band setting up at Bistro Rex, the Sydney city shopfront of deluxe chocolatiers The Chocolate Box, boutique fashion label A Date With Mabel and live music at the New Hampton Hotel.
Sydney Streets will be taking over several roads between Saturday, September 23 and Saturday, November 18 before returning for more in early 2024. For more information, visit the website.
Concrete Playground Trips
Book unique getaways and adventures dreamed up by our editors