TRAVEL & LEISURE
A Weekender's Guide to Broken Hill
An outback town where legal two-up and turmeric lattes exist in harmony.
A Weekender's Guide to Broken Hill
An outback town where legal two-up and turmeric lattes exist in harmony.
You could spend a weekend in Broken Hill doing nothing but gazing at the sky. In autumn, huge cloud formations battle against the sun all day long, and, come evening, you've never seen so many stars. Perhaps it's this, along with the striking red earth of the surrounding desert, that attracts so many artists to this 18,000-person outback town, about 1200 kilometres west of Sydney and 850 kilometres north of Melbourne.
Between gallery visits you can wander among grand 19th century architecture, have a yarn in proper country pubs (you'll be getting burgers, not sliders, 'round 'ere) and head underground to experience some legendary history, from mining to illicit two-up. Plus, there's a museum dedicated to Mad Max 2. Hit the road.
SEE AND DO
Let's start with the art. 90 minutes before sundown, drive to the 180-hectare Living Desert Reserve. On a hilltop affording 360-degree views, there's a dozen sculptures created by artists from all over the world, and strategically positioned to catch the sun's dying rays. The nearby 1.5-kilometre cultural trail features epic Sturt's Desert Pea displays and Indigenous story poles. Back in town, immerse yourself in the world's biggest acrylic painting on canvas by a single artist (Ando's 100-metre x 12-metre landscape), swing by Pro Hart Gallery and ramble around the many spaces of the high-ceilinged Broken Hill Regional Art Gallery.
To get the lowdown on the area's history, join a Silver City Sights and Heritage Tour. In a comfy, air-conditioned bus, you'll cover 50 kilometres and over 100 years — from BHP's first mining of silver and lead in 1885 (BHP, by the way, stands for Broken Hill Proprietary) to the 2001 building of the Line of Lode Miners Memorial, which commemorates more than 800 miners killed on the job.
Mining is still a dangerous business, but it was way more terrifying in the 1880s. Get acquainted with its historical extremes at the Day Dream Mine, 33 kilometres northwest of Broken Hill. Back then, workers did it so tough for so little, their bosses handed out opium to ease the pain — presumably cheaper than paying sick leave — and when the drugs wore off, horehound beer was the next refuge, often sending drinkers blind for a day or two (hence the phrase 'blind drunk'). You'll hear these and other tales while squeezing through tunnels 30 metres underground. Recover with scones and tea in the homestead.
Another 15 or so kilometres west, the outback proper begins at Silverton. Home to just over 600 people, this tiny town peaked in the 1890s when silver was found nearby, and is now an arty enclave, where donkeys roam wild and days end best with a beer at the famous Silverton Hotel. Among its crowded walls — which are hung with guitars, trumpets, Akubras and empty stubbies — you'll find souvenirs from the many film crews to have passed through, from Wake In Fright (1970) to Mad Max 2 (1981) to Razorback (1984).
Delve deeper into movie history at the Mad Max 2 Museum. Opened by obsessive collector Adrian Bennett in 2010, this shed is crammed with behind-the-scenes photos, costumes and vehicles, including the original gyrocopter and interceptor. When you're max-ed out, meander around Silverton, visiting The Horizon Gallery, the John Dynan Art Gallery and the Silverton Gaol Museum, before driving four kilometres north to Mundi Mundi Plains to watch the sun set over what looks like the edge of the world.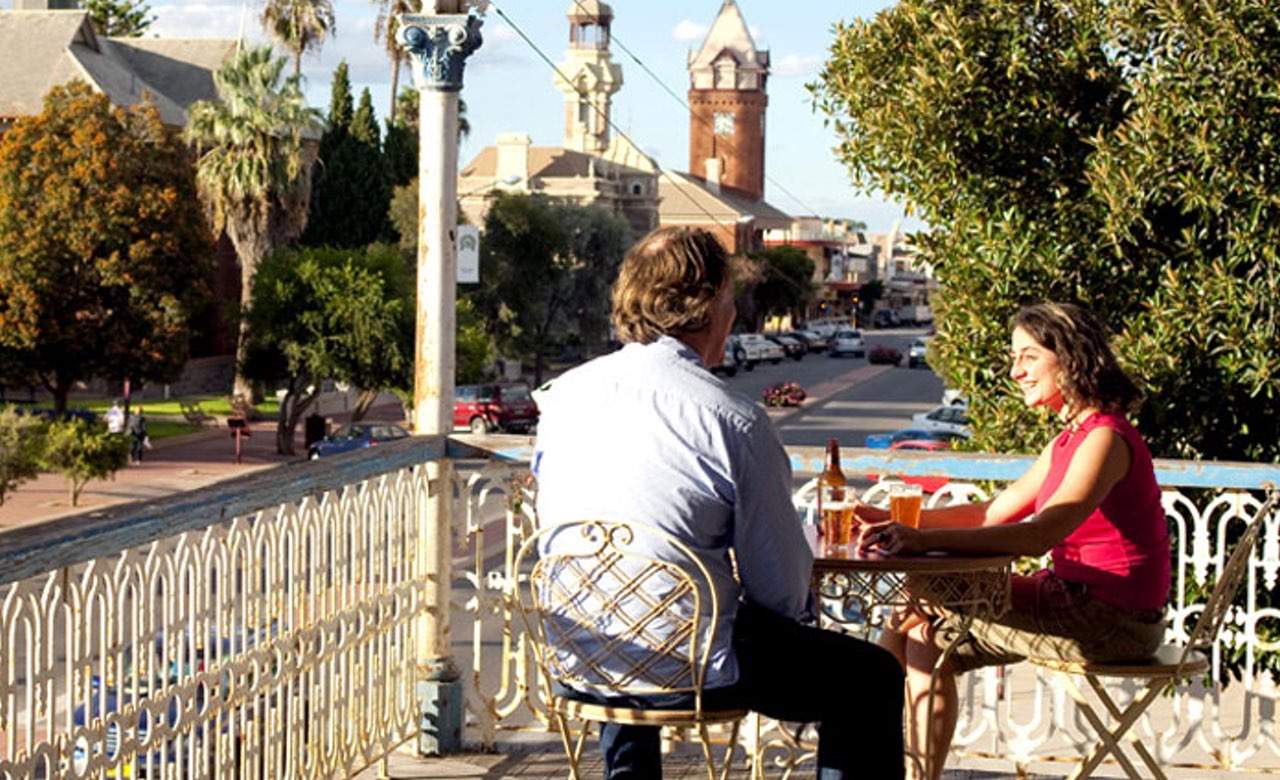 EAT AND DRINK
In most of Broken Hill's pubs and restaurants, you can count on hearty, meat-heavy cooking — mammoth-sized feeds that reward a long day of hard yakka. At The Palace Hotel — where Mitzi, Felicia and Bernadette stopped over during The Adventures of Priscilla, Queen of The Desert — dig into crispy-skinned, grilled Atlantic salmon with dill, creamy garlic sauce, mash, veg and a splash of Chardonnay. If you're dining on a Friday, hang around afterwards for a game of two-up — The Palace is the only place in Australia where it's legal all year-long. Before 1984, you would've dropped into Broken Hill's illicit two-up school, held behind a green door on Crystal Lane.
Two blocks away is the majestic, heritage-listed Astra. This swish hotel, built in the 1890s, has eight suites and a big, shady verandah. Downstairs, relax over a cocktail in the Red Lush Lounge or slide into a cosy, high-backed chair in Trinders restaurant for a modern Australian feast, like their signature surf 'n' turf: fillet steak topped with king prawns, grilled banana, hollandaise and seasonal veggies.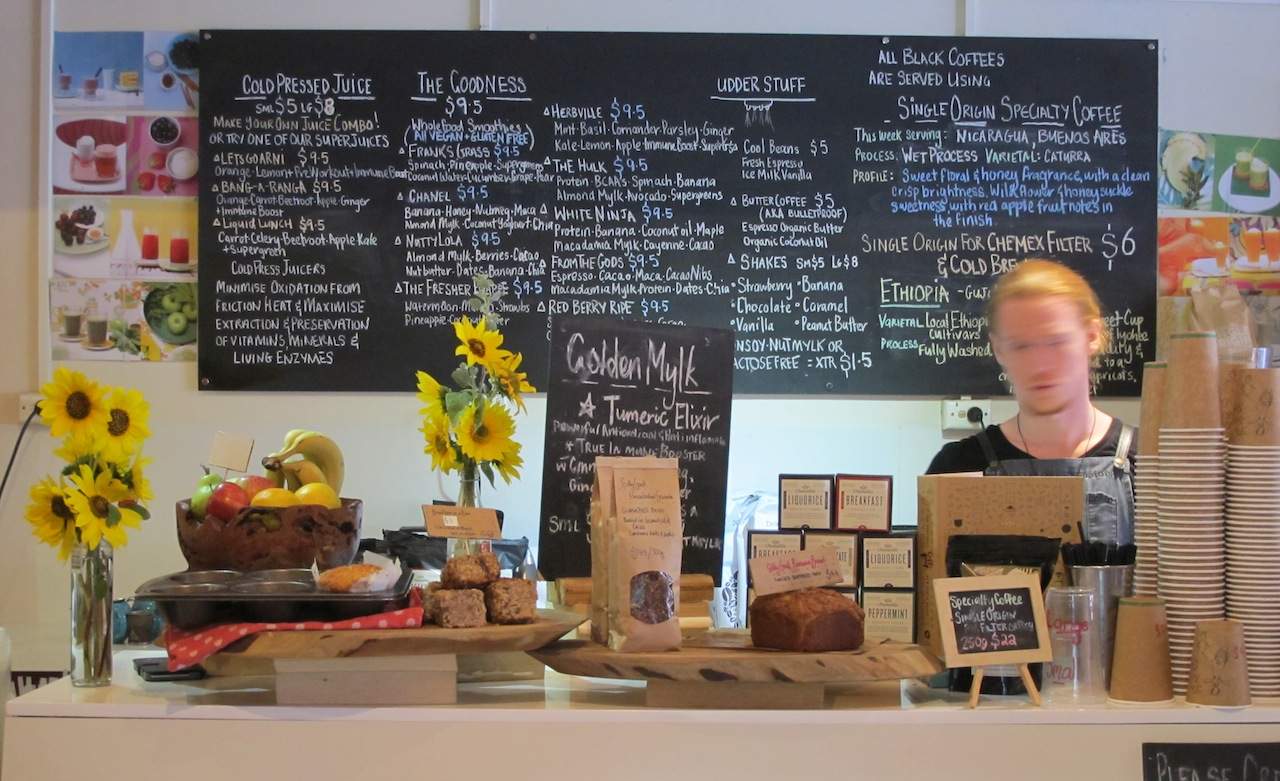 There are a few cafes bringing more contemporary fare to the outback. Get your single origin coffee fix at health-minded, family-owned The Silly Goat on the main drag. Among the sunflowers, burnt orange feature walls and timber tables, you'll also find their "turmeric elixir", cold-pressed juices, house-baked treats and inner-city-style mains, like the haloumi burger with mushies, beetroot relish and aioli.
A few blocks to the northwest, outside the GP Super Clinic, is The Caff, opened by local couple Summa and Nathan Rayner in February 2014. The fun fit-out was a 100 percent DIY job, from the blue tartan seats ripped straight out of a school bus to the recycled wooden tables. Every dish on the menu is made from scratch. Try just-baked waffles packed with zucchini and corn and stacked with chilli con carne and guacamole, a gourmet pie or some bread and butter pudding-style French toast.
And just south of the town centre, there's Bells Milk Bar. This isn't one of those trendy, ironic, retro-themed places — it's the real thing. It's been open since the 1930s and the decor dates to the 1950s. The syrups, cordials and ice cream are all made in-house in small batches, according to secret recipes. Choose from over 40 milkshake flavours or 16 spiders, slip into a booth in the back room and crank some Bill Haley and The Comets on the juke box.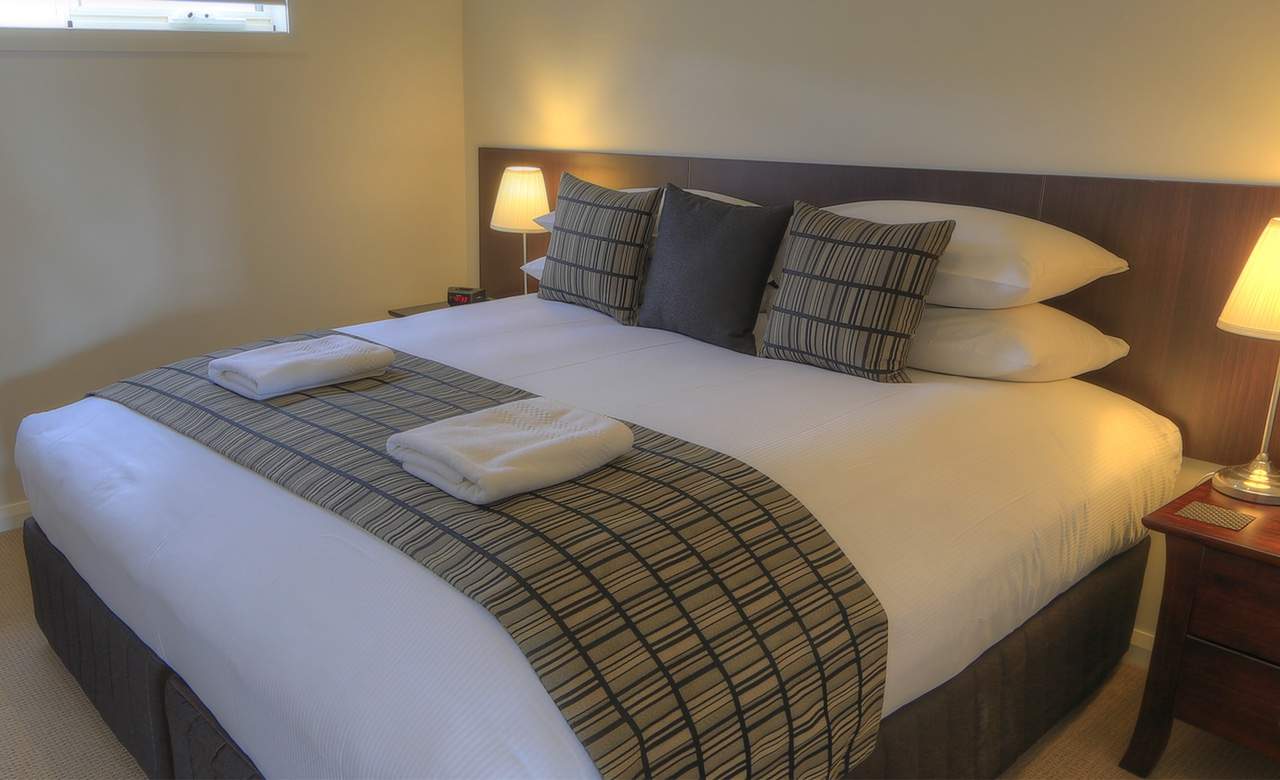 STAY
For oodles of space and light, a king-size bed, a spa and a separate lounge area — including your own mini-kitchen — check into the Red Earth Motel. The spick-and-span interiors are inspired by the desert. Think luxe white linen dotted with earthy-patterned pillows and lounge chairs in reds and ochres. If you're travelling in a group, book into a two- or three-bedroom apartment. The shaded swimming pool lets you cool off after a busy day of sun and adventures.
Meanwhile, you can sleep under an original artwork at Ibis Styles. Owned by locals Michael and Dana Farcich for 27 years, these lodgings were known as the Mine Host Motel before being acquired by Accor in the mid-2000s. 42 two-toned rooms stretch across two storeys, encircling a central pool. There's also an on-site restaurant, the glass-walled, green-and-purple-lit S-Que, where country dishes are given fancy touches. The steak, for example, is a 450-gram, chargrilled Tomahawk behemoth, with kipfler potato chips, rosemary salt, house coleslaw and portobello mushroom sauce. You probably won't need to eat again until you're at the other end of the drive home.
Jasmine Crittenden travelled as a guest of Destination NSW.
Top image: Simon Yeo via Flickr. 
Published on July 29, 2016 by Jasmine Crittenden