A Weekender's Guide to Rotorua in New Zealand's North Island
This famously sulphur-scented town offers far more than just zorbing — visitors can expect rich cultural experiences, delicious dining, and more than a little bit of mud.
A few years ago New Zealand's famously sulphur-scented town of Rotorua was a thriving centre of tourists and adventure-seeking locals alike, thanks to attractions like zorbing, luge rides and more. The region was hit particularly hard by COVID which saw tourist numbers dry up and adventure outlets forced to close.
With borders now open, those looking for a spot to spend a long weekend over the ditch shouldn't overlook it in favour of some of its flashier city siblings. In fact, Rotorua recently joined places like Bucharest, Athens, and Seychelles on Forbes' list of the top 50 destinations to travel to in 2023.
Concrete Playground recently visited Rotorua for the weekend and found it rich not only in culture, but in luxe and relaxing experiences. Here's our guide on where to eat, drink, play and stay next time you're in this hot pool hotspot.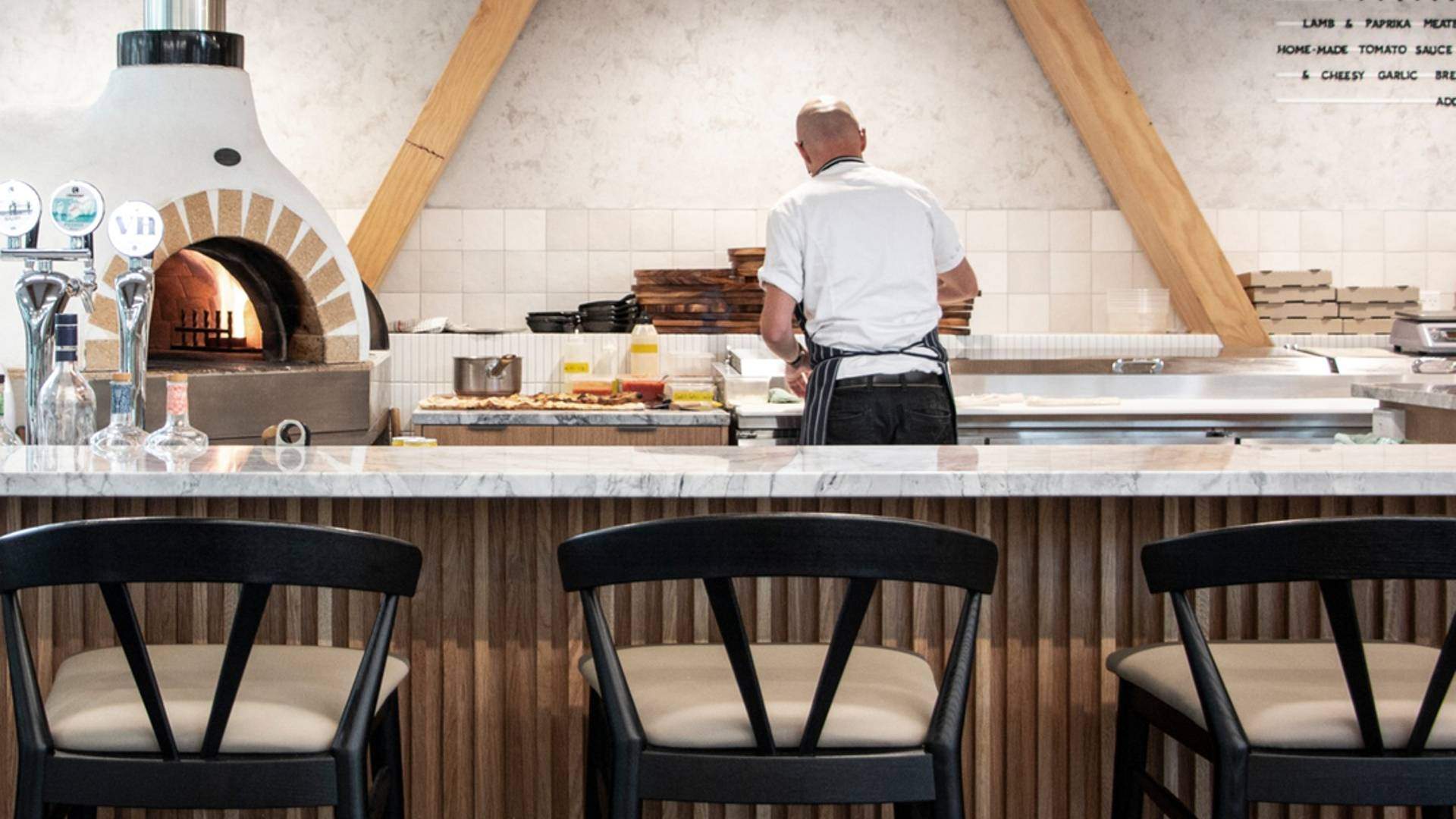 EAT AND DRINK
You're might be already familiar with Eat Street, a famous laneway of restaurants and bars in the heart of Rotorua, but there is a far greater bevvy of spots hidden around the town's streets — you just need to know where to look.
Fuel up with a morning coffee and brunch at Junction on Fenton, a family-friendly eatery attached to the historic I-site building in town. Here you can learn a little about the area before fuelling up for the day with a filling feed — we'd recommend the aptly named breakfast dish 'No Time to Waffle' to send your blood sugar sky-high.
For a relaxed yet vibey dinner of share plates and truly excellent cocktails, look no further than Poco Tapas on Arawa Street. Tucked up an unassuming staircase above a lawyer's office — don't get confused by the very corporate entry — this eatery specialises in share plates like flatbreads and dips, fried chicken and some truly standout vegetable side dishes. The cocktails are also excellent. Don't sleep on the espresso martini.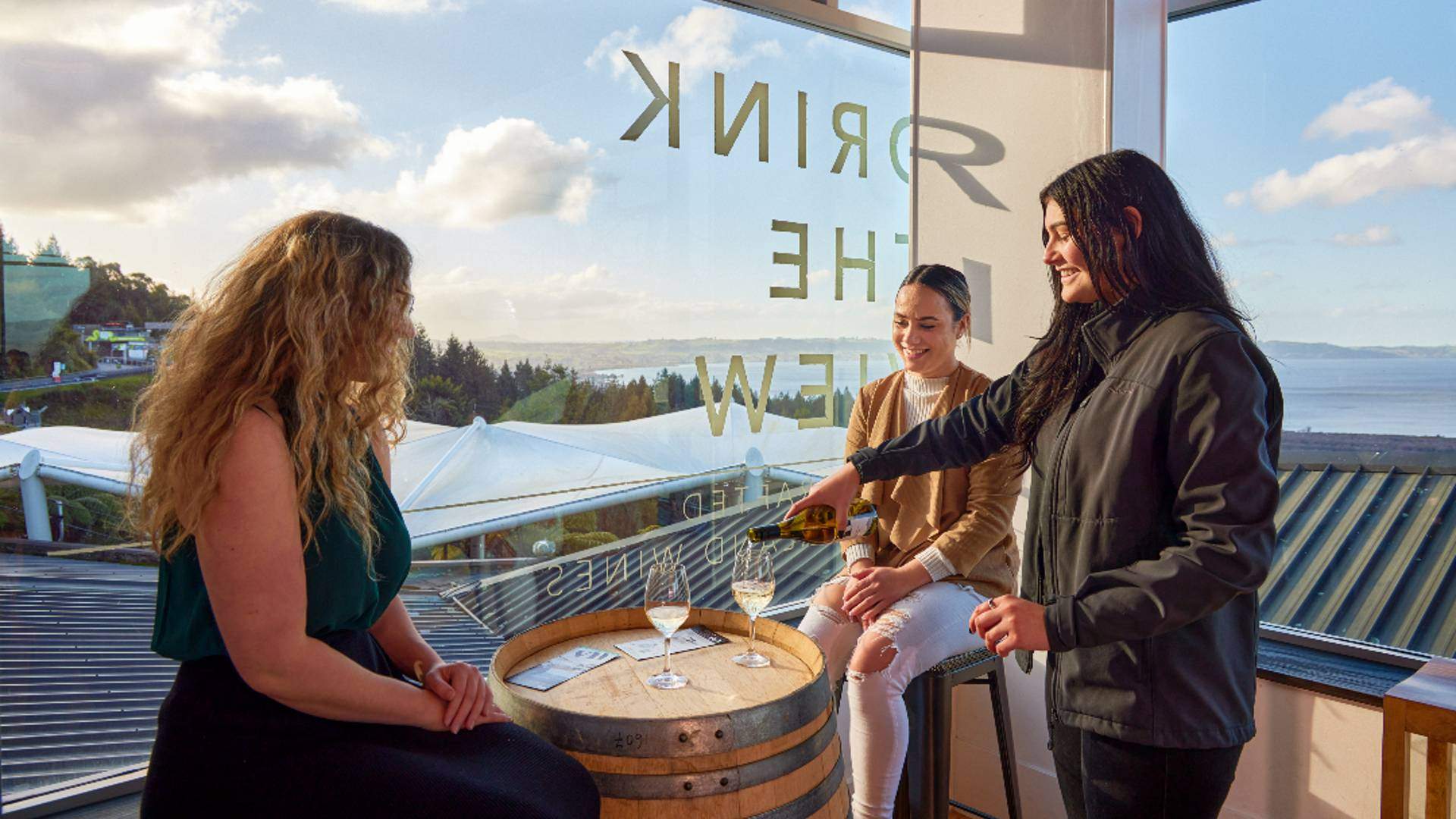 Unlike many of New Zealand's tourism hotspots, Rotorua isn't stacked with wineries — but its best-kept secret for wine fans is, surprisingly, found up the gondola. If you're begrudgingly being forced into some daredevil activities, find an excuse to sneak away to Volcanic Hills' tasting room. Rotorua's only cellar door, this stunning spot offers vinos with lake views — and is also in a great supervisory position over the luge.
Make sure to include a walk through the Redwoods on your weekend trip — either marvelling from the ground or from 20 metres in the air during the treetop walk. Once you've sufficiently worked up an appetite, head to Eastwood Cafe, a chic eatery found in the stunning new Scion Innovation Centre on the outskirts of the forest. Perfect for a post-ride or hike refuelling, this new spot is a real standout, thanks to its modern fit-out, stacked menu and above all, a giant authentic pizza oven behind the counter churning out fresh 'zas. Conk yourself into a carb coma with the carbonara pizza which manages to combine two excellent Italian dishes in one. Feeling extra peckish? Splurge on a side of spicy chicken wings — and do not miss the daily $10 margarita.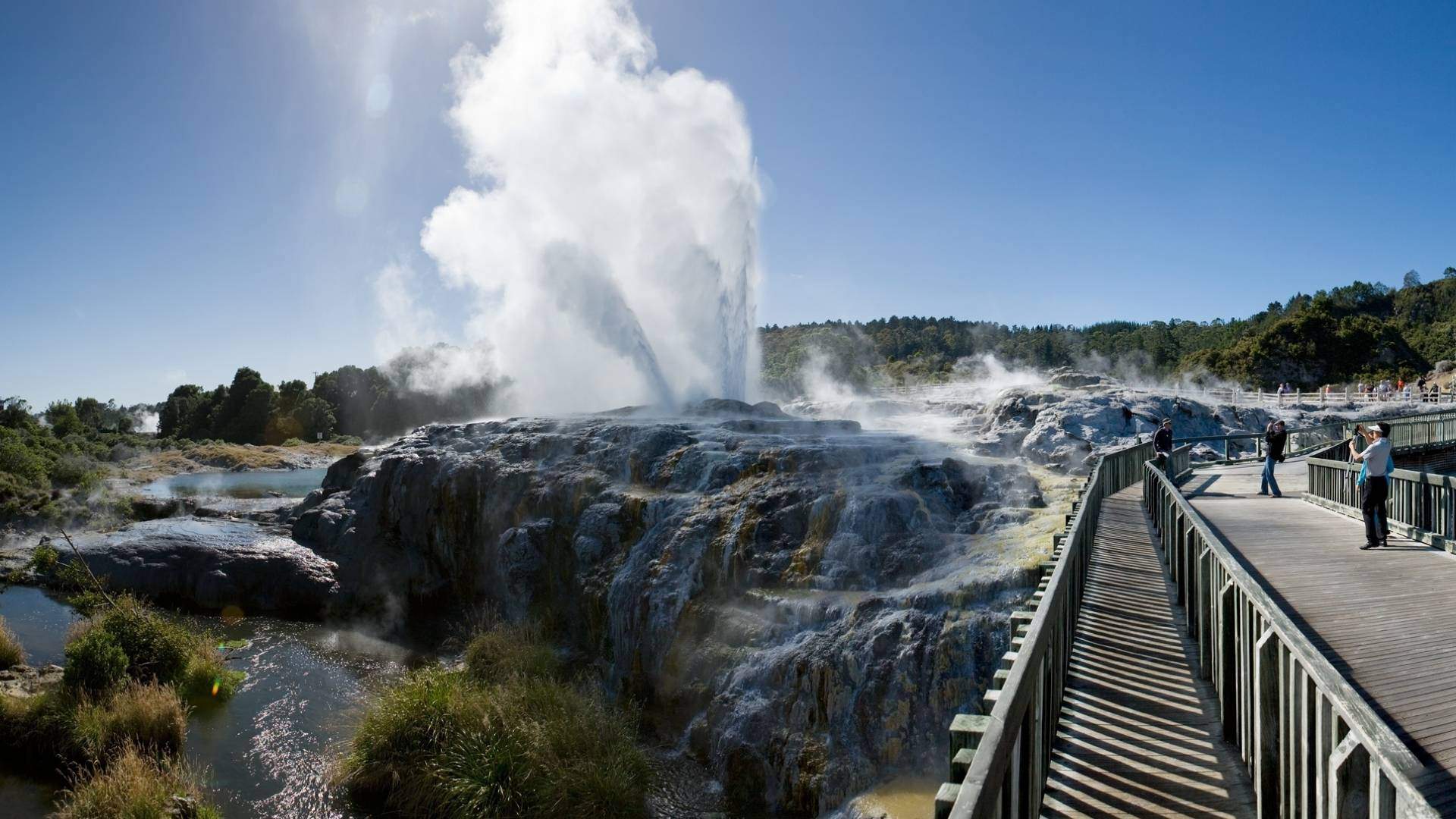 PLAY
You're going to need at least three days in Rotorua to really soak up all the activities so book that annual leave now. And don't worry if you're not a thrill seeker or 'outdoorsy' type — even those without a penchant for adrenaline will find plenty to do.
For an activity that manages to blend both exercise and geology (but in a fun, non-school-like way), opt for a kayak tour with Paddle Board Rotorua. These tours allow you to see steaming geothermal activity from the water and get up close and personal with some pretty stunning geysers — which have a cute tendency to explode when you're near them. On our trip, a geyser blew that guide swore hadn't happened in the three years he'd been running the tours. This was very exciting and only mildly terrifying.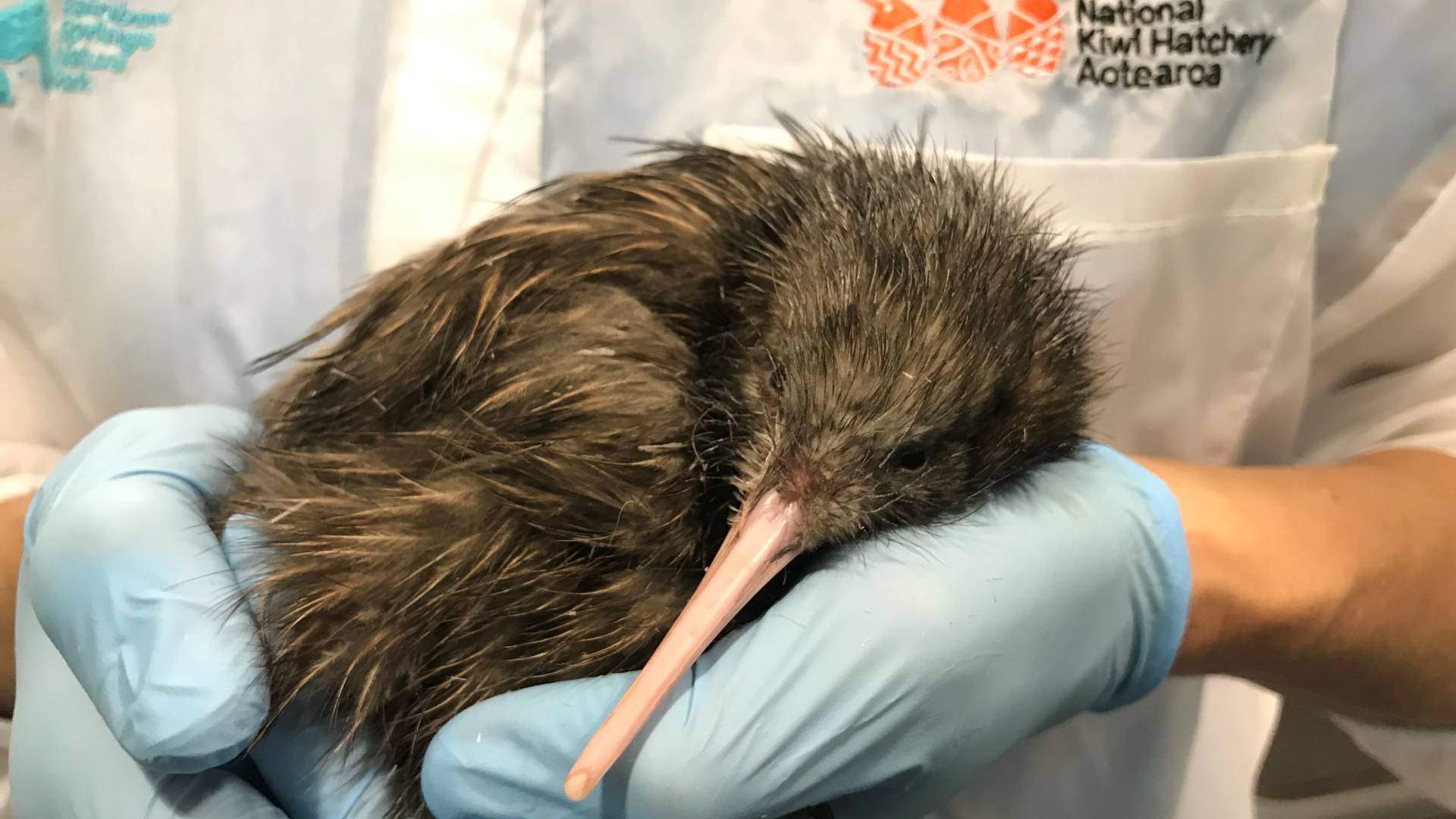 If you've never seen a real-life kiwi (the bird, not the people) you're going to want to pay a visit to the National Kiwi Hatchery — yes, this is where that famous picture of Harry and Meghan with the kiwi was snapped. The tireless work this team does is, quite simply, amazing: retrieving kiwi eggs and bringing them to their onsite incubators, raising them as hatchlings and allowing them to grow strong enough to survive in the wild — without being food for pests like stoats and rats. You'll get to see eggs being incubated, the hatching process and newly hatched kiwi chicks, and all of your ticket cost goes into back into the hatching programme.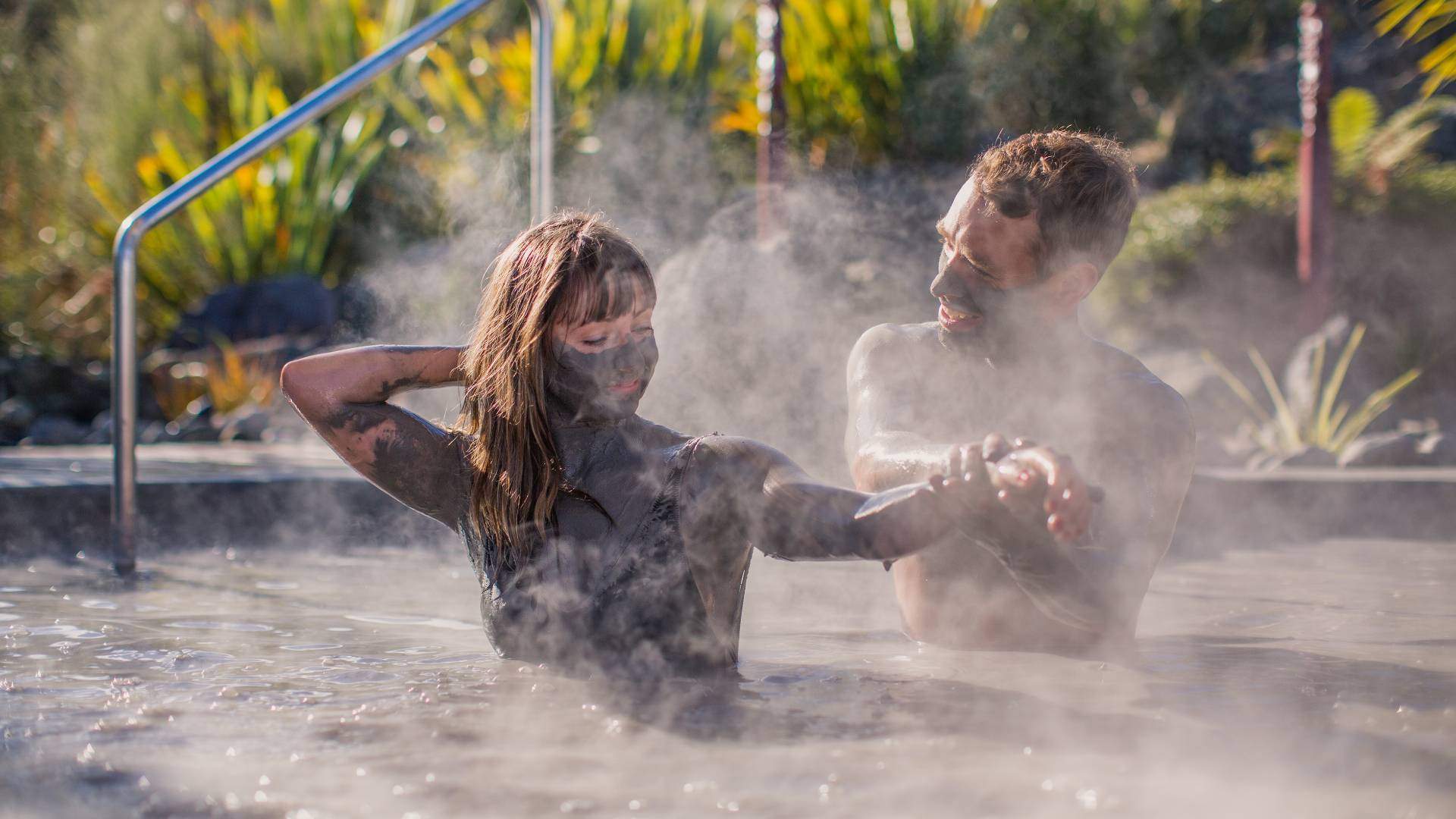 After all that education, it's time to find your zen. Luckily Rototua is known for its hot pools. For an authentic clay-smeared experience, hit Hell's Gate. Here you'll soak in the mud pools slathered in the good grey stuff before getting into the "health-giving" sulphur pools for an Insta-worthy soothing soak. Just be sure to give your swimsuit a good wash separate from the rest of your clothes — ours still smell a little sulphury a few months down the track. Otherwise, opt for one of the Polynesian Spa's famous private pools for a delicious soak overlooking the lake.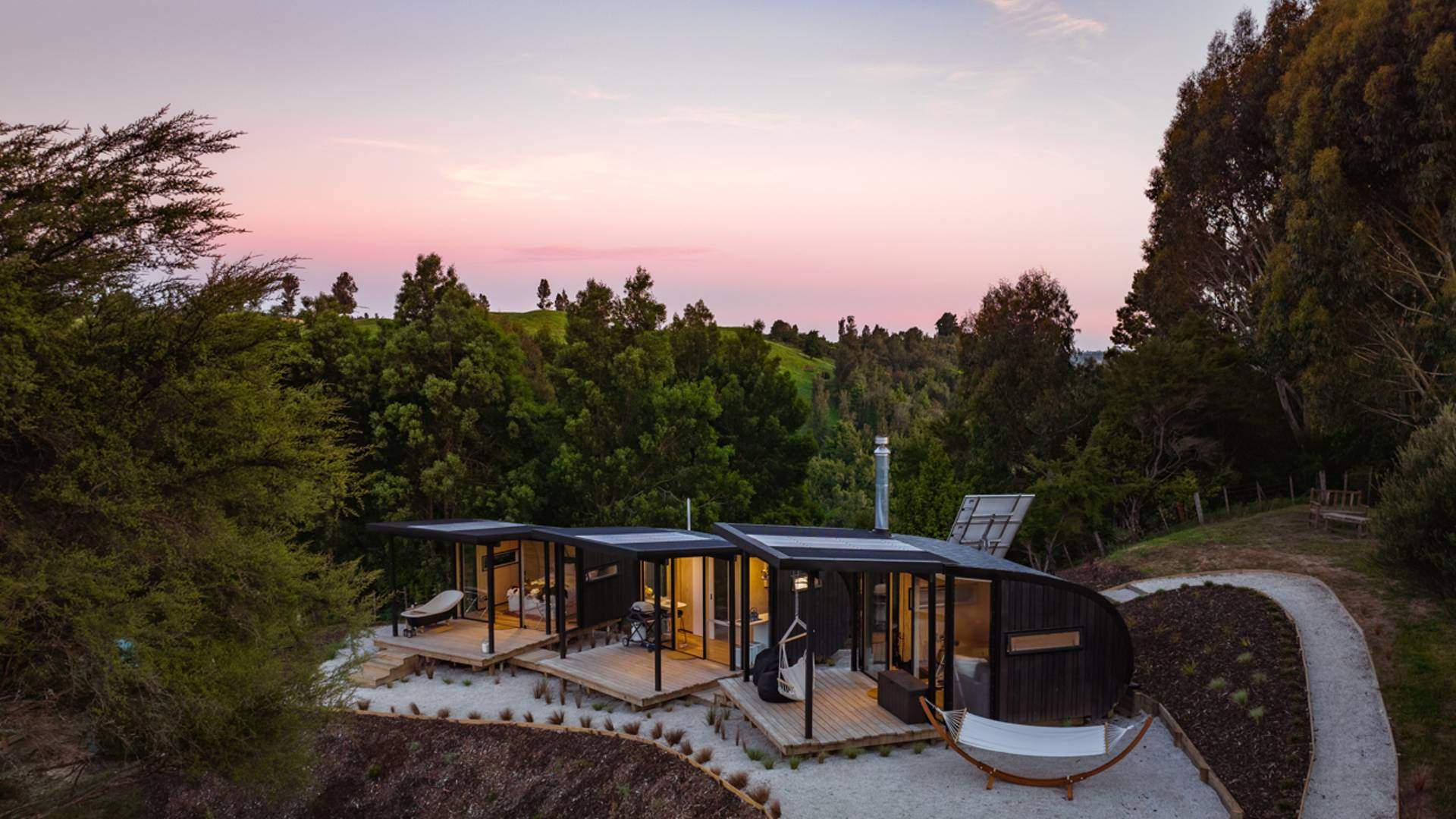 STAY
If you're looking for a romantic spot to soak up the views and just get away from it all, there are several glamping experiences nearby, including the stunning Kokako Retreat, 30 minutes from Rotorua. With an outdoor tub, firepit and epic sunset views, it's the perfect way to really feel like you've managed to escape from the city.
If you want to stay right in the heart of things — including a stone's throw from some of the aforementioned eateries — opt for the newly refurbished Pullman Rotorua. Rooms start from AU$170 a night, and the staff are extremely friendly and accommodating. The buffet breakfast each morning is worth a stay alone.

GETTING THERE
Rotorua is located in the Bay of Plenty region of New Zealand's North Island: a three-and-a-half-hour drive from Auckland and a five and half-hour drive from Wellington. Alternatively, there are breezy twice-daily 45-minute flights from Auckland Airport.
Feature image: The Polynesian Spa
Concrete Playground Trips
Book unique getaways and adventures dreamed up by our editors