Japan's Dazzling Digital Art Gallery Has Closed — But It'll Reopen in a New Tokyo Location in 2023
The dazzling teamLab base shut its doors at the end of August, but it'll be back in a different part of Tokyo next year.
Since opening in 2018, teamLab Borderless has been one of Tokyo's top tourist destinations, and with good reason. Dazzling, stunning, breathtaking, kaleidoscopic, worth a trip to Japan all by itself: all of those descriptions apply to the digital-only art gallery, which became the most-visited single-artist museum in the world during its first year of operation. But if it has been sitting at the top of your must-experience list for when Japanese vacations start getting easier, you'll still need to wait — because Borderless' Tokyo base is on the move.
Japan's border restrictions ease again on Wednesday, September 7, allowing tourists to enter the country for holidays even if they're not on guided tours — as long as they still book their travel package through a travel agent. A stop at teamLab Borderless won't be on the itinerary until 2023, however, with the original Tokyo site in Odaiba shutting its doors at the end of August.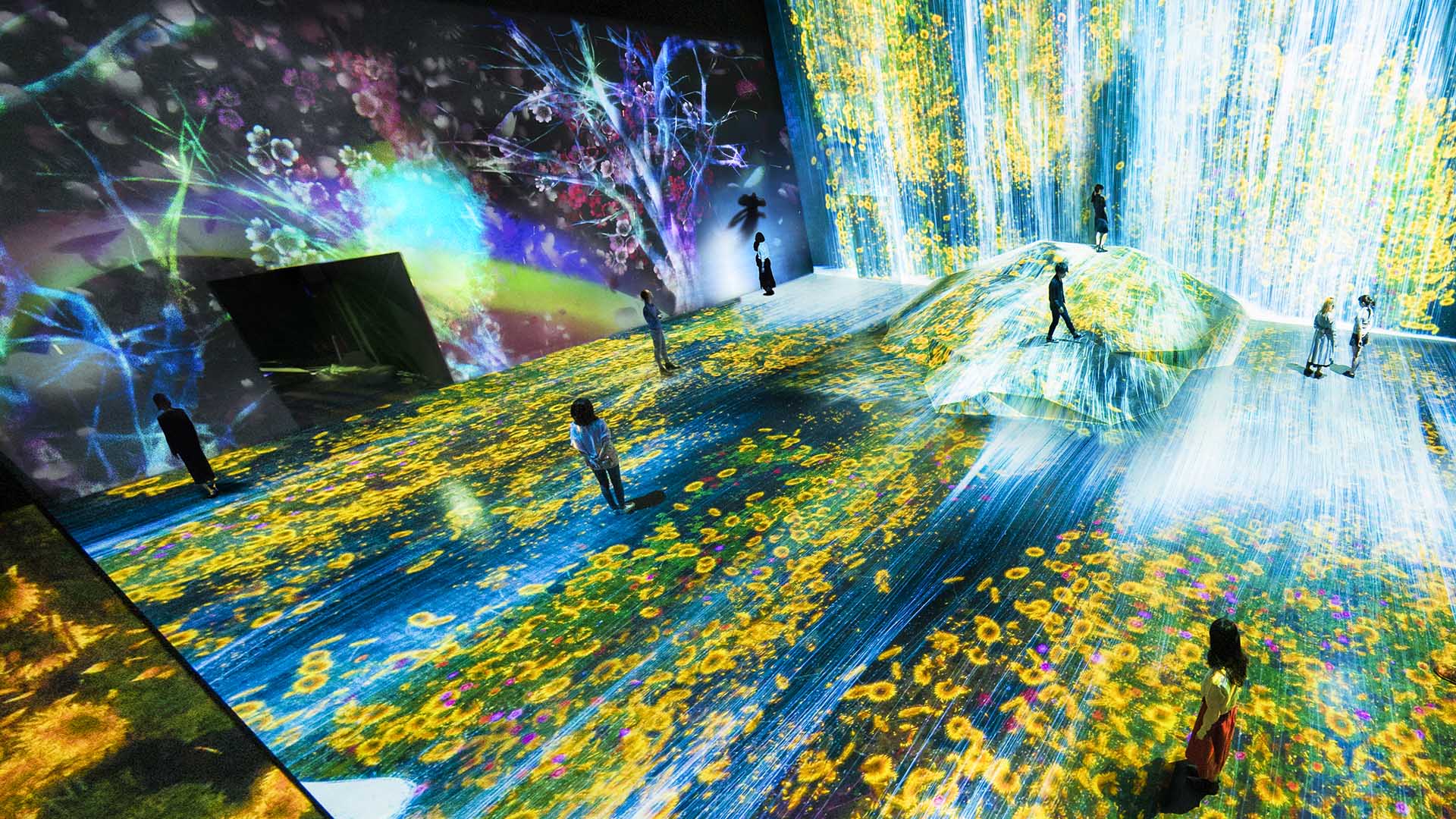 That's the bad news. The excellent news: at some point in 2023, teamLab Borderless will relaunch at a brand-new site. Instead of crossing over Tokyo's gorgeous Rainbow Bridge to get to it, you'll be heading to central Tokyo, where it'll form part of the new Toranomon-Azabudai project.
Those digs are only slated to be completed next year, so there's no exact opening date set for teamLab's new Tokyo Borderless museum — but the art collective has advised that the Toranomon-Azabudai location will let visitors "wander, explore, discover in one borderless world".
If you were lucky enough to mosey around the OG spot before the pandemic, you'll know that that's an apt description of the Borderless experience, where vibrant, constantly moving, always-changing interactive digital art keeps glowing and flowing before your eyes.
There's no word yet whether the same artworks will make the move over to the teamLab Borderless' new home, if old favourites will evolve in different surroundings, or whether fresh pieces will grace the walls, floors and every other surface imaginable — in Odaiba, that even included cups of tea.
A second teamLab Borderless has already been open in Shanghai since 2019, and others are slated for Jeddah in Saudi Arabia and Hamburg in Germany — both with a 2024 opening date. teamLab also has operates a different museum in Macao, and has its first teamLab Phenomena in the works for the Saadiyat Cultural District in Abu Dhabi, again targeting a 2024 launch.
As for the new Tokyo site, it'll still be a must on any Japanese holiday itinerary. Add it alongside the Super Nintendo theme park, Shibuya's famous scramble crossing, singing karaoke in a ferris wheel and wandering around the Studio Ghibli museum — and making a date with the animation house's theme park, which opens in November 2022.
teamLab Borderless Tokyo: MORI Building Digital Art Museum is relocating to the Toranomon-Azabudai Project, Tokyo, from sometime in 2023 — for more information, visit the museum's website.
Top image: teamLab, Exhibition view of teamLab Borderless: MORI Building DIGITAL ART MUSEUM, 2023, Tokyo © teamLab, courtesy Pace Gallery.
Introducing Concrete Playground Trips
Book unique getaways and adventures dreamed up by our editors