TRAVEL & LEISURE
Ten Places to Stay in NSW National Parks That Don't Involve Camping
Get into the great outdoors with the ability to retreat indoors to soft pillowy beds, claw foot bathtubs and open fireplaces.
Ten Places to Stay in NSW National Parks That Don't Involve Camping
Get into the great outdoors with the ability to retreat indoors to soft pillowy beds, claw foot bathtubs and open fireplaces.
---
You might like getting back to nature, but that doesn't mean you have to like wet tents, cold showers, blistering sun, flies, mosquitoes, ticks, midges, sandflies, red belly black snakes, brown snakes and spiders. Okay, okay, we hear you. And, luckily, so do the good folks at NSW National Parks. In fact, you'll find all kinds of accommodation options in national parks that don't involve canvas or pegs, yet surround you with trees, beautiful views and friendly wild creatures. Here are ten of the best.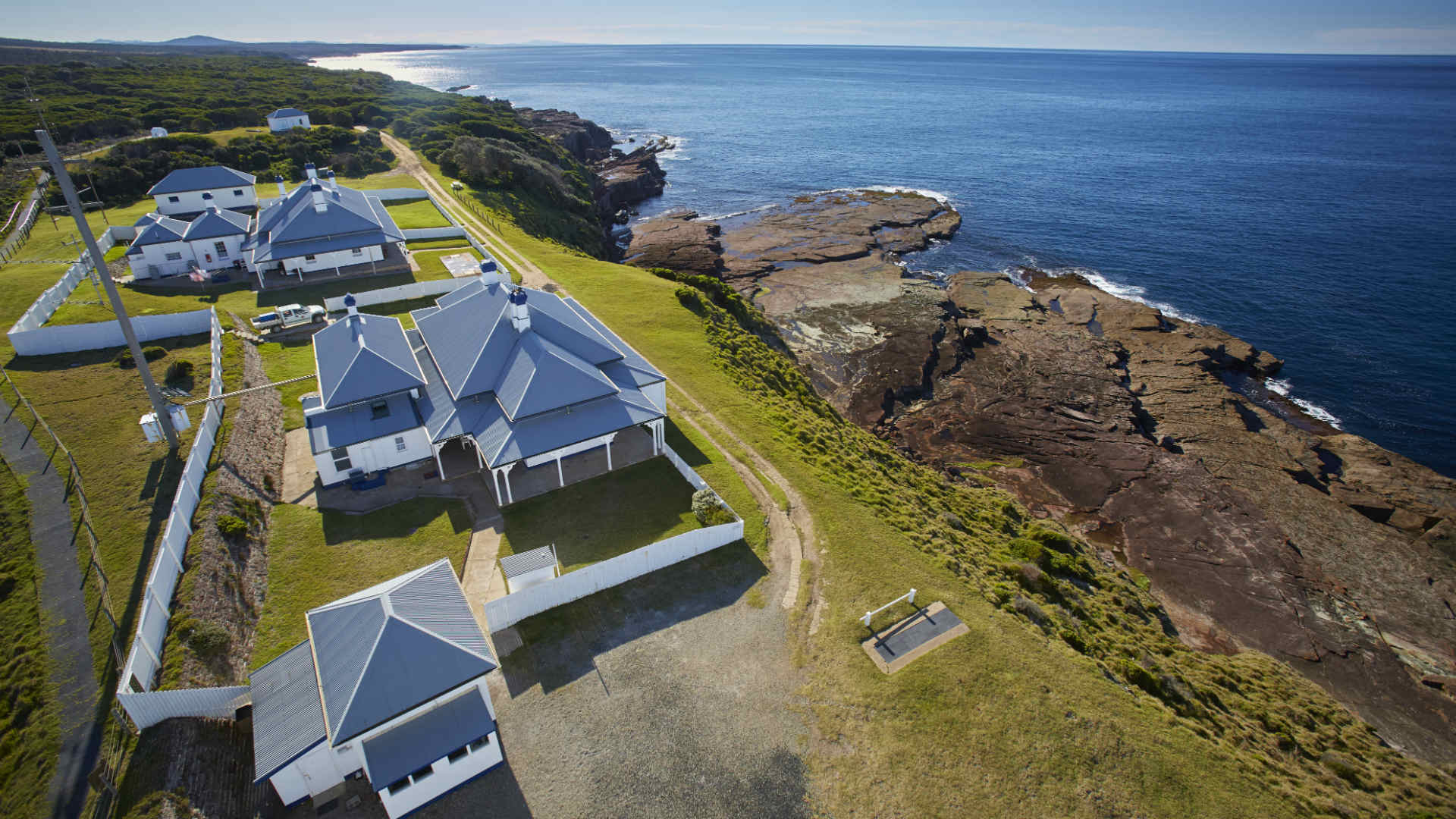 GREEN CAPE LIGHTSTATION KEEPERS' COTTAGES, MERIMBULA
Here's an opportunity to play lighthouse keeper for a weekend. You'll be watching out for ships from the southernmost lighthouse in New South Wales: Green Cape. It's about 500 kilometres south of Sydney, on the rocky northern peninsula of Disaster Bay (yep, there've been stacks of shipwrecks here), backdropped by Ben Boyd National Park. During whale watching season (May to December), you'll be astounded at the amount of humpback action, while coastal walks and secluded beaches will keep you busy during summer. The cottages comes with claw foot baths, open fires and shady verandahs overlooking the sea.
Where? Ben Boyd National Park. How much? $280–350 in peak season, and $250–325 off-peak per night. Book here.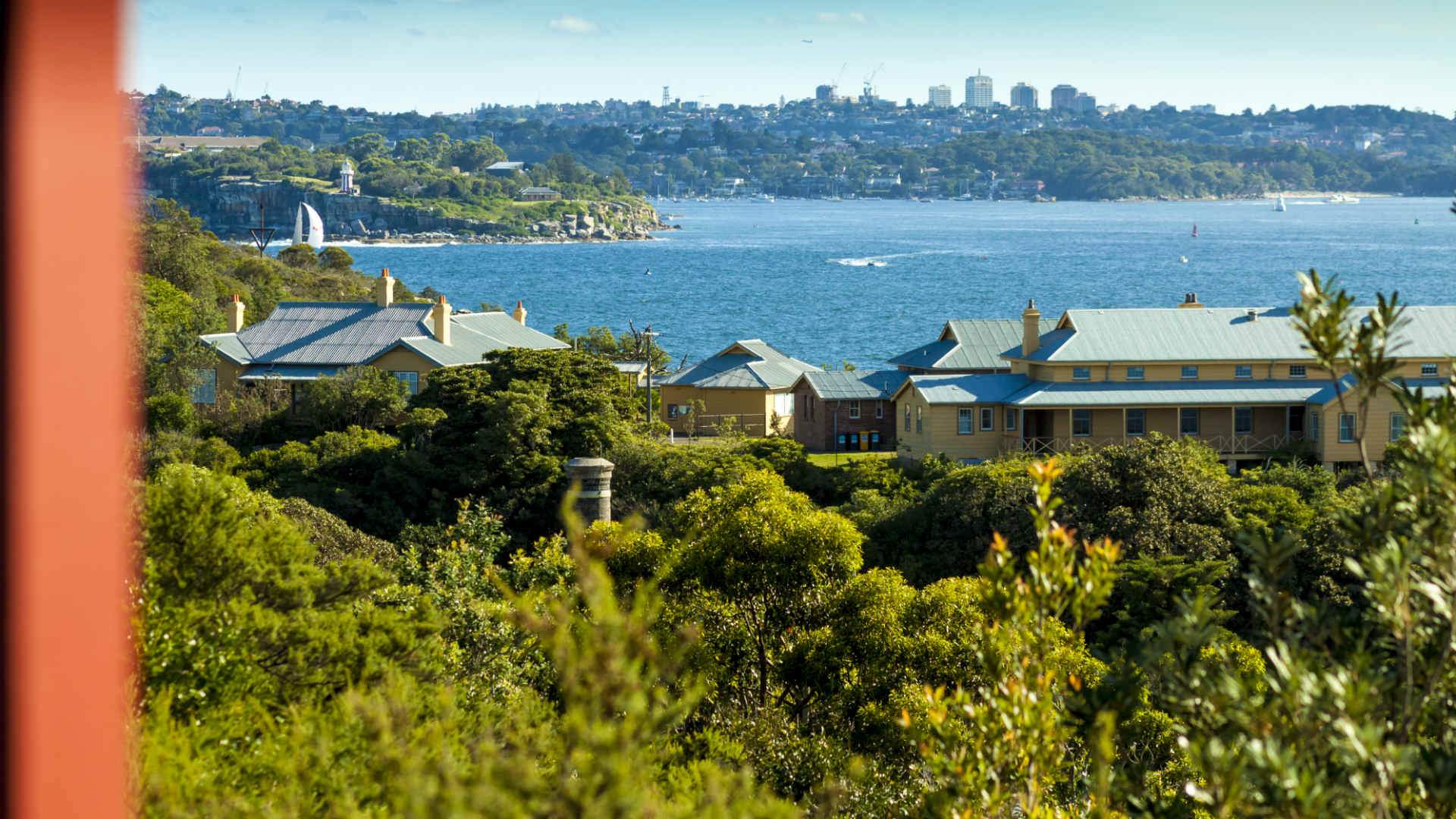 Q STATION, MANLY
Need trees, but don't have time to skip the city? Hop over to Manly's share of the Sydney Harbour National Park for a sleepover at Q Station. It gets its name from its former incarnation as the Quarantine Station. These days, the historical buildings, which are scattered over a slice of land overlooking Sydney Harbour, have been turned into fancy hotel rooms and suites. This is one of the most luxurious stays on the list — expect crisp white sheets, trendy design and a bunch of onsite restaurants with views. Beyond them, there are kayaks, guided tours, a cycle path leading to Manly, Quarantine Beach for swimming and snorkelling, and 30 hectares of bush.
Where? Sydney Harbour National Park. How much? $169–449 per night. Book here.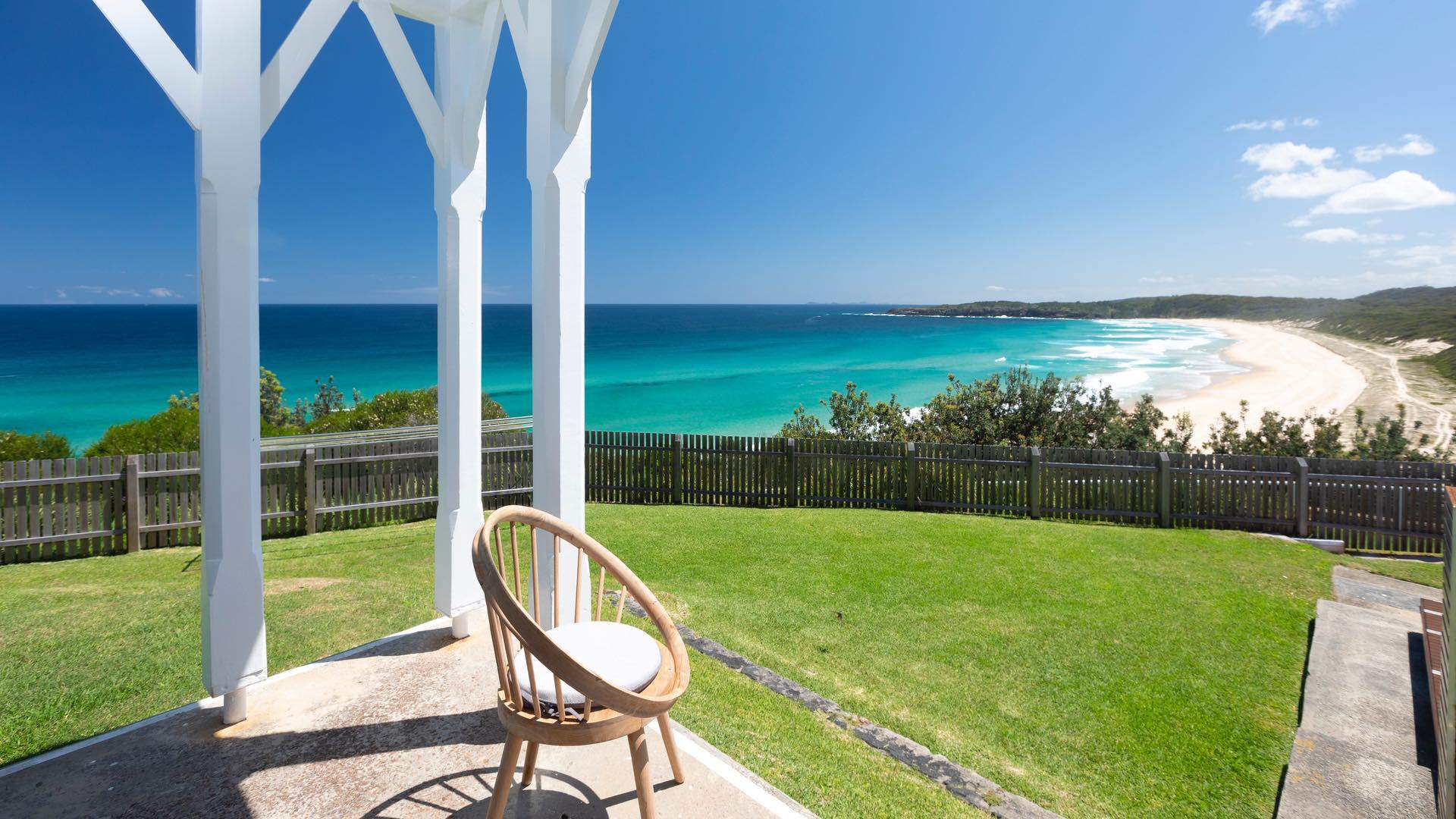 SUGARLOAF POINT LIGHTHOUSE KEEPERS' COTTAGES, SEAL ROCKS
The mid-north coast is home to some stunning beaches, and you can cop an eyeful of one of them at every waking moment at Sugarloaf Point Lighthouse. As at Cape Byron, the three lighthouse keepers' cottages have been transformed into accommodation — and have just re-opened after receiving a new lick of paint and some conservation improvements. The best part about this accommodation is undoubtedly the position on the headland, which afford views over the Pacific and, if you're lucky, some dolphins and whales. The head keeper's cottage sleeps eight and the two others sleep six each — you can rent out one or all of them, depending on your group size.
Where? Myall Lakes National Park. How much? $445–685 in peak season, and $360–610 off-peak per night. Book here.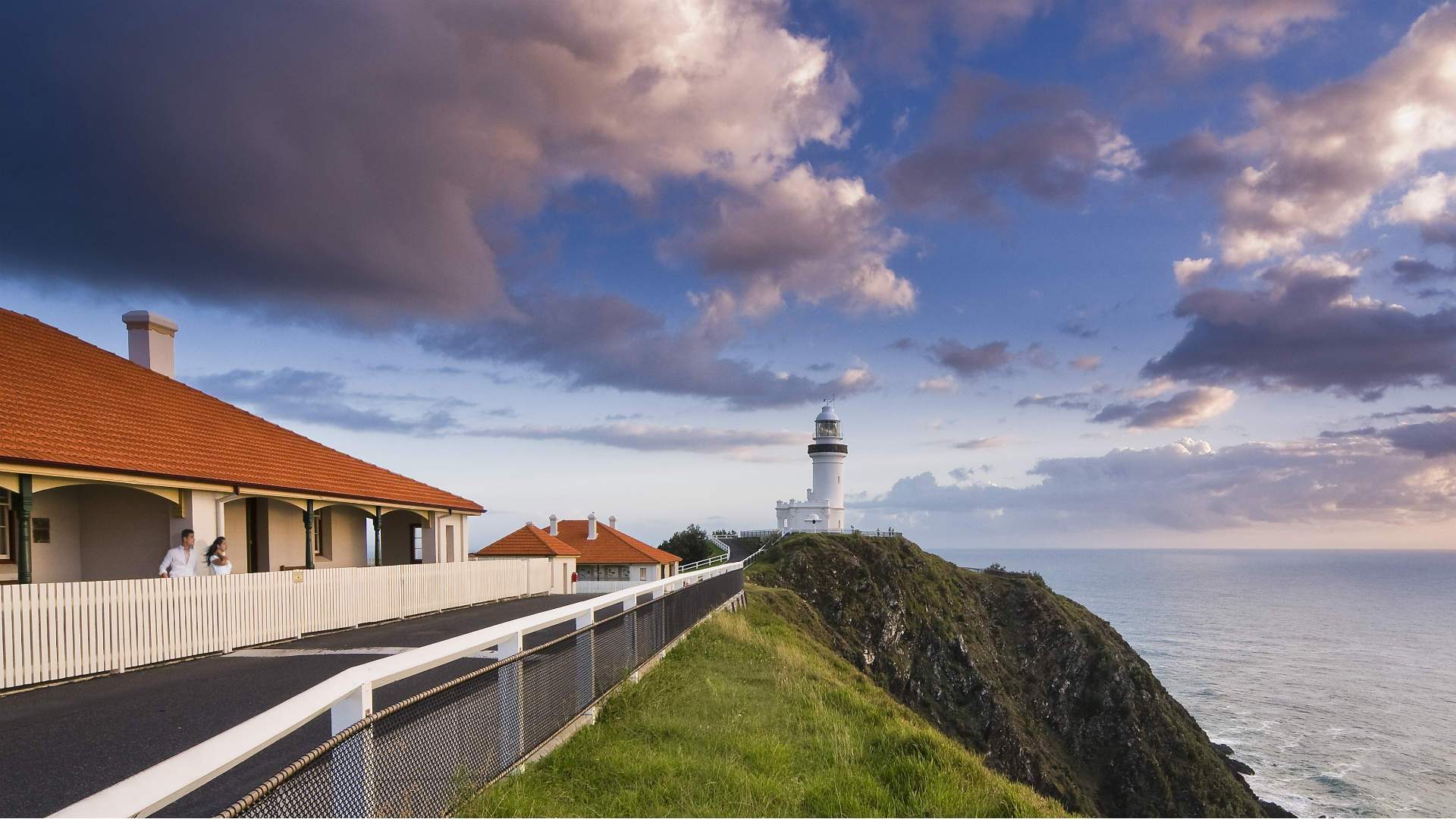 ASSISTANT LIGHTHOUSE KEEPER'S COTTAGES, BYRON BAY
Stay within sight of one of the state's most famous panoramas at Cape Byron's lighthouse cottages. Formerly the domain of the assistant lighthouse keeper, these heritage-listed dwellings, built in 1901, are now dedicated to public sleepovers. The period furniture helps you step back in time, but you can count on some mod cons, including a TV, a stereo, a barbie, a kitchen and a laundry. Wake up first thing to see Australia's sunrise before anyone else does — Cape Byron is the country's easternmost point. If you're looking for things to do in the area, check out our 48 hours in Byron Bay guide.
Where? Cape Byron State Conservation Area. How much? $420–1155 per night. Book here.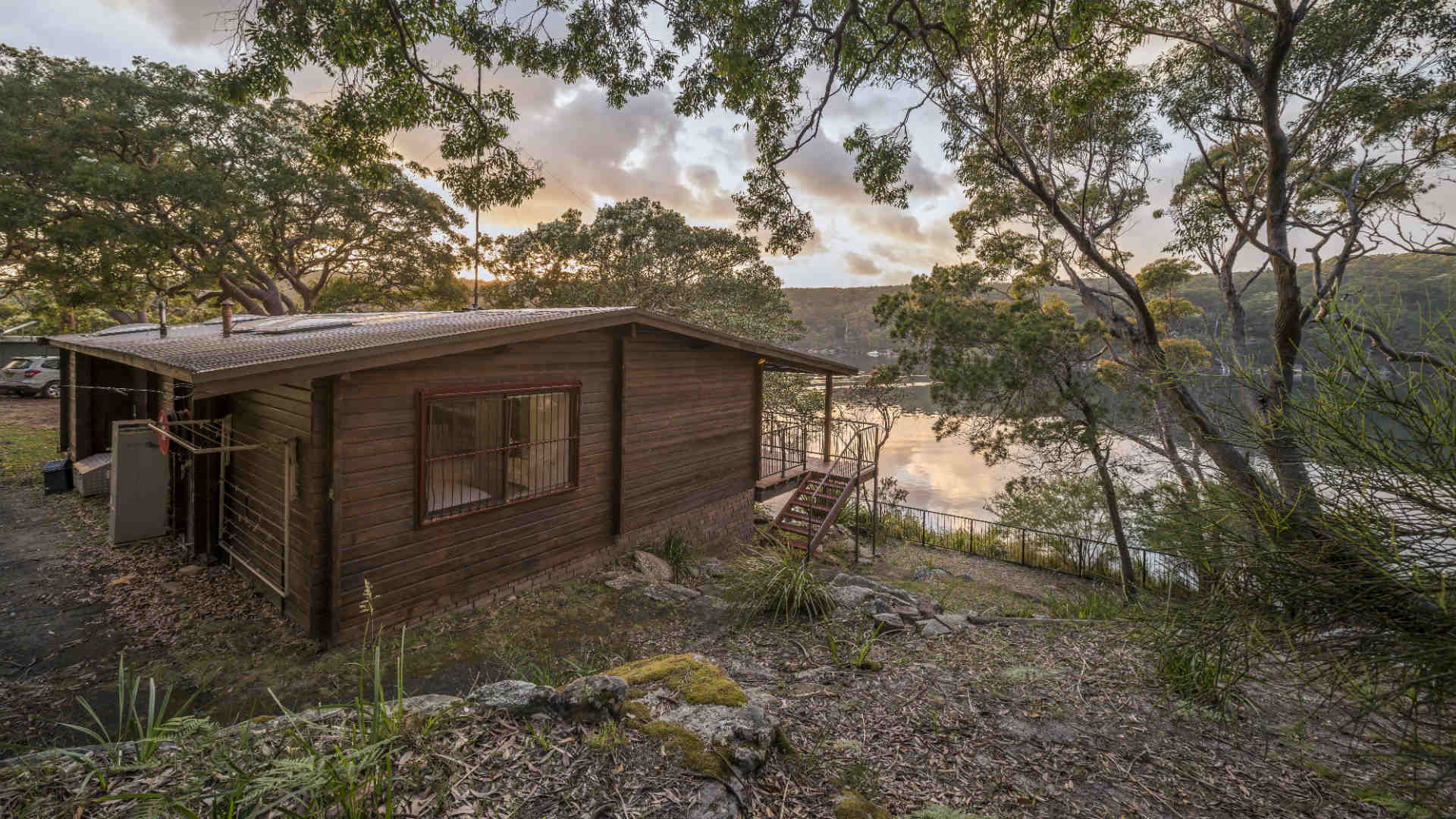 WEEMALAH COTTAGE, ROYAL NATIONAL PARK
Weemalah Cottage sits on the banks of West Arm Creek, a tributary of Port Hacking River and one of the wildest waterways in the Royal National Park. Commit your entire break to sitting on your private balcony with a beer in hand, watching the river roll by. Or, pack your kayak and get paddling upstream, where you're likely to meet sea eagles, deer, wallabies and, in the upper reaches, South West Arm Rock Pools – when the tide is running in your favour. Weemalah has three bedrooms with room for six guests.
Where? Ben Boyd National Park. How much? $400–500 in peak season, and $250–400 off-peak per night. Book here.


BIG YANGO HOUSE, BULGA
This spacious homestead sits on what were once grazing pastures at the foot of Mount Yengo, about two hours west of Lake Macquarie. There are beds for eight spread across three bedrooms, plus a cabin where another five can get cosy. Spend your time visiting ancient Aboriginal rock art on the Finchley Cultural Walk, gazing at Wollemi wilderness from Mount Yengo Lookout or conquering a 43-kilometre stretch of the Old Great North Road on your bike. The house isn't available between November and February, but, come winter, Big Yango's fireplace and oversized couches will keep you warm.
Where? Yengo National Park. How much? $250 per night for the house, and $50 for night for the cabin. Book here.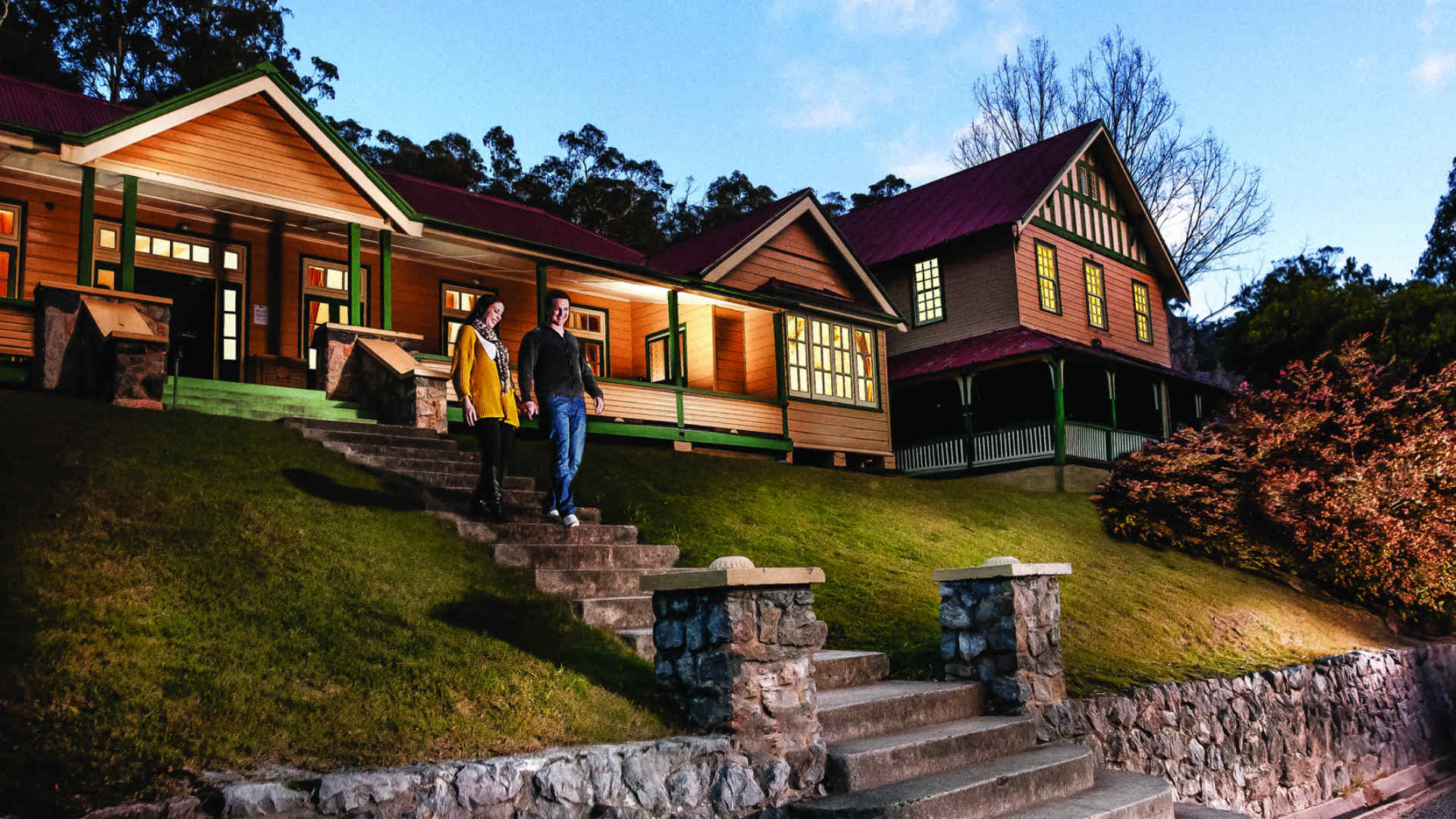 YARRANGOBILLY CAVES HOUSE, SNOWY MOUNTAINS
This grand heritage house, built in 1917, is in Yarrangobilly Valley in Kosciuszko National Park, just a stumble away from Yarrangobilly Caves and an above ground thermal pool. Even in the deepest, darkest depths of winter, you'll be swimming in 27-degree water. If you're travelling with 23 friends, then take over the entire place; otherwise, book a queen or king room with or without an ensuite. Either way, you can count on a touch of luxury. In between caving and swimming, head out for bush walks and kick back on the verandah, getting lost in mesmerising views.
Where? Kosciuszko National Park. How much? $145–390 per night. Book here. 

MYER HOUSE, SOUTH COAST
This stunning house is the work of architect Sir Roy Grounds, who also designed the National Gallery of Victoria, the Melbourne Arts Centre and the ANU's Botany Building. It's perched on pristine Bithry Inlet, which runs into Wapengo Lake in Mimosa Rocks National Park, about 400 kilometres south of Sydney. Floor-to-ceiling windows maximise your views and four bedrooms provide lodgings for up to 12 guests. When you're not lazing about, smash out a game of tennis on your private court and get to know the park's many untouched beaches, bays and walking tracks. Catch is that you have to book for a whole week.
Where? Mimosa Rocks National Park. How much? $5000 in peak season, and $2350 off-peak per week. Book here.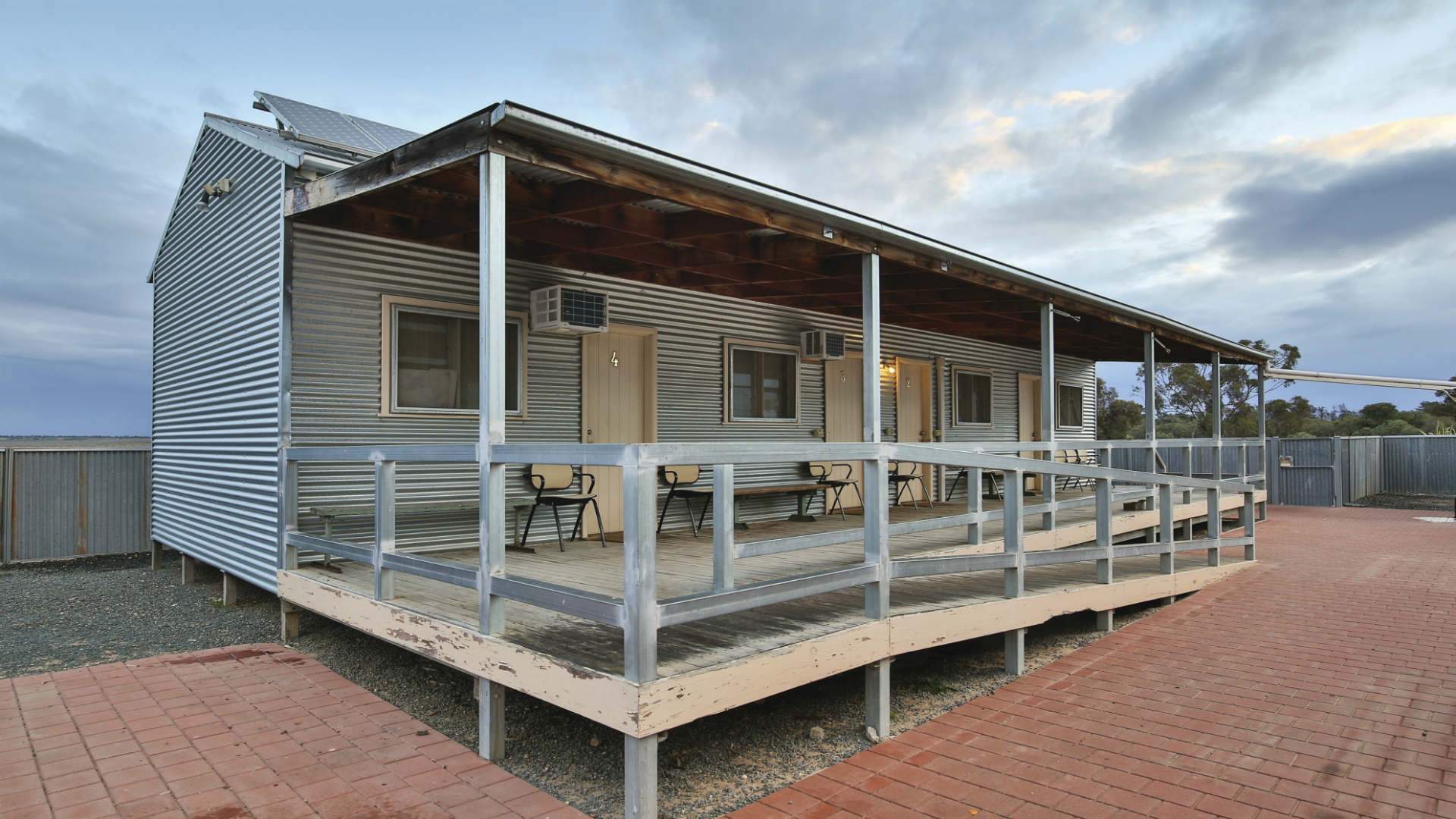 MUNGO SHEARERS' QUARTERS, NEAR MILDURA
At Mungo National Park, you can experience old-school shearing life with a sleepover in the Mungo Shearers' Quarters. The park, which you'll find due west of Sydney, was (in part) a sheep station before being turned over to public use. Take a guided tour of the spectacular Walls of China with an Aboriginal ranger, set off on a self-guided drive tour and wander around Lake Mungo, home of the famous Mungo remains. The quarters give you a choice of bunk beds, doubles and queens.
Where? Mungo National Park. How much? $60 per room per night. Book here.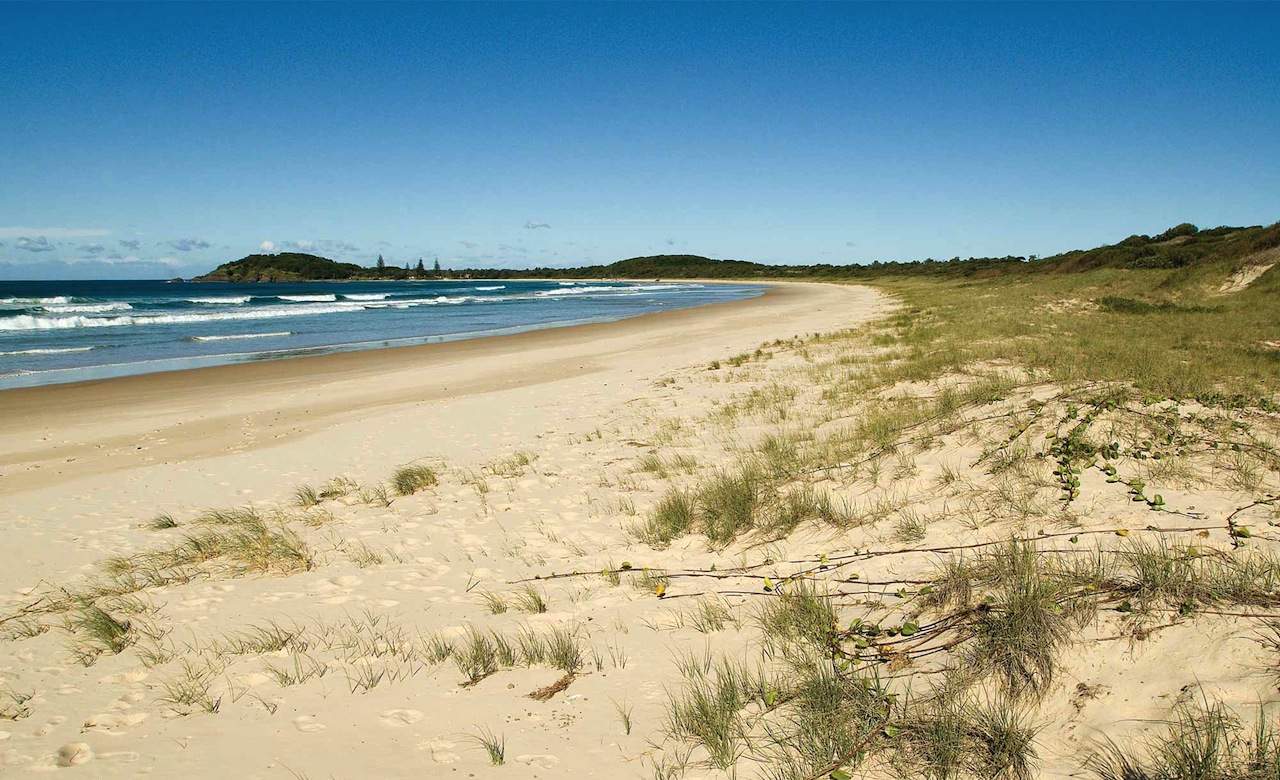 PLOMER BEACH HOUSE, NEAR PORT MACQUARIE
This laidback shack is surrounded by bush in the sheltered southern corner of Plomer Beach. There are four bedrooms, so feel free to invite your nine best mates along. When you're not lighting the barbie, drinking vino on the patio, swimming or snorkelling, go exploring in Limeburners Creek National Park. The 1.4-kilometre Big Hill Rainforest Track travels through coastal rainforest and, at sunset, you can expect to meet micro bats. Meanwhile, Port Macquarie is just an hour's drive south — take our handy weekender's guide with you.
Where? Limeburners Creek National Park. How much? $371 in peak season, $314 in shoulder season and $171 off-peak per night. Book here. 

All images supplied by NSW National Parks unless otherwise specified.
Published on January 06, 2019 by Jasmine Crittenden