The Ten Best Dog-Friendly Hotels in Sydney
Sydney spots where both of you can sit and stay.
The toughest bit about travelling is leaving behind your best friend — especially when that best friend is a loyal, loving, drooling ball of fluff that you have to trick into staying in a kennel, or a dog. Sick of those impossibly sad eyes wedging an enormous, immoveable lump in your throat? Can't do it anymore? Say goodbye to saying goodbye and take your puppy pal with you. These ten hotels in Sydney will roll out the red carpet for both of you — and give it a good scrub after you've checked out.
THE LANGHAM, MILLERS POINT
If your critter's within earshot and you're reading this aloud, you'd better whisper — if he/she hears it, you won't get any peace till you agree to a staycation at The Langham. Four-legged loves staying here get a dedicated Pet Room Service Menu, featuring dishes like Lassie's Favourite (beef steak with chunky vegetables) and, for cats, Meow Meow (grilled salmon with green beans, quail egg, tuna, potatoes and olives). We know. Plus, this deliciousness comes with plush beds, signature Langham bowls and gourmet goodies. Reckon you might need a break from your utterly indulged friend? No problem. Pet sitting and walking services are on-hand.
89-113 Kent Street, Millers Point; (02) 9256 2222.
PIER ONE, WALSH BAY
Pooches checking into Pier One won't be quite as ridiculously spoiled as those at The Langham, but nonetheless, they'll be greeted with their very own bed, bowl and toy ... not to mention all the harbour views. What's more, the hotel's staff are mad dog-lovers, so be prepared for enthusiastic showers of attention. Don't go getting jealous, now. Pet-friendly rooms come with direct access to the pier, so, when walk-time craziness hits, you'll merely have to open the door. The Rocks and Circular Quay are a waddle away, and, should energy levels reach exploding point, there's always nearby Barangaroo.
11 Hickson Road, Walsh Bay; (02) 8298 9999.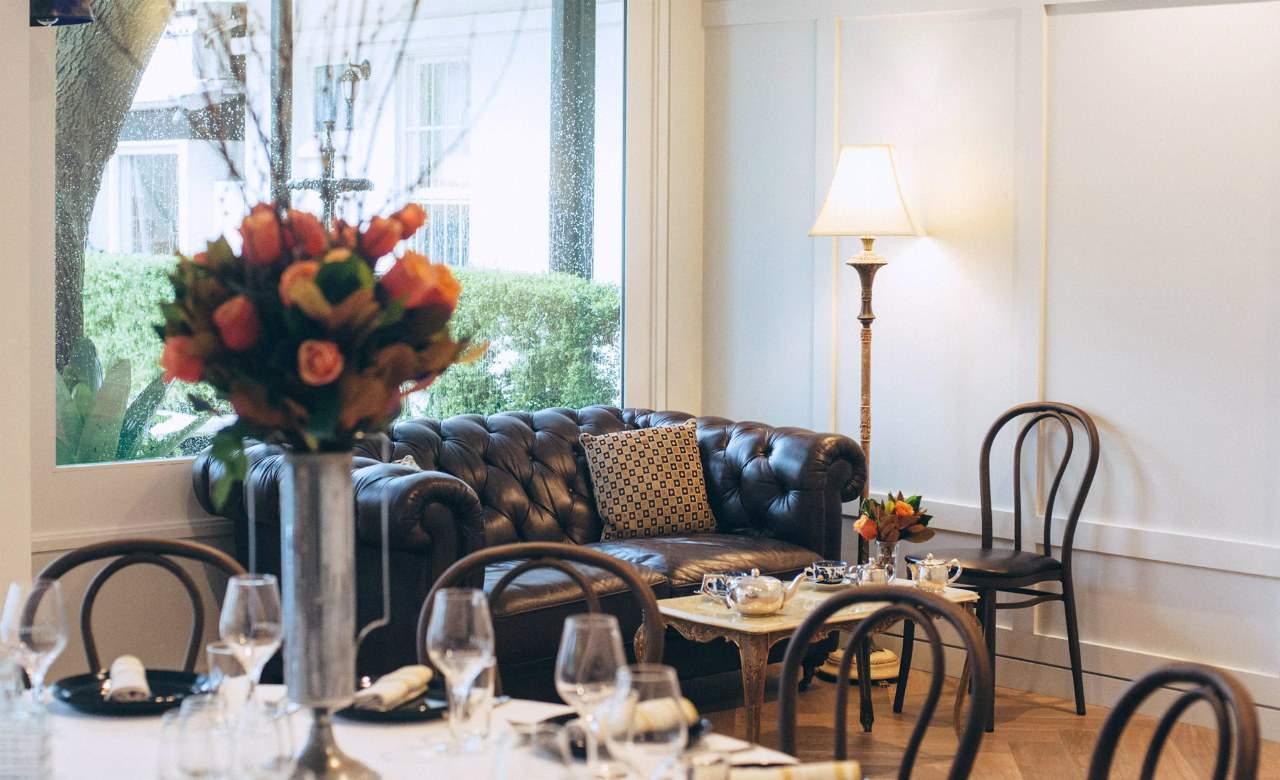 HUGHENDEN BOUTIQUE HOTEL, WOOLLAHRA
Take your fur kid on a trip into the Victorian era among the marble fireplaces, high-ceilinged dining rooms, antique furniture and spectacular staircases of The Hughenden. Built in the 1870s by the son of philosopher Barzillai Quaife, this 36-room mansion started life as a residence and spent some time as a dance hall and ladies' college before falling into disuse. In the early 1990s, the Gervay family came along and transformed it into a boutique hotel. Your dog can sleep in your room, join you at breakfast and take five at the Doggy Day Spa. Centennial Park is just across the road, so there are running and walking opportunities aplenty.
14 Queen Street, Woollahra; (02) 9363 4863.
SYDNEY HARBOUR BED AND BREAKFAST, THE ROCKS
See what your creature might have made of colonial times with a sleepover at Sydney Harbour Bed and Breakfast in The Rocks. It's housed in a 110-year-old, heritage-listed mansion, made up two former-boarding houses, flanked by majestic staircases. All rooms are decorated with handcrafted, 19th-century style furnishings and some come with excellent views of the Opera House and/or historical Long's Lane. There are only nine of them, so you can count on being made to feel spesh.
140-142 Cumberland Street, The Rocks; (02) 9247 1130.
MEDUSA HOTEL, DARLINGHURST
For design-conscious dogs, Medusa's the pick. This legendary, 18-room luxury hotel in Darlinghurst is decked in dramatic colours and patterns — from Yves Klein blue bed heads to polka dotted duvets to bright red feature walls. A select number of rooms on the ground floor are committed to canines. Unfortunately, your friend isn't allowed to jump in bed with you, but hanging out in the hotel's lovely, central courtyard is permitted, as long as you're keeping an eye on any waggy-tailed wanderings. Be sure to book a 'room with dog' at least 48 hours in advance.
267 Darlinghurst Road, Darlinghurst; (02) 9331 1ooo.
THE OUTBACK LODGE, MANLY
Treat your beast to a Manly weekender at The Outback Lodge. This family-run collection of apartments (and one cottage) is set on sprawling grounds, dotted with windmills. Inside, you'll be strutting about on karri timber floors (karri being a tall, fast-growing tree from Western Australia) and relaxing before marble fireplaces. Manly Beach is just a few minutes walk away and there are several off-leash spots in the area, which you'll find over here. Let the owners know in advance that you're travelling in company, so they can book dog-friendly lodgings for you. Looking for the best places to eat, drink and hang out in Manly? Check out our weekender's guide.
5 Smith Street, Manly; (02) 9976 0414.
LARMONT SYDNEY BY LANCEMORE, POTTS POINT
Previously known as the Diamant Hotel, the Larmont is tucked away behind Kings Cross's famous Coca Cola sign. The Lancemore Group took over in December 2015 and spent a year giving the 76 rooms a massive revamp, so they're now sparkling like new. Your furry friend can roam the common areas and snuggle into your king-sized bed, watching Marley and Me on the 42-inch plasma TV. Whether or not you're willing to share the in-room iPad is up to you. You're the master, after all.
14 Kings Cross Road, Potts Point; (02) 9295 8888.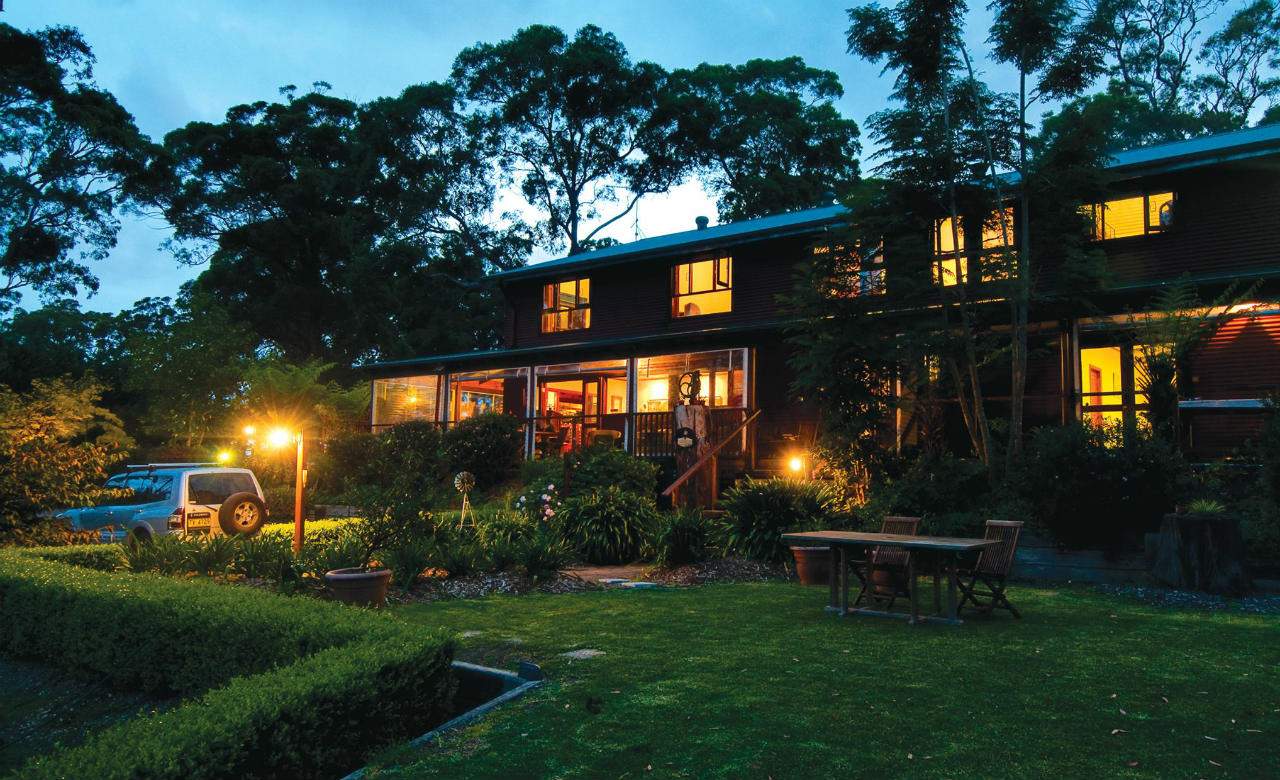 BILPIN SPRINGS LODGE, BLUE MOUNTAINS
With autumn here, it's time to think about a Blue Mountains getaway. If your fave buddy is part of your plans, book a room at Bilpin Springs Lodge. There are ten massive acres of gardens, farms and bushland, providing stacks of space for wandering, frolicking and roping other guests into a game of fetch. Dogs also score their very own kennels, available in small, medium and large sizes. Meanwhile, you'll be kicking back in the outdoor spa, getting cosy in front of the fire, testing out your paddling skills and/or playing a bunch of indoor games, including chess, pool, ping pong and basketball.
46 Bilpin Springs Road, Bilpin; (02) 4567 0300.
GLENFERRIE LODGE, KIRRIBILLI
For a budget stay, this place, which has operated as a hotel since 1923, punches well above its weight. And you and your puppy pal can travel there by ferry! Glenferrie is just an eight-minute walk from Jeffrey Street Wharf, on a leafy street around the corner from Kirribilli House. It's in a 19th century, heritage-listed building, but rooms have been glammed up to meet modern expectations and the breakfast, served on the balcony, is a home-cooked feast. Let reception know in advance that you're bringing a pet — they'll make sure you're booked into a courtyard room.
12A Carabella Street, Kirribilli; (02) 9955 1685
LE PETIT PALAIS VILLAS, PICTON
For francophile hounds, Le Petit Palais offers a side-trip to France without the expense (or sedation or quarantine hassles) of a long-haul flight. There are two villas, both built and decorated in French provincial style, complete with naturist statues, canopied beds, premium quality linen from France, clawfoot baths, private spa rooms and a European sauna, powered by burning wood. Should you get to feeling a little Monet, you're welcome to flex your art muscle in the courtyard. Don't forget the champagne.
150 Mitchell Road, Thirlmere; (02) 4681 8239.
Top image: Jarrad Seng/Pier One.