Sydney's Best Dog-Friendly Bars, Restaurants and Cafes
All of your friends — most importantly, those furry ones with four legs — are welcome at these friendly haunts.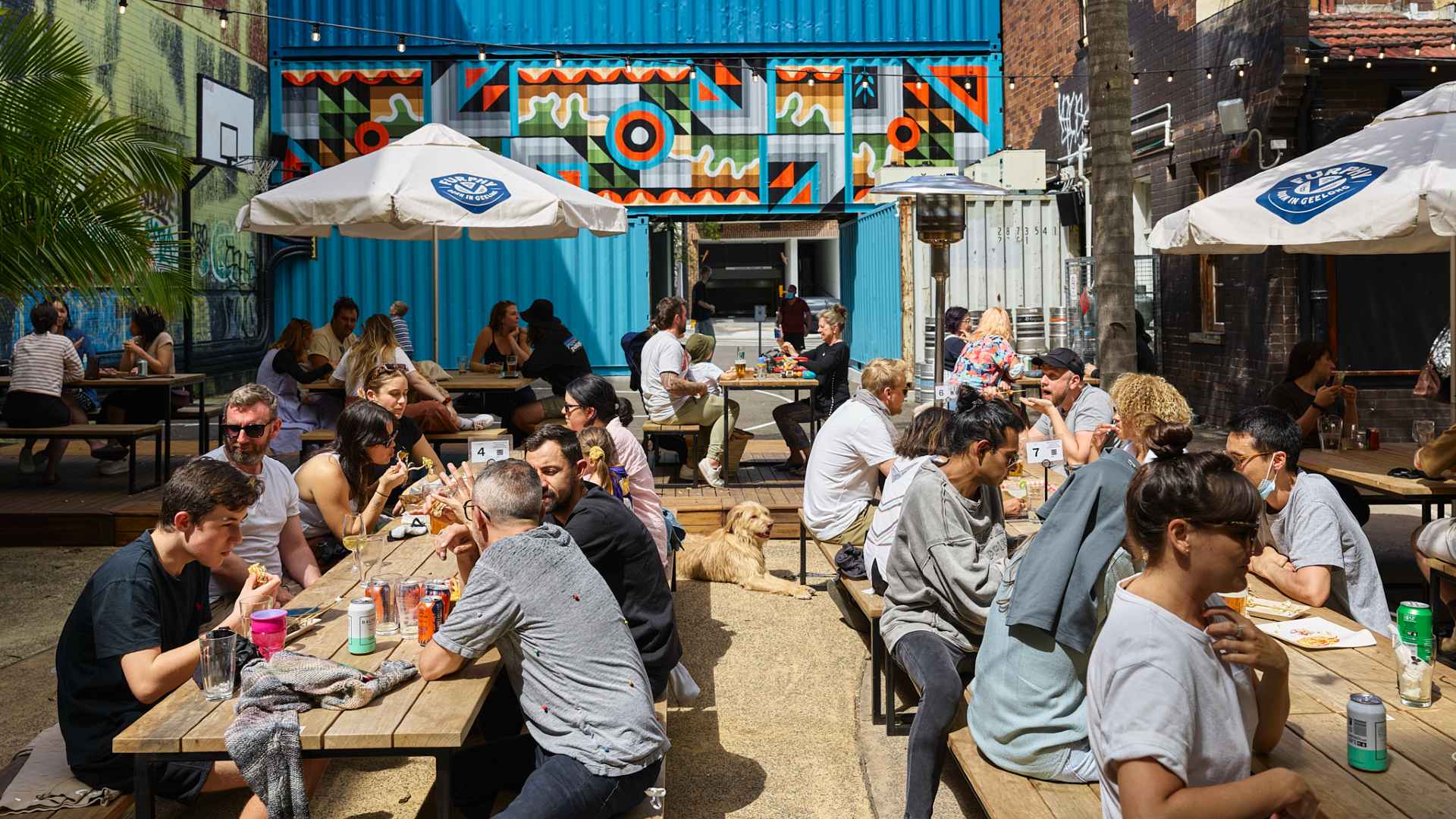 An afternoon spent in a big Sydney beer garden with your mates is most definitely an afternoon well spent. There will be laughs, possibly a few jugs or bottles emptied, some good food and (hopefully) plenty of sunshine. But the most important thing is spending time with your buddies — all of your buddies. You wouldn't leave Dave at home would you? Or Sarah? Think how devastated they'd be if they found out you hadn't invited them.
Your best friend — aka human's best friend — would also get seriously hurt feelings if left at home, so the trick is to choose a venue where Rover is welcome, grab him a dish of water and sneak him a couple of bites of nachos under the table. Or even order him a meal of his own — you can do that at many of these spots (yep, some of them have dedicated canine menus).
Image: Naked Brew
Food & Drink

This fan-favourite New Zealand coffee roaster has just opened its first Sydney cafe and roastery.

Food & Drink

This family-run King Street bar is serving up za'atar margaritas, lamb mince hummus and an array of Mediterranean eats.

Food & Drink

Located inside Hawke's Brewery, this neighbourhood pub harks back to pubs of the 1980s and serves an Australian-Chinese bistro menu with deep-fried Viennetta.

Food & Drink

This south Sydney cafe trades the coffee cups for wine glasses and sandwiches for tacos, turning into a wine bar two nights a week.

Food & Drink

This iconic Sydney pub returns with an expansive beer garden.

Food & Drink

This inner west stalwart has reopened three years after being torn down by a fire and now features a dog-friendly courtyard and a bistro fitted with a woodfire oven.

Food & Drink

A beloved local cafe along Sawtell's fig tree-lined shopping strip.

Food & Drink

This rooftop cocktail bar above The Taphouse is serving a variety of hard seltzers, plus orange wine by the glass.

Food & Drink

Head here for freshly baked croissants, long-fermented sourdough breads and top-notch coffee.

Food & Drink

Low-sugar baked goods and unexpected brunch dishes await at this Crows Nest cafe.

Food & Drink

Visit Brookvale's local taphouse for award-winning brews, live tunes and cheap eats.

Food & Drink

This new-look Enmore Road mainstay has vegan pub eats, 'Big Buck Hunter' and picklebacks aplenty.

Food & Drink

A Potts Point hole-in-the-wall slinging A-plus sandwiches.

Food & Drink

Try specialty coffee, single-origin Ecuadorian hot chocolates and sour cherry bagels inside an old confectionery warehouse.

Food & Drink

A Potts Point eatery with pan-Asian food and free snacks for dogs.

Food & Drink

A parkside cafe with a picnic-appropriate menu and A-plus coffee.

Food & Drink

The Grounds is innovative, idealist and a little bit chic — in the best possible way.

Food & Drink

The Erskineville pub has a new look and a new menu of craft brews thanks to the Gurdys team.

Food & Drink

This historic pub has been given a new name and dog-friendly courtyard.

Food & Drink

This Woolloomooloo pub has award-winning chef Anna Ugarte-Carral in the kitchen and natty wines behind the bar.

Food & Drink

Brews inspired by the dubious characters of colonial past.

Food & Drink

This Petersham pub has reopened with a leafy beer garden and focus on craft beer.

Food & Drink

A millennial pink, Miami-inspired 'shake shack' on the northern beaches.

Food & Drink

An Australiana-themed bar with cocktails in cans and a taxidermy ibis.

Food & Drink

It's all in the details at this cafe hidden inside a warehouse in the backstreets of Leichhardt.

Food & Drink

A beachside bakehouse and specialty coffee shop from the guys behind Showbox Coffee and Butter Boy Bake.

Food & Drink

This northern beaches distillery makes gin from kelp and sea parsley — and you can try it at its bar three days a week.

Food & Drink

A 100 percent vegan (and dog-friendly) taproom and restaurant.

Food & Drink

This old Marrickville gem has been given the full Merivale treatment and it's totally working it.

Food & Drink

A firm Marrickville favourite for breakfast, brunch and lunch.

Food & Drink

This Erskineville cafe serves coffee and brekkie — and doggy-chinos and doughnuts for your dog.

Food & Drink

Neon, pastels, good coffee and great cocktails abound at this Waterloo spot.

Food & Drink

A second outpost for the team behind one of Newtown's busiest (and best) brunch spots.

Food & Drink

Chippendale's multifaceted bar can satisfy your morning caffeine fix and your late-night margarita craving.

Food & Drink

Pay a visit to Marrickville's barrel-aged wild beer brewery and bar.

Food & Drink

Once a gemstone processing facility, now a local restaurant with a cosy fire, craft beer and a pooch area.

Food & Drink

The three-tiered Darlinghurst pub gets a new life with an upstairs sports bar and rooftop terrace.

Food & Drink

Marrickville's most sustainable cafe expands to Annandale.

Food & Drink

This big, bright outpost of a Bronte fave brings farm-to-table ethos and darn good coffee to Rosebery's up-and-coming food precinct.

Food & Drink

This cafe has a strong emphasis on community, sourcing produce and drinks from local businesses.

Food & Drink

This dog-friendly local is now all 'bout American barbecue.

Food & Drink

Drinking classy means having a 'champagne bell' alert the waitstaff when your glass gets empty.

Food & Drink

One train station cafe that's very worth your time.

Food & Drink

Across from the Seymour Centre and hidden just out of view from the hustle of Cleveland Street is a real quacker of a pub.

Food & Drink

An ex-dive bar is revived — and the best bit is that there's no novelty theme to fall back on.

Food & Drink

Stripy umbrellas, schoolyard benches and tres cute Breton-striped waitstaff add to the beachside charm.

Food & Drink

Yes, on the weekends you'll be hard pressed to bag a seat straightaway, but it's definitely worth waiting it out.

Food & Drink

A Surry Hills pub with one of the best courtyards in town.

Food & Drink

The unpretentious, grungy gem of Newtown with one of the finest outdoor courtyards in Sydney.

Food & Drink

Known more intimately as the Crix, this is the kind of local that will make you want to move into the area.
Tap and select
Add to Home Screen
to access Concrete Playground easily next time.
x