TRAVEL & LEISURE
You Can Now Hike This Illuminated Night Walk Through the Katoomba Falls Reserve
No sunscreen required for this new 1.3-kilometre Blue Mountains walk.
Daylight savings might be wrapping up soon, but at least that diminishing sunlight needn't affect your Blue Mountains hiking plans. That's because the long-awaited Katoomba Falls Night-lit Walk is finally completed and open to the public, offering punters a stunning 1.3-kilometre nature hike that's best enjoyed after the sun goes down.
Winding through the leafy Katoomba Falls Reserve, the trail is illuminated by over 400 energy-efficient LED lights, serving up dazzling nighttime views of landmarks like Katoomba Falls, Orphan Rock, Witches Leap and the Three Sisters. Small lights have been used along the footpaths, with thirteen giant floodlights beamed onto the trail's main natural focal points. And if that's not the most romantic date-night stroll ever, we don't know what is.
Blue Mountains City Council, which helmed the project, said it had undertaken extensive planning in order to minimise light pollution for the area's wildlife and local residents. Not only was the lighting specifically chosen to limit impact on the environment, but it's helped to tip the Reserve's total energy load well below what it had been originally. The Council also hopes to become carbon neutral by 2025.
The lights all come on at dusk and you've got plenty of time to enjoy the sights each night, before the floodlights are switched off at 10.30pm and the smaller ones shut off at 11pm.
The nighttime trail has been six years in the making, with the December 2019 bushfires and last year's flooding both putting a significant halt on the project.
Want to make a trip of it? Check out our weekender's guide to the Blue Mountains.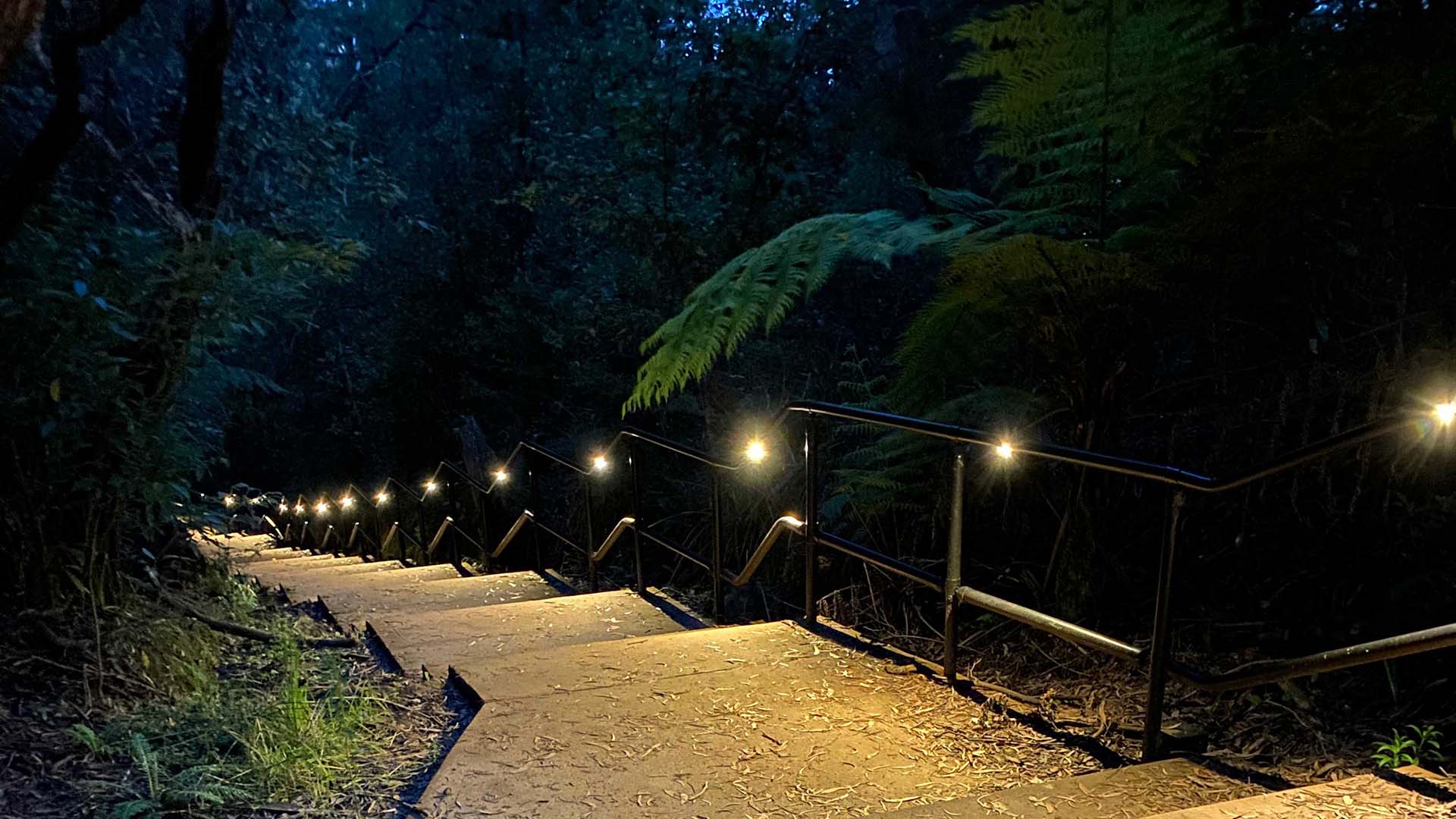 For more details on the Katoomba Falls Night-lit Walk, jump over to the website. All the walk's lights turn on at dusk, with the floodlights turned off at 10.30pm and the path lights at 11pm.
Images: Blue Mountains City Council and Sky Photography
Published on March 11, 2021 by Libby Curran