FOOD & DRINK
The Ten Best Pizza Joints in Wellington
Our slice of advice to find the best pizza in the city.
The Ten Best Pizza Joints in Wellington
Our slice of advice to find the best pizza in the city.
---
Whether it's folded, cut with a knife and fork, or rolled like a greasy cigar, it's good. Whether it's Neapolitan or New York style, it's still good. Yes even when it's a crispy thin crust, or fluffy and elastic, it is so very, very good. Whilst there will forever be a debate on the best type of pizza, no matter your style, Wellington has the pizza for you. Here's our slice of advice to find the best pizza in the city.

Sitting upon the other end of the harbour, no matter the traffic, La Bella is well worth the journey. This trattoria is famed particularly for its authentically delicious dishes and unrivalled market place for imported Italian goods. The folks at La Bella unabashedly know they are one of the best, and those talents are recognised internationally. Particularly of fame is the Bravo Gubello — marinated king salmon, mascarpone and baby spinach — deservedly awarded as one of the top ten pizzas in the world. However, if salmon is not the way you swim, there are plenty of options with the high quality imported ingredients. If you want to find out more, they share some of their culinary secrets in monthly cooking classes. Simply, they live up to their name and show us the beauty of Italian cuisine.
10 Nevis Street, Petone.

The little legend of Leeds Street. Most of us were introduced to the Pomodoro through its neighbour, Golding's Free Dive. And yes, whilst nothing pairs better with pizza than fresh out of the tap craft beer, this pizza joint is its own stand alone success. Specialising in Neapolitan wood-fired pizza, it is internationally certified by the True Neapolitan Pizza Association — meaning, the actual Italian ancestry of pizza approves of this place. With such a huge menu and frequently rotating chef specials it's hard to make a choice. Personally, I urge you to try the Contadina — cream sauce, mozzarella, zucchini, artichokes, red capsicum and parmesan — topped onto the soft elastic base you know and love. The Fantasia option lets your imagination run wild, allowing you to craft your own signature pizza. When they also offer a reasonable delivery option across the whole city, it's hard not to make this a weekly routine. 
13 Leeds Street, Te Aro.

Most of us know Raglan Roast for filling some of our littlest streets with the heavenly scent of coffee. Whilst the coffee alone is more than enough reason to visit, the pizzas are the reason to stay. The menu itself boasts over 20 options, complete with a mix of traditional and unconventional ingredients for toppings. We highly recommend the Gebroni — beef brisket, blue cheese and spinach — like anything in life, the most simple things are the most enjoyable. There is also a decent range of vegetarian options that extend just beyond bread and/or cheese. If you want to get a little creative, try the Guwops pizza, which is completely customisable for your tastes  — and yes, they will let you add pineapple.
12 Holland Street, Wellington Central.

This cosy trattoria will entice you away from the hustle and bustle of Courtenay Place with its flaming wood fire and delicious plates. Not only does the location make it a great starting point for a night out, but the fast and friendly service will keep you coming back. The menu brings the classics of Naples as well as its very own specialities with pizzas like the Garibaldi — tomato, mozzarella, smoked ham, salami, spicy pepperoni, prosciutto di Parma, fresh basil and parmesan. A personal favourite is the Siciliana — tomato, buffalo mozzarella, grilled aubergine with fresh basil and parmesan — it goes down an absolute treat with the Amalfi salad. However, if you're more of a Ben Wyatt type, they also have some of the best calzones in the country.
30 Courtenay Place, Te Aro.

Whilst there is plenty of culinary competition on Cuba Street, Cin Cin has established itself as cosy corner of comestible delights. And yes, this place deserves such a poetically alliterative introduction. Cin Cin offers a simple menu of pizza, pasta and delightful desserts. Of course the pizza is the primary focus of the menu with both a ranges of tomato based and cheese based (white) options. A standout amongst them is the four seasons pizza, Quattro Stagioni, which is stacked with mozzarella, manuka ham, mushroom, artichokes, olives and oregano. For something different, we also raise our glasses to the Pera, which is a light mix of pear, mozzarella, rocket, gorgonzola and olive oil — a perfect choice no matter the weather.
156 Cuba Street, Te Aro.

The loyal locals are probably scanning through to see if Tommy made the list. Of course, we could not go past our local pizza heroes. Tommy is that reliable best friend that will help you out on a long night out or cheer you up on a chilly winter's day. With cheap, salty slices to go and fast delivery services, Tommy is always there to help. With a decent range to choose from, it's sometimes hard to go past the margherita. However, the current special, the Cauliflower Cheese, is perfect for these winter days with a generous serving buffalo mozzarella, cauliflower, cheesy béchamel and porcini breadcrumbs. Don't forget, if you want a more refined restaurant experience, you can find the same pizzas at Scopa. Like Scopa, Tommy Million's also serves the famous Gusto Cioccolato, otherwise known as that hot chocolate that so many of us Wellingtonians dream about — a perfect dessert after your slice.
105 Courtenay Place // 142 Featherston Street // Press Hall, 78A Willis Street.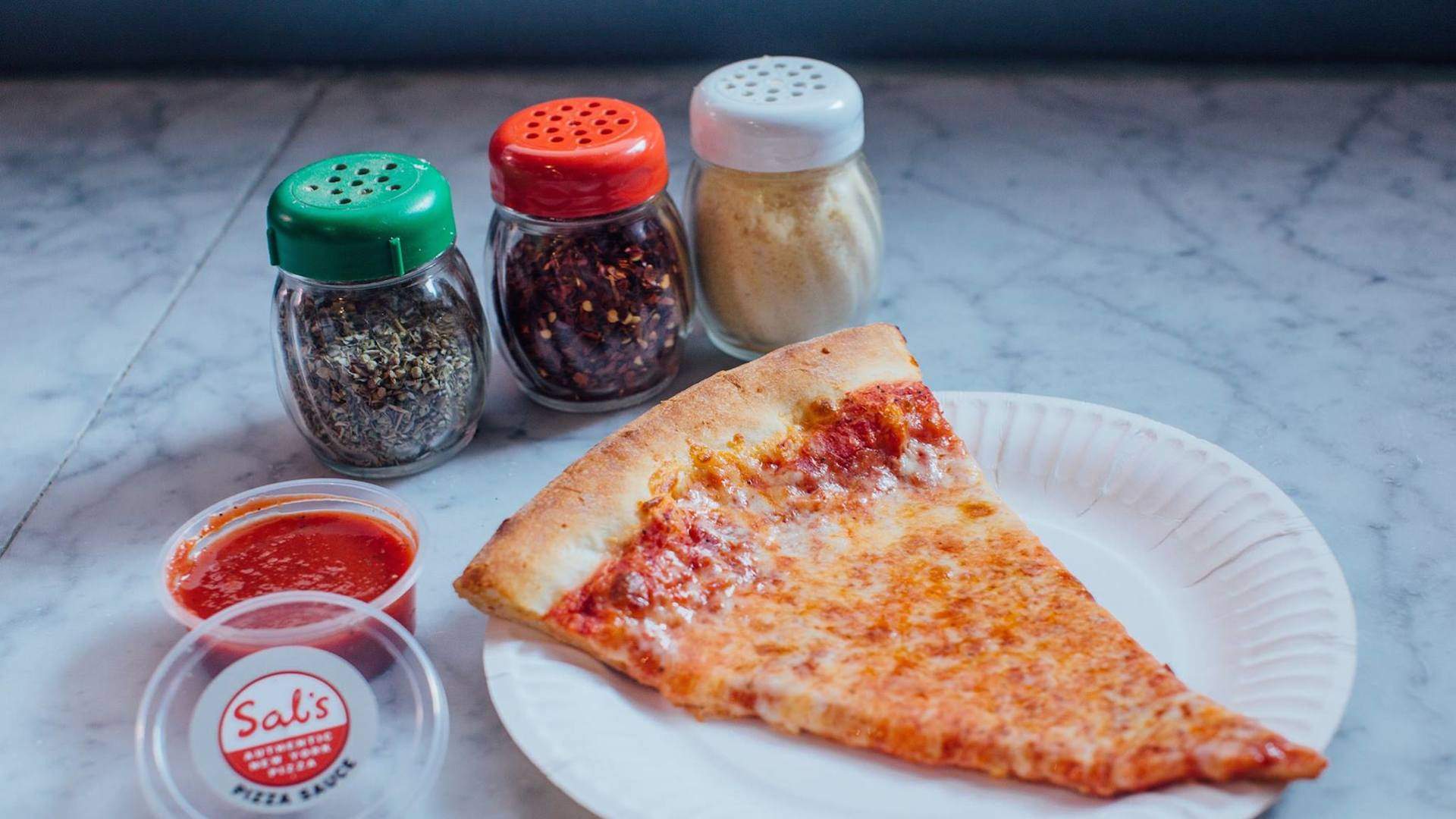 This Auckland favourite was recently delivered as the new kid on block of Cuba Street. Primarily, Sal's is celebrated for its simple and salty New York-style pizza, which it calls "pies". The menu is pretty simple with 11 different flavours to choose from. It's also good to remember you can order by the slice, the half, or just grab the whole thing. This option makes it easy to pick and choose everything you'd like to try. Amongst the list we suggest you gravitate toward the "legendary" list, where you will find the Buffalo, a breaded chicken bread pizza topped with blue cheese and buffalo sauce — doesn't get more American than that. If you're wanting something a little lighter but just as tasty, try the vegan Staten Island, which is topped with marinara sauce, capsicums, onions and olives. We also suggest you leave some room for their garlic knots, fried mozzarella sticks and perhaps a Ben and Jerry's ice cream to top it all off.
109 Cuba Street, Te Aro.

A long time resident of Blair Street, Fratelli has served high quality dishes to Wellington locals since 2009. Recently, the Fratelli team has also joined the new Willis Street Press Hall. Fortunately, for us this means it's easier than ever to get a slice of the good stuff. The pizza menu delivers the absolute classics of Napoli, without frills attached. Despite a simple menu, no one will miss out on the taste, as Fratelli famously caters Italian food for every stomach. For instance, each pizza can be made gluten free and/or vegan, even with the option to substitute in vegan cheese. For a little fire, we recommend the Diavola — an assortment of hot salami, onion, hot peppers, gorgonzola, basil and mozzarella atop tomato base. The smoky Salisiccia is also well worth a try — it's topped with garlic, semi dried tomatoes, pork and fennel sausage, chilli, kale and smoked mozzarella. Top the night off with one of Fratelli's tasty desserts and you'll be in for a treat.
15 Blair Street, Te Aro // Press Hall, 78A Willis Street, Te Aro.


This Newtown slice of heaven is a modern and fresh spin on the traditional trattoria. Offering not only a large tasty menu for every meal of the day, they also have an onsite marketplace, so you can try the flavours at home. Boy, do these folks go the distance in delivering you the flavour. Particularly, they make our Mondays so much better by the "pizza by the metre" specials. If you want something a little more rounded, they have the wide selection of both Rosse, tomato-based, and Bianche, cheese-based pizzas. For seafood fans, we highly recommend trying the Gamberetti, a soft based topped with garlic, zucchini, fresh chilli, shrimp and mozzarella. For something simply divine, try the Amatrice — basil, wine-braised onions, Italian cured pork and mozzarella. With such a great menu and friendly atmosphere, it's an easy choice for the Newtown locals.
42 Constable Street, Newtown.

One of the original sweethearts of the Ghuznee Street beer mile, Rogue has long been a central city staple. Rogue offer us great gigs, a huge selection of craft beer, sides to share, and dogs to pat. However amongst its gleaming reputation, talk of its pizza prowess has fallen by the wayside, until now. Sporting the largest pizza menu on this list, you cannot go wrong, even when inviting the pickiest of your friends. Amongst the list, the stand outs are Physical Graffiti — white sauce, spinach, red onion, pulled pork and Rocket Fuel sauce — and The Hucklebuck — white sauce, potato, rosemary, Rocket Fuel and parmesan. In addition, it is a holy grail for the gluten free folks, as it's one of the only places that offers GF pizza in the city. What's not to love when you are cozied by the fire listening to smooth jazz, or chilling on the bean bags patting friendly pups.
18 Garrett Street, Te Aro.

Header image: Lesley Wild, La Bella Italia.
Published on June 19, 2018 by Lesley Wild