ARTS & ENTERTAINMENT
'Lost Dogs Disco' Is the Free Installation Bringing Towering Inflatable Canines to the Gold Coast
For ten days in October and November, 16 large-scale inflatable and interactive dog characters will pop up at HOTA, Home of the Arts.
Things are looking buoyant in southeast Queensland this spring, at least where art and leisure is concerned. A boat decked out with giant inflatable installations has been floating down the river during Brisbane Festival, a giant inflatable humanoid is peering over Portside, inflatable flowers have popped up in West End, and a multi-sensory inflatable playground has set up shop until the end of the season. Also, for two weekends, the world's largest inflatable theme park for adults is making a Brisbane comeback.
Yes, the word 'inflatable' has been used a lot so far. It also applies to the next big, interactive and free installation that's set to make an appearance, this time at HOTA, Home of the Arts on the Gold Coast. Get ready to meet Lost Dogs Disco, the adorably named new project from Melbourne-based art studio ENESS — aka the folks behind Sky Castle and Airship Orchestra, which've been part of the aforementioned Brisbane Festival program during September.
As its moniker suggests, dogs are involved in this towering inflatable work. Sixteen large-scale dog characters feature, with some measuring up to 4.6-metres tall. They'll be set up on the forecourt of HOTA's Outdoor Stage, and audiences will be able to not only walk among them, but play with them. And if you're wondering what that entails, each of the individually named dog characters will light up as you get near them thanks to proximity sensors and LED lights. They'll also unleash a soundscape that includes howls, barks and growls, as well as electronic music.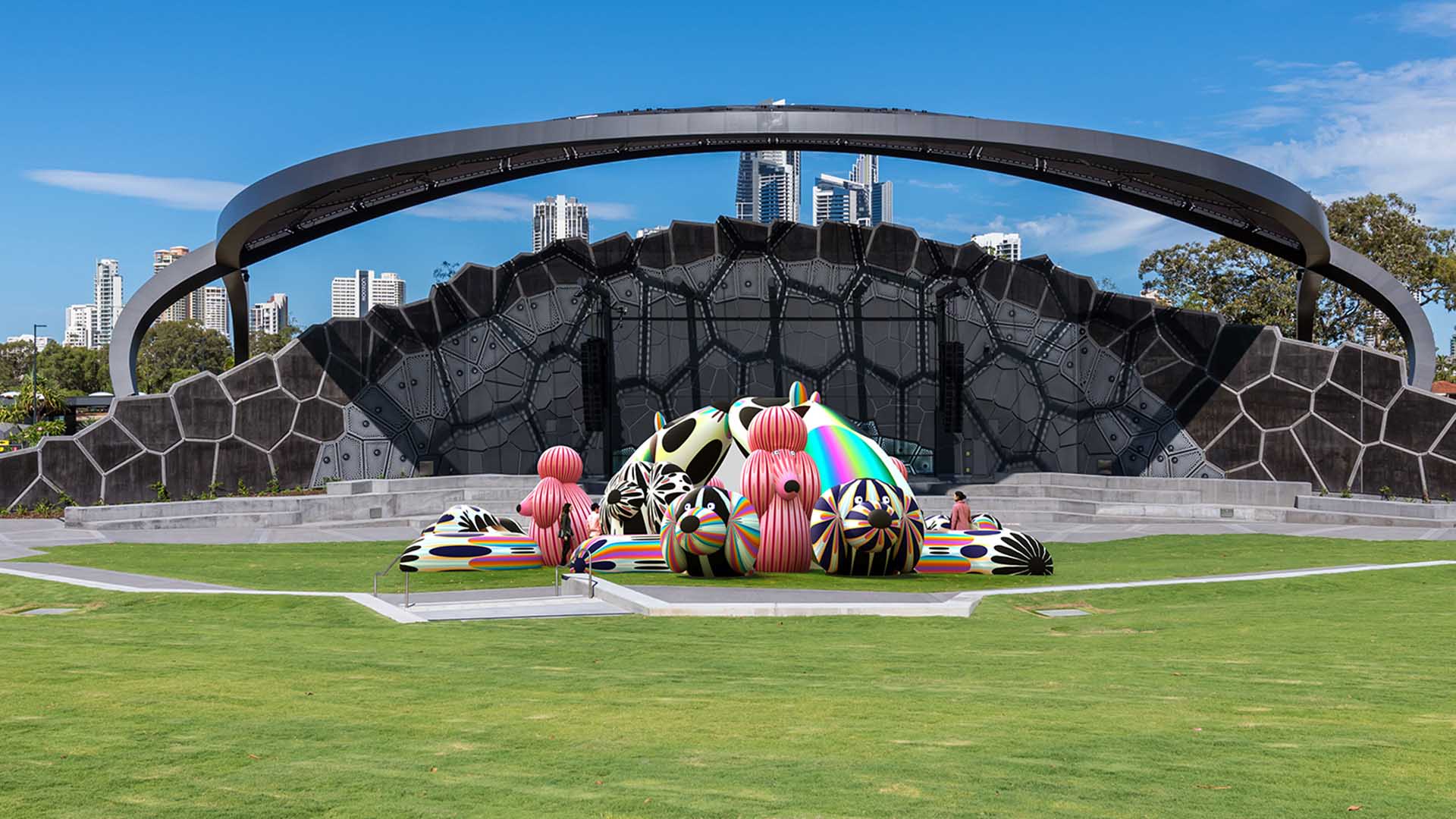 If that makes your eyes light up in delight, Lost Dogs Disco forms part of HOTA's Wonder program from Friday, October 29–Sunday, November 7. You'll be able to frolic with these giant puppers from 10am–7pm Monday–Saturday and 7am–7pm on Sundays, all with the Surfers Paradise skyline as a backdrop.
The Wonder lineup also includes a Gold Coast stopover for doggo theatre show Let's Be Friends Furever, as well as pooch-friendly drinks sessions with live music on Friday, October 29 and Friday, November 4.
Lost Dogs Disco will be on display at HOTA, Home of the Arts, from Friday, October 29–Sunday, November 7 as part of the venue's Wonder program. Head to the HOTA website for further details.
Published on September 21, 2021 by Sarah Ward