Dark and Twisty New Apple TV+ Thriller Series 'Severance' Turns Office Life Into a Mind-Warping Gem
Not so fond of the daily grind? This ace new Ben Stiller-directed, Adam Scott-starring must-see understands.
It's the ultimate in work-life balance, an antidote to non-stop after-hours emails and Slack messages, and a guaranteed way to ensure what happens at work stays at work. In Apple TV+'s mind-bending new thriller series Severance — which plays like Black Mirror meets the Charlie Kaufman-penned Being John Malkovich and Eternal Sunshine of the Spotless Mind, with Wes Anderson's aesthetic if he designed soulless office complexes, plus sprinklings of everything from George Orwell to also-excellent 2020 TV effort Devs — switching off when clocking off at Lumon Industries is easy. There's a brain implant for exactly that, and it's a condition of employment on "severed" floors.
Accordingly, when quittin' time comes for Macrodata Refinement division employee Mark (Adam Scott, Big Little Lies), he physically steps into a tiny, shiny elevator to descend back into his after-hours life — but the version of him that works for Lumon won't recall anything beyond the company's walls. The instant that the one-person lift plummets at the end of the day, it goes back up for Mark's "innie", as his office-bound consciousness is dubbed. Voila, it's clocking-on time once more. 
For Mark's "outie", as the rest of his brain is labelled, the reverse occurs. Each day, he enters an elevator, hops out immediately, then drives to the suburban estate he calls home and repeats the process the next morning. Mourning the death of his wife, he's consciously chosen to separate his work and home selves in the most drastic of ways, giving him an eight-hour-a-day reprieve from his grief. But while it may sound like a dream escape — from Mark's pain, and for any employee eager to reclaim mental real estate from their job — this dark, twisty and instantly gripping series is firmly dystopian.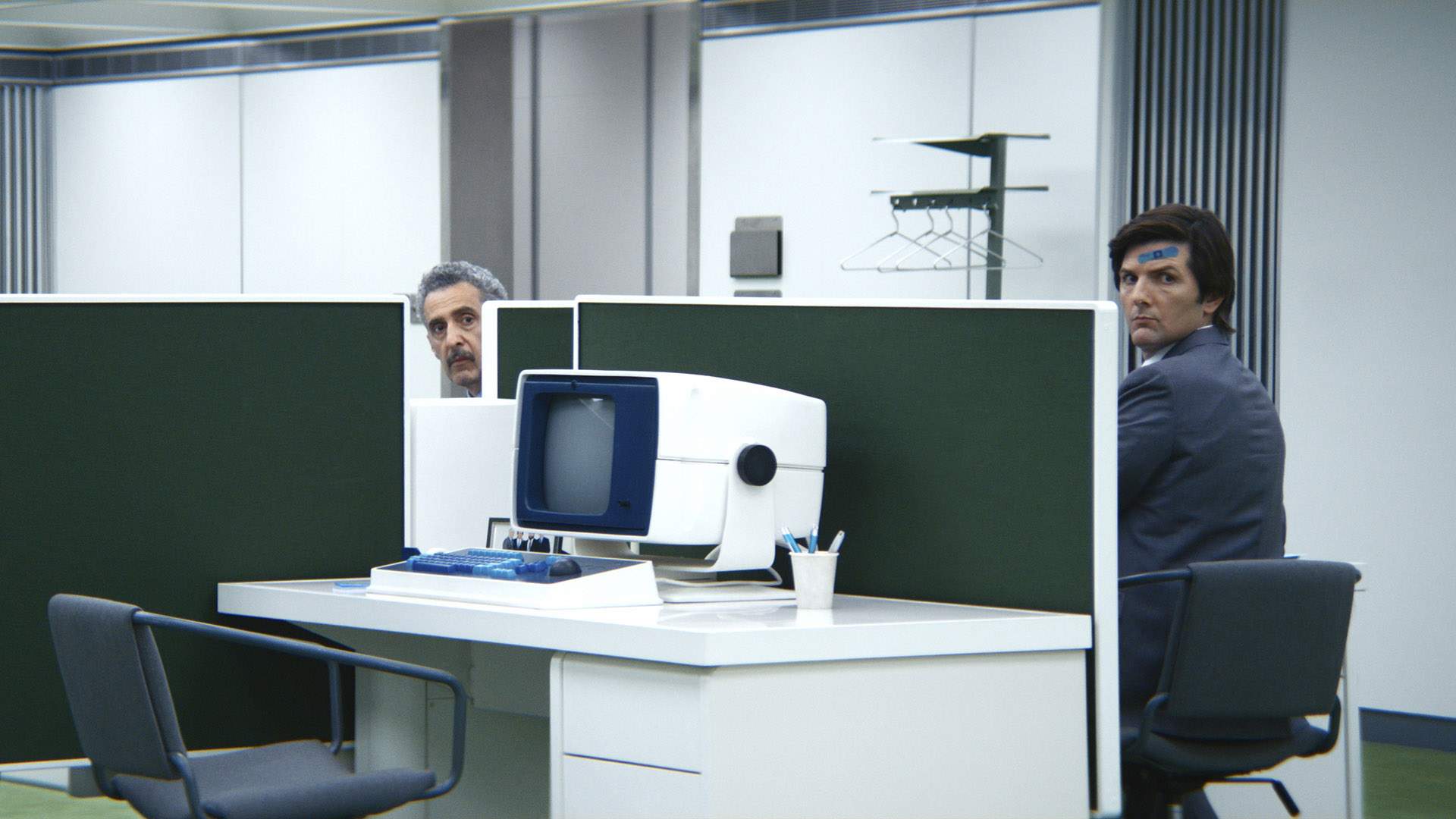 Severance's attention-grabbing premise springs from creator Dan Erickson, a TV first-timer, and understands how most folks feel about office life. The show is knowing in its lead casting, too, given that Scott is best recognised for two workplace comedies: the joyous hug that is Parks and Recreation, as well as the acerbic, astute and soon-to-return Party Down. But as savvily and evocatively directed by Ben Stiller in its first three season-one episodes (and again in its last three, with Kissing Candice filmmaker Aoife McArdle helming three in the middle), Scott's new series dwells in 'be careful what you wish for' territory. For the part of Mark's brain that blanks out work, Severance initially seems like heaven. For the half that only knows the office, it's hell.
The series begins with Mark two years into his time at Lumon, and newly installed as a division head after Petey (Yul Vazquez, The Outsider), his workplace BFF, leaves suddenly. One of his first tasks: onboarding Helly (Britt Lower, Future Man), who awakes in innie form for the first time sprawled atop a conference table. The camera gazes down, the eerie tone resembles leaping out of a nightmare but being unable to pick if you're still dreaming, and she hears Mark asking questions. Helly has queries herself, including: "am I livestock?". 
The severance process is jarring for newcomers, but they're expected to adjust swiftly. Innie Helly hasn't gotten that memo, however — and no, Party Down fans, neither her nor Mark are having fun yet. He grapples with his new role and the sudden loss of Petey, with his cold, unsevered boss Harmony Cobel (Patricia Arquette, The Act) and her omnipresent, also-unsevered assistant Mr Milchick (Tramell Tillman, Hunters) scrutinising every move, and his fellow severed MDR employees Irving (John Turturro, The Plot Against America) and Dylan (Zach Cherry, Shang-Chi and the Legend of the Ten Rings) handling Lumon life by being controlling and competitive, respectively. As for Helly's innie, she starts waging war on the new world order she definitely didn't sign up for, including writing briskly denied resignation requests to her outie.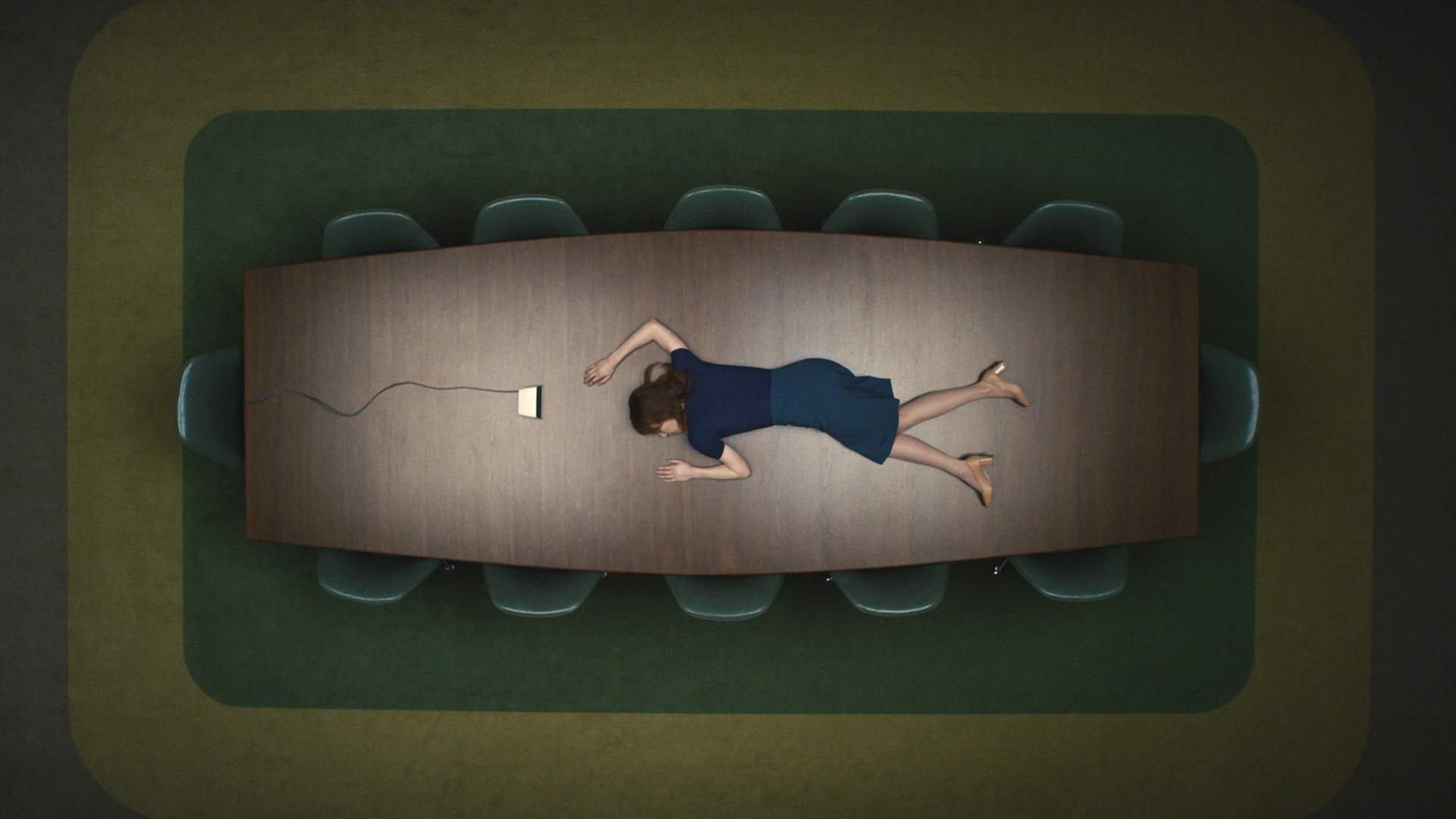 From The Truman Show and The Matrix to The Office and Office Space, Severance's list of influences is lengthy. It's Kafkaesque and Lynchian, too, and wandering its labyrinthine hallways  — corridors designed like a maze to keep Lumon departments apart — is like being trapped in a surreal workplace version of Twin Peaks' red room. Indeed, every production design and cinematography choice enhances the feeling of being trapped in an off-kilter and deeply unnerving corporate purgatory. It's there in the 70s- and 80s-style technology, the green-and-white colour scheme, and the camera placement that flits between claustrophobic and cooly expansive. 
Lumon's innies don't have the choice, but Severance is also a series to willingly get lost in. Apple TV+ is dropping episodes week to week, following a two-instalment premiere, but the compulsion to lap up more of its unsettling mysteries springs quickly. Just like other standout shows of the past few months, such as Yellowjackets and Station Eleven, the desperation to piece together Severance's puzzles echoes strongly while watching — but this meticulously made head-trip is in no rush to unveil its answers.
Given the wealth of wonders to be found within its frames — and the allure of its slow-drip secrets, including exactly what MDR is doing as its workers sort through screens of "happy" and "scary" numbers — it's hardly surprising that Severance isn't in a rush. It also boasts Christopher Walken (Percy vs Goliath) putting his distinctive on-screen presence to great use as another of Lumon's severed wager-earners, and is home to stellar performances across the board, including Scott's latest everyman turn, Turturro playing the office pedant with aplomb, a compellingly icy Arquette and the mesmerising Tillman. 
And, crucially, equally calling out, questioning and satirising today's ideas about work is always on the show's agenda. With a wry sense of humour, Severance sees the nine-to-five grind as the hellscape it can be, probes the control we've relinquished for paycheques and pokes fun at everything that's become normalised about the modern workplace. The hold our jobs have over our lives, the cult-like worship that large companies demand from underlings, the awkward office exceptions and social conventions, and these always clocked-on times in general: none of them escape this perceptive and addictive series' attention.
Not so fond of the corporate treadmill? As it immerses, engages and intrigues, Severance truly understands.
Check out the trailer for Severance below:
The first three episodes of Severance's first season are available to stream via Apple TV+, with new episodes dropping weekly.
Concrete Playground Trips
Book unique getaways and adventures dreamed up by our editors