'The Resort' Is the New Comedy-Thriller Gem That'll Get You'll Sleuthing — and Dreaming of a Holiday
If 'The White Lotus' joined forces with 'Only Murders in the Building', it'd look a whole lot like this entertaining series, which savvily blends mystery and comedy.
If the last couple of years in pop culture are to be believed, it mightn't be a great idea to go away with a character played by Cristin Milioti. In three of the always-excellent actor's most recent high-profile roles, she has decamped to idyllic surroundings, only to find anything but bliss awaiting. Palm Springs threw a Groundhog Day-style time loop her way in its titular setting. Made for Love saw her trapped by sinister futuristic possibilities. In The Resort, which hails from Palm Springs screenwriter Andy Siara, she now has the ten-year itch — and a getaway to Mexico that's meant to soothe it slides swiftly into a wild mystery.
In this instantly twisty comedy-thriller — which brings its first three episodes to Stan in Australia on Friday, July 29, and TVNZ On Demand in New Zealand, then drops the remaining five weekly — Miloti plays Emma, spouse to William Jackson Harper's (The Good Place) Noah. After a decade of marriage, they're celebrating at the Bahía del Paraíso in the Yucatán, but they're really trying to reignite their spark. At this stage in their relationship, he recoils at her bad breath, she makes fun of him falling asleep on the couch, and they're rarely in sync; even when they're floating along the resort's lazy river, cocktails in hand, they want different things. And, they each tackle their matrimonial malaise in wildly dissimilar ways. She wants to find herself above all else, while he's desperate to reconnect. 
What they both find is a missing-persons case from 15 years ago, after Emma goes tumbling off a quad-biking trail, bumps her head and spies an old mobile phone. It belongs to Sam (Skyler Gisondo, Licorice Pizza), a guest at the nearby but now-shuttered Oceana Vista Resort, who was on holidays over Christmas 1997 with his parents (IRL couple Dylan Baker, Hunters, and Becky Ann Baker, Big Little Lies), as well as his girlfriend Hannah (Debby Ryan, Insatiable). As Emma learns via Sam's photos and text messages, all wasn't rosy in his romantic life. After running into fellow guest Violet (Nina Bloomgarden, Good Girl Jane), his SMS history skews in her direction. But the pair promptly disappeared, and any potential clues were lost when a hurricane struck and destroyed their getaway spot.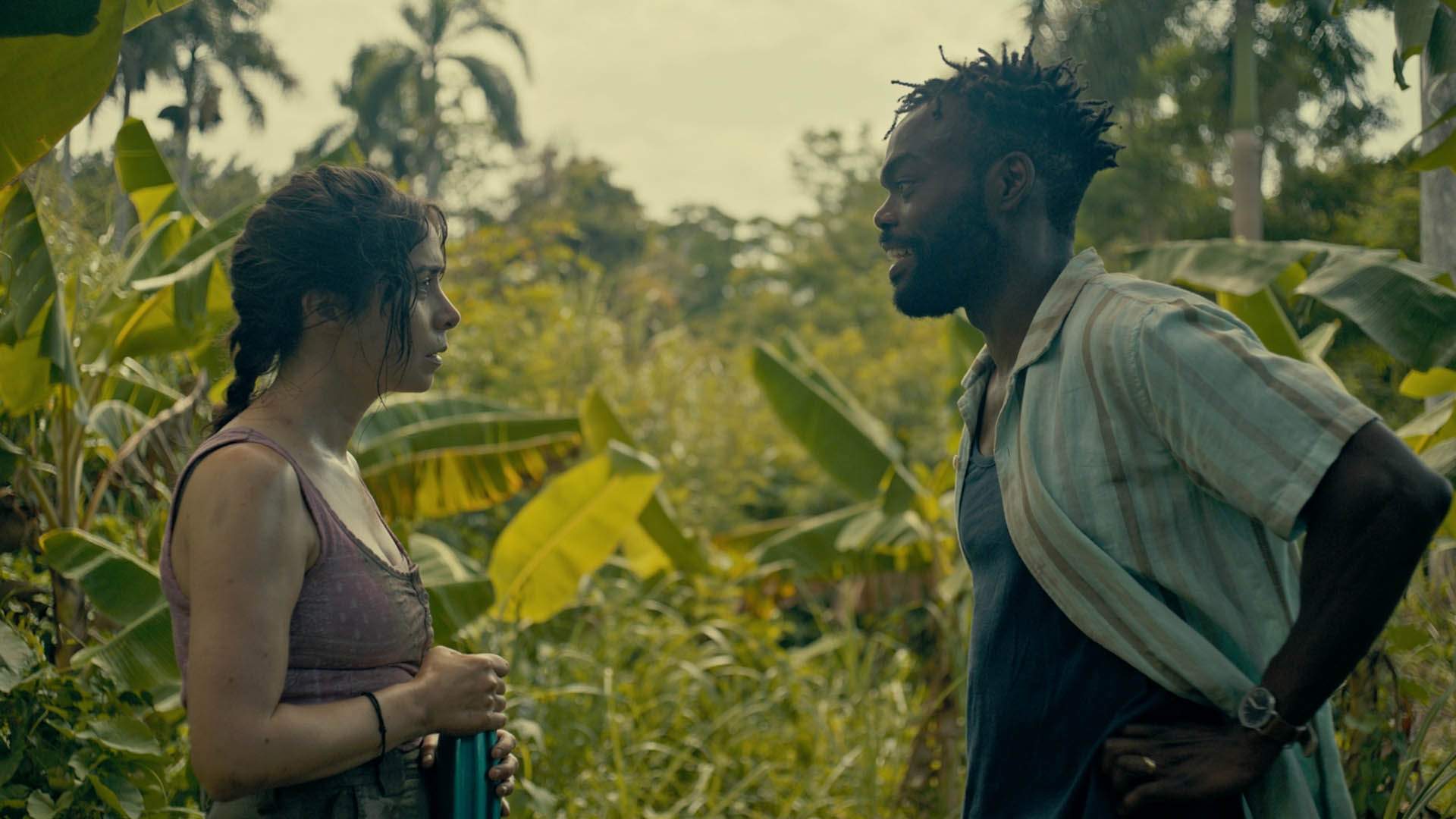 Initially, Emma and Noah could've waltzed right out of The White Lotus, which also saw a sunny and sandy holiday turn sour — and surveyed couples looking to reignite their love, or solidify it, but getting caught up in thorny feelings and a murky death, too. When Emma takes to solving Sam and Violet's disappearance with the kind of enthusiasm she clearly hasn't shown towards Noah for years, she could been on loan from Only Murders in the Building as well. And, the more that the obsessed Emma and the reluctant Noah investigate, the more than The Resort has in common with Palm Springs. No one relives the same day again and again, but showrunner, writer and executive producer Siara displays the same sense of playfulness.
Can bonding over a 15-year-old cold case fix a flailing marriage? Did a holiday romance end in tragedy all that time ago? They're The Resort's two key questions. It has more, many uttered by Emma and Noah as they track down every tidbit they can, but they're not the only people interested. In the series' flashback timeline, Oceana Vista Resort's head of security Baltasar (Luis Gerardo Méndez, Narcos: Mexico) tries to get to the bottom of things, while Violet's father Murray (Nick Offerman, Pam & Tommy) is understandably frantic. Also part this layered tale: Gabriela Cartol (Hernán) as knowing concierge Luna, Ben Sinclair (Thor: Love and Thunder) as erratic resort owner Alex, plus Parvesh Cheena (Mythic Quest) and Michael Hitchcock (Barb & Star Go to Vista Del Mar) as two married Teds dissecting their own long-running nuptials.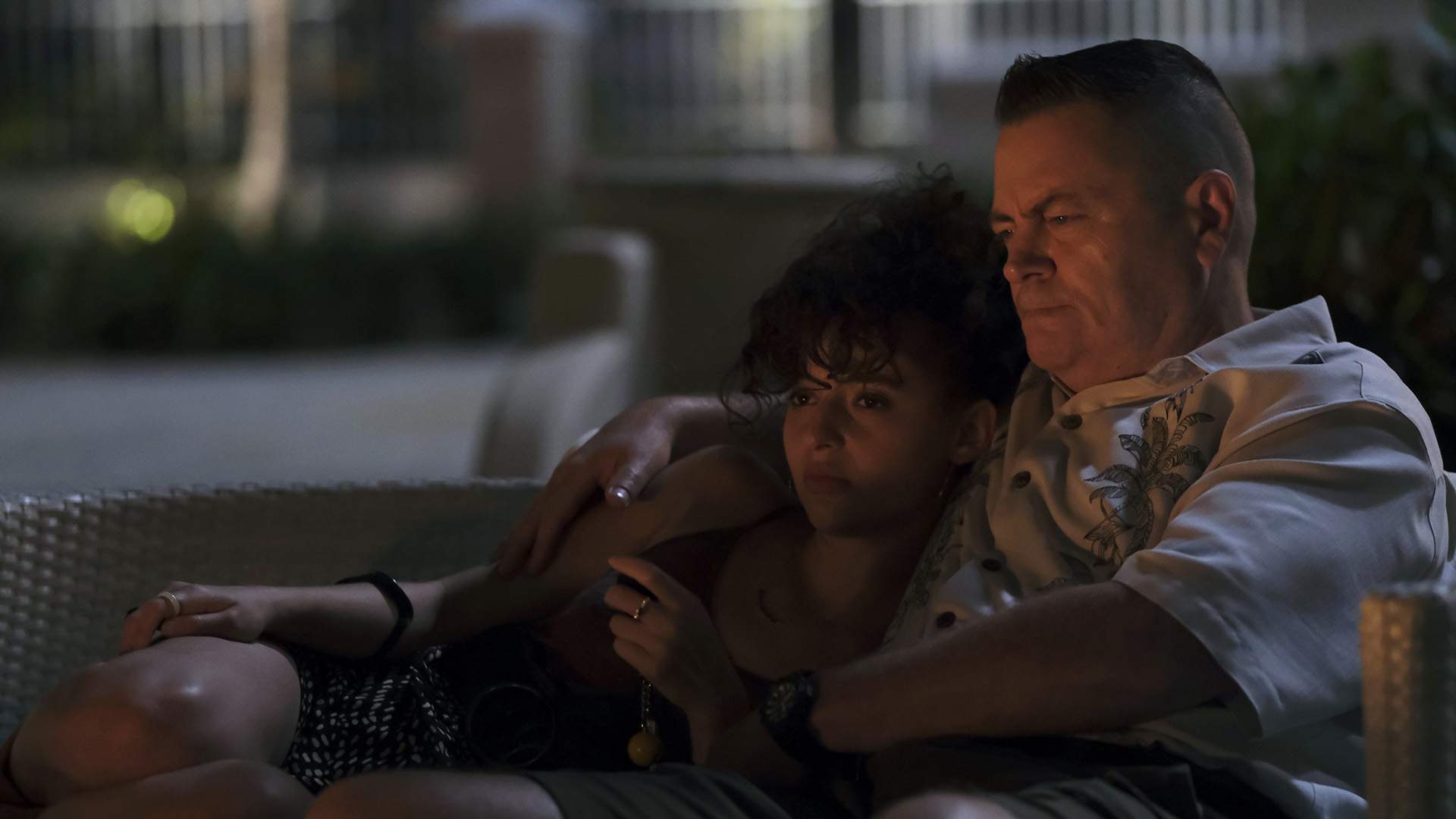 The Resort's three main threads — a marriage in peril, holidays gone wrong and crime-inspired sleuthing — are as familiar as scenarios get on-screen in the past few years. Indeed, picturesque vacations taking turns for the worst have become a pandemic-era staple, as M Night Shyamalan's Old, the Tim Roth-starring Sundown, the aforementioned The White Lotus and fellow TV series Nine Perfect Strangers have all demonstrated. Siara moulds his addition to the landscape knowingly, though. He approaches all three of his well-worn setups with an understanding of why they're popular, and with a roguish eagerness to zig and zag all over the place. One of the show's biggest thrills comes from seeing just where it'll veer off to next, even while working with such recognisable beats. Surprises arise not just for Emma, Noah, Sam, Violet and company, but for The Resort's audience.
Something that won't astonish: how quickly bingeable the series becomes, even though it's drip-feeding out its later episodes. Like Emma and Noah, getting drawn deep into the mystery is easy. Like Sam and Violet, too, getting caught up in the excitement comes just as naturally. The need to piece together puzzles kicks into gear while watching — something that Siara also cultivated on the tonally similar, criminally cancelled-too-soon Lodge 49, and rang true of producer Sam Esmail's Mr Robot as well. It helps that The Resort always looks enticing, not just via locations bound to inspire travel yearnings, but in the detail that resonates in its jungles, caves, hotel bars and lavish penthouses alike. The show's four directors, including Sinclair (High Maintenance), Australian filmmaker Ariel Kleiman (Partisan), and Daniel Garcia and Rania Attieh (Two Sentence Horror Stories), ensure that everything seen on-screen is lively, fascinating and probing in tandem.
As guides through The Resort's many turns — as audience surrogates as well — Milioti and Harper are supremely well-cast, even if both have played these types of characters before (for the latter, see: season two of Love Life). The series could've focused solely their way and unearthed ample treasures, stirring insights into love and loss among them. That said, the same is true of the reliably engaging Gisondo (who keeps building on a resume that also spans Santa Clarita Diet and The Righteous Gemstones) and Bloomgarden as Sam and Violet find their own riddle to solve. Offerman's determined father adds poignancy, plus another excellent turn to his his name, but it's Méndez who best embodies The Resort. Sometimes he's tasked with teasing out minutiae and intrigue, sometimes he's delightfully goofy, and he's always impossible to look away from.
Check out the trailer for The Resort below:
The Resort is available to stream in Australia via Stan and in New Zealand via TVNZ On Demand.
Images: Marisol Pesquera / Peacock.
Introducing Concrete Playground Trips
Book unique getaways and adventures dreamed up by our editors