Seven Grown-Up Easter Treats to Hunt Down Around Brisbane
You're never too old for this Easter hunt.
We reckon you're never too old for Easter. Let's be honest — when an occasion involves copious amounts of chocolate, that's something that you never outgrow (and if you claim you have, we call fibs).
Sure, egg hunts and bunny ears seem better suited for kids; however there's still plenty of tasty concoctions that'll make even the most mature among us start salivating. You just need to know what to look for — from OTT chocolate eggs and hot cross cruffins to cocktails served in Easter bunnies.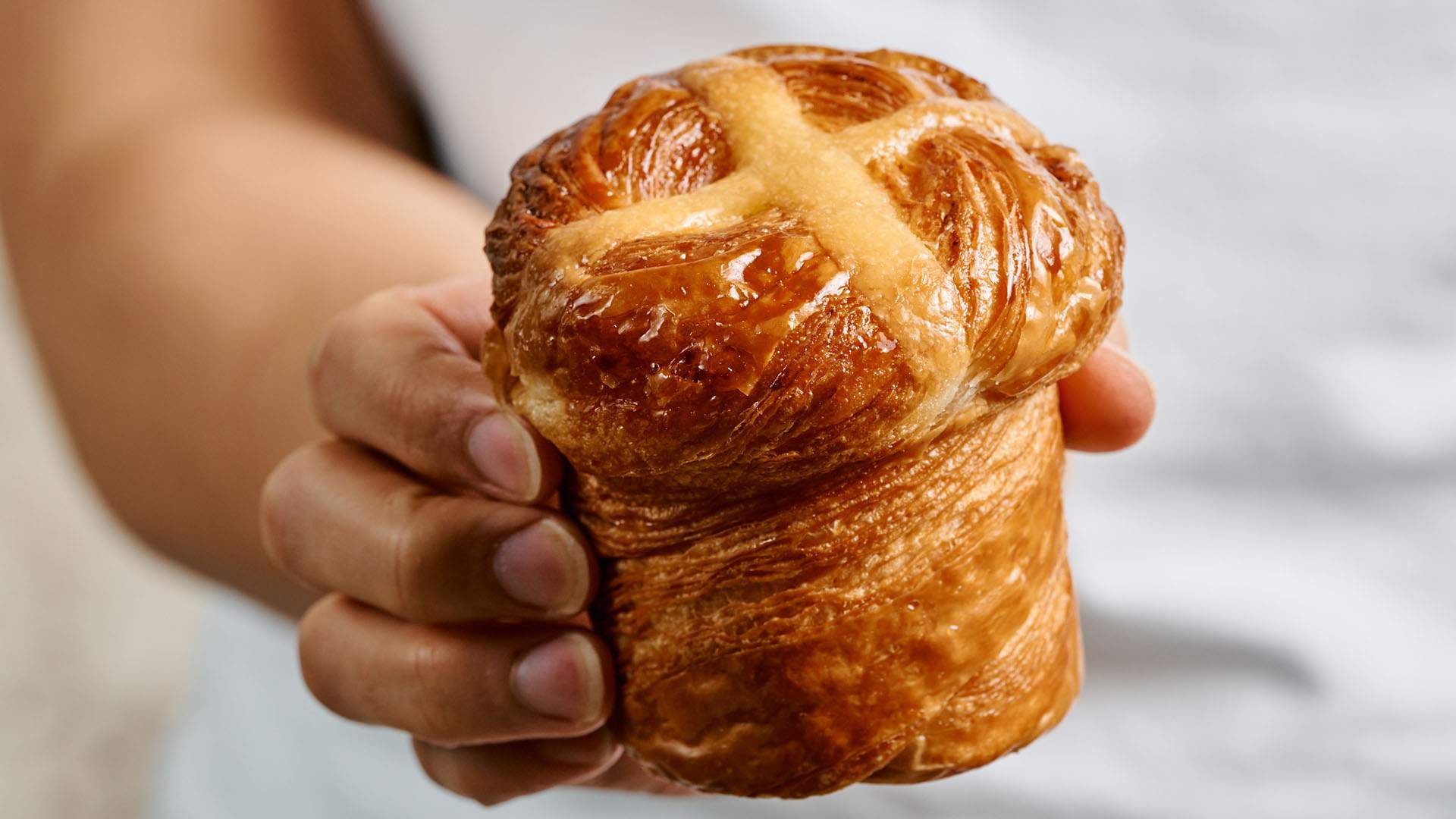 When Lune Croissanterie opened its first interstate store in Brisbane in 2021, pastry lovers across the city understandably got excited. Indeed, the baked goods haven serves up delicious bites that'll tempt your tastebuds all year round — but this is officially our first Lune Easter.
On the menu: hot cross cruffins. Yes, they're exactly what they sound like, and they're only available for a super-limited time. These croissant-muffin-hot cross bun hybrids come filled with a spicy and fruity creme, topped with a cross (obviously) and brushed in a sweet glaze. If you're keen, you'll find them in-store from Monday, April 11–Monday, April 1, and online on Easter weekend only.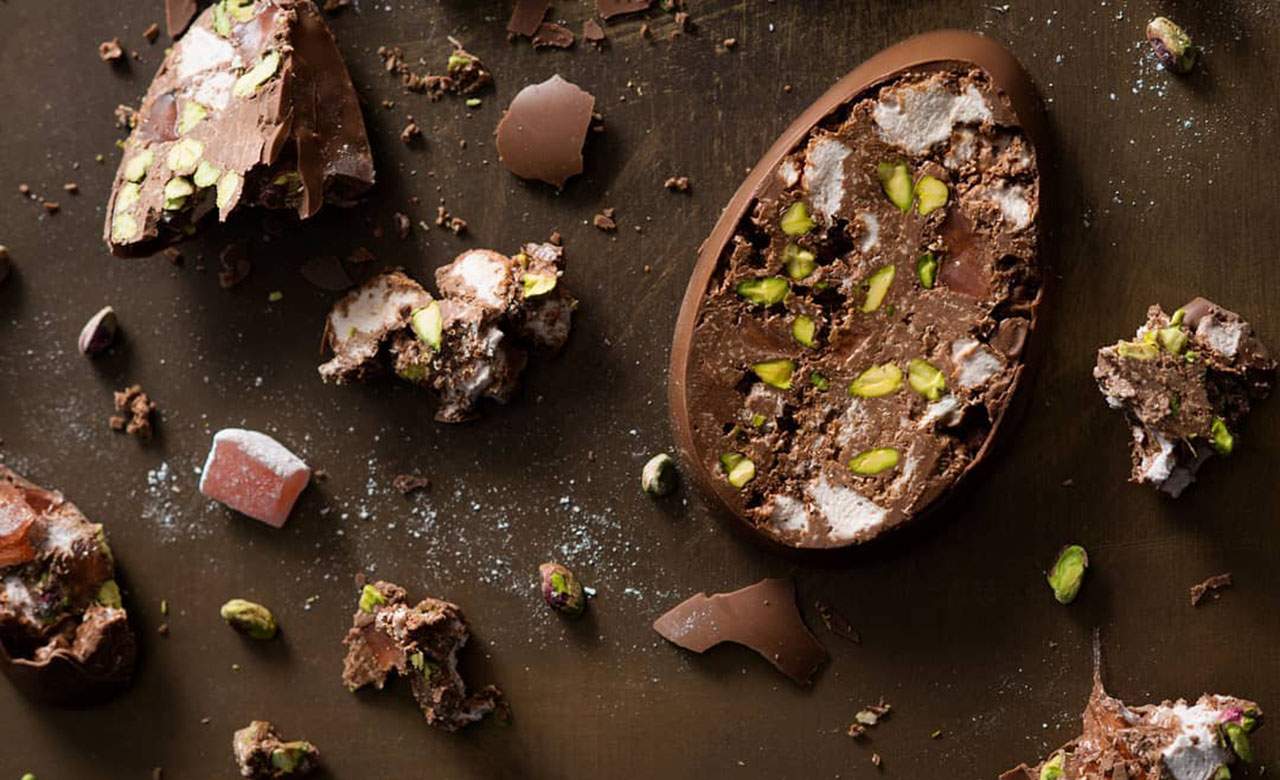 Not content with handcrafting some of the best chocolate Brisbane gets to eat all year round, New Farm Confectionery dials the deliciousness up at Easter. More than a few delicacies grace its menu, so prepare to be spoiled for choice. The honeycomb and rocky road eggs ($35 each) take treatin' yo'self to the next level. Available in milk, dark and white coverture chocolate varieties, and worlds away from the kind of choccies you'll find wrapped in foil, they're equal parts yum and fun.
Also on offer: caramel-filled eggs ($30 each), including both salted caramel and coconut caramel varieties. You'd best get in quick though — these melt-in-your-mouth beauties usually sell out.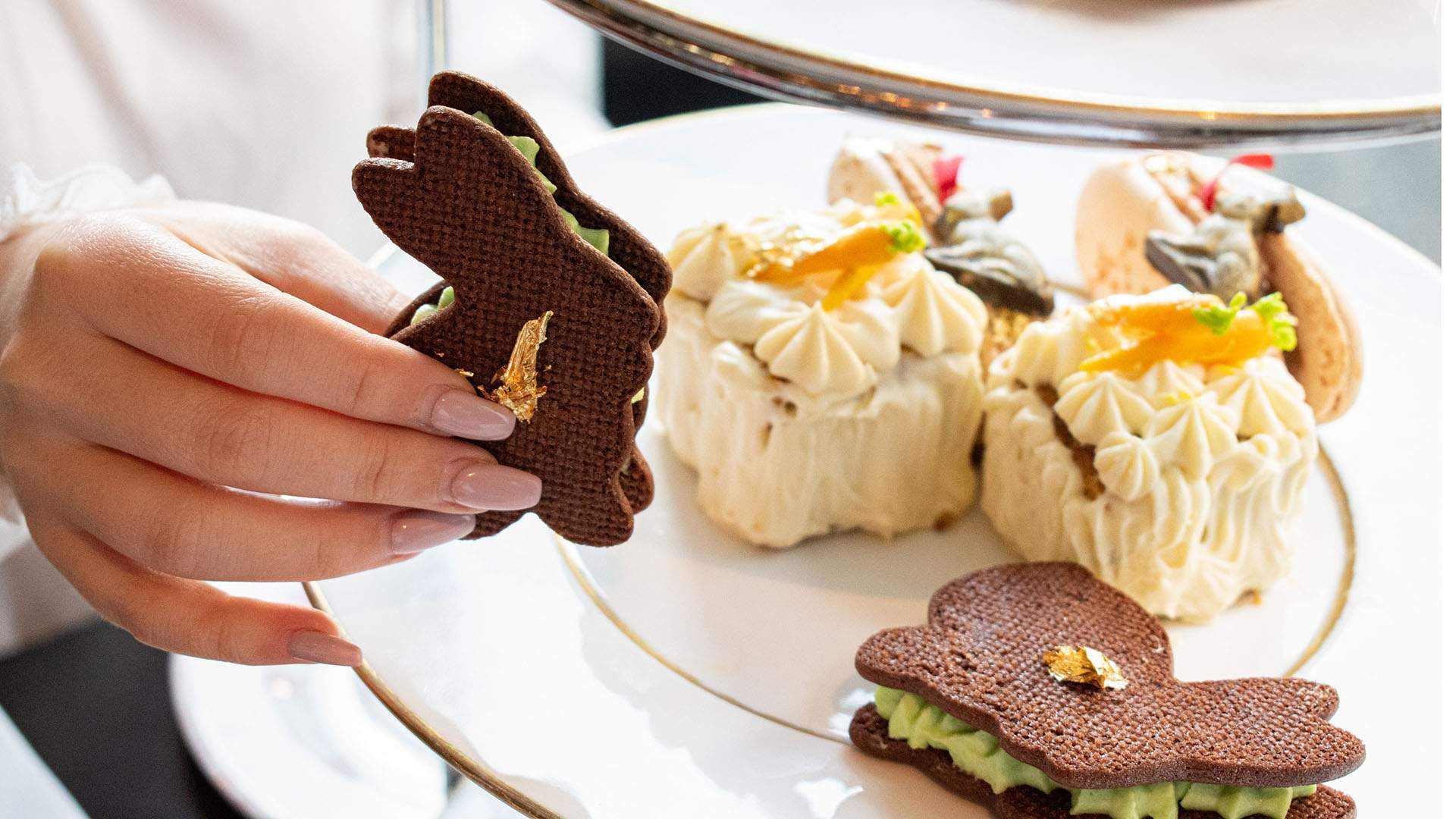 EASTER BUNNY COOKIES AND HOT CROSS SCONES AT BELLE EPOQUE
There's never a bad time to treat yo'self to high tea, but Easter is one of the best. Plenty of spots around town celebrate the occasion with exactly that kind of spread — and this list includes more than one. So, what makes Belle Epoque's high tea stand out? Only being dished up across Saturday, April 16–Monday, April 18, this one includes hot cross scones, Easter bunny cookies and an edible garden. It also comes just with tea or coffee ($60), sparkling ($70) or champagne ($80).
If those dates don't suit, Belle Epoque is also slinging a takeaway range. There, you'll find both fruit and chocolate hot cross buns ($4 each), truffle-filled Easter eggs ($25) and egg nests ($25) made out of wafer, then filled with white, milk and dark chocolate eggs.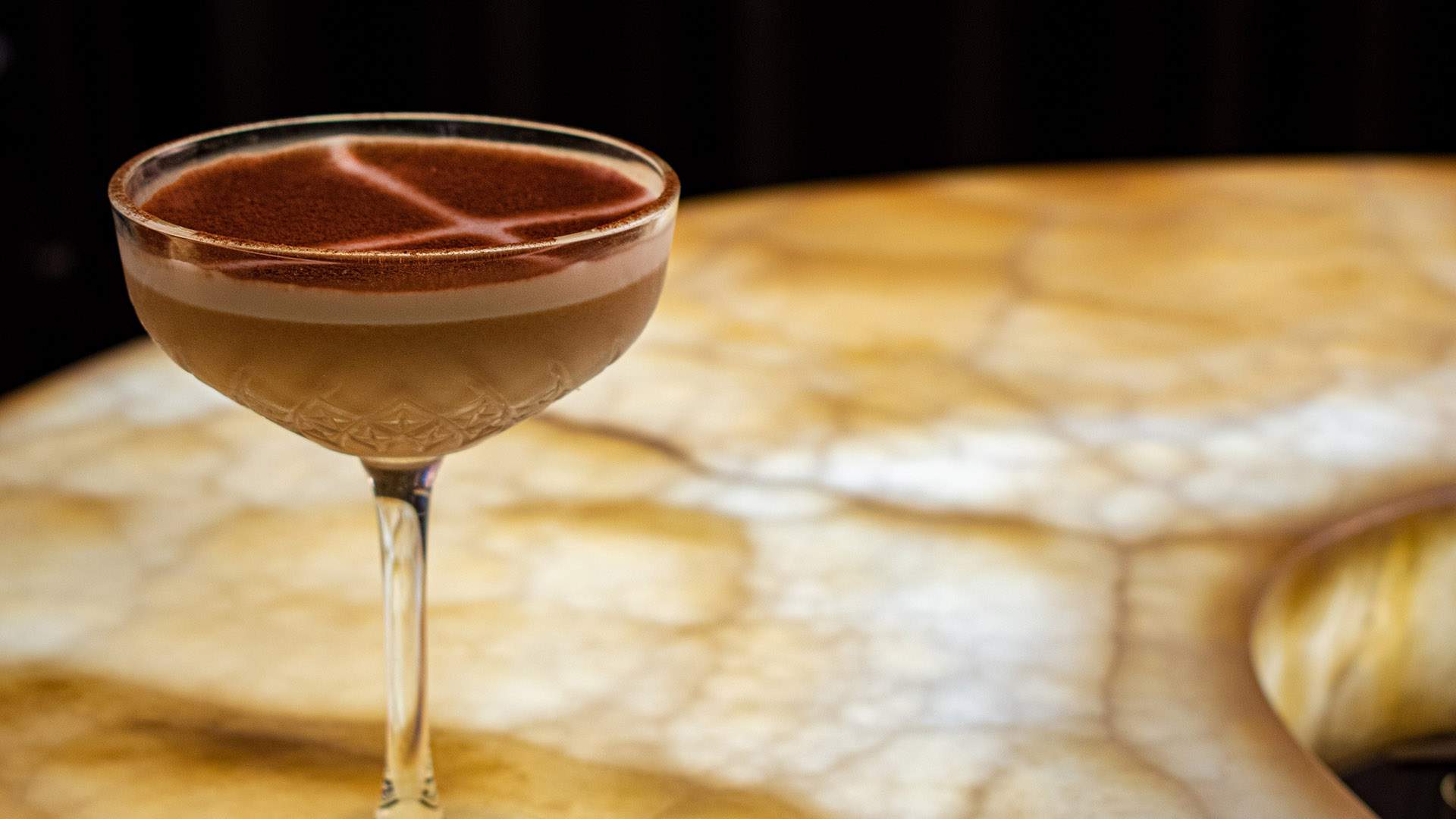 HOT CROSS BUNNY COCKTAILS AT EMPORIUM
Stop by the Emporium Hotel in South Bank before Tuesday, April 19 and you'll find multiple ways to celebrate Easter — not only spanning Belle Epoque's options above, but also including a couple of boozy choices. Over at the venue's glittering Piano Bar, you can hop on in for Hot Cross Bunny cocktails. They combine vanilla vodka, applejack brandy, hot chocolate, cinnamon syrup and dark chocolate liqueur, and they're the $20 Easter treat that you didn't know you needed until now.
And if that's not enough Easter-themed sipping for you, upstairs at The Terrace — yes, 21 floors up, and with striking views over Brisbane to prove it — you'll have two more choices. The Cold Cross Bun cocktail mixes spiced rum, cold butter and saffron syrup, while the Holiday Hopper goes with white cacao and Mount Tamborine Crème de Menthe.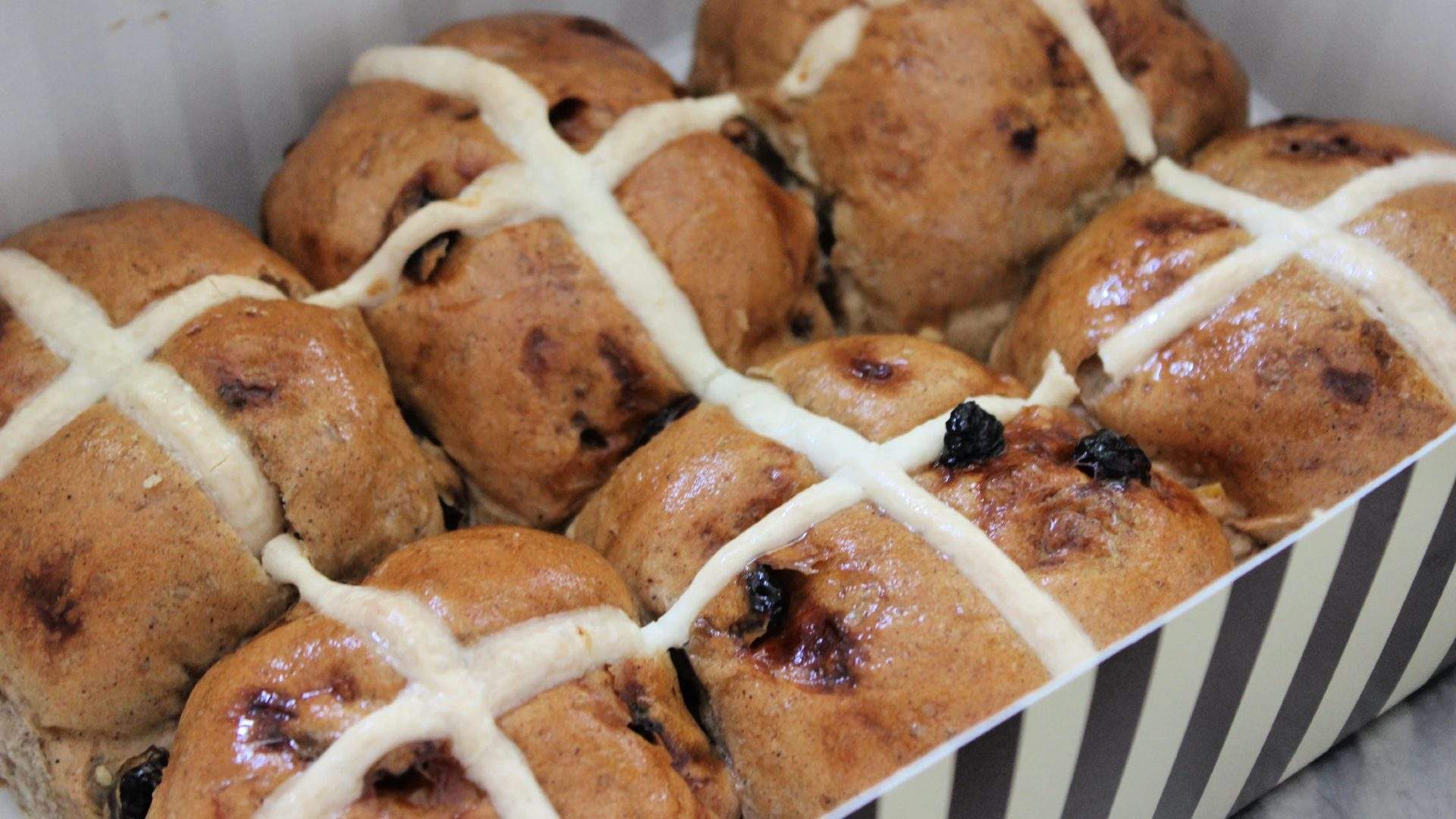 HOT CROSS BROWNIES AND BUNS FROM DELLO MANO
It might be best known for its indulgent chocolate brownies, but Dello Mano also likes to have a crack at some hot cross buns as well. And, to combine the two, it also does hot cross brownies. So, you've got options — because, when it's this time of year, isn't that exactly what we all want?
For brownie fiends, the long-time seasonal favourites take Dello Mano's always-rich brownies, hand dip them in Belgian chocolate and finish them up with a white chocolate cross. Even better — you can get them in a box of 16 for $69. Or, for buns, buns and more buns, you've got regular (aka spiced dough studded with loads of fruit) and chocolate to pick from for $30 for six.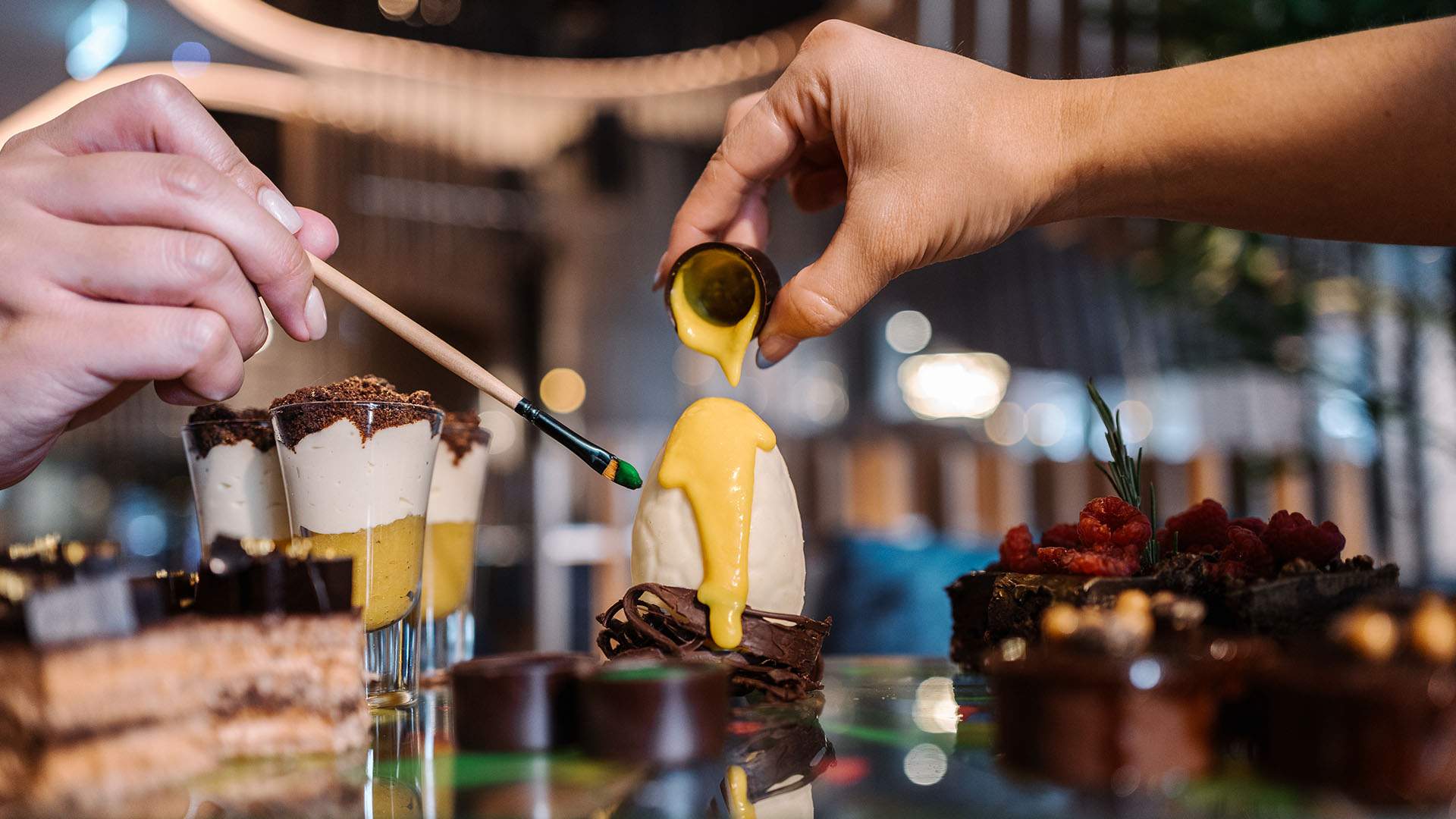 If you're fond of tiny bites to eat — and also drinking cocktails — then add a trip to W Brisbane's Living Room to your list. It's hosting Hopping Good Easter High Tea feasts from Friday–Sunday each week until Sunday, April 24, paint your own' Valrhona white chocolate easter eggs, hot cross scones, raspberry chocolate squares and mocha crème brulee tarts, as well as confit duck pie, lobster tarts and creamy truffle eggs with blue scampi caviar all on offer.
But, you'll probably get most excited about the boozy side of things — including bottomless Chandon Garden Spritzes. If you're keen, you have two price options. Pay $65 each, and you'll feast your way through the food, accompanied as much tea and coffee as you can drink. Opt for the $109 option, however, you can add those aforementioned free-flowing spritzes.


DIY COCKTAILS IN EASTER EGGS FROM COCKTAIL PORTER
Like Gelato Messina? Love Easter eggs? Then Cocktail Porter's DIY kits are your kind of treat. The make-at-home packs let you whip up your own boozy beverages — and you can choose between a Messina dulce de leche and coffee cocktail set and espresso martinis served out Lindt milk chocolate bunnies.
The former comes with Messina's popular topping, Baileys, cold-drip coffee and Mr Black Coffee Liqueur, plus chocolate Easter eggs to pour your mixed liquids into (and drink them out of). The latter pairs vodka, cold-filter coffee, sugar syrup and Mr Black Coffee Liqueur, and you can pick between two different-sized packs of both. Go small, and you'll pay $80 to make five drinks. The large costs $145, and makes 12.