FOOD & DRINK
Five Grown-Up Easter Treats to Hunt Down Around Brisbane
You're never too old for this Easter hunt.
We reckon you're never too old for Easter. Let's be honest, when an occasion involves copious amounts of chocolate, that's something that you never outgrow (and if you claim you have, we call fibs). Sure, egg hunts and bunny ears seem better suited for kids; however there's still plenty of tasty concoctions that'll make even the most mature among us start salivating. You just need to know what to look for — from OTT chocolate eggs and adorable baked goods to multiple types of cocktails served in Easter bunnies.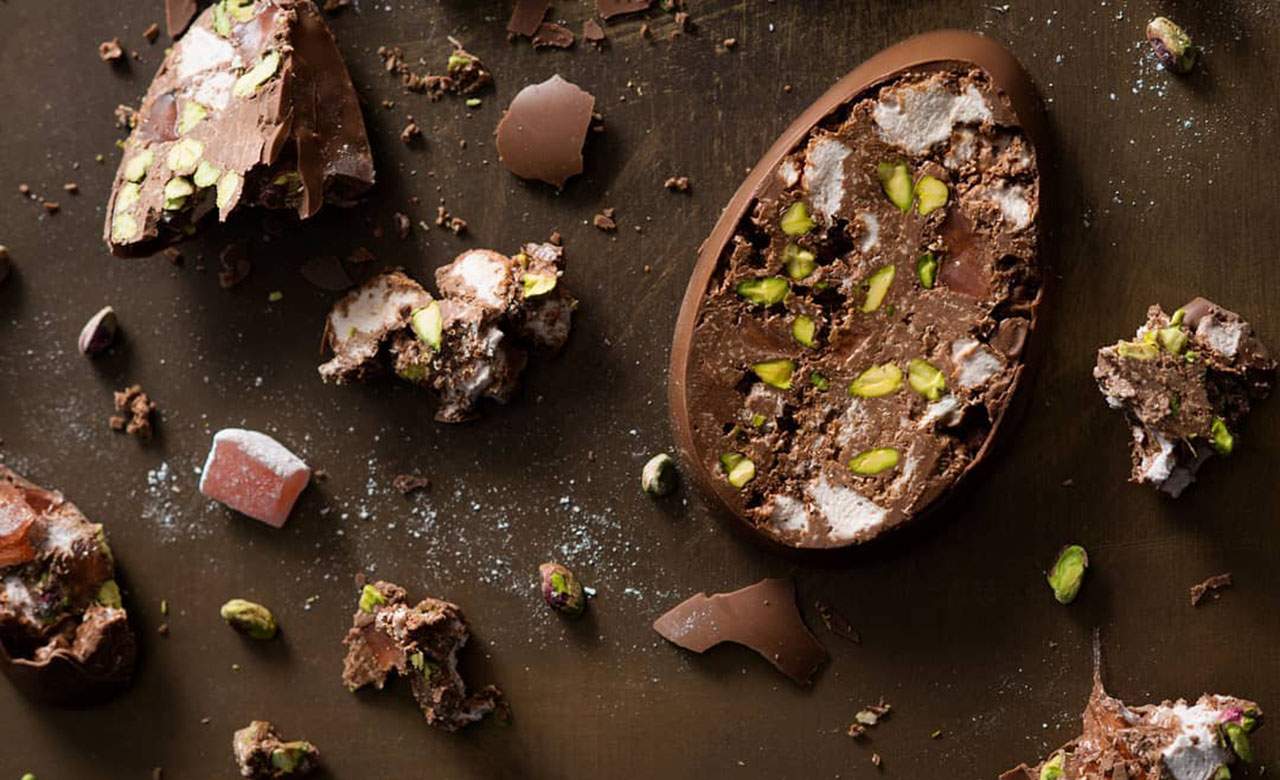 Not content with handcrafting some of the best chocolate Brisbane gets to eat all year round, New Farm Confectionery dials the deliciousness up at Easter. More than a few delicacies grace its menu, so prepare to be spoiled for choice. The honeycomb and rocky road eggs ($35 each) take treatin' yo'self to the next level. Available in milk, dark and white coverture chocolate varieties, and worlds away from the kind of choccies you'll find wrapped in foil, they're equal parts yum and fun. Also on offer: chocolate bunnies ($30 each) filled with gooey salted caramel. You'd best get in quick though — these melt-in-your-mouth beauties usually sell out.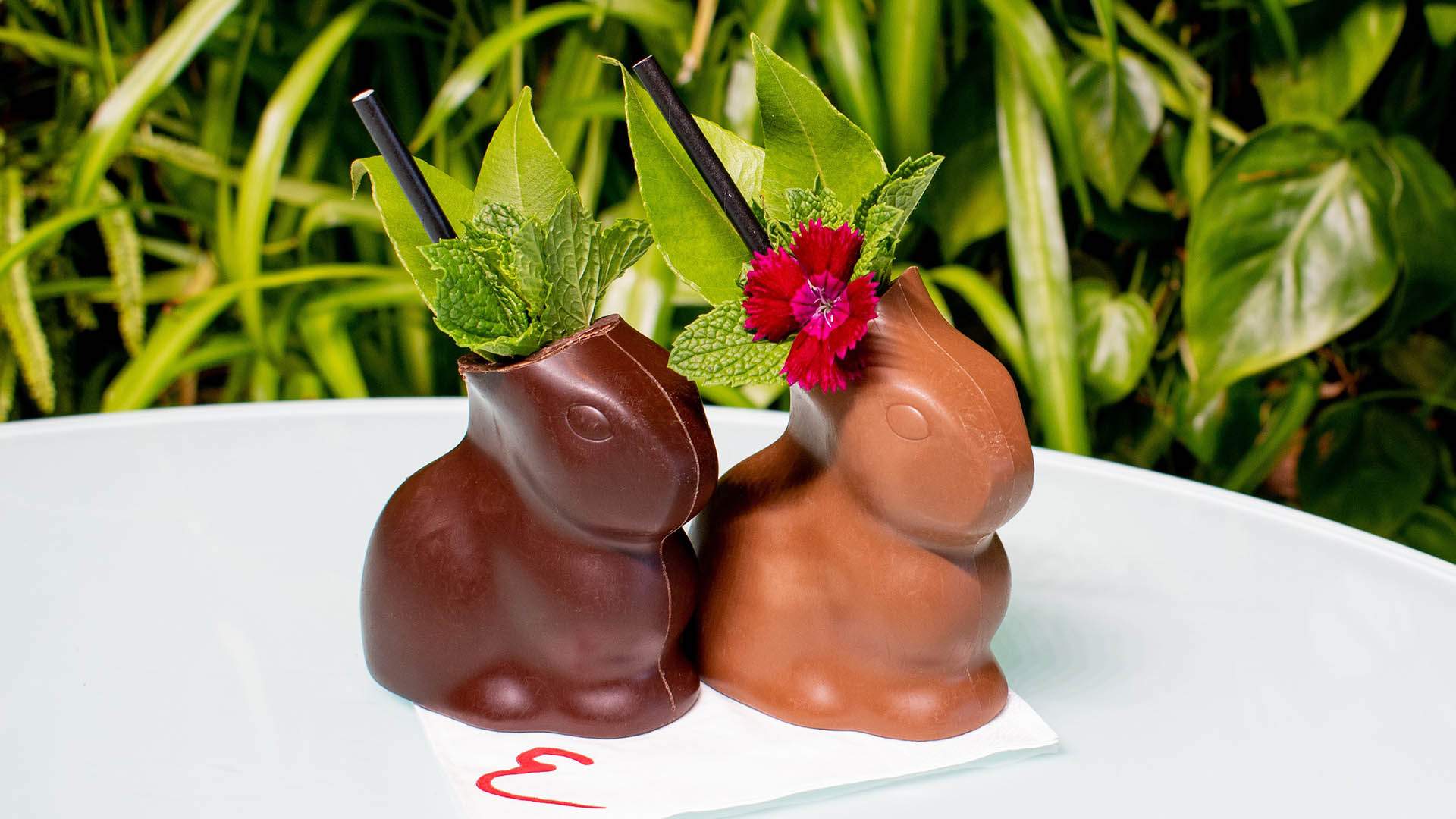 TRUFFLE-FILLED EASTER EGGS AND COCKTAILS IN CHOCOLATE BUNNIES AT EMPORIUM
Stop by the Emporium Hotel in South Bank, and you'll find multiple ways to celebrate Easter. Fancy picking something up to take home? French patisserie Belle Epoque is doing hand-painted chocolate bars and eggs, including multi-coloured orbs made from Valrhona chocolate and filled with truffles, with both small ($16) and large ($32) varieties available. Or, you can head up to the venue's sky-high bar and mark the occasion with an afternoon sipping cocktails. Yes, The Terrace has just the menu to suit. Choose between a Holiday Hopper, which is made with crème white chocolate and nutmeg; a Hot Cross Bun, complete with a vanilla cream float; and a Death By Chocolate, which serves a spiced rum concoction in a chocolate bunny. All three tipples cost $20.


Think Easter, and chocolate obviously pops into your head. Hot cross buns do, too. But if you have the kind of sweet tooth that's always looking for an excuse to eat cake, then the range of cupcakes at Sweethearts should definitely tempt your tastebuds. The Paddington bakery is run by a mother-daughter duo, and whips up everything from apple crumble and lemon meringue pie to Caramilk and Biscoff varieties. For Easter, chocolate fudge and vanilla bean cupcakes are on the menu, and you can nab them in packs of six ($35), 12 ($70) and 24 ($140). You can order them online, too, and you can get them delivered within a ten-kilometre radius of Sweethearts' Latrobe Terrace store for an extra $10.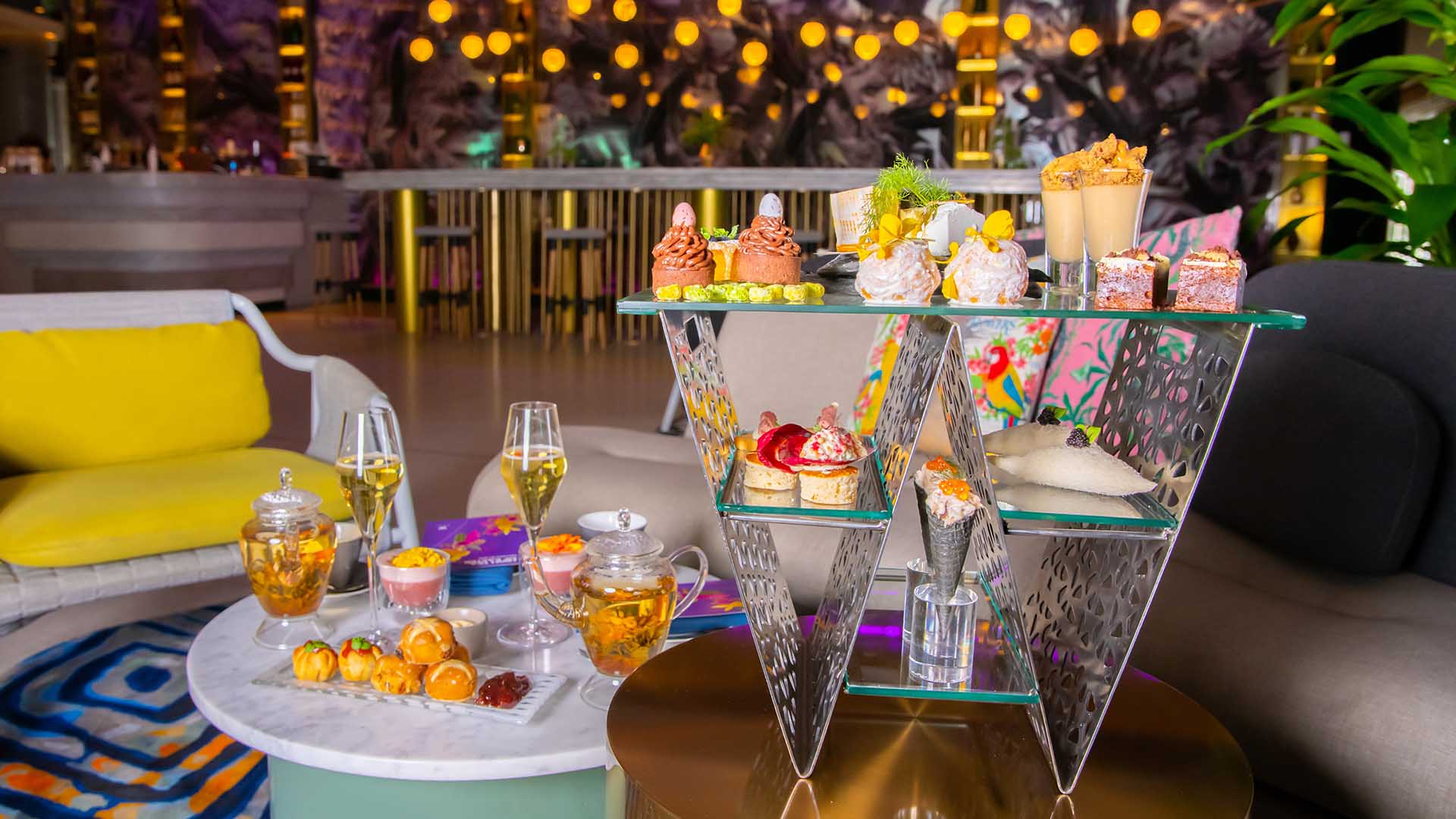 If you're fond of tiny bites to eat — and also drinking cocktails — then add a trip to W Brisbane's Living Room to your list. It's hosting High Tea of Easter feasts from Friday–Sunday each week until Sunday, April 18, with egg sandwiches with caviar, meat pies with a bush tomato chutney, hot cross scones with clotted cream and marmalade jam, mini chocolate raspberry Easter egg nest tarts and spiced carrot cake all on offer. But, you'll probably get most excited about the boozy side of things. 'Mezzo Mezzo' martinis and strawberry sours will do that. If you're keen, you have three price options. Pay $55 each, and you'll feast your way through the food. Opt for the $69 option, and you can add one of the aforementioned martinis. And for $79, you'll also get a glass of Veuve Clicquot champagne.


DIY COCKTAILS IN EASTER EGGS FROM COCKTAIL PORTER
Like Gelato Messina? Love Easter eggs? Then Cocktail Porter's new DIY kits are your kind of treat. The make-at-home packs let you whip up your own boozy beverages — and you can choose between a Messina dulce de leche and coffee cocktail set and espresso martinis served out Lindt milk chocolate bunnies. The former comes with Messina's popular topping, Baileys, cold-drip coffee and Mr Black Coffee Liqueur, plus chocolate Easter eggs to pour your mixed liquids into (and drink them out of). The latter pairs vodka, cold-filter coffee, sugar syrup and Mr Black Coffee Liqueur, and you can pick between two different-sized packs of both. Go small, and you'll pay $80 to make five drinks. The large costs $140, and makes 12.
Published on March 24, 2021 by Sarah Ward