The Most Luxurious Boutique Hotels in Brisbane
Whether you're vacationing or staycationing in Brisbane, these hotels will have you sleeping in soft linen, eating in fine restaurants and swimming in rooftop pools.
in partnership with

Holidays are all about getting out of town, forgetting your worries and exploring somewhere new. Well, usually. With so many luxe places to head to in our very own city, your next relaxing break needn't involve cutting into your precious annual leave or trying to get your bearings in an unfamiliar location.
Instead, it's staycation time. Designer hotels have been popping up all around Australia with frequency over the past few years, and Brissie is leading the charge. Whether you fancy glorious river views, sky-high pools, vacationing like a rock star or indulging in a bit of old-school glam, there's a place for you. Your first post-lockdown escape awaits.
From pristine beaches and bountiful wine regions to alpine hideaways and bustling country towns, Australia has a wealth of places to explore at any time of year. We've partnered with Tourism Australia to help you plan your road trips, weekend detours and summer getaways so that when you're ready to hit the road you can Holiday Here This Year.
While regional holidays within Queensland are now permitted, some of the places mentioned below may still be closed due to COVID-19 restrictions. Please check websites before making any plans.
Filled with designer stores, bustling bars and restaurants, and a veteran of the city's arthouse cinema scene, James Street has always radiated a holiday vibe. And the stretch of road that borders Fortitude Valley and New Farm has an excellent place to stay: The Calile.
Opening late in 2018, the 175-room spot isn't the first hotel on the street, but it is the first to call itself a resort — and it takes that term seriously. A stunning pool takes centre stage, enticing you to splash the day away. When you're not in the water, cabanas and sun lounges will call your name, and there's an outdoor deck where you can nab something to eat. You can also enjoy a Greek feast at Hellenika restaurant, or hang out in the lobby bar. Back in your room, you'll find a focus on all things natural, including oak furniture, cork floors and sisal matting in the bathrooms, day beds for afternoon naps, linen robes and a minibar stocked from local suppliers.
Find The Calile Hotel at 48 James Street, Fortitude Valley. Make a reservation here.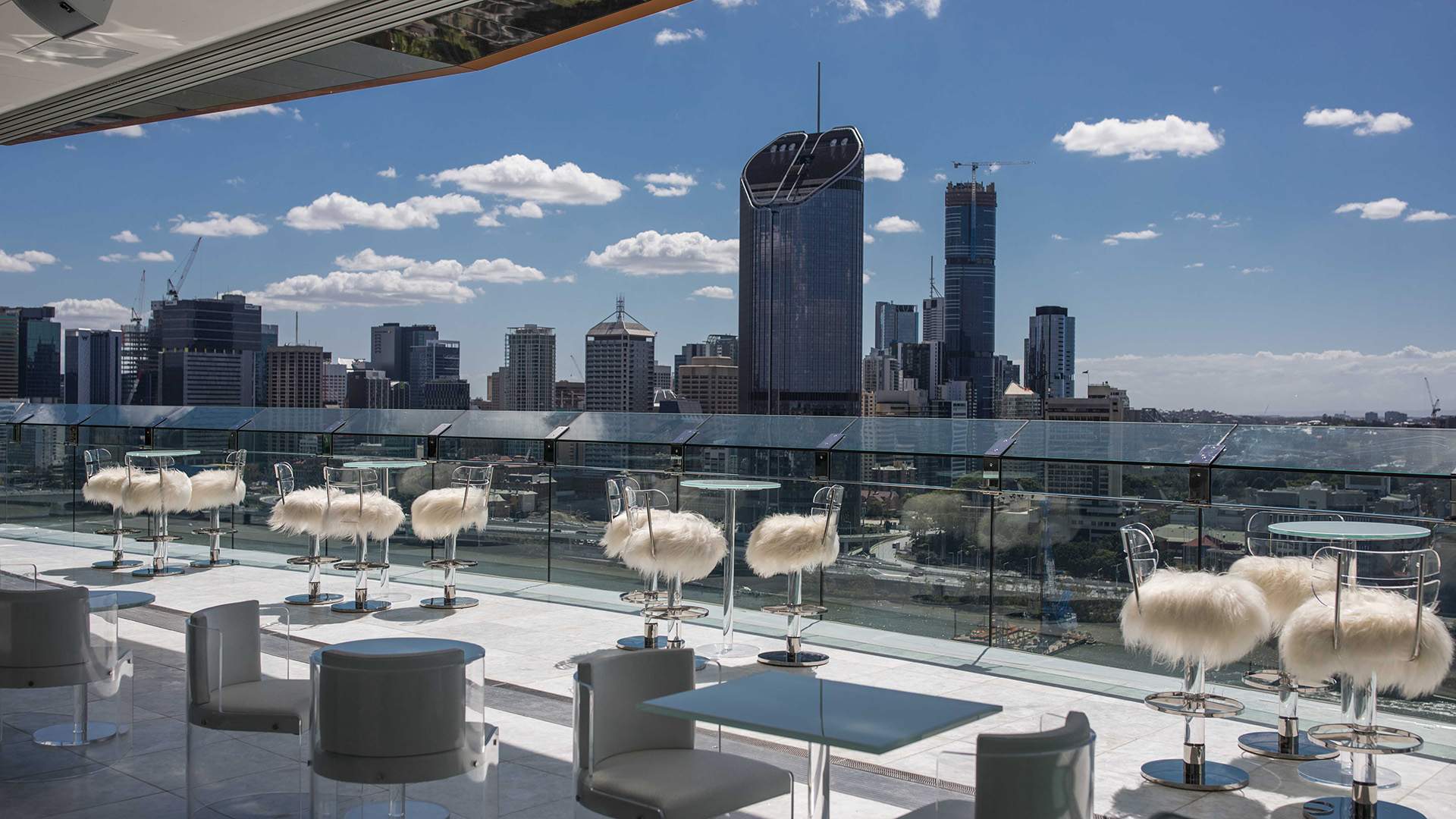 Up until a few years ago, if you were looking for the Emporium, you'd need to head to Fortitude Valley. But, after a bout of musical chairs among the city's accommodation providers, the hotel can now be found at South Bank. The brand sold off one site and built another — and if it's killer views over the river that you're after, then the new location well and truly delivers.
Don't worry, it delivers plenty more, too. The 21-storey structure includes 143 rooms all decked out in the expected luxurious fashion, including marble and bronze finishings, mirrored TVs and in-suite wine fridges — and beloved French joint Belle Époque has even made the move, too, setting up shop downstairs. That said, this place is all about the rooftop. If you're feeling flush, you can stay in a poolside cabana suite, which'll place you mere footsteps away from the hotel's top-level 23-metre infinity pool. And, you'll be as close as you possibly can be to The Terrace, Emporium's sky-high all-day bar and eatery.
Find Emporium Hotel South Bank at 267 Grey Street, South Brisbane. Make a reservation here.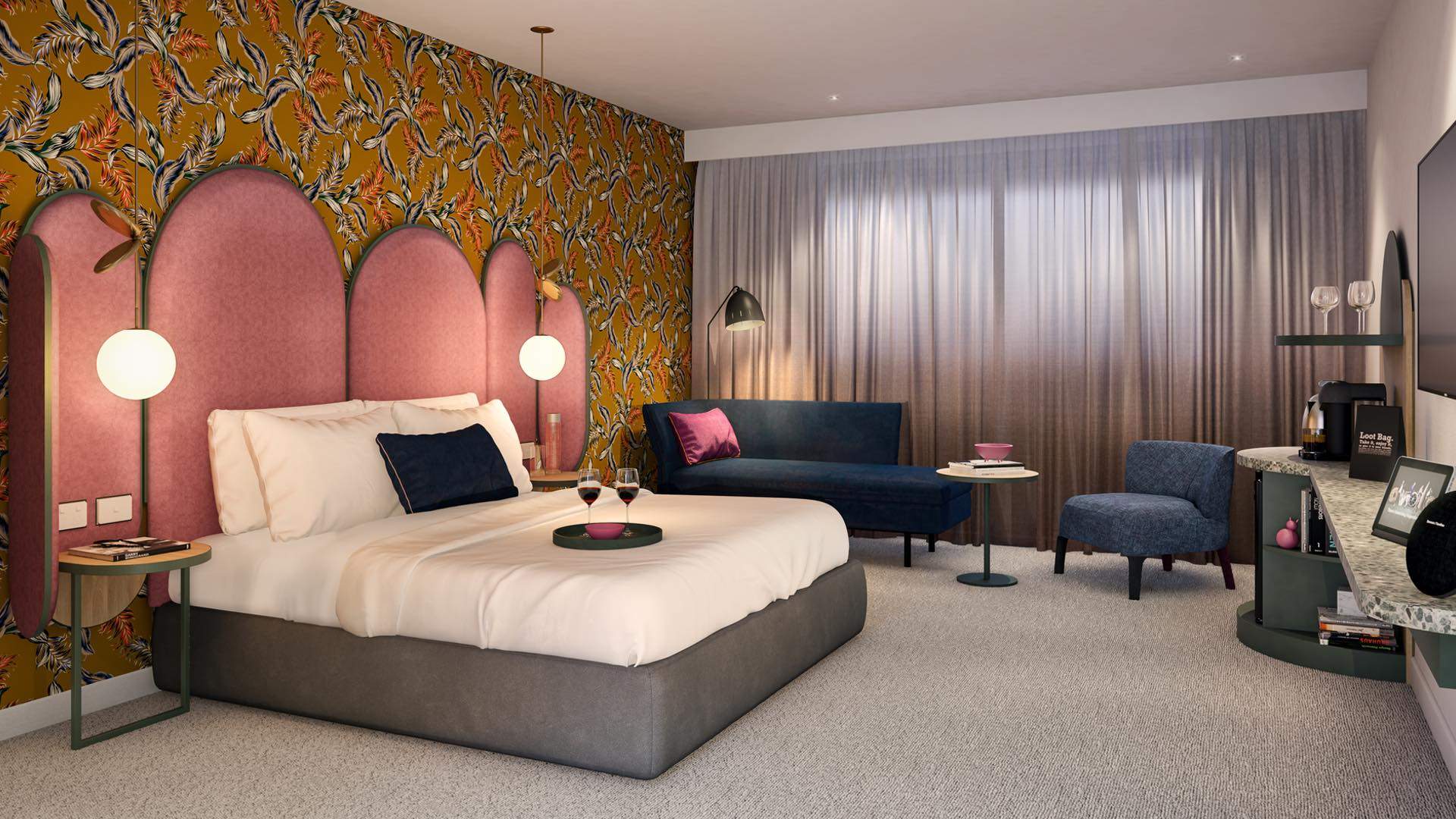 Back at the Fortitude Valley space formerly known as the Emporium, another hotelier has settled in. In late 2018, Hong Kong-based chain Ovolo made the place its own, giving the 103-room site a huge $55 million facelift — and just casually taking inspiration from David Bowie in decking out its two ultra-luxe suites.
Of course, everything is glam at Ovolo the Valley. If you spend a night or several in one of the Rockstar suites, 1970s-esque velvet lounges and a gold bar await. Elsewhere, think rich hues, an overall design that finds its cues in the Valley's streets and laneways, and the eclectic furniture choices that Ovolo regulars have come to expect. The brand's usual inclusions are also on the menu, such as a free minibar with every room (including a lolly bag full of treats), free breakfast with every stay, free wifi, free laundry and free happy hour drinks each day. When you're not enjoying all of the above, head up — that's where you'll find the rooftop swimming pool, gym and sauna.
Find Ovolo The Valley at 1000 Ann Street, Fortitude Valley. Make a reservation here.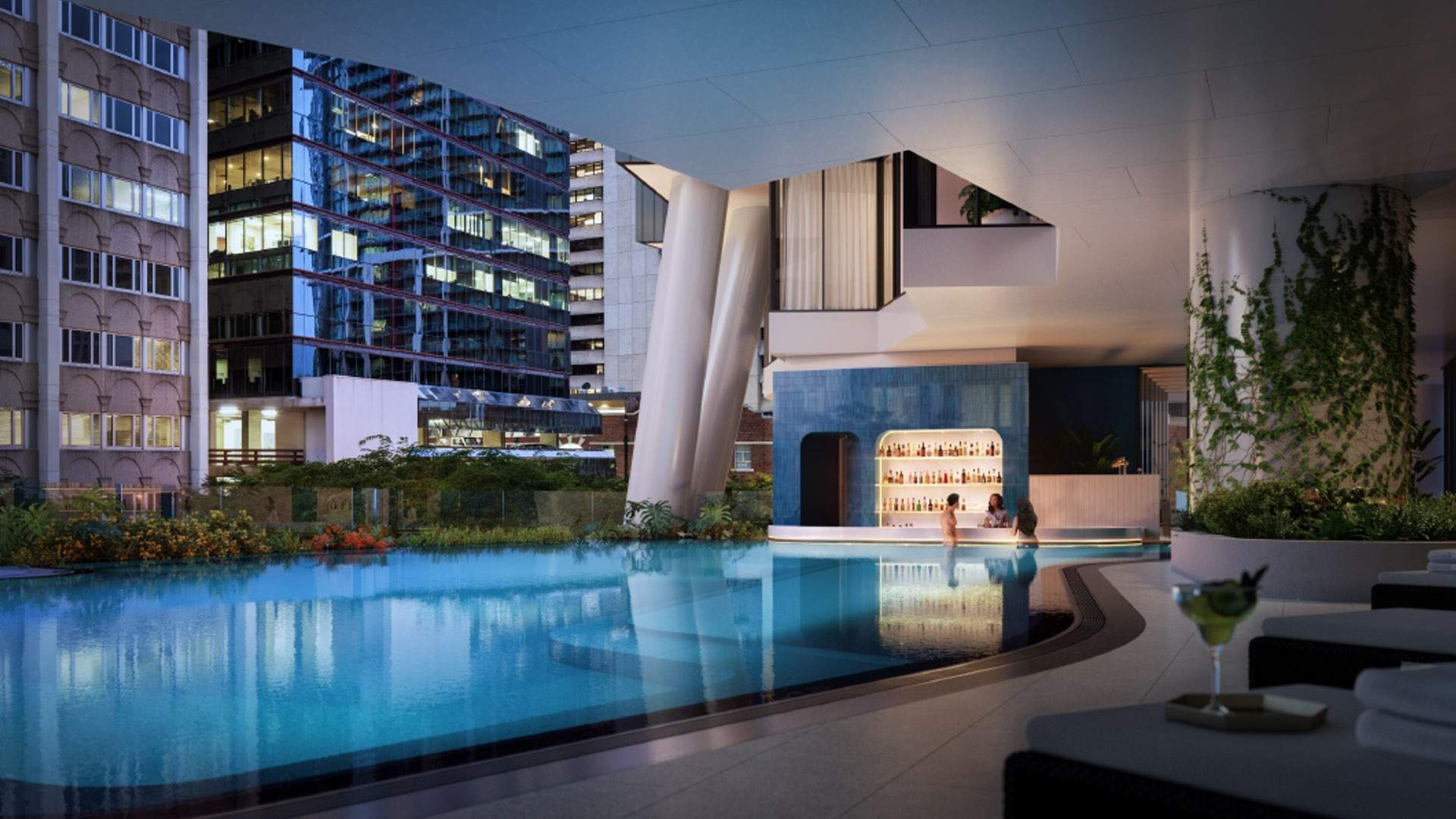 Brisbanites can be excused for feeling a sigh of relief about The Westin. Now that it exists, the huge hole in the ground that blighted Mary and Margaret Streets for years and years is finally gone. And it's a case of good things coming to those who wait, with the hotel giving the city its very first swim-up bar.
The kind of attraction that you'd usually find on an island, by the coast or just somewhere other than an inner city street, the Nautilus is located in the middle of Westin's 300-square-metre swimming pool — and features views over the city, too. Sounds like the only excuse we all need for a staycation in one of the hotel's 299 rooms and suites. Although cabanas, deckside yoga classes, an onsite jazz bar and a 150-person restaurant all help as well.
Find The Westin Brisbane at 111 Mary Street, Brisbane. Make a reservation here. 
In 2018, the W Hotel chain made its return to Australia in a big way. Showing just how much of a designer hotel hotspot Brisbane has become, the brand opened its new digs smack bang in the middle of the city. If you're going to make a comeback, you may as well do it with a 312-room structure by the river along North Quay. It's the chain's only site in the country at present (though Sydney and Melbourne outposts are imminent).
The views are a huge drawcard, obviously, but this spot has plenty of other tricks up its sleeve. When guests aren't chilling in the decadent pool, which immediately catches the eye with its geometric, black-and-white design, they can grab a beverage at the adjacent waterside bar or have a meal at Queensland's first Three Blue Ducks restaurant. Or, slipping back upstairs and into the ten-gallon drum baths in each room is also an option. And as a bonus, there's also in-suite cocktail stations, so prepare to get mixing and drinking.
Find W Brisbane at 81 North Quay, Brisbane. Make a reservation here.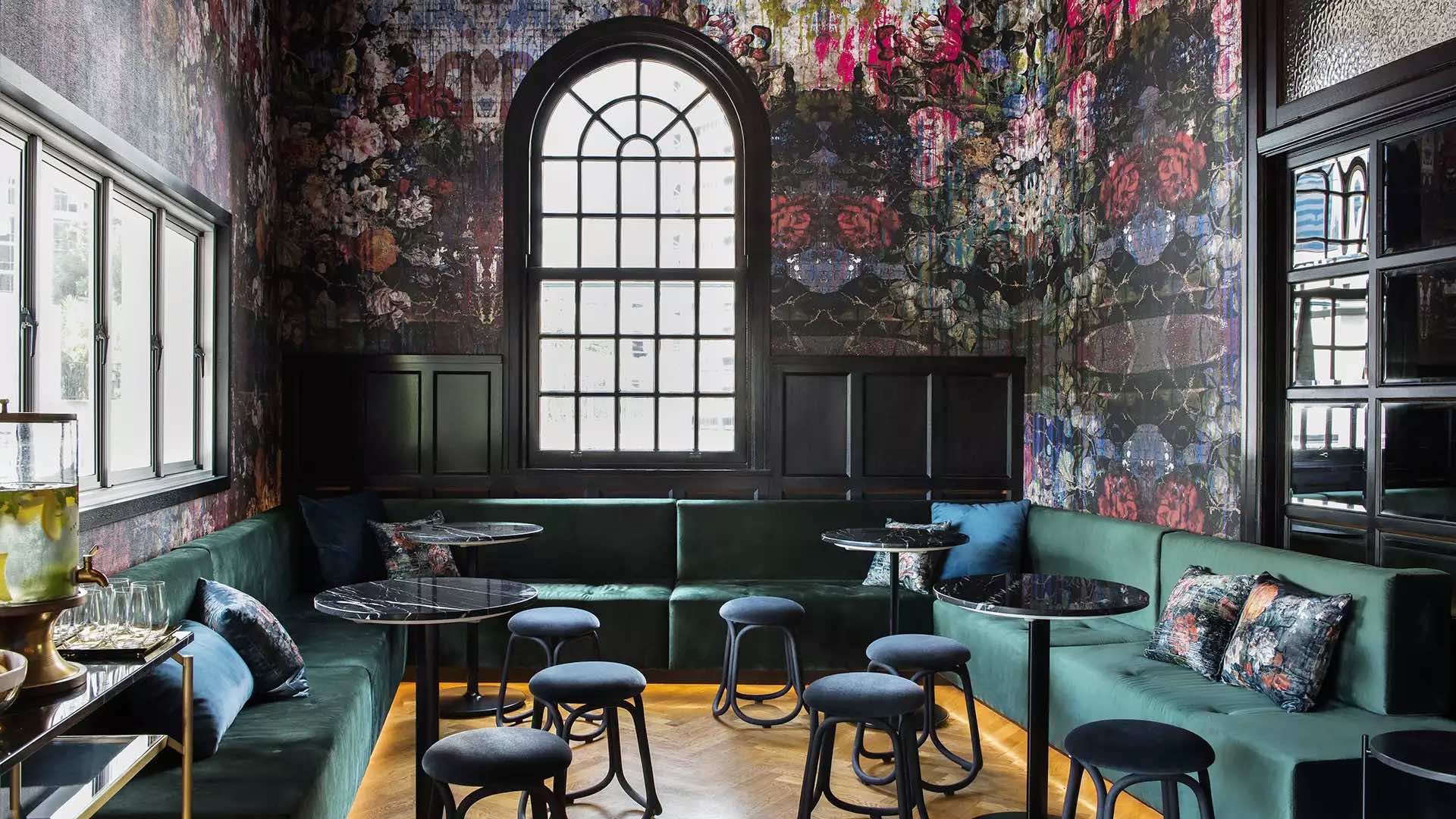 Ovolo didn't just take over one existing Brisbane hotel and completely revamp it. Making sure its presence is felt in the city, it did just that to two. And, when it renovated and reimagined the nearly 100-year-old Inchcolm in Spring Hill, it unleashed a striking facelift that combines the old and the new.
There's no doubting the site's heritage, which is clearly evident from its exterior, but the fresh interior decor goes retro in a raft of different ways. Sit on green velvet couches, sip martinis like you're in 20s-era Paris — and eat free Fantales. Order your drinks from a bar decked out with David Bowie- and Prince-themed crockery, tap your toes to 80s tracks like 'Footloose' and grab a bite from the menu. Up in your room, you'll find spacious suites filled with mod cons, including an Alexa to help you out. Plus, there's Ovolo's free minibar.
Find Ovolo Inchcolm at 73 Wickham Terrace, Spring Hill. Make a reservation here.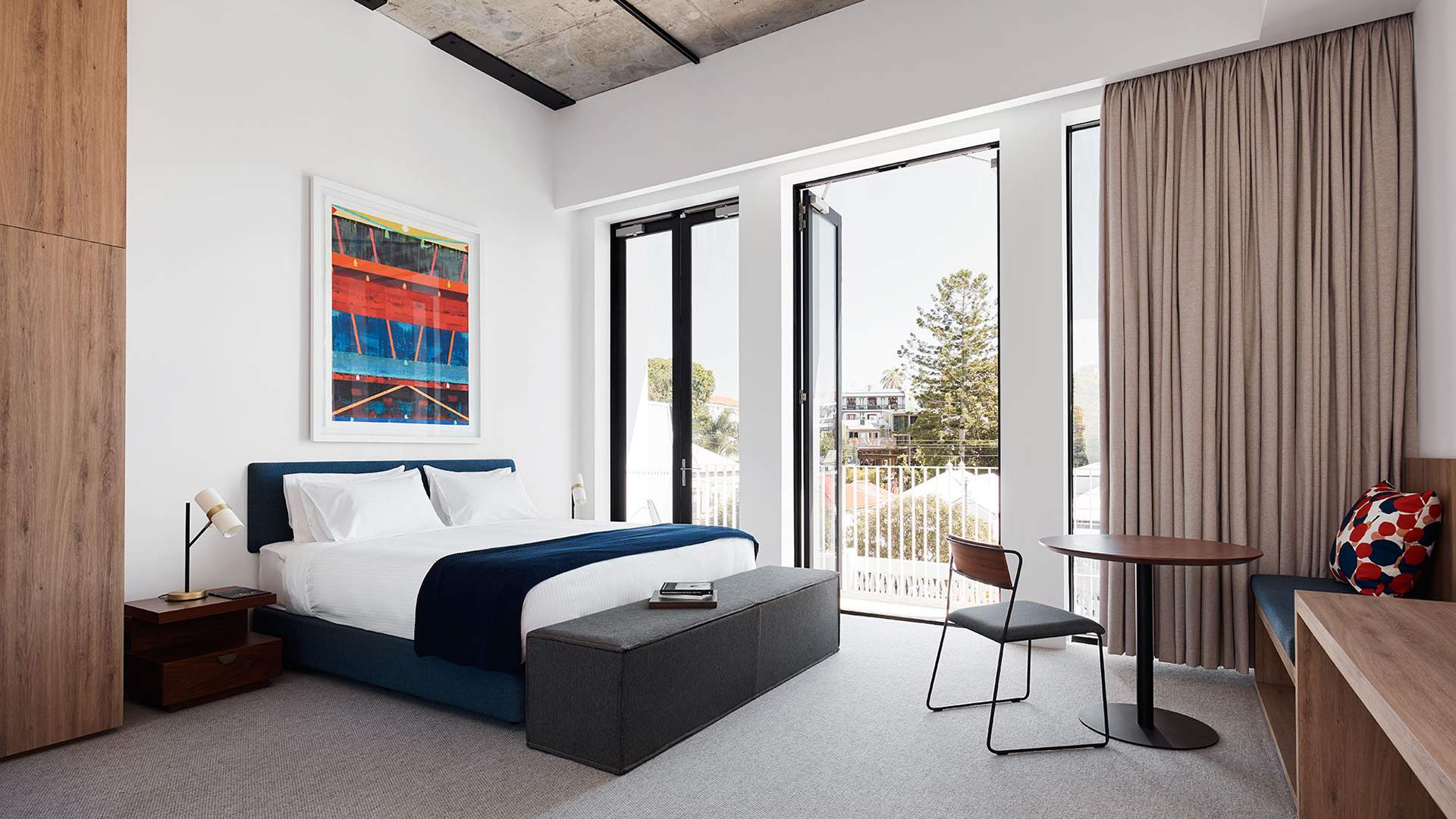 It's been a couple of years since Art Series Hotels made its first foray into Brisbane, and its Spring Hill site lives up to the brand's concept. Every room in the 83-suite property nods to the space's namesake: Sydney-born abstract artist Michael Johnson, whose original paintings and prints grace The Johnson's walls.
In a former life, the site was once home to the Department of Transport, although no trace of that bureaucratic past remains. This is a sleek, minimalistic abode that finds its style in the hefty array of art; however, the hotel's pared-back approach doesn't clash with its classy feel. Or with the resort-style 50-metre pool, deck bar and downstairs restaurant, or balcony views over one of the inner city's quietest, leafiest suburbs.
Find The Johnson at 477 Boundary Street, Spring Hill. Make a reservation here.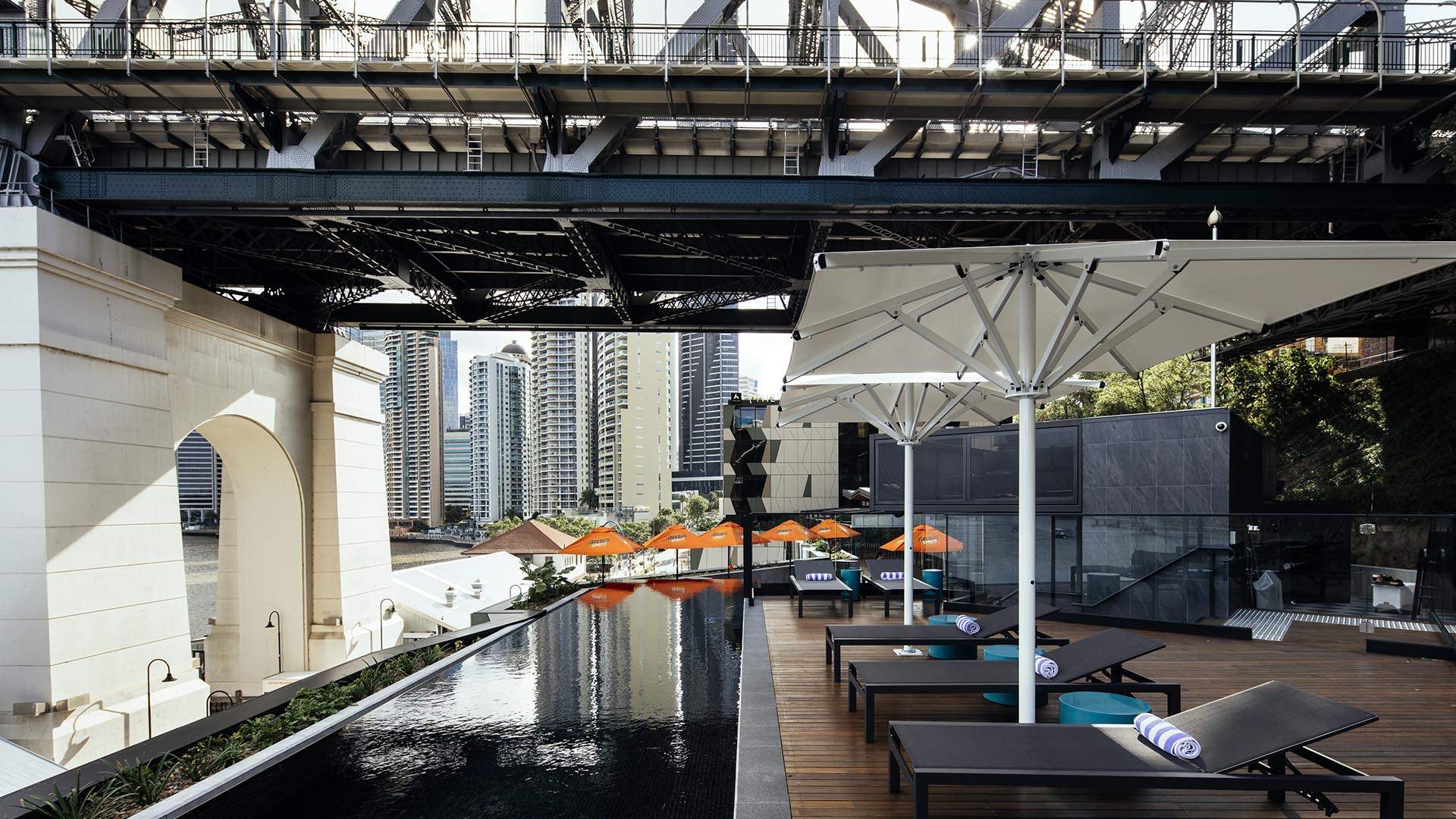 If you love the idea of The Johnson, chances are this will pique your interest, too. The Fantauzzo is Brisbane's second Art Series Hotel and pays tribute to the world-renowned Australian painter and photographer Vincent Fantauzzo, who has won the Archibald People's Choice Award a whopping four times (among many other accolades). Built into the cliff bordering the CBD and Fortitude Valley, the $100 million site boasts one mighty fine view of the city and the Brisbane river, plus custom furniture, a dark-toned interior decor and six new original artworks by Fantauzzo — plus, 500 others. The pool, overlooking the river, is a definite highlight. But if you manage to tear yourself away from the water, you're super close to the excellent Howard Smith Wharves precinct, which is home to a brewery, overwater bar and slick Greek restaurant.
Find The Fantauzzo at Howard Smith Wharves, 5 Boundary Street, Brisbane. Make a reservation here.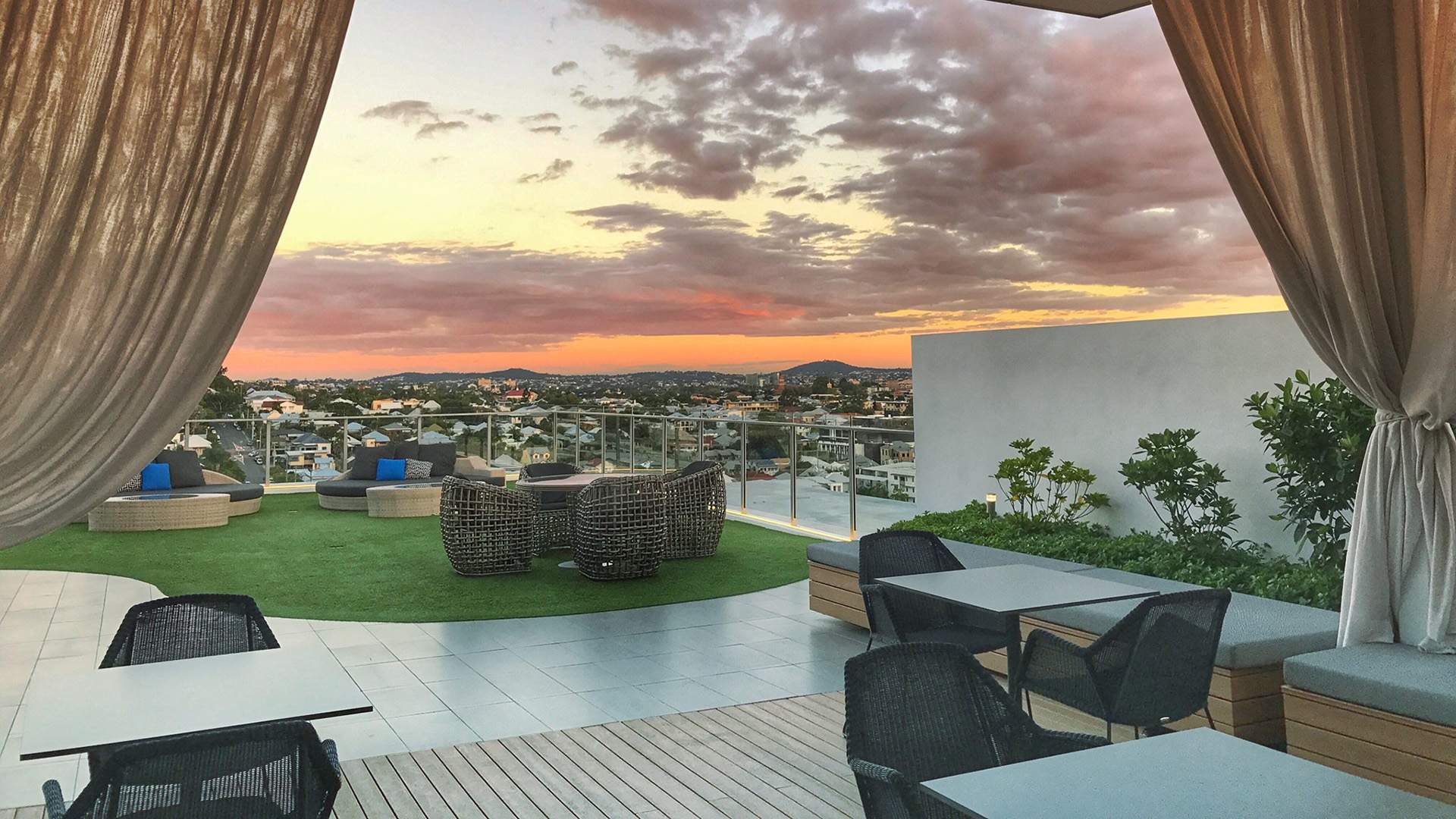 Alex Perry Hotel puts its designer credentials right there in its name. This Fortitude Valley space is decked out with all of the fashion designer's touches. Think rich, dark colours contrasting with gleaming white and natural tones, plus natural light aplenty. And, the rooms are all apartment-style, which always helps in making you feel at home.
It might be located in a busy area for boutique accommodation, near both The Calile and Ovolo the Valley, but there's one thing that helps Alex Perry Hotel stand out: its rooftop space. There's a pool, naturally; however, sitting on the astroturf and admiring the sunset is one of the best ways to soak in this gorgeous city.
Find the Alex Perry Hotel at 959 Ann Street, Fortitude Valley. Make a reservation here.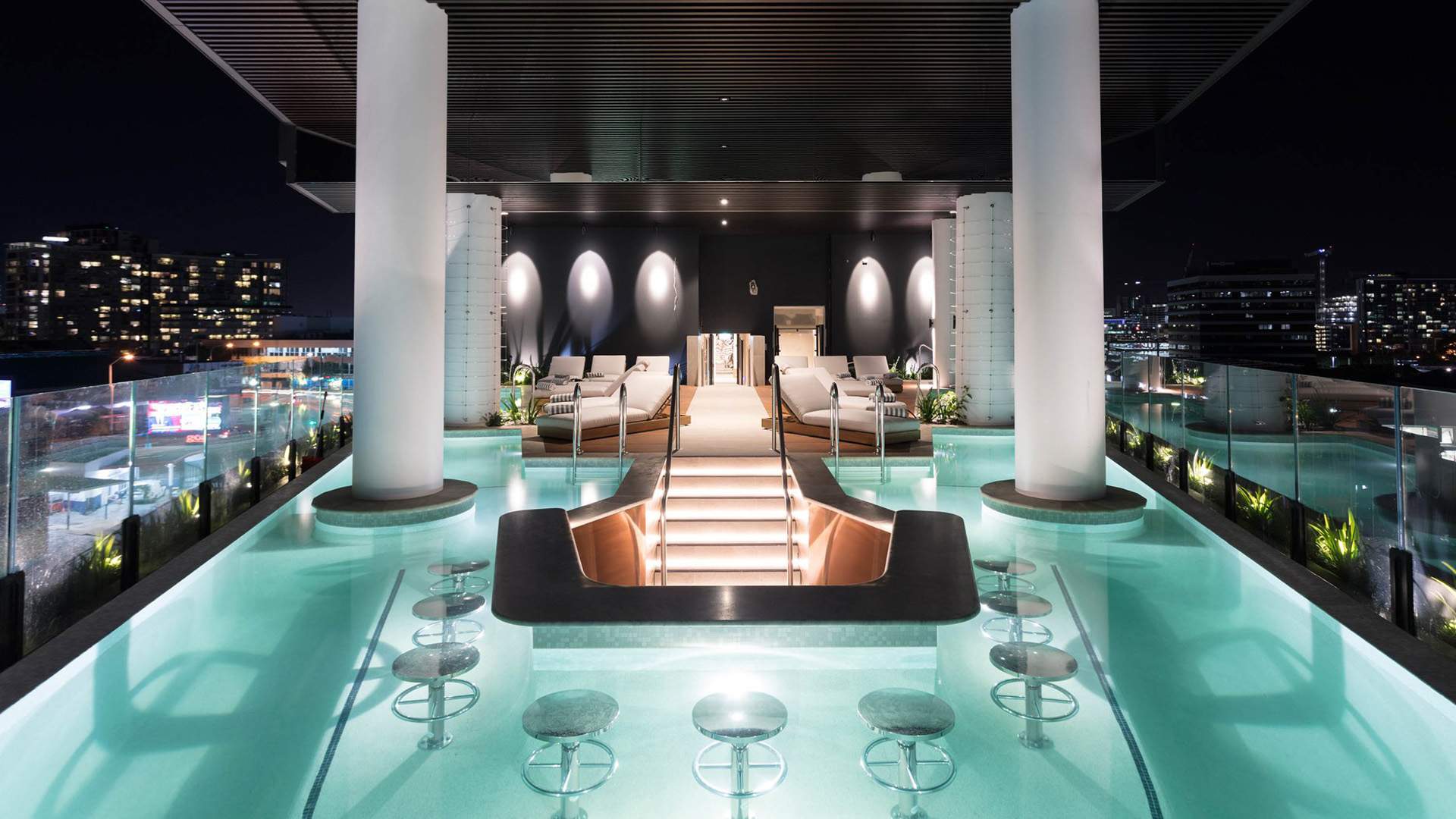 You can't miss this triangular-shaped structure in Fortitude Valley that purposefully takes inspiration from New York's famous Flatiron Building. Of course, you're not supposed to miss it. But marvelling at its exterior is just the start — although one of its unmistakable highlights is definitely located outside, and up high as well.
Lofty pools with a view are on-trend at the moment, but we're not complaining. Here, said splash-friendly spot is U-shaped, and it looks out over the city skyline. You can also book private spa lounges should be you staycationing with a group, and then catch a flick on the outdoor deck. Or, find your bliss in the yoga studio.
Find FV by Peppers at 191 Brunswick Street, Fortitude Valley. Make a reservation here. 
Whether you're planning to travel for a couple of nights or a couple of weeks, Holiday Here This Year and you'll be supporting Australian businesses while you explore the best of our country's diverse landscapes and attractions.
Top image: The Calile by Sean Fennessy. 
Introducing Concrete Playground Trips
Book unique getaways and adventures dreamed up by our editors