Qantas Has Just Trialled a Non-Stop Flight from London to Sydney
After flying direct from New York–Sydney in October, the airline has just trialled its next possible non-stop long-haul route.
A month after becoming the first commercial airline to pilot a non-stop flight from New York to Sydney, Qantas has flown direct from London to Sydney in a trial run. The ongoing research tests are part of the company's efforts to assess the feasibility of the airline's Project Sunrise scheme, which aims to implement the routes by 2022.
For the past five years, Qantas has been promising to eradicate one of the worst things about international long-haul air travel to and from Australia: the dreaded stopover. First, it announced and then implemented non-stop 17-hour flights from Perth to London; however if you live on the east coast, you still have to get to Western Australia. So, the airline revealed that it was exploring direct routes from Sydney, not only to London but to New York as well. Since then, Qantas has been pursuing the idea enthusiastically, widening its plan to also include departures to and from Melbourne and Brisbane.
Last month, the Aussie carrier took the next step by starting test flights, which were initially announced a couple of months prior. The huge 19.5-hour journey New York–Sydney journey was just the first trip, with Qantas then flying a brand new Boeing 787 Dreamliner from London to Sydney between Thursday, November 14 and Friday, November 15.
The UK–Australia trip took 19 hours and 19 minutes from Heathrow, cutting down the current travel time for east coast-dwellers by around two hours — not including the inevitable stopover time once you get from Sydney, Melbourne or Brisbane to Perth. And, it travelled 17,800 kilometres, which is longer than the 16,200 kilometres from New York to Sydney. The two flights took around the same time, though, due to prevailing tail winds between London and Sydney.
If you know your aviation history, you'll know that the London to Sydney trek has actually been made before; however the last time it happened was back in 1989, when Qantas made the journey on a Boeing 747-400 with just 23 people onboard. This time, around 50 passengers and crew made the journey, with the aircraft flying across 11 countries: England, the Netherlands, Germany, Poland, Belarus, Russia, Kazakhstan, China, Philippines, Indonesia and, obviously, Australia.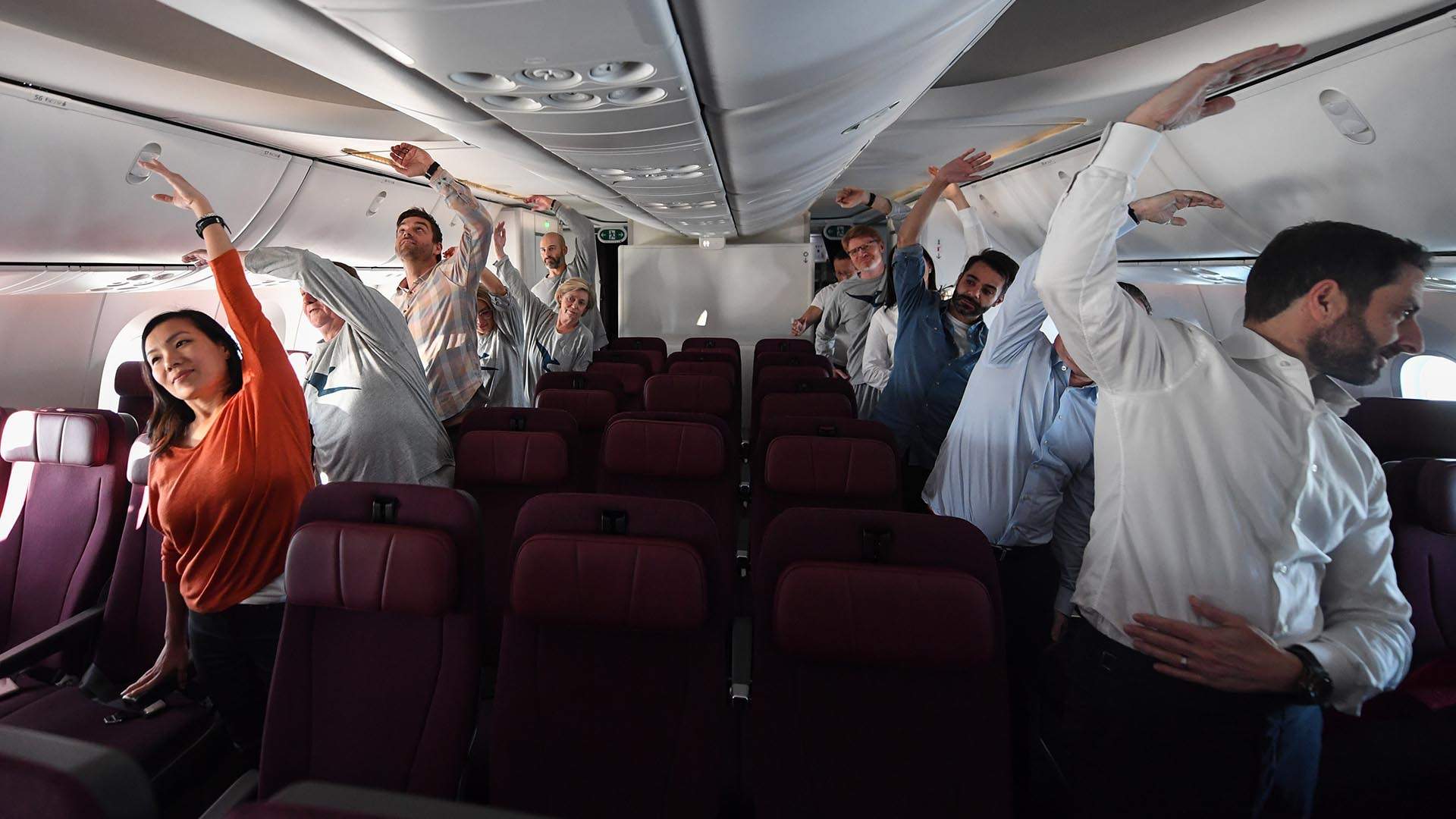 Like its New York to Sydney counterpart, the aim of the journey was to gather data about inflight health and wellbeing. Passengers and crew were fitted with wearable technology devices to monitor their monitor sleep patterns, food and beverage consumption, physical movement and use of the entertainment system during the flights. The results will then be assessed by scientists and medical experts from the Charles Perkins Centre, with minimising jetlag, and helping identify optimum crew rest and work patterns part of their research. Testing the impact on pilots is also part of the research.
While spending nearly a day on one single plane to get to the USA or Europe is definitely better than jumping on and off different vessels multiple times, it's still a seriously long slog. Yes, you'll avoid the sometimes long, always painful stopovers, but the lengthy journey isn't without its physical, mental and emotional toll — as anyone who has made the Perth to London trip knows — which is what makes this testing so important.
A third trial flight, repeating the New York-Sydney route, is planned in December. Qantas is expected to announce whether Project Sunrise will progress to making commercial flights, rather than just trial flights, by the end of the same month. If it proceeds, it'll eclipse the current record for the world's longest direct flight  — which clocks in at over 19 hours on Singapore Airlines' 15,322-kilometre Singapore to New York route.
Images: Qantas.
Introducing Concrete Playground Trips
Book unique getaways and adventures dreamed up by our editors