Everything You Need to Put in Your Diary for September
Catch the return of Victoria's annual hot chocolate festival, head to a vegan market or dig into the the next iteration of Stokehouse's monthly pasta series.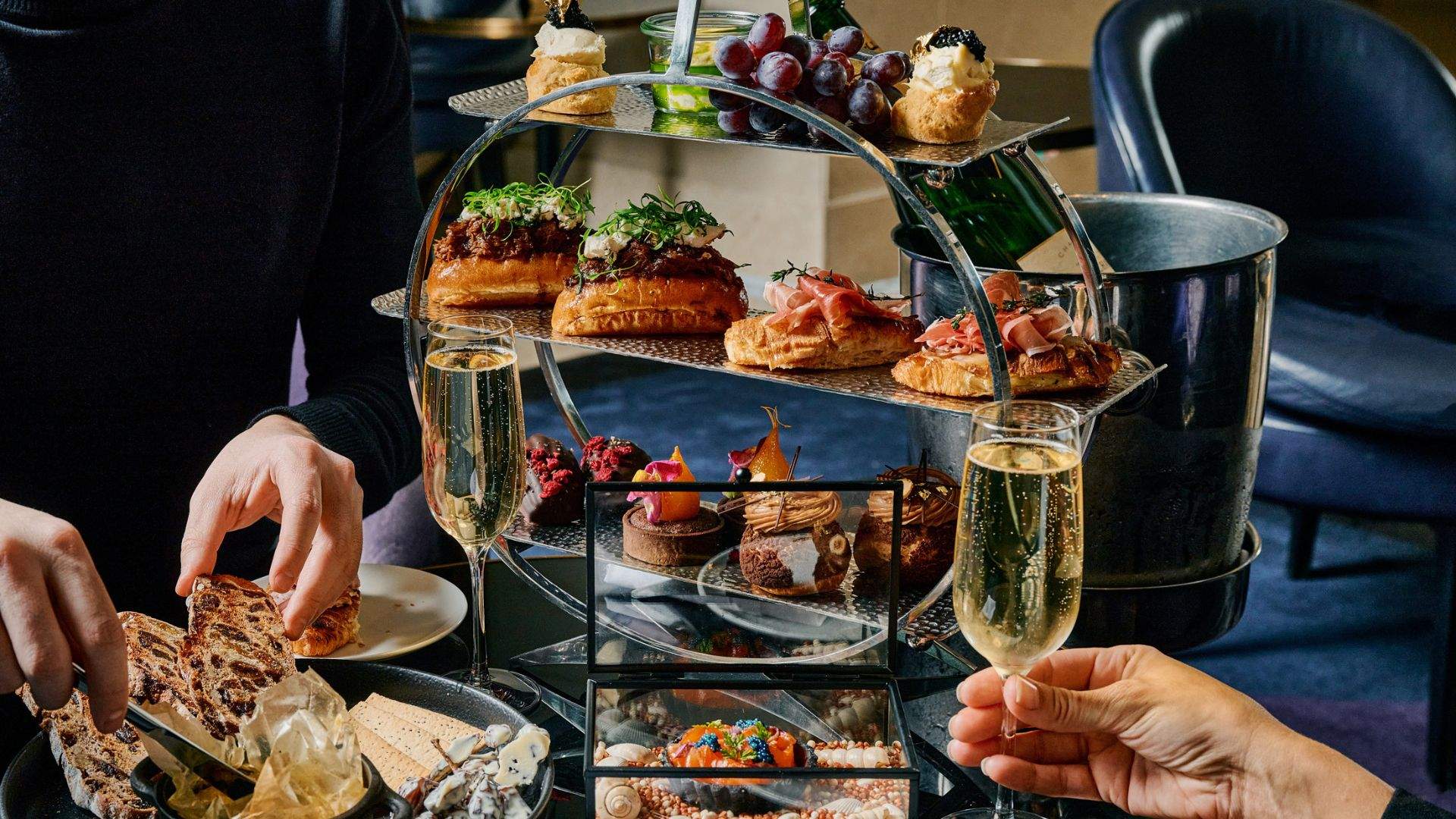 A lot happens in this big, bustling city of ours. Think movie marathons, exhibitions, and everything from booze-fuelled shindigs to outdoor adventures in between. And, of course, there's always more around the corner, with next month no different. That means that there's plenty to look forward to, and plenty of activities to fill your diary to the brim. To help you plot things out, make plans with the gang and make the most of every moment, we've rounded up Melbourne's best happenings for September. Don't say you don't have anything to do this month.
Top Image: The Westin, Societea, supplied.
Food & Drink

Oktoberfest comes to Preston, complete with special sips, a beer competition, and a menu that's far more than just pretzels and brews.

Arts & Entertainment

This exhibition filled with life-sized, lifelike creatures is roaring into Sydney for the dinosaur franchise's 30th anniversary.

Food & Drink

Join this farewell fiesta to treat your tastebuds to this kitchen residency one last time. Oh, and did we say there's limoncello?

Travel & Leisure

Swap footy scarves for lanterns — 206 Bourke Street is about to be lit, literally, with a Chinese festival glow over Grand Final weekend.

Food & Drink

Poodle is throwing another of its patio parties, with this iteration a disco-themed Sunday sesh with Cremorne mates Lilac Wine Bar.

Design & Style

The Amsterdam-born bike brand is hosting a one-day garage sale with discounts of up to 50-percent off, plant-based food, a DJ set and a raffle.

Arts & Entertainment

Catch the 1982 classic on the big screen, followed by a chat about games, technology and the film's use of AI after the screening.

Arts & Entertainment

A Shinjuku-inspired bar and a performance space in one, this neon-lit venue pairs sake cocktails and shōchū with magic shows at your table.

Arts & Entertainment

Fresh from Coachella, Skrillex and Four Tet are coming to Melbourne to headline this electronic-meets-hip hop festival.

Arts & Entertainment

The first live-action superhero film with a Latino lead sometimes struggles with standing out versus being generic, but boasts plenty of charm.

Arts & Entertainment

Leaning into gothic horror in this Halloween-set murder-mystery, Kenneth Branagh's Poirot movies get their best instalment yet.

Arts & Entertainment

15 secondhand everyday objects have been transformed into LEGO® civilisations at Melbourne Museum.

Travel & Leisure

This Yarra Ranges orchard is getting into the swing of cherry blossom season with cherry ice cream, cherry vodka and paint-and-sip sessions.

Food & Drink

Richmond's Bridge Hotel is doing snack platters for pooches so you can have a pub date with your pup.

Arts & Entertainment

'Jurassic Park' isn't the only film about life finding a way thanks to this cleverly contemplative survival comedy starring Mark Duplass and Sterling K Brown.

Food & Drink

Kwãnt, one of the world's best cocktail bars, is bringing its tropical-inspired cocktails to Society for one night only for Negroni Week.

Arts & Entertainment

Space movies are taking over IMAX Melbourne's massive seven-storey-tall screen, including '2001: A Space Odyssey', 'Interstellar', 'Apollo 11' and 'Nope'.

Arts & Entertainment

Replicas of Central Perk, that orange couch and the 'Friends' fountain have arrived in Melbourne to make your day, your week, your month and even your year.

Food & Drink

A heap of boutique wineries will be pouring their vinos at Into The Valley, a free pop-up taking place in Collingwood for three weeks in September.

Food & Drink

Hecho en Mexico is hosting a one-night celebration of Mexican Independence Day with a five-course dinner curated by Theo Loizou of 'Masterchef'.

Who will make it to the Prelims?

Arts & Entertainment

'Fantastic Beasts' has been turned into a natural history exhibition — and you can see it at Melbourne Museum.

Arts & Entertainment

Drama kids and stage obsessives, prepare to be seen by this hilarious, affectionate and deeply authentic mockumentary.

Arts & Entertainment

Pop culture's favourite heroes in a half shell get the 'Spider-Verse' treatment — and it's their best spin in cinemas yet.

Arts & Entertainment

The orchestra meets the controller in a one-night-only celebration of the indie game industry.

Food & Drink

There'll also be free Vodka Cruiser cocktails, in case you want to relive your teenage dreams.

Arts & Entertainment

Featuring interviews with Kylie Minogue, Bruce Springsteen, Paul Kelly, Ed Sheeran and more, this affectionate documentary pays tribute to the Mushroom Records founder.

Arts & Entertainment

Despite a great cast, this third attempt to bring the theme-park attraction to the screen can't summon up anything beyond a stretched and by-the-numbers affair.

Arts & Entertainment

Debut films don't get any better than this movingly tender, blisteringly honest and deeply complex romance — and neither do new movies in 2023.

Food & Drink

Whisky connoisseurs, pay attention — Archer's is bringing its four-course whisky dinners back for three monthly instalments.

Arts & Entertainment

Catch performances from Amy Shark, Jessica Mauboy or Thelma Plum at this free live music event series.

Arts & Entertainment

Solely set in a hotel room, this searing two-hander gets Christopher Abbott and Margaret Qualley digging into power, privilege, fetishes and fantasies.

Food & Drink

The Lucas Group's venues are throwing a happy hour special for the ages, including $9.50 cocktails, $6.50 craft beers, wallet-friendly wine and small plates specials.

Arts & Entertainment

Attenzione: Melbourne's celebration of Italian cinema is back for another year of Europe-set big-screen must-sees.

Food & Drink

Indulge in caviar, premium cheese and theatrically plated tarts in what might be The Westin's fanciest high tea yet.

Food & Drink

This Pugliese-style dinner will feature a four-course feast including matching regional wines.

Food & Drink

The Tex-Mex chain is serving up Vodka Cruiser-inspired margaritas until the end of September.

Arts & Entertainment

Will Ferrell and Jamie Foxx voice pooches on a mission in this hit-and-miss canine comedy, which gets lewd and crude with adorable dogs.

Food & Drink

This luxurious six-course degustation trips through four courses of wagyu and paired whisky cocktails.

Arts & Entertainment

'It's Always Sunny in Philadelphia' star Glenn Howerton is phenomenal in this tragedy-meets-farce version of the first must-have smartphone's rise and fall.

Design & Style

Fed Square is championing planet-friendly living with a Zero Waste Festival, vegan market and hands-on workshops from Brunswick community favourite CERES.

Travel & Leisure

Get putting, go bowling, mash buttons or work your way through a challenge-room hotel for a fiver — and help a great cause.

Arts & Entertainment

After kicking off its Australian run here in 2021, the spectacular (spectacular) stage show is returning to Melbourne for a second season.

Food & Drink

Wrap up your week with bottomless Four Pillars gin cocktails and produce-driven eats overlooking the Yarra.

Arts & Entertainment

It's non-stop tunes in Brisbane throughout September as three music festivals descend on the city.

Arts & Entertainment

This exhibition hits Melbourne University's Science Gallery in partnership with European particle physics lab CERN.

Food & Drink

Learn from Chin Chin's Executive Chef Ben Cooper, before sitting down to a punchy Thai-inspired lunch.

Arts & Entertainment

BYO damn fine cup of coffee for this cinema season, which showcases six of Lynch's films on the big screen.

Arts & Entertainment

Stream along with this year's tenth-anniversary QSFF at home, including new queer highlights and retro standouts.

Food & Drink

Live jazz-hop served with chef Boggio's signature lasagne. That's your Wednesday night sorted.

Arts & Entertainment

Disney's nostalgic new musical about Hundred Acre Wood's beloved residents is playing Comedy Theatre.

Travel & Leisure

This 'Beauty and the Beast' escape room-meets-scavenger hunt game is taking over Melbourne's streets.

Arts & Entertainment

The Lume's stunning new multi-sensory exhibition is dedicated to First Nations art and music.

Arts & Entertainment

A massive Marilyn Monroe exhibition featuring more than 200 artefacts is taking over Sydney Town Hall for three months.

Arts & Entertainment

This stunning Pierre Bonnard exhibition in collaboration with the Musée d'Orsay — and with scenography by architect India Mahdavi — is enjoying its world-premiere at the NGV.

Arts & Entertainment

With 40+ musos taking the stage, market stalls and a myriad food pop ups this Sapphire Coast celebration makes for a very worthy road trip.

Travel & Leisure

The Deni Ute Muster is a uniquely Aussie rural festival complete with Bogan Bingo, camel rides and other real-life Australian Idols (ahem Nollsy).

Arts & Entertainment

Australia's most-comprehensive Rembrandt exhibition in 25 years is taking over the NGV all winter.

Travel & Leisure

This annual celebration is about two things: cold beer and mixed-surface cycling.

Arts & Entertainment

Party in ACMI's world-premiere 'Goddess' exhibition after hours, complete with food, drinks, and femme-focused music and performances.

Food & Drink

Stokehouse Pasta & Bar is hosting a monthly dining series championing the humble pasta.

Food & Drink

Coburg's Bluestone BBQ is serving up two hours of unlimited slow-cooked smoked meats and free-flowing drinks for just $59 per person.

Arts & Entertainment

The award-winning tale of love and loss in the Vietnam War is coming to the Sydney Opera House.

Food & Drink

A free-flowing feast of cocktails and bites infused with the flavours of Hong Kong.

Arts & Entertainment

A new Elvis musical is hitting Melbourne to get you all shook up about the king of rock 'n' roll.

Arts & Entertainment

Fortitude Valley's huge annual music event is back for 2023, with 141 artists hitting the festival's stages across four big days.

Arts & Entertainment

Glowing gardens, dancing drones, circus in a cathedral, fireworks, kazoos: they're all on this citywide arts festival's lineup for 2023.

Arts & Entertainment

Get ready to defy gravity: this 'Wizard of Oz'-inspired blockbuster musical is returning to Sydney.

Arts & Entertainment

You'll want to be this delightful Disney musical's guest when it hits Sydney from June 2023.

Food & Drink

A new Fitzroy market showcase a top selection of local food producers each Saturday.

Food & Drink

Feast on French fare against a backdrop of immersive French impressionist art at The Lume's new dining series.

Travel & Leisure

This neighbourhood wine bar is devoting Sundays to local makers and creatives with a calendar of wine tastings, gin blending, paint-and-sip sessions and more.

Arts & Entertainment

This world-premiere exhibition at ACMI celebrates women across 120-plus years of screen history.

Food & Drink

Feast your way through unlimited pork belly, chicken schnitzels, chicken wings and German sausages.

Food & Drink

Take midweek steak night to the next level with prime wagyu cuts, bottomless hand-cut fries and local vino on tap.

Food & Drink

A rooftop brunch to satisfy even the fussiest Goldilocks.

Food & Drink

Tuck into $9.95 schnitzels one day a week at The Bavarian.

Travel & Leisure

This dazzling exhibition at Sea Life Melbourne Aquarium dives into the mysteries of the bioluminescent underwater world.

Arts & Entertainment

Discover the cultural and social diversity of working life over the years at the Immigration Museum's latest exhibition.
Tap and select
Add to Home Screen
to access Concrete Playground easily next time.
x