Everything You Need to Put in Your Diary for April
Explore a luminous after-dark festival, extend those summer vibes at a luxe hotel pool party, and spend your Friday nights soaking up art, music and gin at the NGV.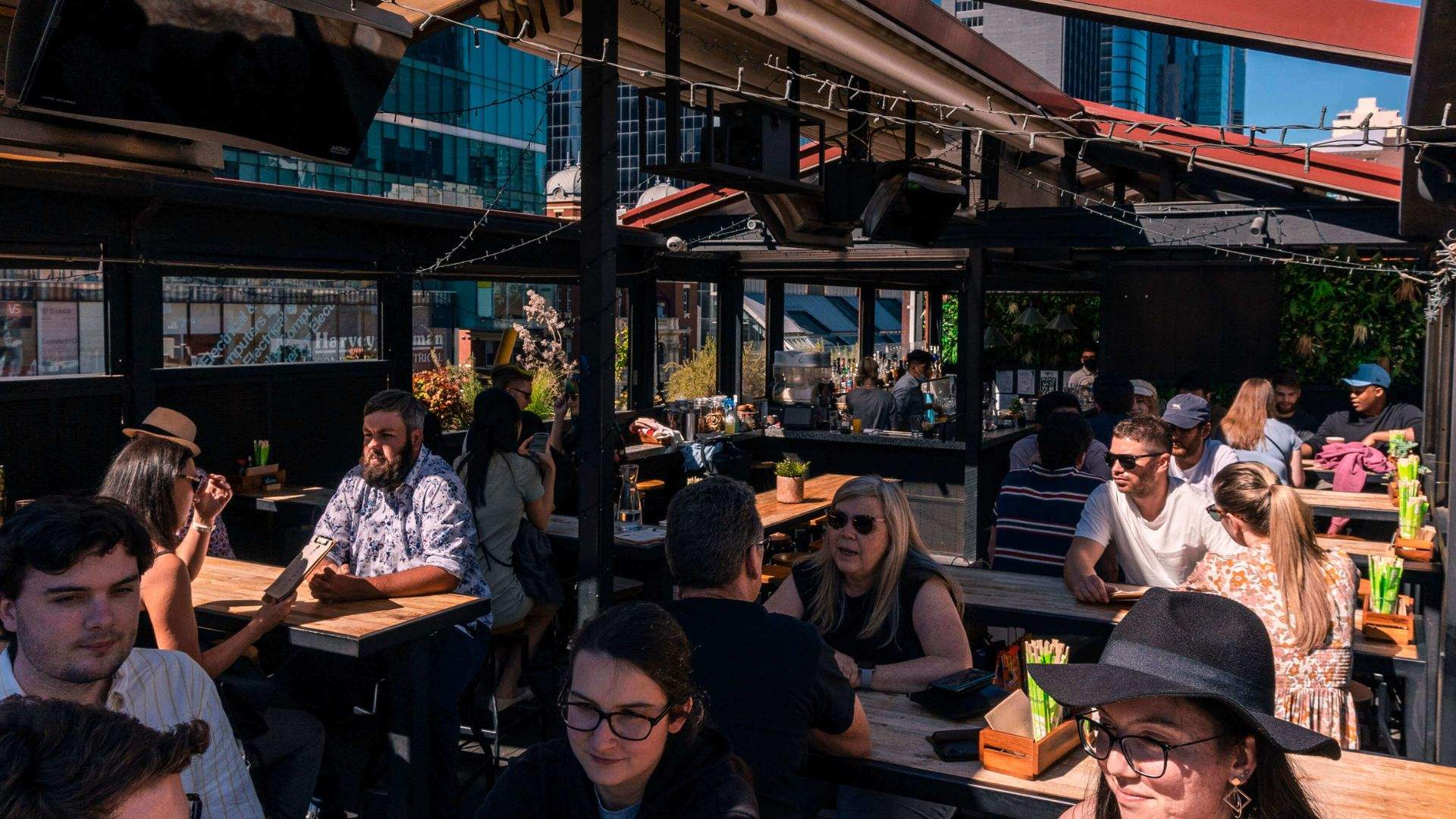 A lot happens in this big, bustling city of ours. Think movie marathons, exhibitions, and everything from booze-fuelled shindigs to outdoor adventures in between. And, of course, there's always more around the corner, with next month no different. That means that there's plenty to look forward to, and plenty of activities to fill your diary to the brim. To help you plot things out, make plans with the gang and make the most of every moment, we've rounded up Melbourne's best happenings for April. Don't say you don't have anything to do this month.
Top Image: Goldilocks.
Food & Drink

This Collingwood dessert pit-stop is serving up limited-edition ice cream treats — and you can try them for free.

Arts & Entertainment

Thanks to its stacked cast and light tone, the latest attempt to bring 'D&D' to the screen is enough of a romp for fans and newcomers alike.

Food & Drink

The Terrace is hosting a special Easter Sunday high tea overlooking the Royal Botanic Gardens' picturesque Ornamental Lake.

Food & Drink

The ice cream brand is bringing back its delicious day dedicated to free scoops for the first time since 2019.

Food & Drink

Feel the burn with a day of spicy eats, chilli lager and hot sauce stalls — plus a chilli-tasting competition.

Travel & Leisure

Enjoy a guided yoga flow class while immersed in large-scale digital art, curated sounds and a bespoke aroma.

Food & Drink

Feast your way through unlimited pork belly, chicken schnitzels, chicken wings and German sausages.

Food & Drink

Take midweek steak night to the next level with prime wagyu cuts, bottomless hand-cut fries and local vino on tap.

Arts & Entertainment

Immerse yourself in stories of place and history, as you explore compelling new works centred on Australia's intercultural connections with its neighbours.

Food & Drink

Head along to this fundraising fiesta with a difference and help support a local legend.

Food & Drink

A full-venue Sunday sesh complete with DJs, cocktails, wines by Mosaique — and a lunch feast courtesy of Matt Stone and Tim Goegan.

Food & Drink

A rooftop brunch to satisfy even the fussiest Goldilocks.

Arts & Entertainment

Australian cinema gains a new queer classic with this tender Melbourne-set romance from 'You Won't Be Alone' writer/director Goran Stolevski.

Arts & Entertainment

This new touring indie-rock festival features Modest Mouse, Slowdive and Tropical F*ck Storm.

Food & Drink

Southeast Asia meets Mexico for this exclusive MFWF fusion banquet.

Arts & Entertainment

The 'John Wick' films keep getting bigger and better, with Keanu Reeves joined by martial-arts icon Donnie Yen in this globe-hopping action epic.

Food & Drink

A great feed that'll make you feel good in more ways than one.

Arts & Entertainment

Mia Goth is magnetic again in this gem of a prequel to Ti West's 2022 slasher standout 'X'.

Arts & Entertainment

With a name like this, of course this new music fest is led by The Smashing Pumpkins — with Jane's Addiction and Amyl and The Sniffers also on the lineup.

Arts & Entertainment

Ten Aussie legends will descend on Torquay Common, including ARIA Hall of Fame recipient Daryl Braithwaite.

Arts & Entertainment

This renowned Sydney-based Sri Lankan-born artist brings his colourful mythological sculptures south for his first Melbourne solo show in seven years.

Arts & Entertainment

Apart from casting Helen Mirren, Lucy Liu and 'West Side Story' star Rachel Zegler, this sequel to 2019's 'Shazam' is hardly magical.

Arts & Entertainment

This weird and wonderful film fest's latest lineup includes nude 'Zoolander', scratch-and-sniff 'Teenage Mutant Ninja Turtles', French thrillers and more.

Travel & Leisure

This five-day celebration of flowers, plants and all things horticulture features stunning installations, workshops, art and endless green-thumb inspo.

Arts & Entertainment

The Strokes, the Yeah Yeah Yeahs and NYC's early-00s indie-rock scene get the in-the-moment documentary treatment by the directors of 'Shut Up and Play the Hits'.

Food & Drink

This Mornington Peninsula bathing destination is doing a monthly high tea starring native ingredients and signature gin cocktails.

Food & Drink

Get your weekend dose of la dolce vita at this must-visit Richmond hotspot.

Food & Drink

South Yarra's Cucinetta is kicking off autumn in the best possible way: with extremely cheesy gnocchi.

Arts & Entertainment

Get excited right here, right now: dance music legend Fatboy Slim is coming to Melbourne this autumn.

Food & Drink

Tuck into $9.95 schnitzels one day a week at The Bavarian.

Arts & Entertainment

The 'Black Books' star is bringing his latest comedy show to Melbourne, complete with comic reflections on the last few chaotic years.

Food & Drink

Brunswick's free-flowing carb and cocktail feasts are back, complete with vegan and gluten-free options galore.

Travel & Leisure

This dazzling exhibition at Sea Life Melbourne Aquarium dives into the mysteries of the bioluminescent underwater world.

Design & Style

This blockbuster NGV International exhibition features more than 120 garments designed by the late, great fashion icon.

Travel & Leisure

Enjoy drinks, snacks and beats while you party poolside — 14 storeys up.

Food & Drink

The gallery's tune-filled after-hours parties are back for summer — this time inspired by the great Alexander McQueen.

Arts & Entertainment

This Olivier Award-winning Shakespeare-meets-pop musical is coming to Australia in 2023.

Arts & Entertainment

Melbourne's annual French cinema showcase is back with a 39-movie lineup spanning zombies, comedies, thrillers, tender dramas and more.

Food & Drink

Aperol's Rivieran Summer has arrived. Make the most of Melbourne's warmer weather with an Aperol Spritz at Petanque Social, tickets to a live music festival or a self-skippered boat session on the Yarra.

Food & Drink

Elevate your Saturday arvos with free-flowing G&Ts and chic picnic bites.

Design & Style

This year's vibrant MPavilion architecture commission will feature 250-plus free talks, workshops, performances and installations over four months.

Food & Drink

This trendy openair CBD bar is launching a program of monthly events to celebrate local creatives and musicians.

Arts & Entertainment

Discover the cultural and social diversity of working life over the years at the Immigration Museum's latest exhibition.

Food & Drink

A new Fitzroy market showcase a top selection of local food producers each Saturday.
Tap and select
Add to Home Screen
to access Concrete Playground easily next time.
x