All the Melbourne Restaurants, Cafes and Pubs Taking Bookings From October 26 Onwards
The wait is, finally, almost over — parmas and pints are back on the table.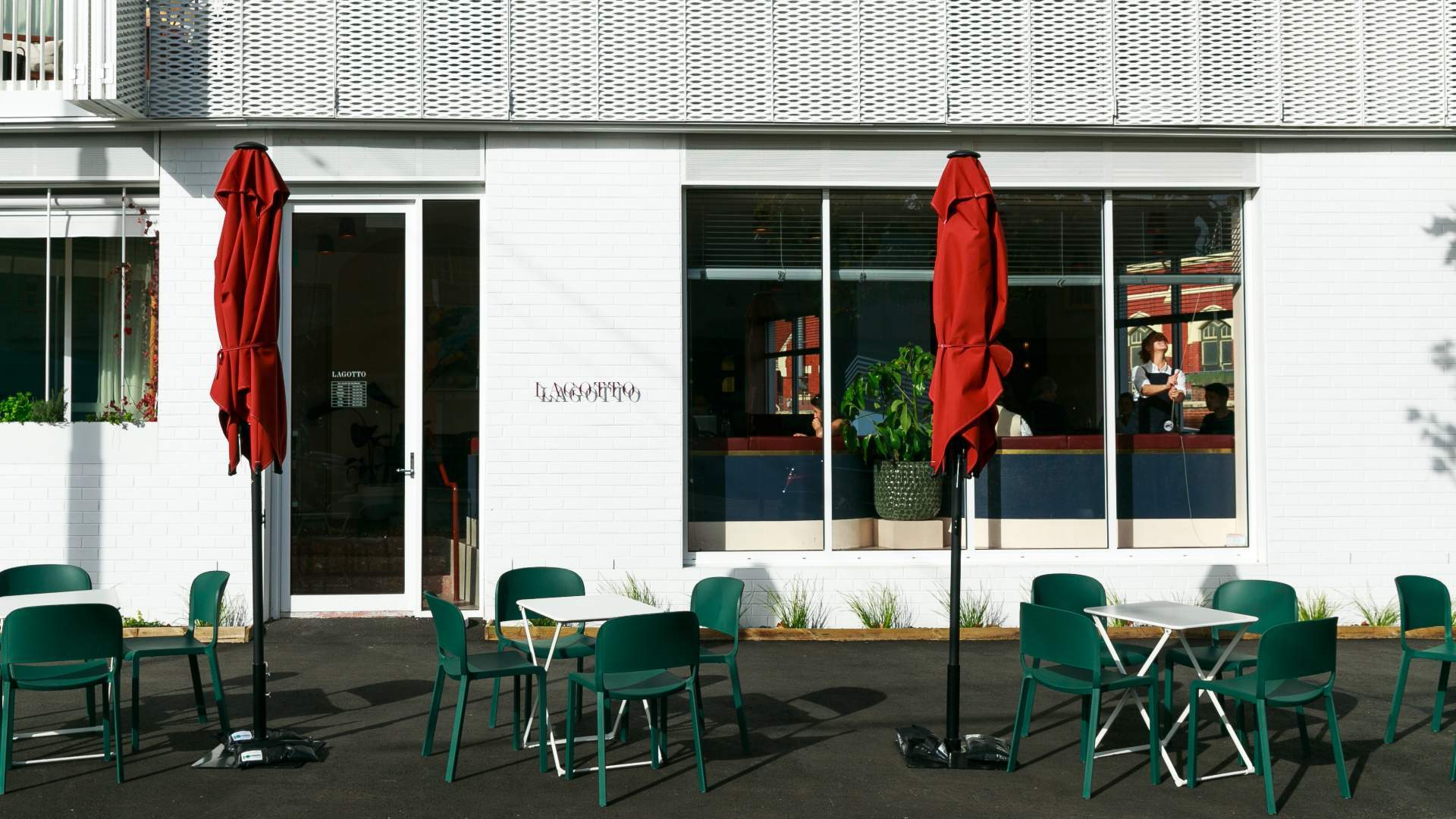 Victoria is expected to reach its target of 70 percent vaccination coverage by Tuesday, October 26, according to the most recent roadmap set out by the Victorian Government. When that milestone is achieved, hospitality venues will be able to reopen for outdoor dining, with a maximum of 50 double-jabbed patrons at a time.
It's pretty exciting news for punters and traders alike, and Melburnians are already scrambling to book that first monumental post-lockdown meal out on the town. Of course, reopening with these restrictions and capacity limits isn't financially viable for all eateries, so some will wait until hospitality restrictions ease further — when Victoria hits the 80 percent of its double-dose target, expected on or around Friday, November 5.
Some spots may be offering limited walk-ins, but your best bet for nabbing a table is to make a booking — early. We've rounded up a stack of Melbourne bars, cafes, restaurants and pubs that are taking bookings from October 26 and beyond. Kick off the group chat, settle on a favourite and secure somewhere memorable for your next long-awaited dining-out adventure.
For more information about social distancing guidelines and restrictions in Victoria, head to the Department of Health and Human Services website.
Image: Lagotto, by Parker-Blain
Food & Drink

The inner north's fairy-lit, dog-friendly food truck park and beer garden.

Food & Drink

Award-winning pizzas and Italian-inspired seafood specials from 400 Gradi's first beachside outpost.

Food & Drink

This environmentally-conscious lunch spot is serving up plant-based burgers, pitas and bowls developed by Embla and Etta's Charley Snadden-Wilson.

Food & Drink

An authentic Sicilian restaurant with a seasonal menu that fuses the traditional with the new.

Food & Drink

Roll into this lofty bar for natural wines, top-notch drinking snacks and live radio broadcasts.

Food & Drink

The legendary venue is still one of the best spots in town to watch the world go by.

Food & Drink

You'll find a secret bar, a courtyard and an ex-Vue de Monde chef at this Mediterranean bistro.

Food & Drink

A multi-level pub, Punjabi-style deli and rooftop bar run by chef-restaurateur Jessi Singh.

Food & Drink

Prahran's flame-driven Vietnamese restaurant from the Hanoi Hannah team offers smoke aplenty, across both the food menu and cocktail list.

Food & Drink

Rathdowne Street's neighbourhood bar doing inventive food and delicate desserts.

Food & Drink

The former Dracula's site is now home to an international sichuan hot pot chain.

Food & Drink

You can get spaghetti bolognese in a bread bowl at this Fitzroy North spot.

Food & Drink

A sun-lit Italian corner spot with strong pasta game and an onsite provedore.

Food & Drink

This giant, very OTT brewery bar is like a boozy theme park you'll never want to leave.

Food & Drink

You'll find cheesy bowls of gnocchi, meatball pizza and giant sundaes at this 1930s New York-Inspired Italo-American joint on Exhibition Street.

Food & Drink

This new CBD cocktail haven comes from minds behind one of the world's best bars.

Food & Drink

The Melbourne brewing powerhouse started out life in this Abbotsford warehouse — it's worth a visit for a couple of beers and some pizza.

Food & Drink

A CBD Italian diner with a laneway terrace, house-made pasta and many spritzes.

Food & Drink

This Box Hill restaurant, bar and grill is serving up traditional Japanese yakiniku.

Food & Drink

A moody bar on Lygon Street serving classic cocktails and tapas-style bites.

Food & Drink

A CBD basement bar serving up French bistro food and cocktails until 5am.

Food & Drink

A great spot to refuel after a busy day of shopping.

Food & Drink

This cosy South Yarra kitchen specialises in pillowy gnocchi and cheese wheel pasta.

Food & Drink

Fitzroy's colourful Tex-Mex joint with giant cocktails from the Rockpool Dining Group.

Food & Drink

Jessi Singh's rule-breaking Indian restaurant has naan pizza and 70s Bollywood tunes.

Food & Drink

This Carlton North restaurant takes you on a tour of Italy with made-to-order tortelli and fluffy tiramisu.

Food & Drink

This all-day diner is located right on Elwood Beach.

Food & Drink

The 135-year-old institution has been reborn as a three-level Italian food mecca.

Food & Drink

This little Richmond eatery is slinging meatball katsu-sandos, donburi bowls, cocktails and rare Japanese sake.

Food & Drink

Andrew McConnell's refined pub offers British-inflected fare, a strong wine selection and a lovely little courtyard.

Food & Drink

There's nothing common about this pub, from an ice-skating rink to raging fire pit, it's full of surprises.

Food & Drink

You'll find everything from 6.30am coffee to late-night sangas at this Collingwood wine bar.

Food & Drink

Melbourne's Thor-inspired bar and restaurant riffs on the feasting halls of Valhalla.

Food & Drink

The Yarra Valley winemaker's Healesville venue is part cellar door, part pumping wine bar.

Food & Drink

Acclaimed chef Donovan Cooke is offering up a modern riff on classic French flavours.

Food & Drink

An all-day Asian fusion eatery at the old Caulfield Rifle Club.

Food & Drink

A small all-day cafe and wine bar winning locals over in the backstreets of Fitzroy.

Food & Drink

The Stokehouse Precinct's casual beachside bar.

Food & Drink

After a devastating fire, Stokehouse has made its comeback — and it's here to stay.

Food & Drink

A two-storey barbecue joint complete with its own rooftop bar.

Food & Drink

A permanent food truck park boasting a rotating menu of street food snacks.

Food & Drink

A pan-European menu that inexplicably works exquisitely.

Food & Drink

Intimate degustation dining from an ex-Vue de Monde chef.

Food & Drink

Raise a glass to Melbourne's wine bar renaissance.

Food & Drink

Toast your outsides by the fireplace, while warming your insides with any of 100 different beers.

Food & Drink

Modern Greek food fit for traditional full-to-the-brim feasting.

Food & Drink

Indian street food for fly-by snacking or full-on feasting.

Food & Drink

The third sister has been born, and she brings a Japanese edge to the family.

Food & Drink

A beer garden retreat in the heart of Brunswick.

Food & Drink

Relax on the astroturf and enjoy cheap pub grub along with ice-cold beers at this no-frills local.

Food & Drink

The bar offers a comforting retro vibe while outside is a breezy little oasis that's well worth the search.

Food & Drink

Fine dining at one of the best restaurants in the country.

Food & Drink

Some of the city's — and in fact, the world's — best pizza.

Food & Drink

Sip coffee and tuck into Middle Eastern fare with a clear conscience.

Food & Drink

Hark back to the golden age of food and drink with South Melbourne's Bellota.

Food & Drink

Experience the hedonistic pleasures of the 1920s in Fitzroy's hidden cocktail den.

Food & Drink

Tucked away in stencil-drenched Hosier Lane, MoVida offers a grazing extravaganza in an enchanting room akin to what you'd actually get in downtown Barcelona.
Tap and select
Add to Home Screen
to access Concrete Playground easily next time.
x