A Local's Guide to Sydney That's Not Just Seeing the Opera House
Skip the tourist traps and head off the well-beaten track.
in partnership with

You know when you're travelling and you receive a red-hot tip from a local? They point you in the direction of the best fried chicken joint, a secret underground bar or an offbeat gallery — something that transforms your trip and lets you see the real city as you would've never seen it. It can really make a trip. So to help you uncover some local gems on your next Sydney visit, we've partnered with the City of Sydney to create a local's guide to the city. We've honed in on ten inner-city suburbs and pulled out experiences to take you past the Opera House and Harbour Bridget and deeper into the local's locales.
SMALL BARS IN THE CBD
There was a time when after the hustle and bustle of Sydney CBD's nine-to-five crowd subsided, the streets turned tumbleweed quiet. But thankfully, that time has passed. Over the last ten years or so, the CBD has acquired several top-notch venues. While you may have visited some of the small bar stalwarts — The Baxter Inn, The Barber Shop, SILY, Bulletin Place (just to name a few) — there are several newcomers to discover, too. Be sure to stop by Old Mate's Place rooftop bar with a warm and welcoming library-esque aesthetic, head to Continental Deli, Bar and Bistro CBD to enjoy a mar-tinny (a martini in a can) with a plate of charcuterie and cheese at the luxe marble-top bar or seek out 1950s-inspired Maybe Sammy where cocktails come in tubes or matched with passionfruit-scented hand cream.
A HUB OF COOL IN SURRY HILLS
The effortlessly cool Surry Hills is bursting at the super-stylish seams with must-visit bars and eateries — a few of which conveniently reside together in Paramount House. The heritage-listed building on Commonwealth Street is home to Golden Age Cinema and Bar, new natural-wine-plenty restaurant Poly, a lush boutique hotel, rooftop fitness centre complete with on-call massage therapists and a cafe which serves arguably the best coffee in Sydney. Start your day with a cup of joe at Paramount Coffee Project in the lobby of the building, then make your way up to the Paramount Recreation Centre. Even if you aren't a guest at the Paramount House Hotel, you can still grab a day pass to the gym and attend one of the classes on offer. Come evening, park yourself at Poly for pre-cinema seasonal share plates and excellent wine before making your way to a showing at the in-house cinema's petit theatre — the former Paramount Pictures screening room.
SUSTAINABLE SHOPPING IN NEWTOWN
Newtown is known for its abundance of street art, eccentric residents and overall buzzing vibe. To really do the suburb like a local, we suggest spending a day sustainably shopping along main drag King Street — before checking out one of the best bars in the area. From the top of King down, you'll come across the likes of U-Turn, Cream on King and SWOP Clothing Exchange where you'll find well-curated, secondhand fashions to dig into, plus Good Times Vintage, Vintage 585, Faster Pussycat and Retrospec'd, which house fashion, homewares, decor and plenty more from decades past. If that isn't quite enough, you can exercise your gem-finding prowess at the Red Cross and Vinnies shops, too. And if you're really after something new, check out The Social Outfit. While you won't find any vintage, the store is an ethical enterprise that supports people from refugee and migrant communities by providing training and employment in the fashion industry. You can pick up a unique piece that tells an amazing human story all while financially empowering people. It's a win-win.
AUSTRALIAN FASHION AND DESIGN IN PADDINGTON
If vintage and op shopping is not your forte (we get it, not everyone has the eye and/or patience), head for a shop in Paddington. This Australian fashion hub has a host of homeware shops and fashion boutiques to browse. If you're keen to get up close and personal with our best and brightest designers, The Intersection should be your starting point. Flagship after Australian designer flagship line the street here and pull you deeper into the suburbs via the likes of Alice McCall, Camila and Marc, Dion Lee, Ellery, Manning Cartell, Scanlan Theodore and Zimmermann (to name but a few). As for homewares and decor, independent design shop Opus will sort you out with vintage board games, quirky gadgets and retro video consoles; Dinosaur Designs will help you find some statement resin jewellery and free-form wares for your home; and Jardan will indulge any design addict with a shop full of gorgeous furnishings — you'll wish the space itself was your actual home.
ART GALLERIES IN CHIPPENDALE
The suburb with more independent galleries than you can poke a paintbrush at, Chippendale is a must-visit for any art lover. Start by checking out Galerie Pompom on Abercrombie Street — a space dedicated to developing and nurturing mid-career artists from Melbourne and Sydney — and White Rabbit, a four-storey gallery showcasing a beautifully curated, impressive private collection of contemporary Chinese art. Other art spaces championing Australian (and some international) artists in the area include Wellington St Projects, Nanda/Hobbs, Harrington Street Gallery and Verge Gallery. And for an even deeper dive into the arty precinct, you can join the Chippendale and Redfern walking tour by Culture Scouts, who'll take you beyond the galleries to discover the local public artworks, architecture and street art.
A HUB OF FOOD, DRINK AND SHOPPING IN ROSEBERY
If you've visited Sydney before, you've almost certainly been to The Grounds. A cafe, bakery, florist, restaurant, farm and mini market all in one, the place is a mecca for highly likeable Instagram posts. It's also a brunch mecca, with locals and visitors alike making the pilgrimage to Alexandria each weekend. If you're after something a bit more subdued, set your sites on The Cannery in the neighbouring Rosebery. Similar to The Grounds in how its helped transform this former industrial area into a food lover's haven, The Cannery is home to an even larger variety of food, drink and shopping options. It's here where you'll find Archie Rose, Sydney's first distillery to open in over 160 years Archie Rose; Frenchies Bistro and Brewery (with an on-site brewing facility); and boutique bottleshop Drink Hive, which slings natural wines, independent brews and local spirits. There are also several eateries in the precinct including the Aussie-Japanese-serving Stanton and Co, purveyors of watermelon cakes (and other sweets) Black Star Pastry and Argentinian grill masters Three Blue Ducks, to name but a few. Visit on an empty stomach, guys.
LOCAL CREATIVES IN REDFERN
When a place is called the Bearded Tit, you know it's going to be good. This brazen art bar on Regent Street is just one of many left-of-centre venues in Redfern and, beyond the crocheted penises and taxidermy boar, it highlights what the suburb does best: intersect art and culture with a good drink. 107 Projects is another creative space where you can experience regular art shows, gigs and performances by local artists, musicians, comedians and theatre groups, all while enjoying a tipple or two. You can even channel your own creative energy with some locals at one of the weekly Wednesday Night Creative Hangouts or Life Drawing Socials. While in the area, make sure to pop into Indigenous-owned cafe The Tin Humpy. Run by Bundjalung woman Yvette Lever and her family, the cafe slings homemade pastries alongside coffee from The Grounds and presents a stunning Indigenous art collection to boot.
A CULINARY JOURNEY THROUGH ASIA VIA HAYMARKET
Running adjacent to the CBD, Haymarket is a melting pot of different Asian cultures and cuisines. Whichever eats you're craving, you'll find them here (along with muchos bubble tea to wash it all down with). Keen for Chinese? Hit up yum cha favourite Marigold for a morning feast of dim sim, pork buns, rice noodles and creamy mango pancakes, or stop by the noodle and dumpling haven at the Prince Centre for some of Sydney's favourite cheap eats — there are at least four dumpling eateries to choose from but many Sydneysiders are quite partial to the spot lovingly known as 'grapes on the roof'. In the mood for Korean? Make tracks to Koreatown for barbecued sizzling meats at 678 Korean BBQ, steamy spicy hotpots at Dae Jang Kum or some finger-lickin' Seoul-style fried chicken at Arisun (a favourite spot for many Sydney chefs). Have a hankering for Japanese? Pop by Menya Noodle Bar and take your pick from 17 different types of ramen (the black garlic ramen is a go). We could continue with Thai, Vietnamese, Malaysian… but it's best you just check it out yourself.
DINNER AND A SHOW IN KINGS CROSS
The Cross has undergone a pretty drastic transformation. The days of teapots at World Bar and rowdy all-nighters may be gone, however, excellent restaurants and independent theatres have helped keep the neighbourhood alive. Step into the 1930s at Dulcie's basement bar and enjoy a punchy espresso martini with a side of nostalgia. The bar is a homage to the Cross's past with an art deco aesthetic and stage that hosts theatre, dance and cabaret shows after midnight. There are also several small theatres in the area conveniently located within a few blocks of each other (and some of Sydney's top restaurants), including the Griffin, Hayes Theatre Co and The Old Fitz. At the Griffin, you'll find brand new works and Australian stories; cabaret and musical theatre are the go at Hayes Theatre Co (the Monty Python's Spamalot will run from Wednesday, March 6 to Saturday, April 6 this year); and The Old Fitz, run by Red Line Productions and located inside a pub, offers quality independent productions for as little as $20 a ticket.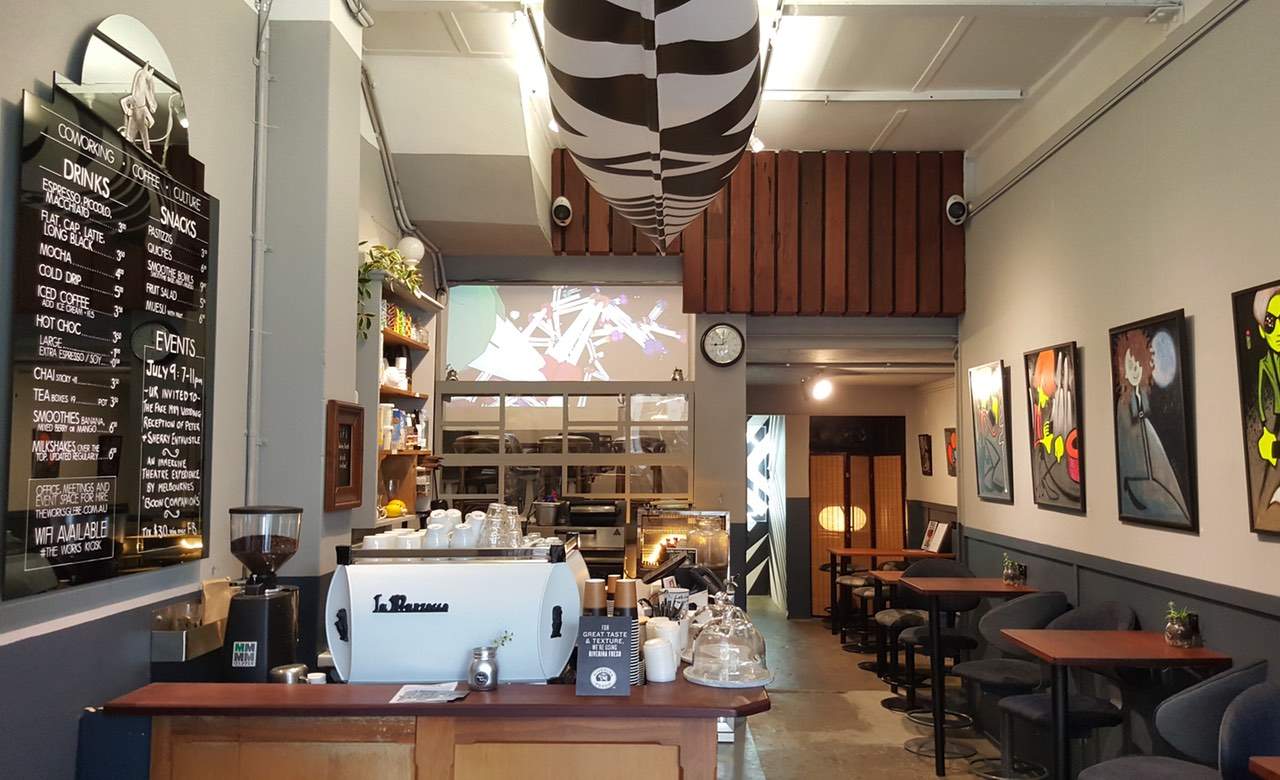 LOCAL SOUVENIRS IN GLEBE
For boho vibes, a throng of neighbourhood eateries and some of Sydney's most chill humans, head to Glebe. Before heading for this incredible burnt butter hummus at Middle Eastern eatery Thievery, pay a visit to The Works. At this three-storey space on Glebe Point Road, local creatives design, make and exhibit their work. It functions as a cafe and coworking spot, as well as a pop-up shop where local designers can showcase their wares. This is the spot to hit for some truly local souvenirs with everything from jewellery, shoes and environmentally conscious activewear to prints, greeting cards and screen-printed totes to vegan soaps and hand-poured soy candles. With an ever-changing roster of local artisans, each visit will bring something new to the table (and probably your home).
Forgo the tourist traps and instead traverse the great City of Sydney like a local. Discover more around the city here.
Top image: Continental CBD by Kitti Gould.
Concrete Playground Trips
Book unique getaways and adventures dreamed up by our editors