'Kevin Can F**k Himself' Is the New Must-See Series Twisting Toxic Sitcom Tropes Into a Savvy Satire
'Schitt's Creek' star Annie Murphy plays an unhappy woman who decides to dismantle her stereotypical sitcom life — and get rid of her manchild husband — in order to finally put herself first.
There's never been a show on TV quite like Kevin Can F**k Himself  — or on streaming, where the series is now available in Australia via Amazon Prime Video. But, there have sadly been far too many programs over the years that resemble one half of this clever and cutting dark comedy. Even if you aren't a fan of the fare this newcomer riffs on, you know the type. For too long, screens have been littered with sitcoms about families, and about specific kinds of couples and their kids. Accordingly, a different one probably springs to mind for each of us. You might've started thinking about Home Improvement, or Everybody Loves Raymond —  or, thanks to Kevin Can F**k Himself's title, you could've just remembered all the shows starring Kevin James.
Kevin Can F**k Himself's moniker does indeed conjure up the words many of us have thought to ourselves after stumbling across awful sitcoms led by James. Here, Kevin McRoberts (Eric Petersen, Sydney to the Max) is the obnoxious manchild of a husband, while Allison (Annie Murphy, Schitt's Creek) is his put-upon wife — and whenever they're together, generally at home, she's clearly in a sitcom. The lights glow brightly, her house resembles every other cosy abode in similar shows about comparable characters, and multiple cameras capture their lives. Also, canned laughter chuckles whenever something apparently amusing (but usually just cringeworthy) occurs. And, that source of terrible humour tends to be Kevin, who skates through his days with the arrogance and obliviousness of a white thirty-something man who has always been told he can do no wrong. Helping to reinforce that mindset, he always has his ever dimwitted best pal and neighbour Neil (Alex Bonifer, Superstore) by his side, gushing over his every move. Also frequently hovering around: Neil's one-of-the-guys sister Patty (Mary Hollis Inboden, The Righteous Gemstones) and Kevin's own ever-present dad (Brian Howe, Chicago Fire).
We've all seen this setup before, and Kevin Can F**k Himself's creator Valerie Armstrong — who also worked on the excellent, underrated, cancelled-too-soon Lodge 49 — definitely knows it. She isn't trying to recreate these abysmal sitcoms for fun, though. Instead, she knows that Allison and the women who've been in her place are devastatingly miserable, and she's determined to give them their time in the spotlight and explore what happens when they're not supporting player to a man they don't even want to be with. That's where the twist comes in, and it's oh-so-savvily handled. (It's also laid bare in the show's first episode, because it's that important to the series' premise.) So, whenever Kevin Can F**k Himself's leading lady is blissfully free of her horrible hubby, her life becomes a premium cable drama. Murkier tones and a much more realistic vibe kick in, just one camera films her struggles, and no one is giggling. Also, Allison starts trying to do something about her soul-crushing marriage.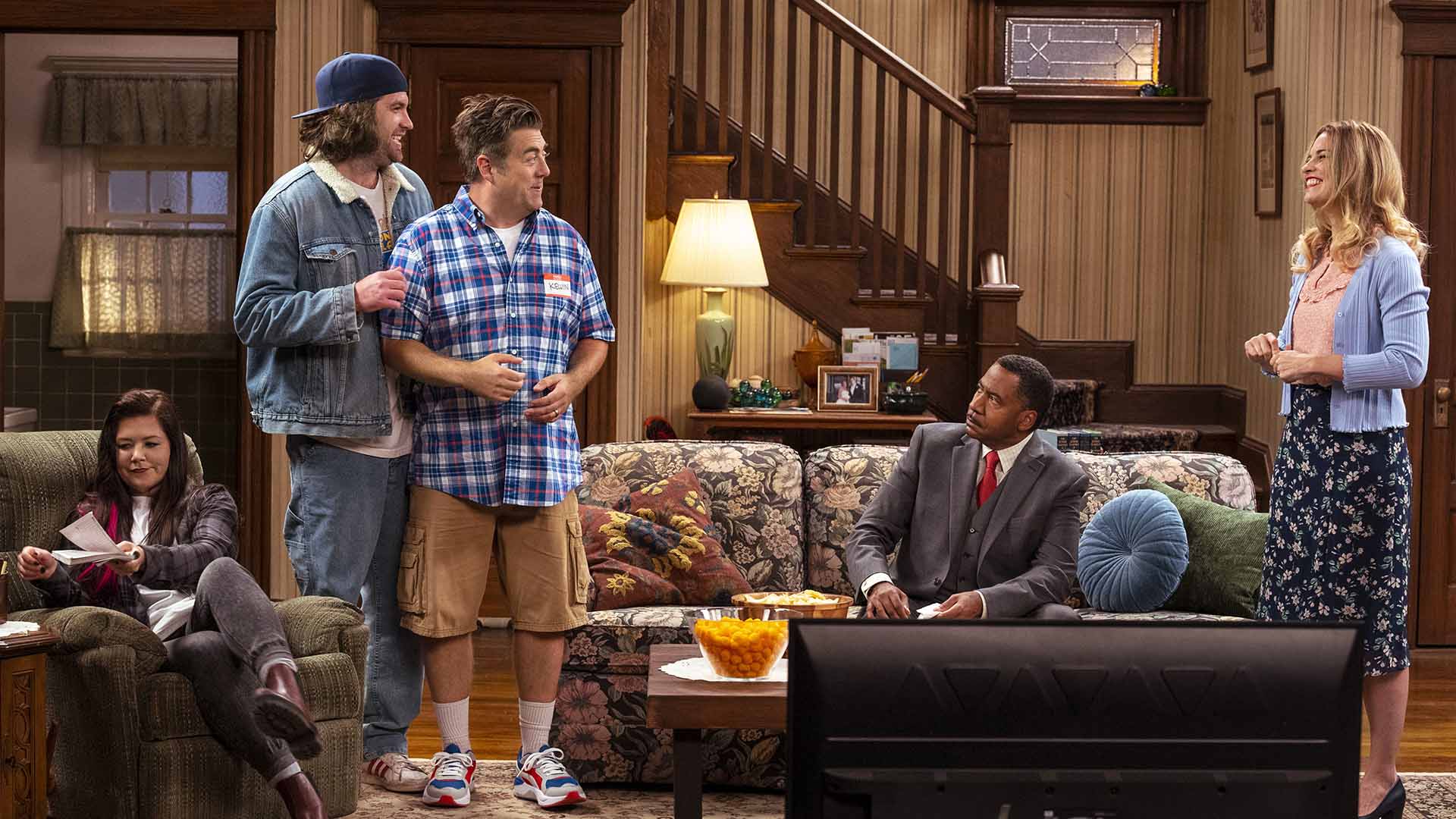 The visual and tonal contrast between the show's two halves is big, stark and obvious. It hits you over the head. It's meant to. On paper, the creative decisions behind Kevin Can F**k Himself stem from a high-concept gimmick, and purposefully so — but the show's central idea is also exceptionally smart. This series needs to be as blatant as it is in contrasting Allison's time with Kevin with her experiences whenever he's not around. It needs to make flagrant moves to illustrate how the world still sees marriages like theirs as bright and inviting, even when Allison endures a grim struggle. Subtlety isn't usually the best way to make a statement, after all, and that applies when you're calling out how an entire genre of TV has long treated women; that its instantly recognisable toxic tropes have become not just accepted, but imitated; and that real-life relationships based on this dynamic aren't healthy or happy.
These notions bubble away throughout Kevin Can F**k Himself, including when over-lit scenes of Allison putting up with Kevin segue into dark-hued shots as soon as she's out of his presence. Usually, the change kicks in because she's walked into the kitchen and left him on the couch with his pals, or she's gone to work while he gets up to standard sitcom-style hijinks; however, Allison is desperate to make a permanent change. The series follows not just her efforts to leave Kevin, but her quest to ensure that she'll be free of him forever. You could say that she breaks bad, but she's doing good — just for herself for once. Allison's path forward is messy, naturally, and only gets more chaotic the more she commits to achieving her Kevin-free new life. Her high-school crush Sam (Raymond Lee, Made for Love) moves back to town, too, while Patty becomes an unexpected ally. Soon, the two women have a police detective (Candice Coke, Indemnity) snooping around their lives as well.
Everything Allison faces could've easily fuelled a drama that didn't include sitcom-savaging segments, but the show is all the better for embracing its gimmickry. It pulls back the curtain on the glossy way that its protagonist's existence is presented to the world, exposes the reality and finds ample ways to interrogate why this sitcom fantasy has proliferated for so long. Thanks to weighty key performances by Murphy and Inboden, it also dives deep into the internalised miseries that women who've been caught in the orbit of men like Kevin keep navigating — and, episode by episode, it grows and fleshes out the pair's complicated friendship as well, and unpacks the "cool girl" archetype Patty initially represents. In the process, amidst all of its layers and switches, Kevin Can F**k Himself quickly becomes one of the best new shows of 2021. Thankfully, it has already been renewed for a second season, too, so more of its incisive charms and astute social commentary — and Murphy and Inboden's stellar work — awaits.
Check out the trailer for Kevin Can F**k Himself below:
The first four episodes of Kevin Can F**k Himself's first season are available to stream via Amazon Prime Video, with new episodes dropping weekly.
Images: Jojo Whilden/AMC.
Concrete Playground Trips
Book unique getaways and adventures dreamed up by our editors